Chocolate Cake with Salted Caramel Frosting #ChocolateforJoan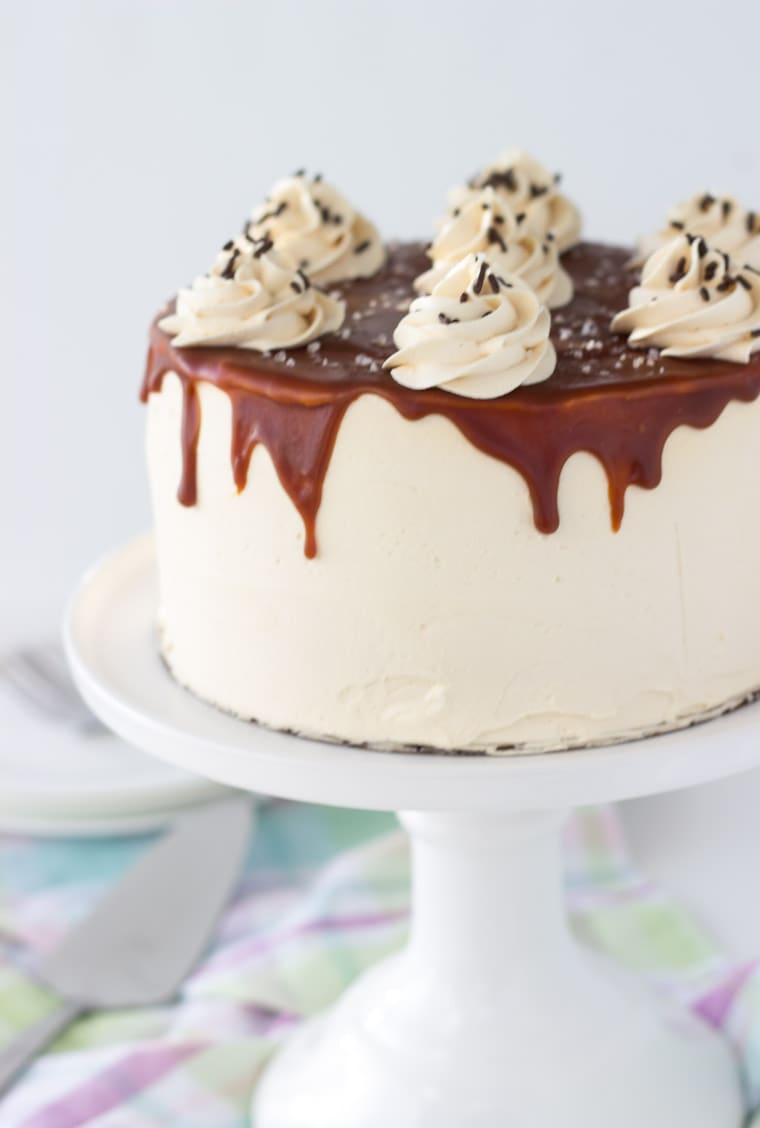 As you may have guessed from the title, today's recipe is dedicated to chocolate and Joan, the blogger and creator of the widely popular blog, Chocolate, Chocolate and More. She loved loved chocolate and made it a passion to share decadent, indulgent chocolate (and non-chocolate) desserts with anyone who loves chocolate. In the food blogging community, Joan was a rockstar, a pillar and incredible friend. A mentor, generous teacher who will take the time to teach you, advice you and make sure you are doing everything right to maximize your earnings. Being so successful and I'm sure darn right busy, she always made time for anyone who reached out for help, including myself.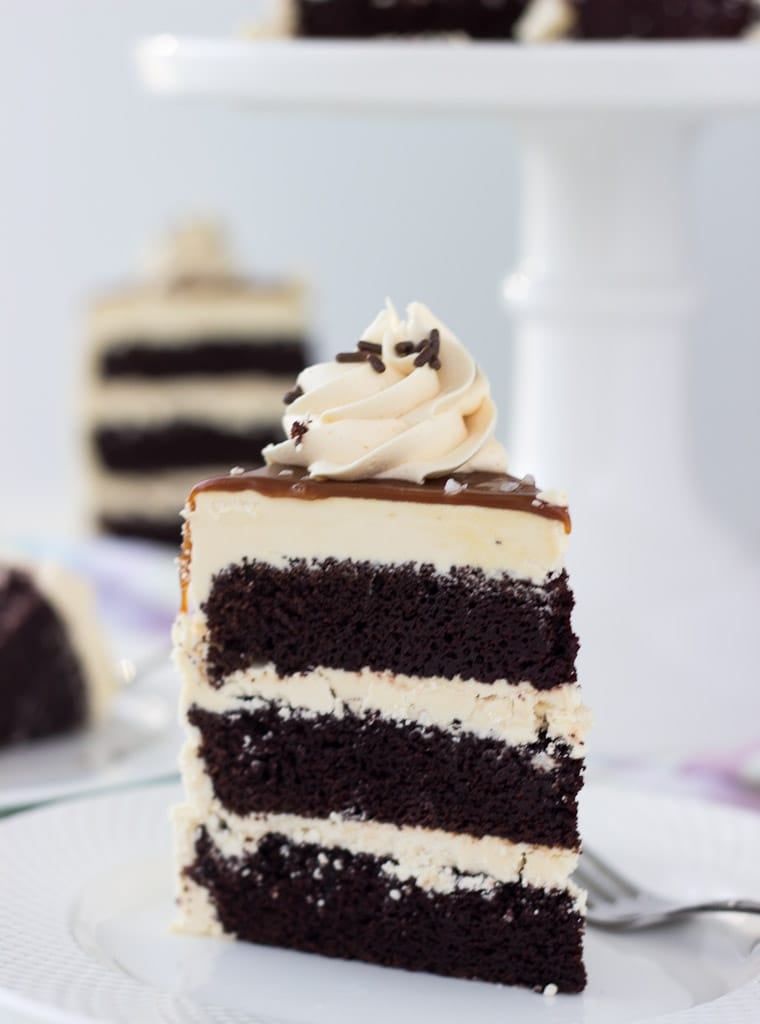 Sadly, last week Joan left us. She passed away suddenly leaving behind her three lovely children. This shocking news left a giant pit in my stomach for days as she was way too young to go. I could just imagine the pain of her young children. I lost my dad, the same shocking way, almost 5 years ago and know exactly how it feels to lose a parent so suddenly. One day we were talking about passionfruit and the next day he was gone. One of the most challenging times of my adult life so I can only imagine how difficult it must be for her teenage children. My heart and prayers go out to them.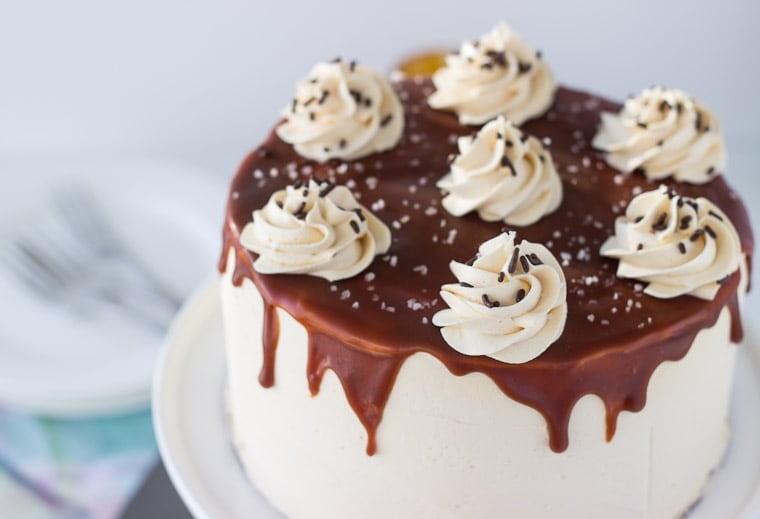 I was very lucky to meet Joan a few years ago at a Pillsbury event and was just completely smitten by her infectious laugh and charming personality. Since today is National Chocolate Day and we know Joan loves her chocolate, so her friends in the food blogging community are honoring and remembering her legacy today. She's all about chocolate and enjoying life to it's fullest while indulging in treats and this chocolate cake with salted caramel frosting is all about decadence.
These Dark Chocolate Salted Caramel Cupcakes are one of my favorite decadent treats and also one of the most popular recipes on this blog. Almost every other week, I get asked if the cupcake recipe can be adapted into a cake. I always reply with a general recipe to the reader but I figured it's time I posted the recipe here. I used my go-to dark, chocolatey one-bowl chocolate recipe to make this three-layered cake. The cake is filled and frosted with a whipped salted caramel buttercream. Why? Because chocolate and caramel were made for each other. If I am going to eat chocolate, it better be with a salty counterpart. And because Joan will always approve of chocolate and caramel 🙂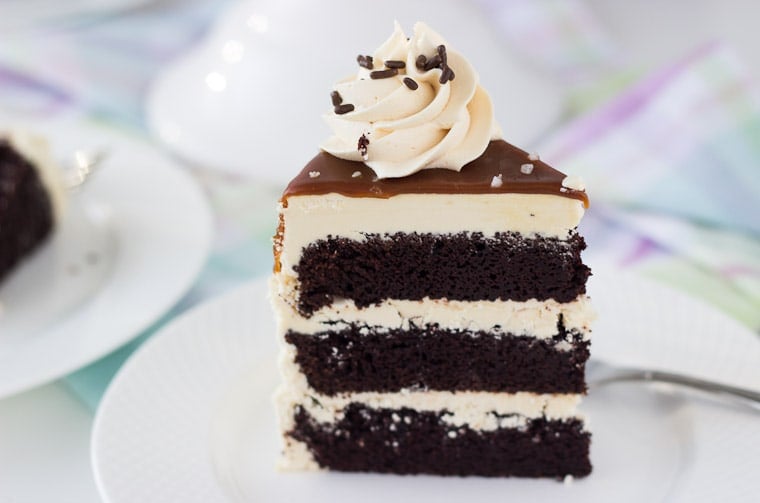 Be sure to visit Chocolate, Chocolate and More for all your decadent chocolate recipes. Let's keep her website and legacy going for her kids. And please keep them in your prayers as they go through this difficult time. Thank you!!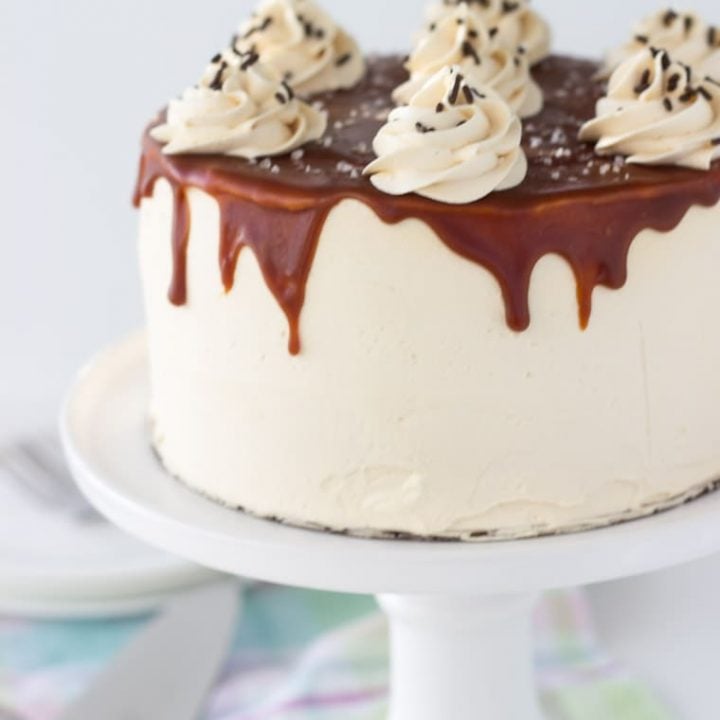 Yield: 1 8-inch or 9-inch layered cake
Chocolate Cake with Salted Caramel Frosting
Total Time
1 hour
30 minutes
Ingredients
For Chocolate Cake:
2 cups all-purpose flour
2 cups granulated sugar
2/3 cup cocoa powder (I used Ghirardelli)
2 teaspoons baking soda
1 teaspoon baking powder
1 teaspoon salt
2 large eggs, at room temperature
1 cup buttermilk, at room temperature
1 cup strong black coffee, hot
½ cup vegetable oil
1 tablespoon pure vanilla extract
For Salted Caramel Frosting
1 ½ cup (3 sticks) unsalted butter, room temperature
5 cups powdered sugar
2 teaspoons pure vanilla extract
Pinch of salt
2-3 tablespoons heavy cream
Instructions
For the Cakes:
Preheat oven to 350degrees F. Grease two 9-inch or three 8-inch round pans with baking spray and line with parchment rounds.
Sift together all the dry ingredients into the bowl of an electric mixer or a large bowl.
In a medium bowl, combine the eggs and the rest of the ingredients using a whisk.
Mix the dry ingredients on low speed for 1 minute. Stop the mixer and add the wet ingredients. Mix for 2 minutes on medium speed and scrape the sides and bottom of bowl. Mix for additional minute on medium speed.
The batter will be thin. Divide evenly among the prepared cake pans.
Bake for 25-30 minutes or until a toothpick inserted in the center comes out almost clean.
Let cakes cool in pans for at least 10 minutes before turning onto wire racks to cool completely. Meanwhile you could start on the frosting.
For Salted Caramel Buttercream:
Whip butter on medium speed for about 2-3 minutes in the bowl of a stand mixer fitted with the paddle attachment until light and creamy. Add the powdered sugar, vanilla extract, salt and heavy cream and mix on low for 1 minute until combined. Increase speed to medium-high and whip for 6 minutes. Add in salted caramel sauce and mix until combined.
Fill and frost cake with frosting. Drizzle cake with salted caramel sauce.