Dark Chocolate Salted Caramel Cupcakes
Dark chocolate salted caramel cupcakes are decadent, made with moist dark chocolate cake and topped with salted caramel buttercream. Mocha cupcake goodness!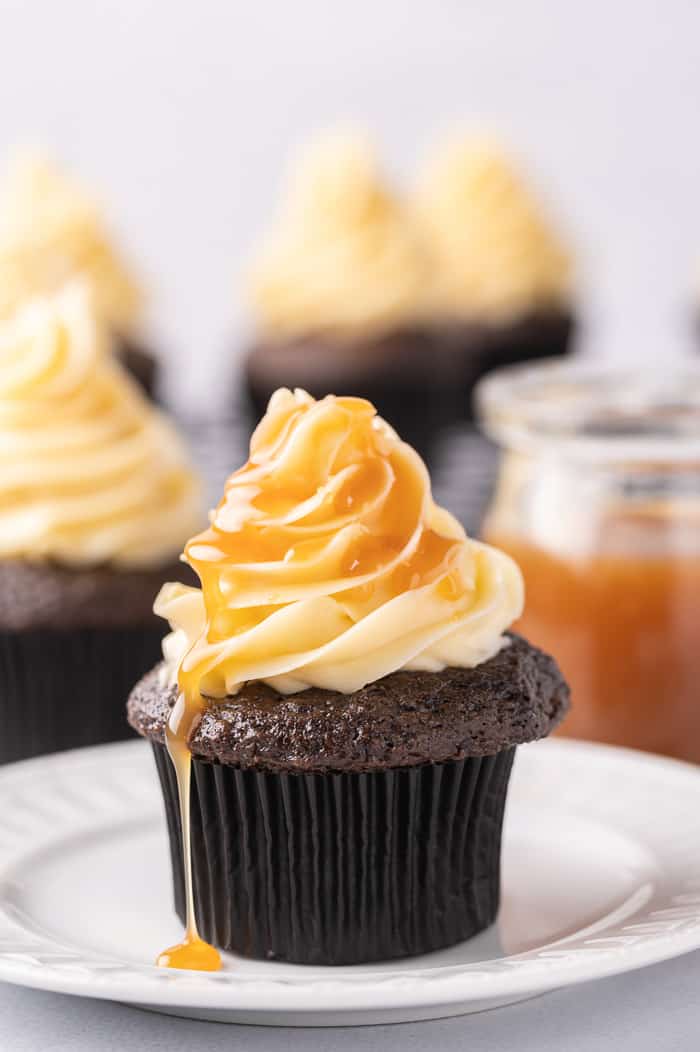 Despite today being Monday, I am not feeling the usual Monday blues because of the wonderful wedding of the weekend. There is something about weddings that just puts one in a very good mood. Or I might just be a romantic at heart and it's about time I stop denying it.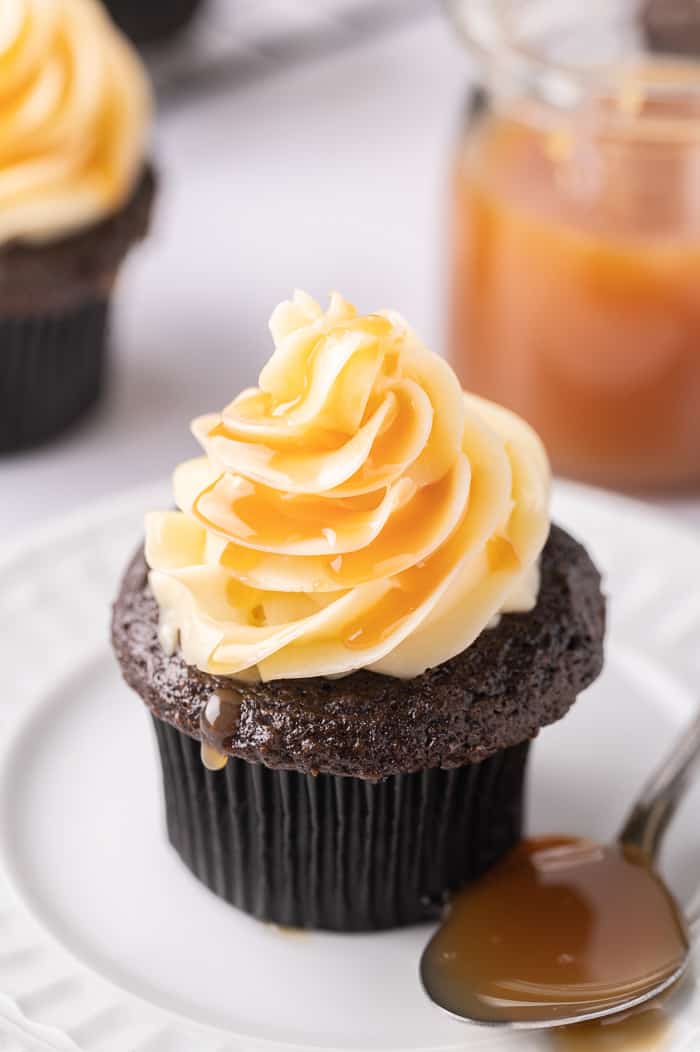 My friend's wedding was a beautiful fairy tale; one of those you see in a chick flick movie. The bride is a country girl and throughout the planning, we struggled to combine that with a simple/ elegant theme. At the end of the day, she pulled it off perfectly. She got married in the beautiful backyard grounds of her childhood, above a creek where she rode down to the ceremony in a horse and carriage. Yes, not kidding. Her mother surprised her with that. It was super awesome and was definitely a tear-jerker.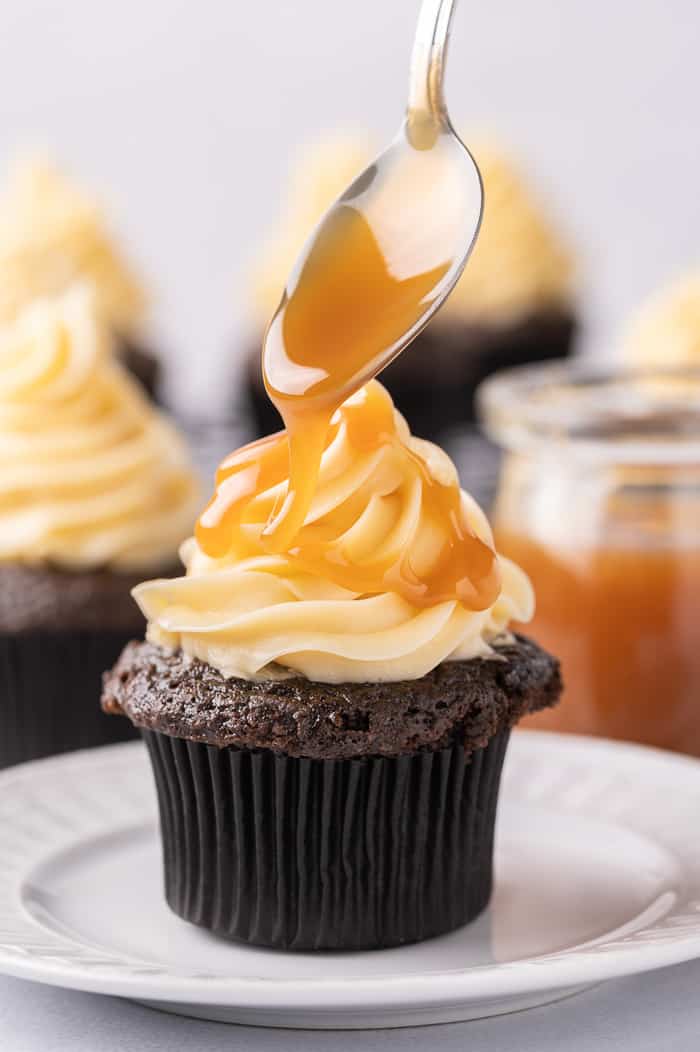 The reception and party were held in an elegantly decorated tent, studded with shades of purple (regency and wisteria to be exact) and hints of the couple's favorite pastime: fishing. We danced our (troubled) feet out till the wee hours celebrating the newlyweds. I am still recuperating from all the excitement and jello shots!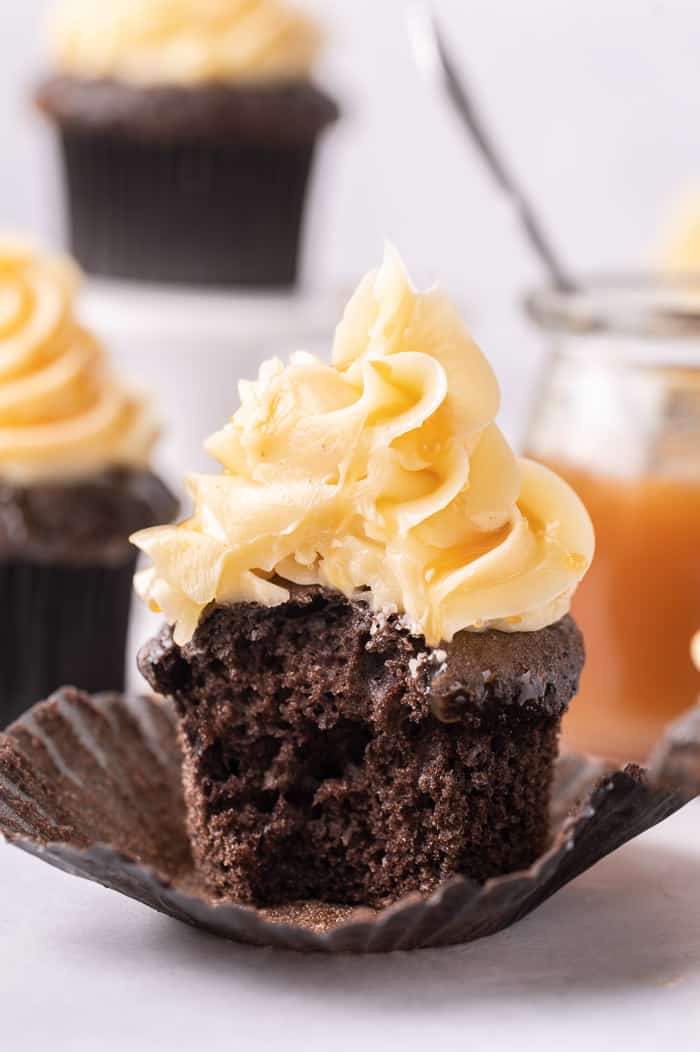 Ok, I'm sure you are not here for wedding details but rather for these dark chocolate salted caramel cupcakes.
I made them for friends last weekend during my birthday celebrations. They're called dark chocolate salted caramel cupcakes, but the consensus was "Mocha chocolate goodness". I think that describes them perfectly because it's a moist dark chocolate cake, topped with salted caramel buttercream.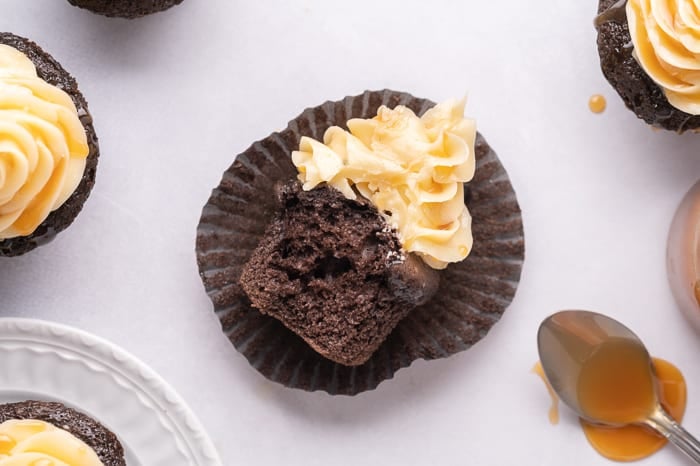 I made homemade caramel sauce, using this recipe from Two Peas and Their Pod, using it in the frosting. The sauce is SO good on its own and we have been drizzling it on everything from ice cream to cookies. Next time I make these cupcakes, I will fill them with the salted caramel sauce for some added oomph. You totally should if you would like added salted caramel flavor!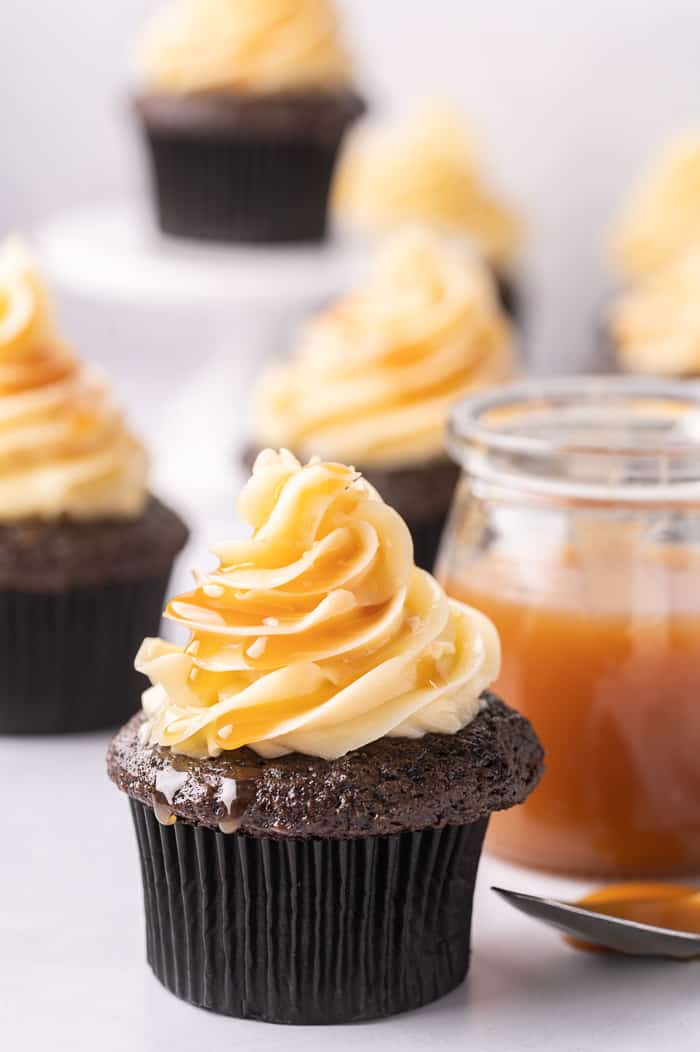 If you've ever had a salted caramel mocha drink at Starbucks, this is in cupcake form. A very decadent chocolate cake with a sweet and salty topping!
Enjoy these dark chocolate salted caramel cupcakes, and let me know what you think of the recipe!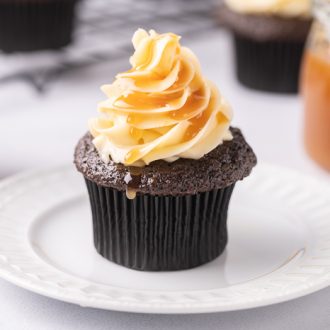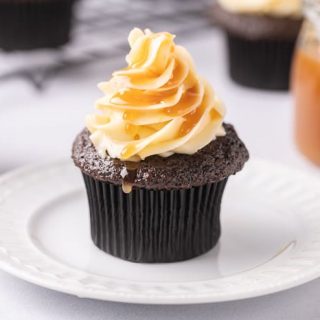 Yield: 12-15 cupcakes
Dark Chocolate Salted Caramel Cupcakes
Dark chocolate salted caramel cupcakes are decadent, made with moist dark chocolate cake and topped with salted caramel buttercream. Mocha cupcake goodness!
Total Time
1 hour
8 minutes
Ingredients
For Chocolate Cupcakes:
1 cup all-purpose flour
1 cup granulated sugar
⅓ cup cocoa powder (I used Ghirardelli)
1 teaspoon baking soda
½ teaspoon baking powder
½ teaspoon salt
1 large egg, at room temperature
½ cup buttermilk, at room temperature
½ cups strong black coffee, hot
¼ cup vegetable oil
1½ teaspoons pure vanilla extract
Frosting:
5 large egg whites, room temperature
1¼ cup granulated sugar
1 ½ cup (3 sticks) unsalted butter, room temperature, cut into pieces
2 teaspoons pure vanilla extract
Instructions
For the Chocolate Cupcakes:
Preheat oven to 350 degrees F. Line muffin tins with cupcake liners.
Sift together all the dry ingredients into the bowl of an electric mixer.
In a medium bowl, combine all the wet ingredients using a whisk.
Mix the dry ingredients on low speed for 1 minute. Stop the mixer and add the wet ingredients. Mix for 2 minutes on medium speed and scrape the sides and bottom of bowl. Mix for additional minute on medium speed.
The batter will be thin. Divide evenly among the cupcake liners.
Bake for 12-15 minutes or until a toothpick inserted in the center comes out almost clean.
Cool cupcakes on wire racks completely. Meanwhile you could start on the frosting.
For the Salted Caramel Swiss Meringue Buttercream:
Whisk together sugar and egg whites in a heatproof mixing bowl set over (not in) a pot of simmering water. Whisk until warm and sugar is dissolved (mixture should feel completely smooth when rubbed between your fingers), about 2 to 3 minutes. Remove from heat.
With an electric mixer on medium speed, whip the egg white + sugar mixture for about 5 minutes (using the whisk attachment). Increase speed to medium-high, and whisk until stiff, glossy peaks form and meringue has cooled (test by feeling bottom of bowl), about 6 minutes. Do not proceed if the bowl is still warm. Your butter will melt.
Reduce speed to medium and switch to the paddle attachment. Add butter, one piece at a time, beating well after each addition. Continue beating until the butter incorporates into the meringue and a silky buttercream forms. It usually takes a few minutes, depending on whether your meringue was cool. Keep beating, it will come together. Once silky smooth, beat in vanilla extract and ¼ cup salted caramel into the buttercream. Mix until combined.
Use frosting immediately to frost cupcakes or store in an airtight container in fridge for up to a week.