Oatmeal Chocolate Chip Cookies
Chewy oatmeal chocolate chip cookies made with applesauce and no butter! The perfect sweet treat for breakfast or a quick snack.
As we speak I am without Internet and cable. It's been four days and counting.  It's frustrating to say the least especially when you rush home for the cable guy and he never shows up. Is having cable crucial for survival? NO. But Internet. Yeah, kind of necessary (My sister is rolling her eyes as she reads this in an Internet cafe in Sierra Leone where she pays ~$3 every week to use the internet and read my ramblings on this blog. I love you Alex and I'll bring you a cookie soon!).
But back to my ramblings. I am not one of those people who would think no Internet is liberating or would go find something in nature to do with my time. I make plans, schedules and not having Internet this week was not one of those. My plan for the week was catch up on my blog reading after being away all last week, do some recipe research (aka pinteresting) and write some posts before we get to another busy weekend. But no, none of that has happened.
Instead, guess what happened?? Random thoughts. Lots of random thoughts. I won't bore you with all of them. But this thought crossed my mind a few times: "This is the last year of my 20s!" The thought was frightening so I distracted myself by baking some cookies. Not these ones here though.
These oatmeal chocolate chip cookies were made last week for a special friend. To thank her for the wonderful
birthday present
she sent in the mail. They are particularly chewy and the lack of butter in them makes me smile and reach for more. Oh also, they are not too sweet which makes them perfect for breakfast! I may have had a few with my morning tea, just saying.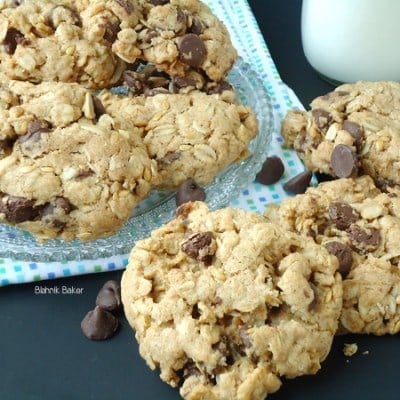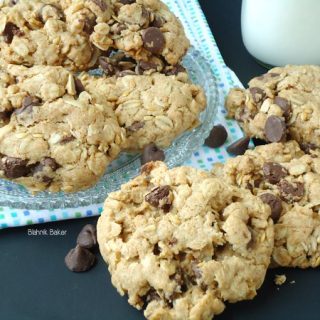 Yield: ~ 20 cookies
Oatmeal Chocolate Chip Cookies
Chewy oatmeal chocolate chip cookies made with applesauce and no butter! The perfect sweet treat for breakfast or a quick snack!
Prep Time 15 minutes
Cook Time 12 minutes
Total Time 27 minutes
Ingredients
1 cup whole wheat flour
½ teaspoon baking soda
1 teaspoon baking powder
½ teaspoon salt
½ teaspoon cinnamon
¼ teaspoon nutmeg
2 cups old-fashioned oats
2 tablespoons flaxseeds
2 tablespoons coconut oil, solid
1 cup light brown sugar
1 egg
⅓ cup apple sauce
1 teaspoon vanilla extract
1 cup chocolate chips
Instructions
Preheat oven to 350 degrees F. Line baking sheet with parchment paper.
In a medium bowl, whisk together the flour, baking powder, baking soda, salt, nutmeg, cinnamon, oats and flaxseeds
In another large bowl, using an electric mixer, mix the coconut oil and the sugar on medium speed. Add the egg, mix until combined. Then add the applesauce and vanilla extract.
Add the flour mixture and stir by hand until just combined. Stir in the chocolate chips.
Drop tablespoon sized cookie dough balls onto a baking sheet and flatten each cookie slightly. Bake 10-12 minutes or until the cookies are lightly brown on the edges. Cool on baking sheet for three to four minutes before transferring to a cooling rack.
Any plans for the weekend? Other than hoping the cable man shows up for his 6PM appointment tonight, I have one heart-breaking goodbye that I am not looking forward to (one of my dearest friends is moving clear across the country) and a flea market date with the hubby I am excited about.
Hope you all have a great weekend!!