Peach Blueberry Bourbon Cake
Goodbyes
They stink.
This weekend, I had the endearing task of saying goodbye. One of my dearest girlfriends is moving to San Diego with my (her) baby! She graduated with her PhD two weeks ago and landed a dream job on that side of the country. However, we've seen each other almost every day for the past few years and I don't even know what I am going to do without her. To say I will miss her is an understatement. But I am extremely happy for her and can't wait to visit already.
On the bright side, while we were cleaning out her apartment this week, I inherited the contents of her liqueur cabinet. Her quality bourbon had to be put into good use before she left. And because I was floating in fresh peaches and blueberries, this cake happened. I don't know if this is a cake or an open pie or even a cobbler. It resembles all the above.But what I do know is that it is very good. A buttery pastry dough is filled with fresh peaches and blueberries macerated with lemon juice and bourbon. It's baked in a unique way and that's what drew me to the recipe in the first place. The pastry dough is made in a food processor and pressed in a springform pan which is then filled with the fruit filling. The outside tastes like cake and the inside is gooey like a pie. It's bursting with summer freshness so make this before the summer berries and fruits go away.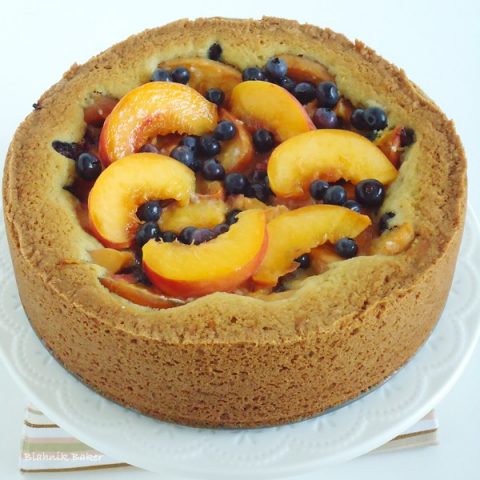 Yield: 1 9-inch pie
Peach Blueberry Bourbon Cake
This Peach Blueberry Bourbon Cake is bursting with summer freshness!
Cook Time 1 hour 30 minutes
Ingredients
For crust:
3 cups all-purpose flour
1 cup sugar
2 teaspoons baking powder
½ teaspoon salt
1 cup unsalted butter (2 sticks), cold and cut into cubes
2 large eggs
2 teaspoons vanilla extract
For filling:
¾ cup sugar
3 tablespoons all-purpose flour
2 tablespoons quick-cooking tapioca
5 peaches, cut into 8 pieces each
2 cups blueberries
1½ tablespoons lemon juice
1-2 tablespoons bourbon (to taste)
Instructions
To make the crust
In the bowl of a food processor, combine the dry ingredients by pulsing for a minute. Add in butter cubes slowly and pulse until the mixture is coarse, forming small pea-sized bits. Add eggs and vanilla extract. Pulse until dough comes together into a bowl. Form dough into a ball and transfer to a 9-inch springform pan. Spread dough evenly up the sides of the pan and the bottom. Press down with your fingers or a flat bottomed cup. Chill in fridge for 10 minutes while you prepare the filling.
For filling
In a large bowl, combine sugar, flour and tapioca. Add in the peaches, blueberries, lemon juice and bourbon. Gently mix to combine and coat the fruit. Pour the filling into the prepared dough, making sure it is evenly spread out. Be careful not to add extra liquid into the dough.
Cover the springform pan loosely with foil and place on a baking sheet. Bake until filling is bubbling and crust is golden, about 1 hour and 30 minutes. Let cake cool in pan for at least 20 minutes before carefully removing the sides of the pan. Let cool until warm before cutting. It's best served warm and with ice cream!
Notes
The filling was a little runny after baking so I would suggest letting the filling sit for 10-15 minutes before pouring into pastry dough. The tapioca will have time to work its magic.
MAKING THIS RECIPE? Share it with us on Instagram using #aclassictwist so we can see what you are baking up in your kitchen!