White Chocolate Biscoff Cheesecake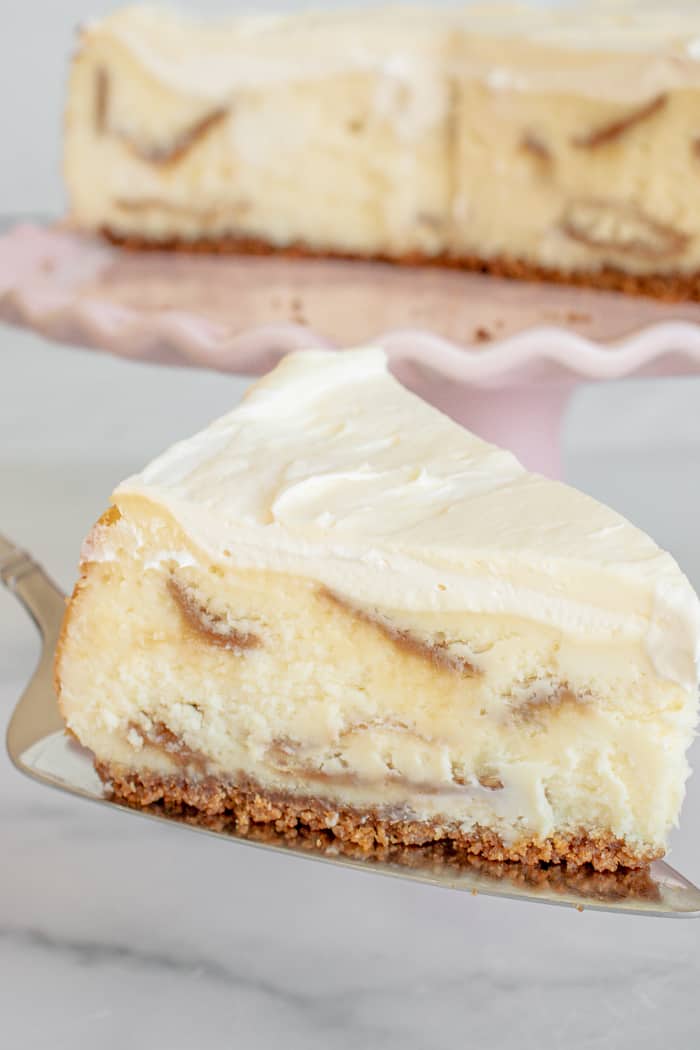 Growing up in Sierra Leone, most of our sweets were from Europe like Cadbury dairy milk chocolate and Speculoos cookies. The Speculoos cookies were one of my favorites and even as a child I loved the mix of cinnamon, nutmeg, and ginger that makes them perfectly spiced cookies. So when I was asked by Lotus Bakeries (the makers of Speculoos aka Biscoff cookies) to try their new Biscoff Cookie Spread, I was honored and on cloud nine with giggles. Of course, I said yes and couldn't wait to receive the samples.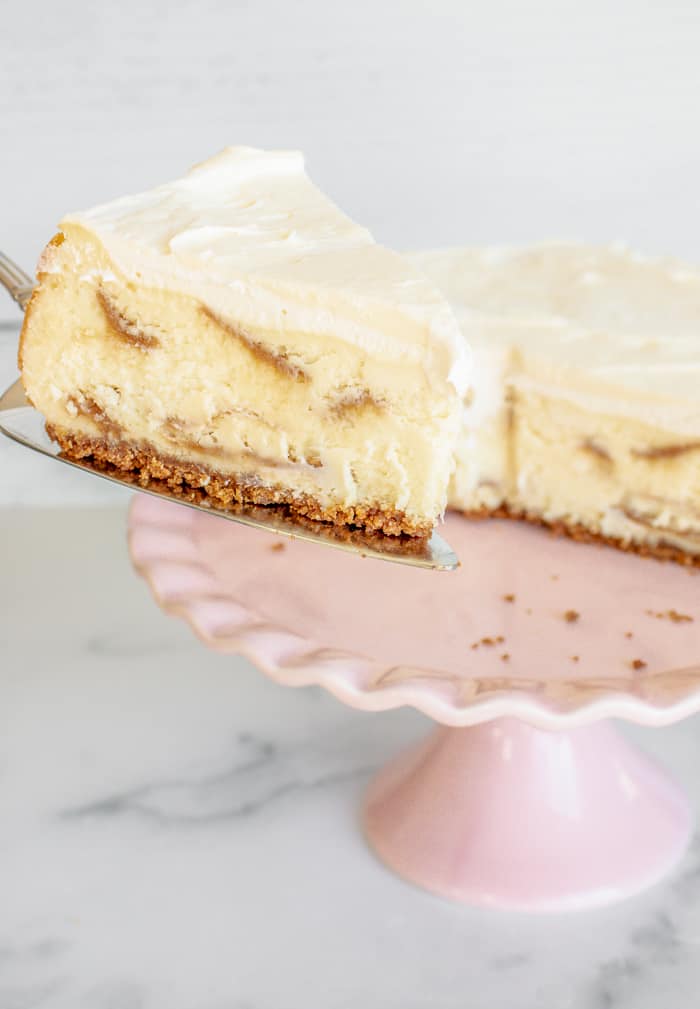 Biscoff cookie spread is made from Speculoos cookies; they found a way to convert the cookies into a creamy and crunchy spread (smart cookies right?). Both spreads are made with all-natural preservative-free ingredients. The spread is vegan and nut-free so it's perfect for those with nut allergies. It tastes just like the cookies, perfectly spiced and it is just as I remembered, except now I can have it with many things. It is simply irresistible!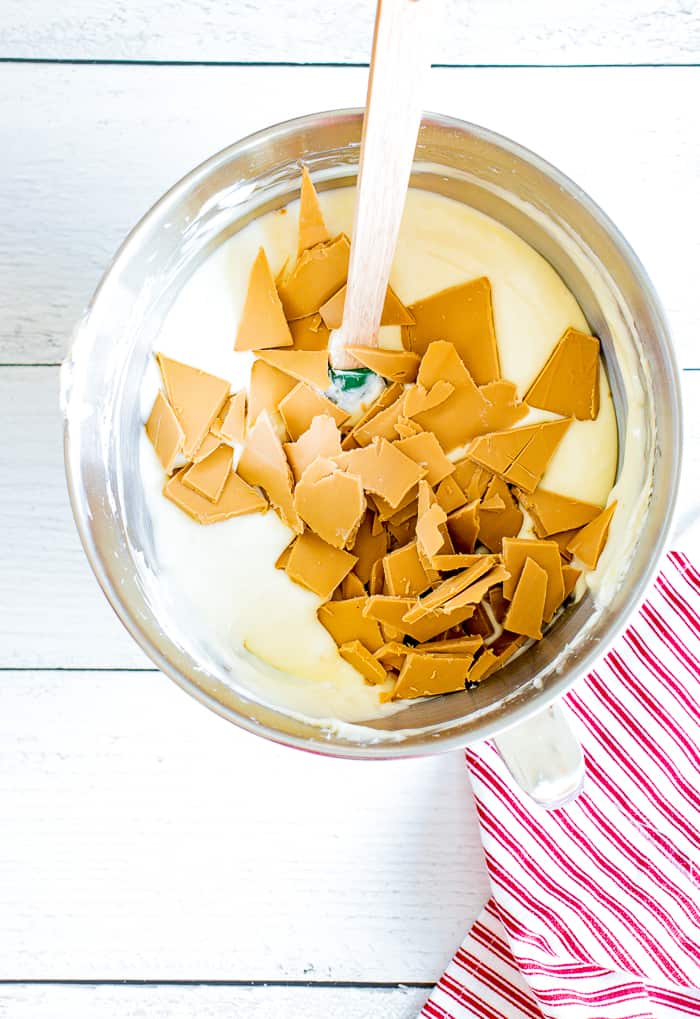 It was hard to decide what to make for this post and while I was thinking, I devoured an entire jar in the name of research. Not in one sitting (jeez!) … but it may have been a week or two?? I enjoyed the creamy spread on fresh strawberries, slathered on these bagels, in my breakfast smoothies, and even on a macaron! It was like having a new form of my childhood reinvented.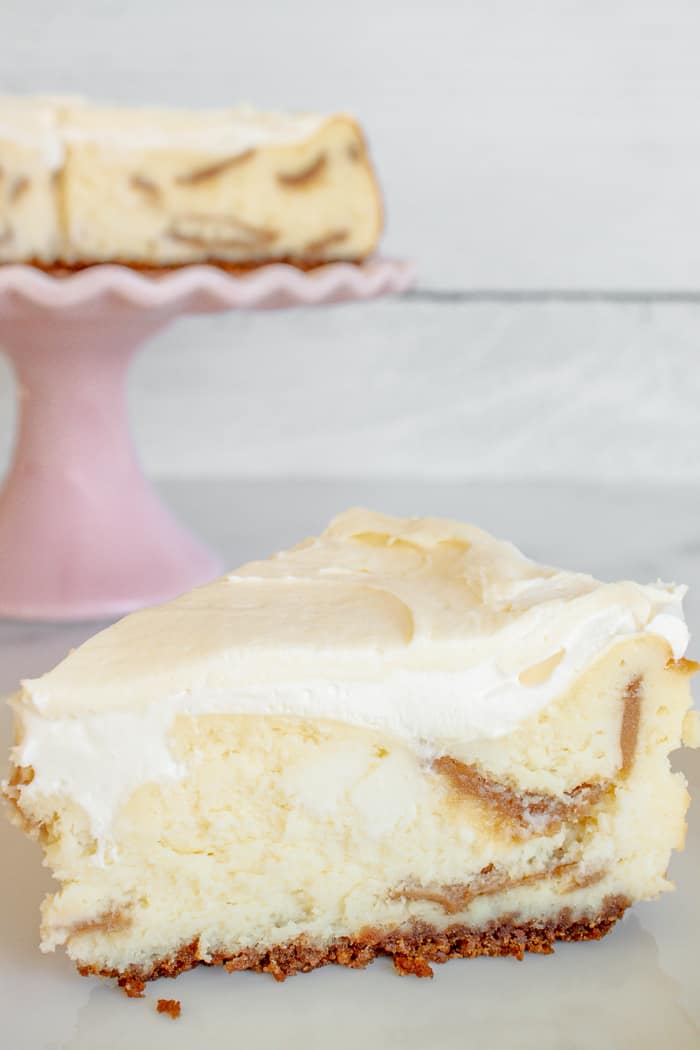 One jar later, I made this white chocolate biscoff cheesecake. I used biscoff cookies as the crust for the cheesecake and the filling is rich white chocolate with bits of biscoff spread morsels. I made the morsels to include a little bit more biscoff creaminess in the cheesecake. I simply melted white chocolate with the biscoff cookie butter and spread thinly on a wax sheet, allowed to chill for a few hours, and then broke them into small pieces. These were folded into the cheesecake filling right before baking.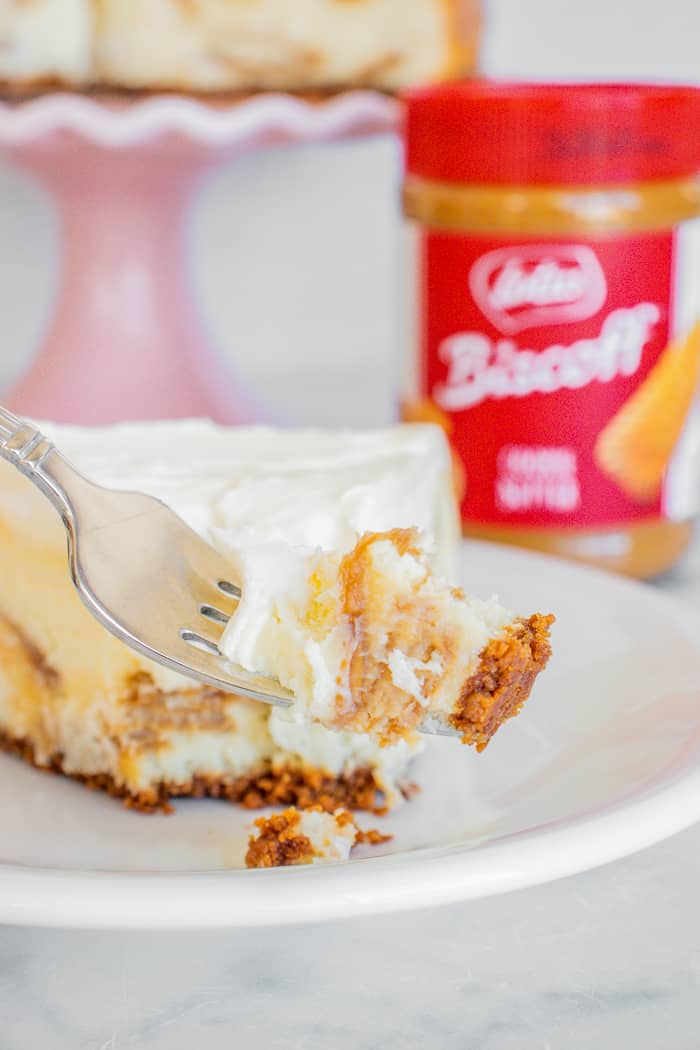 Be warned, this is a very rich cheesecake and every bite is creamy and crunchy at the same time. The cheesecake has all the flavors of my childhood favorite cookie that will remain fondly in my memory! If you have not tried this spread yet, RUN! You can find it in your grocery store, in the peanut butter aisle. I have a Pinterest board with more ideas on how to enjoy the spread!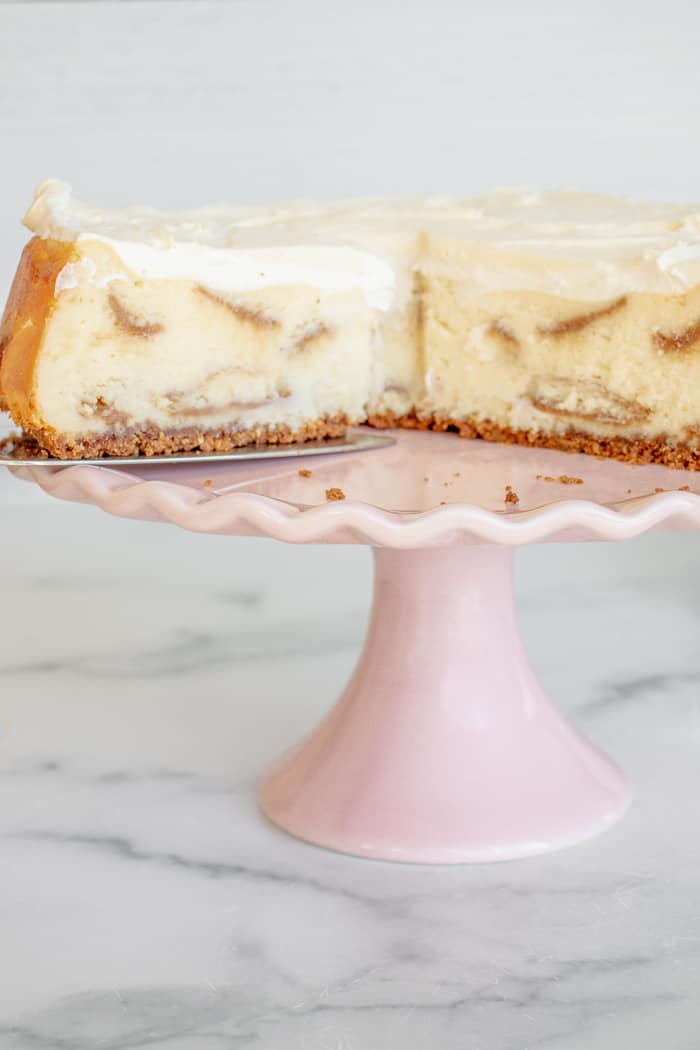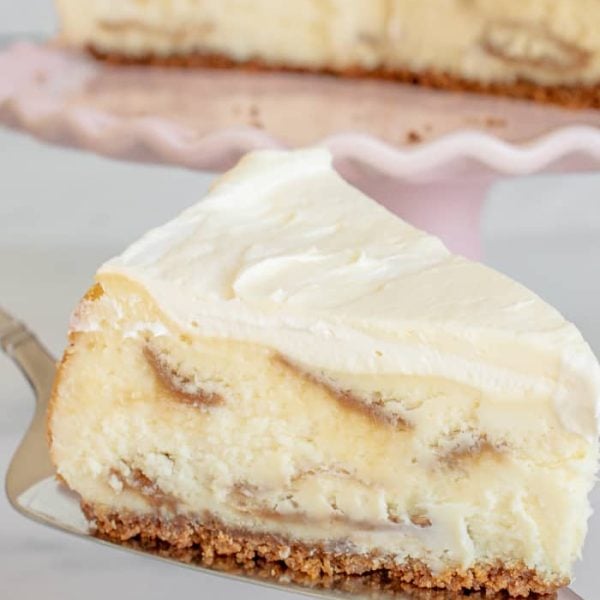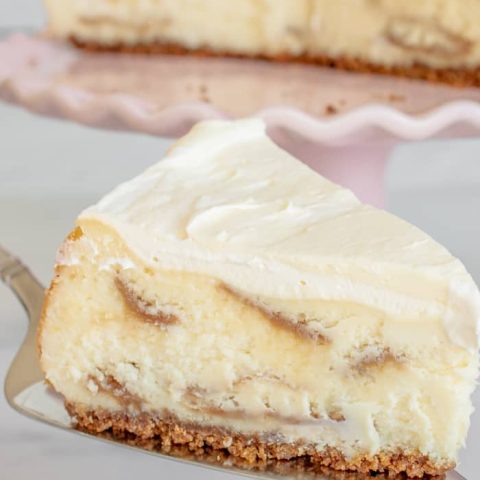 Yield: 1 9-inch cheesecake
White Chocolate Biscoff Cheesecake
This perfectly spiced cheesecake is both creamy and crunchy for the perfect treat!
Cook Time
2 hours
45 minutes
Total Time
9 hours
30 minutes
Ingredients
For Crust:
2 cups Biscoff cookie crumbs (1 8.8 oz package Biscoff Cookies)
3 tablespoons unsalted butter, melted
For the Filling:
24 ounces cream cheese, softened at room temperature
1 cup granulated sugar
4 ounces white chocolate, melted
1 ½ tablespoon all-purpose flour
1 ½ tablespoon heavy cream
¼ teaspoon kosher salt
2 teaspoon pure vanilla extract
3 large eggs, room temperature
1 ½ cups biscoff-white chocolate bark chunks (see instructions below)
For Mousse Topping:
½ cup cool whip, softened
4 ounces cream cheese, softened
2 ounces white chocolate, melted
½ teaspoons vanilla extract
Instructions
Make ahead: To make the biscoff-white chocolate bark, melt 4 ounces of white chocolate and ½ cup biscoff creamy spread. Spread thin over a sheet of parchment paper on a baking sheet. Chill for at least two hours. Cut up bark into small chunks and set aside.
Preheat oven to 350 degrees F. Wrap the entire outside of a 9-inch springform pan with two sheets of foil. Using a food processor, pulse the cookies into a fine crumb. (You could measure the crumbs here before adding the sugar but no need to)
Add the melted butter and process until combined. Transfer the crumbs to the prepared pan and evenly spread it. Use a flat bottom cup and press down on crust to create and even layer.
Bake crust for 10 minutes or until lightly golden. Let cool while you prepare the filing.
Reduce oven temperature to 325 degrees F.
In the bowl of an electric mixer, beat the cream cheese on medium speed until smooth and creamy, about 2 minutes. Add sugar and mix until combined, another minute, scraping down bowl as needed.
Add in melted white chocolate, flour, heavy cream, salt and vanilla extract. Mix well on medium-low speed. Reduce speed to low and add eggs in one at a time, mixing until combined. Mix filling until smooth for an additional minute.
Using a rubber spatula, stir in the biscoff-white chocolate bark chunks by hand. Pour filling into spring-form pan with crust. Place spring-form pan into a much larger baking pan (I like using a roasting pan). Add hot water into the larger baking pan to reach half way up the side of your spring-form pan.
Bake at 325 degrees F for one hour or until cheesecake is set around the edges but still jiggly in the center. Then turn off the oven and leave the cheesecake in the oven for additional 45 minutes.
Remove cheesecake from oven and allow to cool at room temperature for at least an hour before chilling. Chill for 6 hours or overnight.
The next day, mix together all the ingredients for the mousse in a medium bowl until smooth and slightly thickened. Remove the sides from the spring-form pan and spread the mousse mixture on top of the cheesecake. Smooth evenly.
Chill for 1-2 hours before serving.
Store covered in refrigerator.
Recommended Products
As an Amazon Associate and member of other affiliate programs, I earn from qualifying purchases.
Biscoff Spread
is a sweet, creamy spread made with Biscoff Cookies. Try this delicious European alternative to peanut butter or chocolate spread. Vote for the best photo in
Biscoff's "Spread the Love" contest
and you could win a year's supply of Biscoff products!
This is a sponsored conversation written by me on behalf of Biscoff. The opinions and text are all mine.