Butterscotch Cheesecake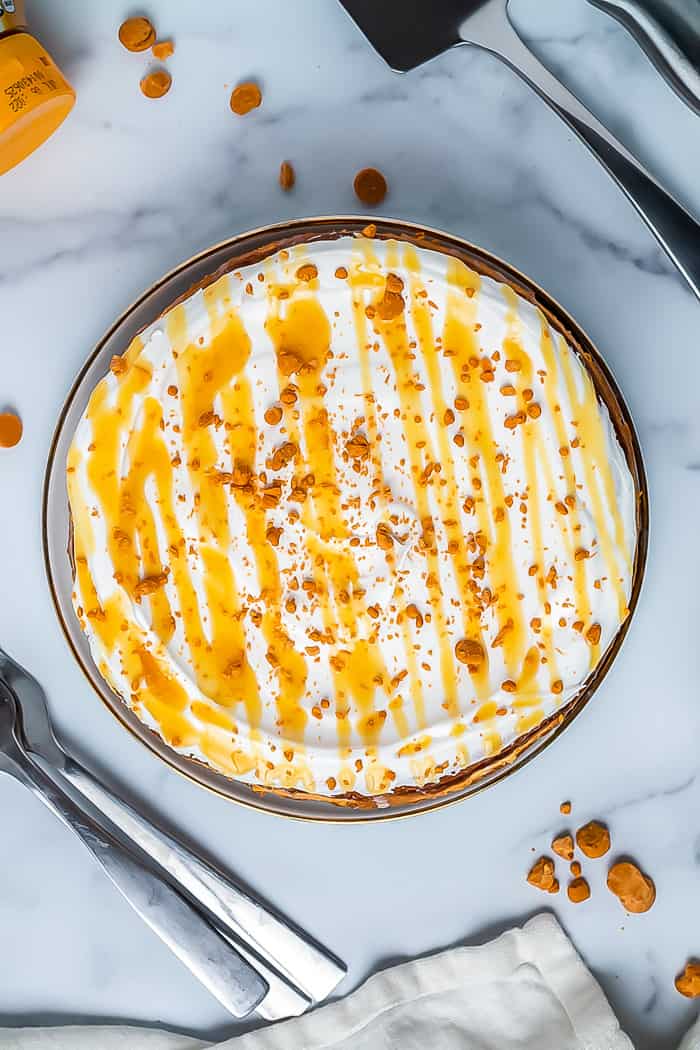 Butterscotch!! This is one of my favorite childhood flavors and I am so excited to share this cheesecake with you. Rich, butterscotch laced cheesecake topped with whipped cream and more butterscotch sauce. It's just amazing!!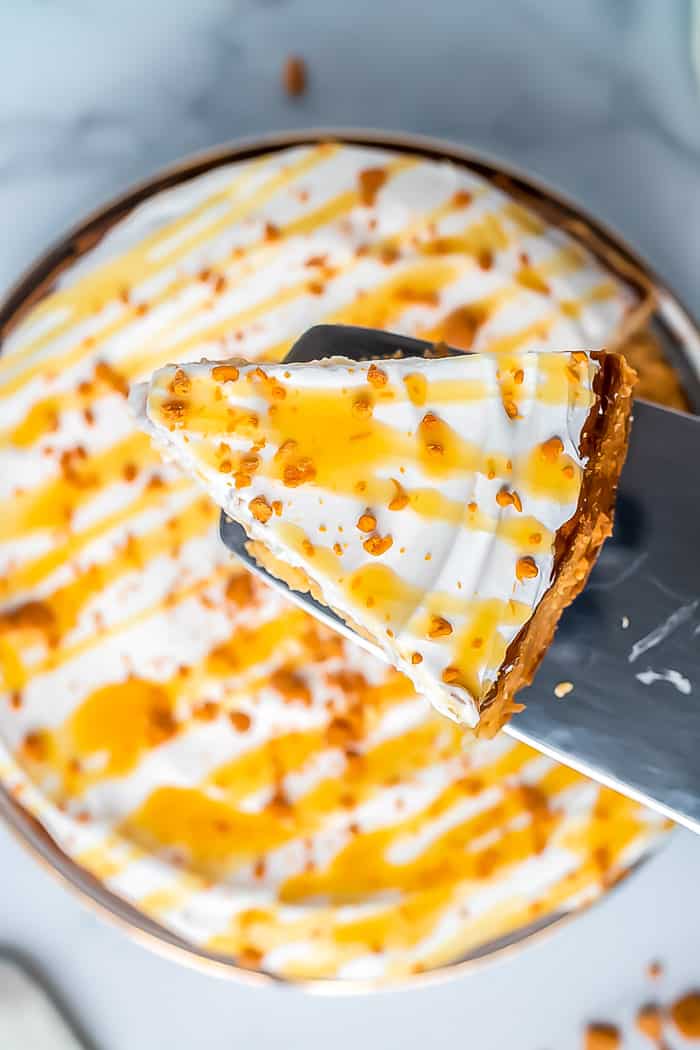 Growing up, one of my first exposure to "earning" money was making traditional butterscotch balls and selling them for pocket money. To make these, I would cook down condensed milk until caramelized. Once cooked to the right consistency, you can roll a teaspoon of the caramelized sugar into a ball.
These butterscotch balls were so good and addicting candy to kids my age. I would sell them around our neighborhood and pocket my profits, which were 100% since my mom provided the ingredients.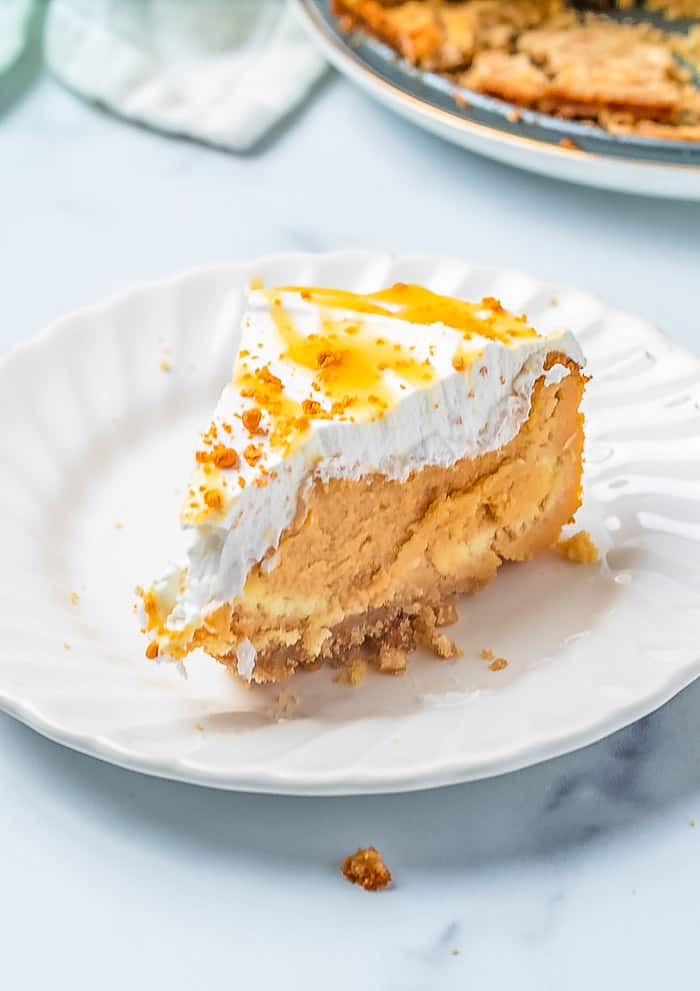 My love for butterscotch never left and I always find myself craving it when I need comfort and miss home. During the fall, I try to weave it into recipes as something about this season makes us all crave that comfort. My favorites have been these Butterscotch Gingersnap Molasses Cookies and this Butterscotch Pie with Curry Crust that is oddly incredible.
This year, I am adding this butterscotch cheesecake to my repertoire of butterscotch recipes. The cheesecake starts with a vanilla wafer crust. I added a little bit of coconut flakes to the crust to add in some chewiness. From previous experience, this always adds in a great flavor boost to my crusts and ultimately cheesecake.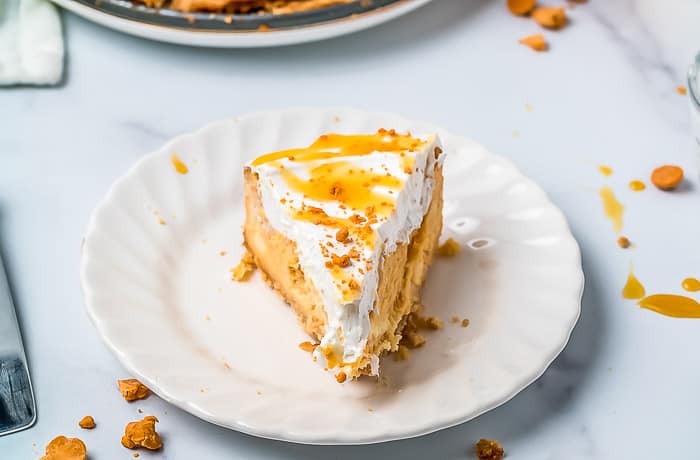 The filling for the cheesecake is based on my go-to cheesecake base. I introduced the butterscotch flavor through a pudding mix which is an easy way to add your flavor of choice to cheesecake. It's subtle and yet very present. I love the notes of brown sugar and butterscotch in this creamy filling.
Like many of my cheesecakes here on the blog, I love topping them off with whipped cream. It breaks down the rich flavor with a light airy topping. This slice is perfect with a drizzle of butterscotch sauce on top. Each bite is creamy, crunchy, and decadent at the same time.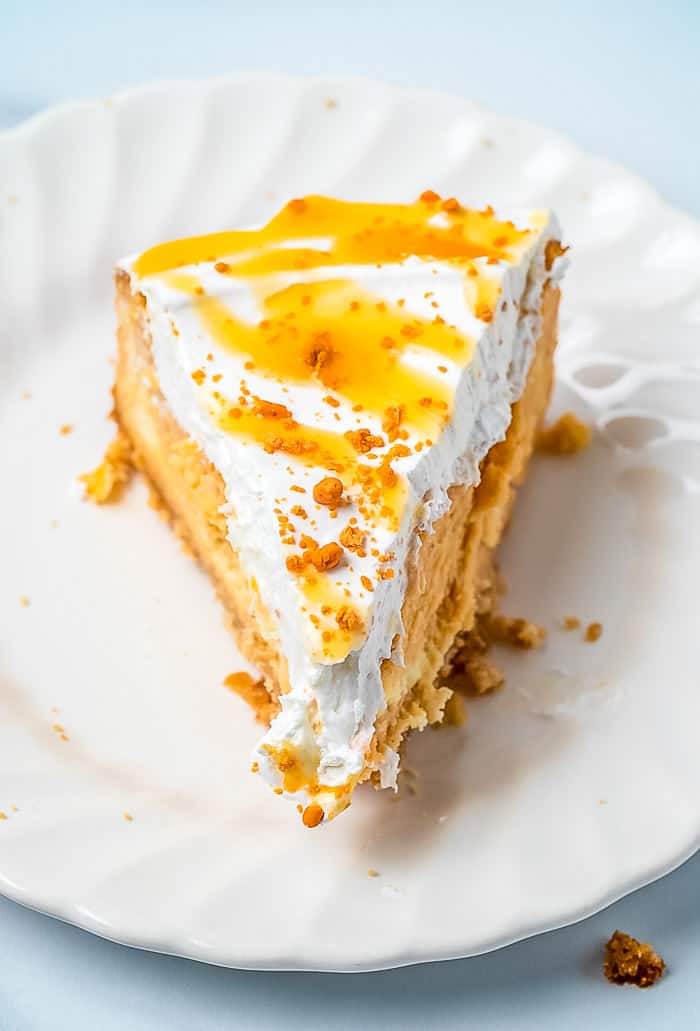 This butterscotch cheesecake is one for the books. I can see it being perfect for any fall gathering, including Thanksgiving if you'd like something other than pumpkin pie.
Happy fall baking!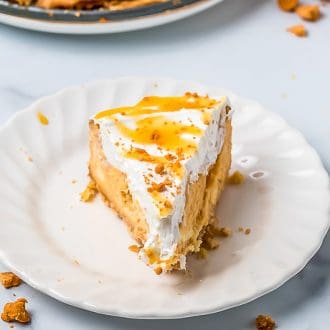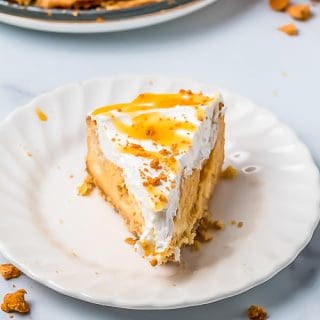 Yield: 1 9-inch Cheesecake
Butterscotch Cheesecake
This butterscotch cheesecake is creamy, rich, and delicious with buttery notes of brown sugar.
Total Time
5 hours
30 minutes
Ingredients
For the Crust:
5 ounces mini vanilla wafers (about ½ the box)
1/4 cup coconut flakes
¼ cup (½ stick) unsalted butter, melted
For Filling:
24 ounces cream cheese, at room temperature
½ cup light brown sugar
½ cup heavy whipping cream
1/2 package butterscotch pudding mix (so half of the 3.5 oz packet)
2 large eggs, at room temperature
2 tablespoons all-purpose flour
Topping
1 cup cool whip or homemade whipped cream
3 tablespoons butterscotch syrup
¼ cup butterscotch chips (crushed)
Instructions
Preheat oven to 350 degrees F.
Add vanilla wafers and coconut flakes to a food processor and pulse for 10 seconds until finely ground. Add in melted butter with cookie crumbs and pulse for a few seconds. Spray a 9" springform pan with non-stick cooking
spray. Then, add cookie mix to the bottom and press down to flatten.
Bake crust for 7 -10 minutes, until golden. Remove and cool on a wire rack.
Lower oven to 325 degrees F.
In a large bowl, mix cream cheese and sugar on medium speed until light and fluffy. Add in heavy whipping cream, flour, and eggs. Mix on low until combined and then increase to medium speed for 1 minute.
Remove about 2 cups of cheesecake batter and place into a separate bowl. In the remaining batter, whisk in pudding mix until combined.
Pour ½ of the butterscotch mixture into the springform pan. Then, pour the reserved cheesecake batter. Top with remaining butterscotch cheesecake mixture. If you would like to create a swirled pattern, swirl a butter knife around the batter, careful not to overmix.
Wrap your springform pan in double-foil, if you are worried about leakage. I like doing this even if my cheesecake pan is "leak proof"
Place the springform pan into a larger baking pan and pour hot water into the bigger pan (NOT INTO YOUR CHEESECAKE), about halfway up the cheesecake pan.
Bake until set on the edges and the center slightly jiggly, about 60-70 minutes.
Remove cheesecake from the water bath and allow to cool for at least two hours on a wire rack. Place into the fridge for at least 4 hours or preferably overnight before serving.
Remove cheesecake from pan when ready to serve.
Top with whipped cream and drizzle cheesecake with butterscotch syrup and crushed butterscotch chips on top.
Recommended Products
As an Amazon Associate and member of other affiliate programs, I earn from qualifying purchases.