Butterscotch Pie with Curry Crust
This butterscotch pie with curry crust is the perfect combination of sweet and (a slight hint of) savory.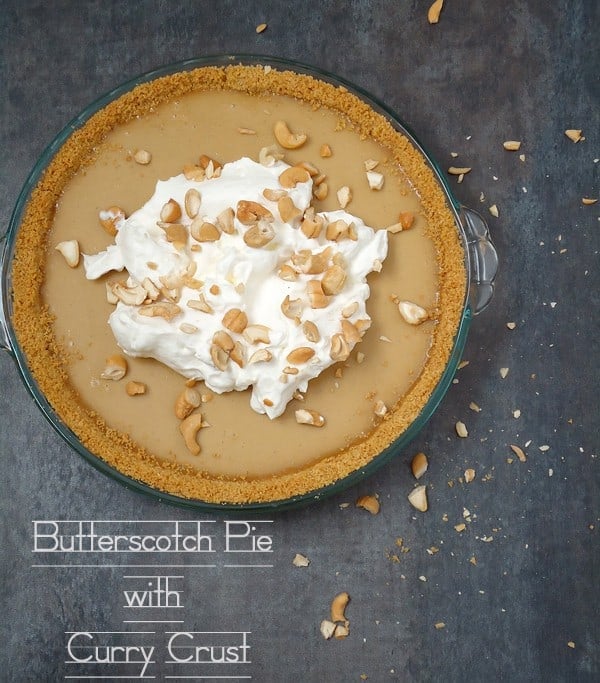 It's Friday so it's time for another installment of Pie Fridays!This butterscotch pie with curry crust is the perfect balance of sweet with a slight hint of savory. And yes, you read that right. There is curry in this pie crust. And it is so AMAZING! I say IS because I am enjoying a slice as I write.
I try a plethora of recipes from fellow bloggers and food magazines but not all can be shared on this blog with you. For example this weekend, I tried these baked apple chips by Rachel Cooks to use up some leftover apples and they were freaking delicious. I found a new healthy snack. Oh I also made (AGAIN) these snickery doodles from Sally just because I wanted something sweet and cinnamon-y. But as I said not all can be shared here. However, this butterscotch pie with curry crust from the November issue of Bon Appetit just had to be shared.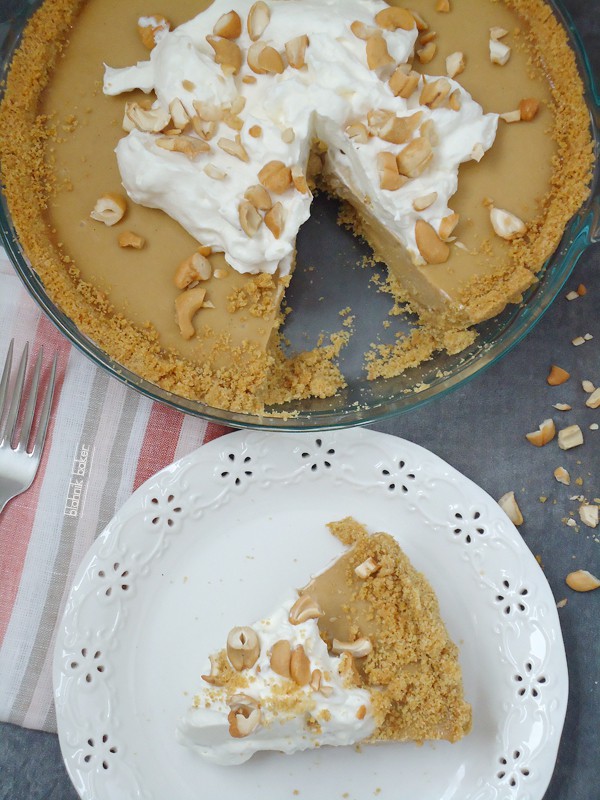 Butterscotch reminds me of my childhood as my sister and I used to make homemade butterscotch toffees with canned condensed milk.  I remember we would ball them up into small pieces and try to sell them around the neighborhood. That's why I tried this pie, to see what homemade butterscotch making entails. And of course the whole curry in the crust thing was intriguing. Do you make things for a challenge? (I know you do).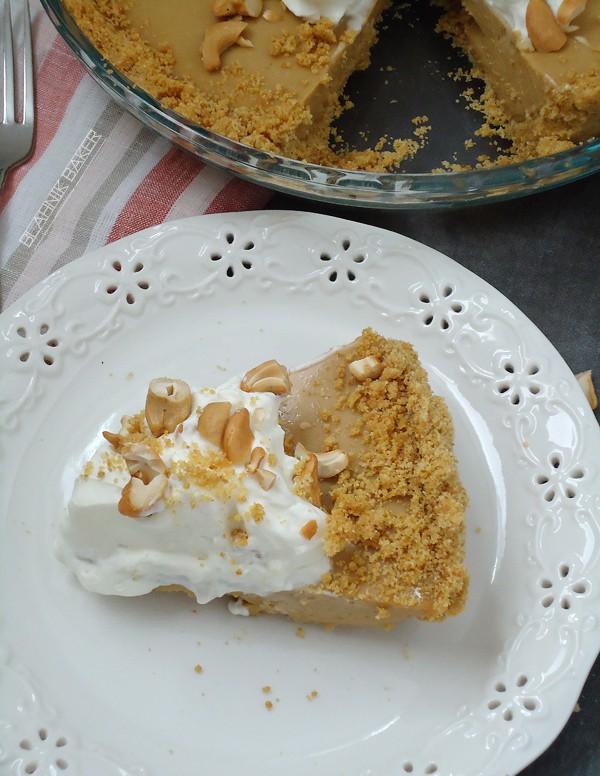 This pie starts with a crumbly vanilla wafer crust that is infused with curry and fennel seeds. A luscious and creamy homemade butterscotch filling is made with brown sugar, vanilla bean, cream and butter and is chilled before the pie is assembled. The curry in the crust is ever so subtle but present to combine smoothly with the butterscotch flavor. The filling is a cross between a pudding and a custard, creamy and silky. Those are not even my words. They are the words of our resident 6-year old scientist who frequents the lab (technician's daughter) and she gave this pie a generous two thumbs up.
The recipe is simply outstanding and will take away the breath of your guests when you add this to your thanksgiving dinner menu. The pie can be made up to two days in advance and refrigerated.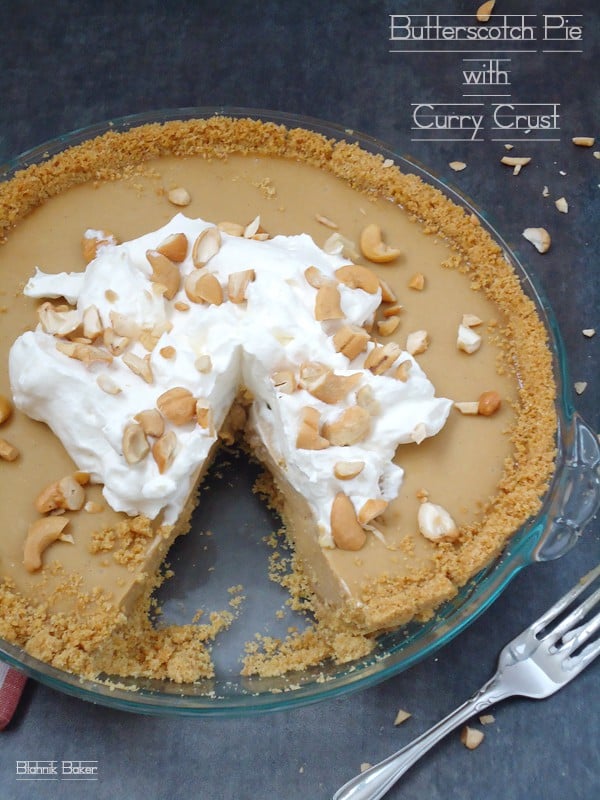 By the time you read this, I will be on a jet plane half way to San Diego for a conference. While I am gone next week, three of my amazing blogging friends will be here to take care of you 🙂 Julie of This Gal Cooks, Jamie of The Land of Milk and Cookies and Allie from Baking A Moment will be sharing with you some yummy recipes. Wait until you see what they have in store for you. But for now, check out their beautiful blogs in advance to get acquainted!
Have a great weekend friends!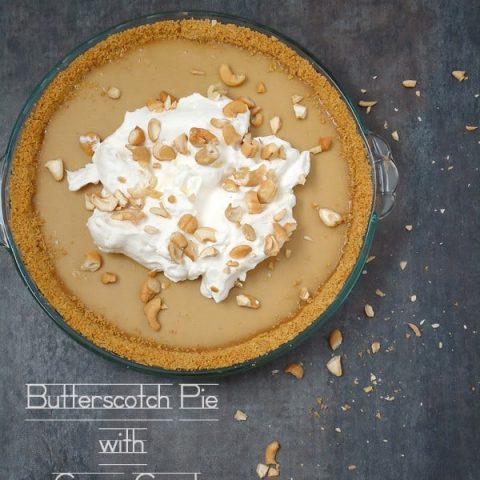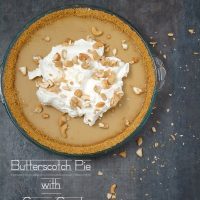 Yield: 1 9-inch pie
Butterscotch Pie with Curry Crust
This butterscotch pie with curry crust is the perfect combination of sweet and (a slight hint of) savory. It's perfect for thanksgiving or dinner party!
Total Time
3 hours
5 minutes
Ingredients
1 teaspoon fennel seeds
8 ounces wafer cookies
2 tablespoons all-purpose flour
2 tablespoon granulated sugar
1 teaspoon curry powder
¼ teaspoon kosher salt
6 tablespoons unsalted butter, melted, slightly cooled
1 envelope unflavored powdered gelatin
1½ cups whole milk, divided
3 tablespoons granulated sugar
½ vanilla bean, split lengthwise OR ½ tablespoon vanilla bean paste
1½ cup heavy cream
¾ cup dark brown sugar, divided
⅛ teaspoon baking soda
3 large egg yolks
2 tablespoons cornstarch
3 tablespoons unsalted butter
1 tablespoon molasses
½ teaspoon kosher salt
Unsweetened whipped cream
½ cup chopped salted, dry roasted cashews
Instructions
For the Crust
In a small skillet, toast the fennel seeds over medium heat until fragrant about 2 minutes. Let cool before chopping finely.
In the bowl of a food processor, pulse the cookies until they are in fine crumbs. Add the flour, sugar, curry powder and salt and pulse until combined. Add in the butter and pulse until the mixture resembles wet sand.
Transfer crust to a 9-inch pie dish and press down firmly onto bottom and up the sides. (I use the bottom of a measuring cup for this). Place pie dish on a baking sheet and bake crust for 20-25 minutes or until dry and set. Let cool on a rack while you make filling.
For the Filling
In a small bowl, combine gelatin and 2 tablespoon milk and let stand until softened (5-10 minutes).
In a medium saucepan, add granulated sugar and the scrapings of vanilla bean (If you used vanilla bean paste, do not add yet). Cook sugar stirring until melted and then continue cooking until sugar turns amber in color. Remove the saucepan from heat and slowly add in the heavy cream while whisking. The mixture will bubble vigorously so be very careful. Whisk until smooth. Return to heat and add ½ cup of the brown sugar, the remaining milk and vanilla bean paste if using. Cook while whisking until sugar is dissolved and the caramel mixture starts to steam. Remove from heat again and add in baking soda. Whisk until the bubbles subside. At this point, remove vanilla bean pods and discard.
In a separate medium bowl, whish together the eggs yolks, cornstarch and remaining ¼ cup brown sugar. Slowly whisk in half of the warm caramel-milk mixture into the egg yolks. Pour this mixture back into the caramel mixture in saucepan and bring to boil over medium heat. Whisk constantly and reduce heat to low. Cook until thickened, about 2 minutes. Remove from heat and add gelatin mixture, butter, molasses and salt. Whisk until butter melts and mixtures are smooth.
Transfer butterscotch mixture to a large bowl and chill until slightly cooled and thickened, about an hour. Stir occasionally during chilling to ensure a luscious and creamy filling.
Pour butterscotch filling into crust and smooth the top. Chill until set, at least 2 hours. (The pie can be made until this step and stored covered and chilled for up to 2 days).
Right before serving, top with whipped cream and chopped cashews.