Pumpkin Coconut Pie
This creamy and delicious pumpkin coconut pie is topped with toasted coconut flakes for twist to your classic pie. You will want this on your Thanksgiving table! (Recipe and pictures updated November, 2017)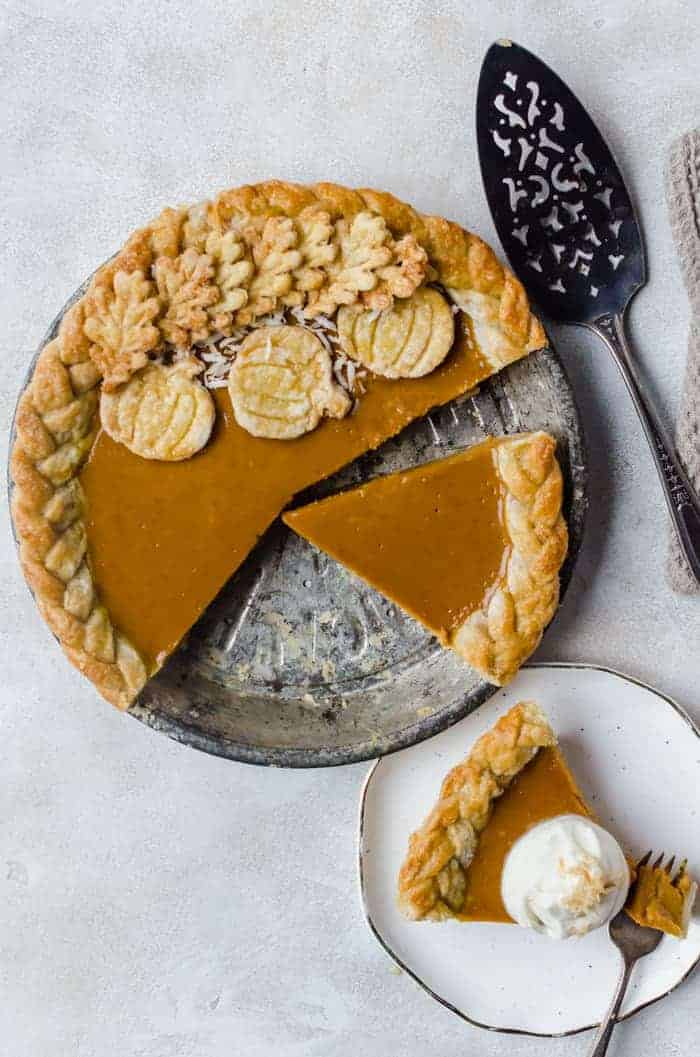 Before I get to this wonderful pumpkin coconut pie, I need to vent.
I am going on at least a month of serious sleep deprivation. Like going to bed at 2am every night and waking up at 7am. Bad, I know and as a neuroscience student I know sleep is necessary for proper brain functions. My days are spent trying to stay awake and since I'm not a coffee drinker, tea does a bad job of keeping me alert. But there just doesn't seem to be enough time left in the day after lab to come home, cook, clean and do all the blogging I need to get done.
I am struggling and should really find a better way of dealing with the rising amount of things to do. Slowly, things have been cut off my nightly schedule. First went the gym and then it was any hanging out with friends during the week except of course Grey's night. My poor husband just looks at me hopelessly. I clearly need to be more efficient with blogging and prioritize what is important otherwise I am going to sink. I don't even know how people with full-time jobs and kids do this. What's your secret? I need the magic equation.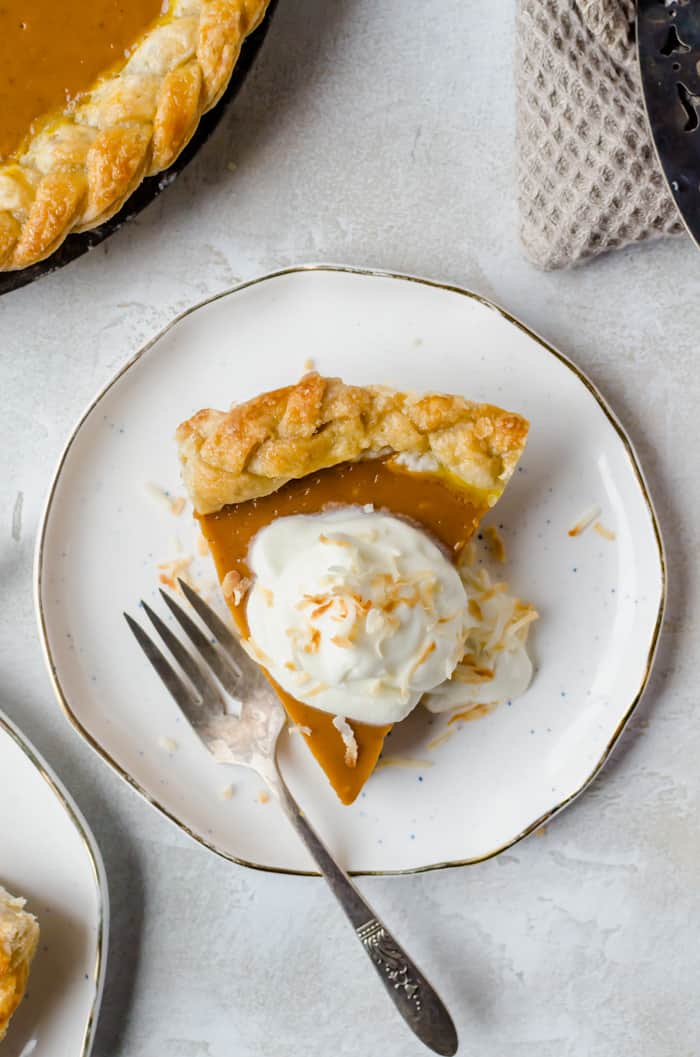 What does sleep have to do with this pumpkin coconut pie? Absolutely nothing and I assure you sleep will be the last thing on your mind when you try this pie. This is Pie #2 of Pie Fridays! Remember the pear walnut chocolate pie from last week that started us off? It was spectacular. I am so happy you guys liked the idea of more pies around here.
For this week, I wanted to make a pumpkin pie since I've never made one but instead of a traditional one, I added my own twist to this Thanksgiving classic. Before you go all, "coconut? Isn't that an unusual match?", I am here to tell you that it is not! Coconut and pumpkin are perfect together just as pumpkin and maple go together. Trust me, even if you don't like coconut, you will love this pie.
The coconut flavor here is not overpowering as I would have liked but I wanted the pumpkin to be the star. Feel free to use coconut cream or more coconut rum to enhance the flavor if you are a coconut lover like me. Either way, this pie is a creamy delicious pumpkin pie that would be a great addition to your Thanksgiving table!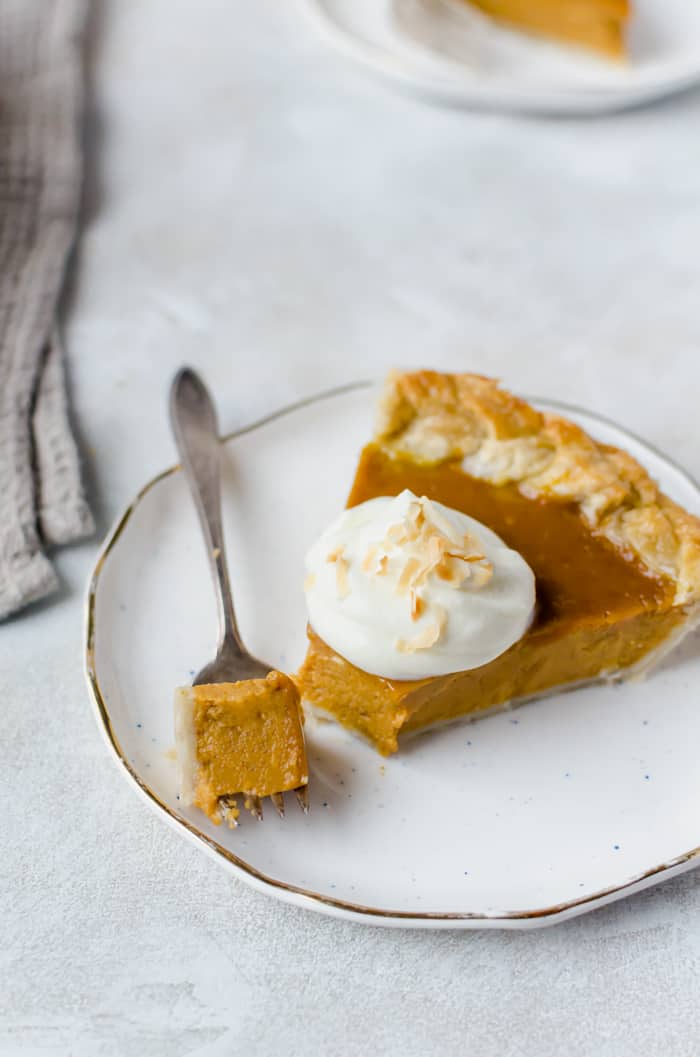 OK so I cannot slice a pie for the life of me and with this pumpkin coconut pie I couldn't hide that fact any more. There was no oozing filling to hide the crooked lines. Of course, it didn't help that I didn't let the pie cool for the recommended time or chill or that I didn't grease the pie dish to enable easy crust release. But according to this article I came across in Nature Neuroscience journal (yes I am a nerd, I know it), slicing a pie is no piece of cake. It made me feel so much better about my inability. Apparently slicing a pie has everything to do with your frontal cortical organization and some people have deficits in the categorization necessary for activities such as slicing of beautiful pie. This is my explanation and I am sticking with it. Thank you.
On that totally nerdy note, I'd like to inform you that I will be attending the annual Society for Neuroscience conference in San Diego next Friday!! If you have been to the area, or familiar with it, I'd love to hear any recommendations of places to eat and of course bakeries to visit. I'll be there for a week and I'm sure I'll spend most of my limited free time eating so please send me some ideas. Sprinkles Cupcakes is on the list already but I'm looking for local favorites as well.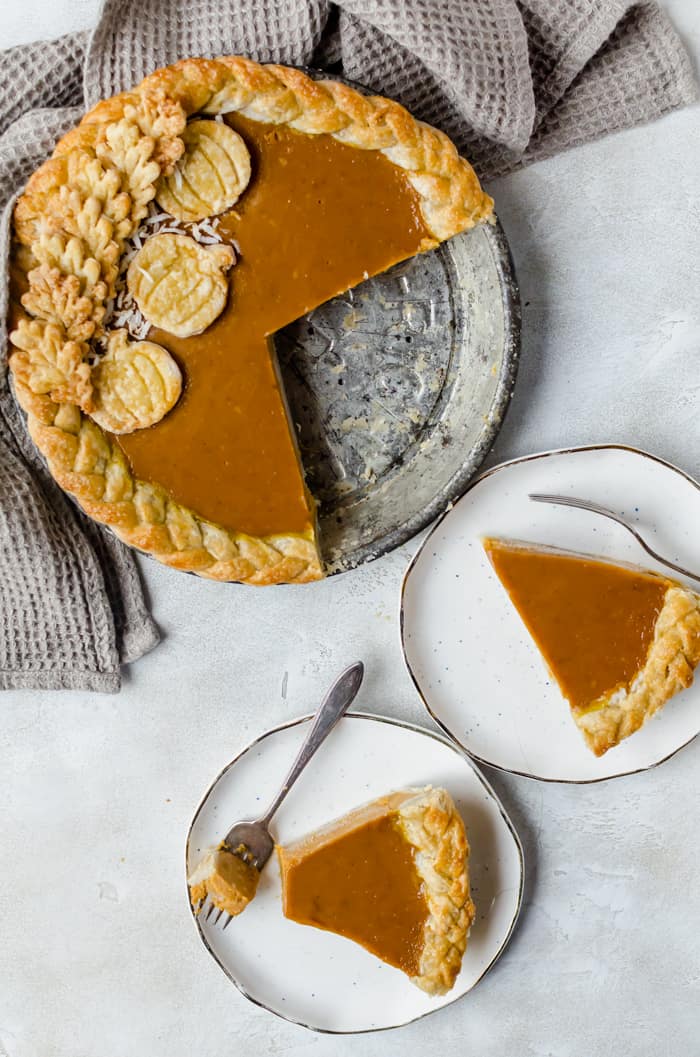 Have a great weekend and enjoy this pumpkin coconut pie!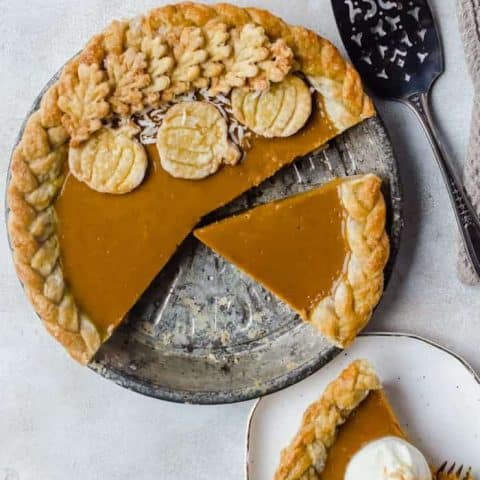 Yield: 1 9-inch pie
Pumpkin Coconut Pie
This pumpkin coconut pie is creamy, sweet and perfect for every holiday table.
Additional Time
30 minutes
Total Time
2 hours
15 minutes
Ingredients
1 ¼ cup all-purpose flour
¼ cup sweetened coconut flakes
½ teaspoon teaspoon salt
2 tablespoons cold vegetable shortening
6 tablespoons unsalted butter, cold and cut into cubes (use dairy free butter or substitute vegetable shortening)
¾ cup granulated sugar
½ teaspoon salt
1 teaspoon ground cinnamon
½ teaspoon ground ginger
¼ teaspoon ground cloves
2 large eggs, room temperature, lightly beaten
1 can (15 ounces) pumpkin puree
1 cup canned coconut milk
2 teaspoons vanilla extract
1 tablespoon coconut rum (optional)
Instructions
To make the crust:
Prepare ¼ cup ice-cold water and keep in fridge. In a food processor, pulse the flour, coconut, shortening, 2 tablespoons butter and salt until combined. Add in the rest of butter and pulse until the mixture looks like coarse meal. Sprinkle about 2 tablespoons cold water over mixture and pulse until dough comes together in clumps. If dry, add a little bit more water (1 teaspoon at a time). Remove dough from processor and form into a disk. Wrap in plastic wrap and chill for at least an hour. The dough can be made up to 3 days ahead. Keep chilled. Let stand at room temperature 15-30 minutes before rolling out.
Roll out dough on a lightly floured surface and fit into a 9-inch round pie dish. Press the dough into the bottom and up the sides. Using sharp shears, trim the overhanging dough, leaving about 2-inches. Fold overhanging dough under itself and crimp the edges. Chill for 30 minutes.
For the filling:
Heat oven temperature to 425 degrees F. In a medium bowl, gently whisk all the ingredients until combined. Pour the filling into the prepared pie crust. Place dish onto a baking dish and place in oven. Immediately reduce the temperature to 350 degrees and bake for 1 hour. Sprinkle additional coconut flakes around the edges and bake for additional 10-15 minutes until the center is almost set and slightly jiggly. Let pie cool on a rack completely, about 2 hours, before serving.