Chocolate Chip Peanut Butter Marshmallow Bars
Hi guys! While I am out here in California learning all things neuroscience, a few of my blog friends will be here all week sharing some yummy treats with you.
Today, Julie from This Gal Cooks brings you chocolate chip peanut butter marshmallow bars! But before you hear from Julie (and hear all about these delicious looking bars), I just wanted to let you know that she is one of a kind. She is ridiculously nice and approachable! She is also always willing to help with all my million blogging questions (Thanks Julie!) and I'm so lucky to call her my friend. As if that wasn't enough, she makes me drool every week with her creative recipes. Her meals are on constant rotation on my menu plans…like her easy bolognese sauce is now a staple in my kitchen. I am so glad she is here today to share with you her love for sweets!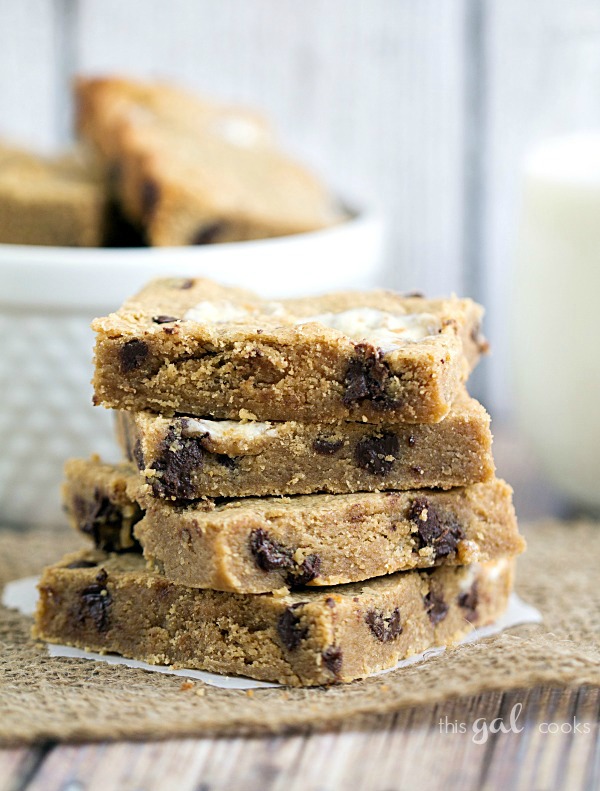 Hi folks! I'm Julie from This Gal Cooks and I'm thrilled to be guest posting on Zainab's blog today! I met Zainab a few months ago and she has become a great bloggy friend of mine! Today I will be sharing a recipe that contains two of my favorite indulgences: chocolate and peanut butter! I hope you enjoy these Chocolate Chip Peanut Butter Marshmallow Bars!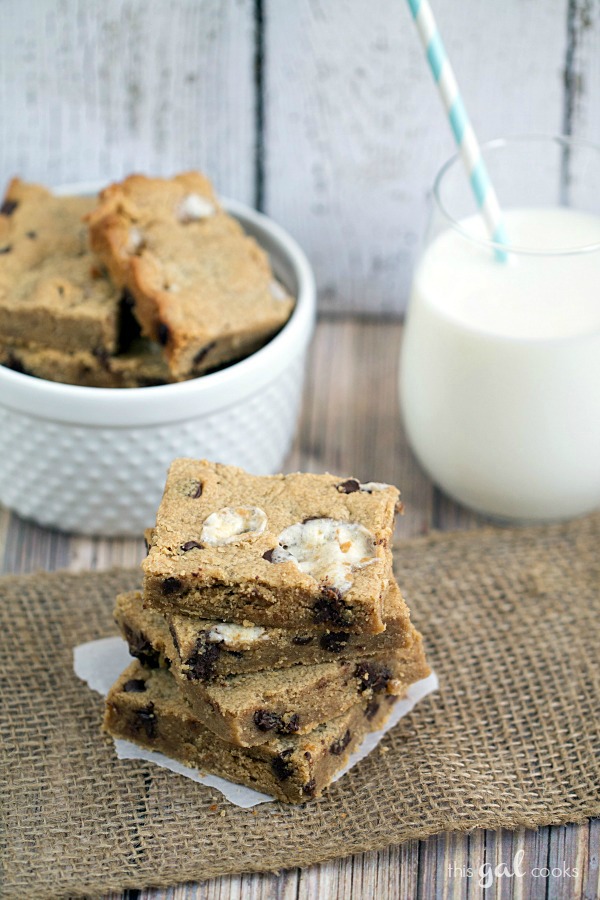 Let me tell you a little about me before we get to these delicious bars! I started blogging in June of 2012. When I first started blogging, I pretty much lacked photography skills. My photo shoots consisted of me quickly snapping a photo with my iPhone. Eventually, I realized that I needed to acquire some photography skills in order to showcase my food in a way that made the food look as good as it tastes! I did some research online, purchased a DSLR camera and a lens and the rest is history! Every day I strive to improve my photos. I try out new layouts, different angles, and sometimes different lighting. I recently purchased a macro lens and it has allowed me to capture shots that my little hundred dollar 50mm lens prevented me from capturing!
Camera: Canon Rebel T3 DSLR
Lens: Canon 100mm Macro IS USM Lens, Canon EF f/1.8 50mm lens
I blog about food. I guess it's pretty obvious with a name like This Gal Cooks! I also enjoy crafts and design but I don't have much time for them with working full time, attending school part time and blogging full time! My blog contains recipes ranging from savory dishes to sweet treats that will make you swoon. I have a weakness for cookies and a passion for creating delicious, simple meals that often will feed a small family for more than one day. Leftovers and easy meals are a must when you're a busy gal like me!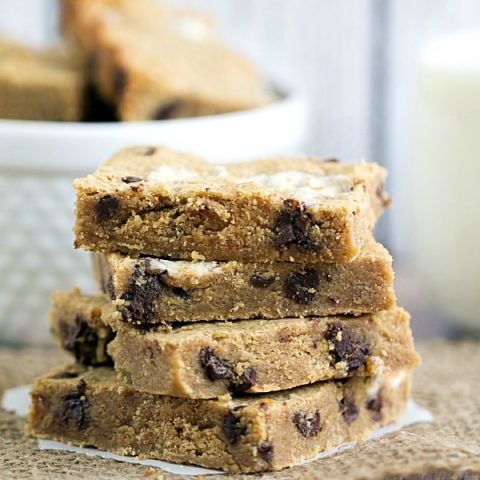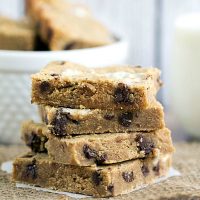 Yield: 1 9x13 pan
Chocolate Chip Peanut Butter Marshmallow Bars
These Peanut Butter Marshmallow Bars have all of your favorite sweet treats combined into one delicious dessert!
Ingredients
½ C melted butter
½ C packed light brown sugar
½ C granulated sugar
1 C creamy peanut butter
1 large egg
1 tsp vanilla extract
1⅓ C all purpose flour
½ tsp baking powder
½ tsp baking soda
½ tsp salt
1 C small marshmallows
1 C semi sweet chocolate chips
Instructions
Line a 13x9 baking pan with parchment paper. Be sure to leave paper over the edges of the pan for easy cookie bar removal.
In the bowl of a stand mixer with the flat attachment, beat together the butter, sugars, egg and peanut butter until well blended.
In a mixing bowl, beat together the flour, baking soda, salt and baking powder. Add the flour mixture to the butter/sugar mixture and beat until well blended. Fold in the chocolate chips and then the marshmallows.
Press the cookie dough into the 13x9 pan.
Bake at 350 for 15-20 minutes or until the edges are just turning brown.
Cool completely. After cooking, lift the bars from the pan and cut into squares.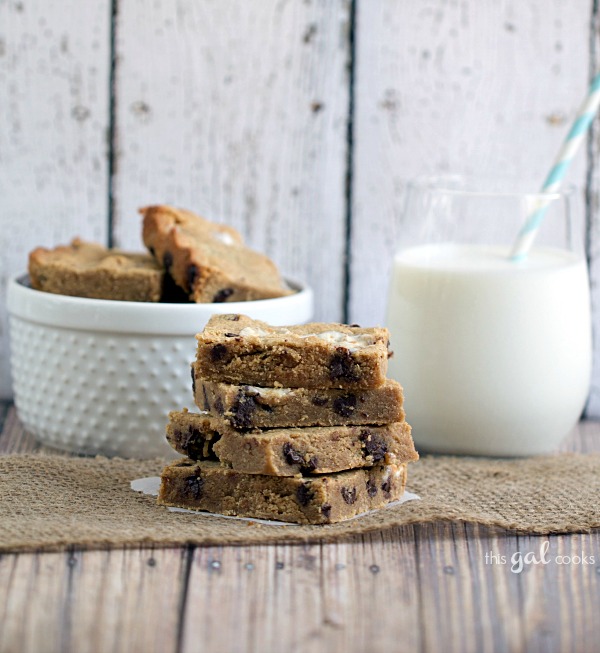 A few of my recipes that you may enjoy
Thank you very much Julie for sharing this recipe with us today. Didn't I tell you guys she makes me drool? These bars are going to be on my to-bake list as soon as I get back home. Be sure to check out Julie's blog (This Gal Cooks) for more delicious recipes and you can find her on Facebook, Twitter and Pinterest too. Connect with her and never miss a recipe!