Orange Walnut Macarons with Spiced Cream Cheese and Cranberry Filling
Today's post is by my dear friend Allie from Baking a Moment. Allie has an incredible love and talent for baking and these orange walnut macarons with spiced cream cheese and cranberry filling are a perfect example. I'm always in awe of her creations! She is also the sweetest darling and I have been very lucky to get to know her these past few months. You will love her and all her gorgeous desserts. Like these macarons.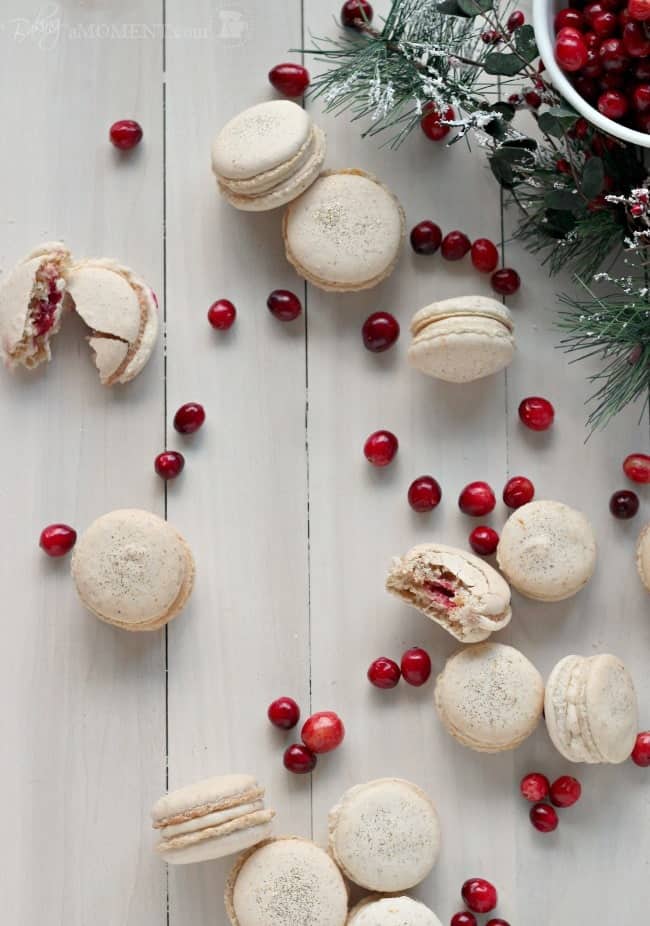 Hello there, Blahnik Baker readers!  My name is Allie and I blog over at Baking a Moment.  Zainab and I have connected through desserts-blogging, and I couldn't be more pleased!  She is just so sweet and warm, and she has the most generous spirit.  Am I right?  I mean you guys already know…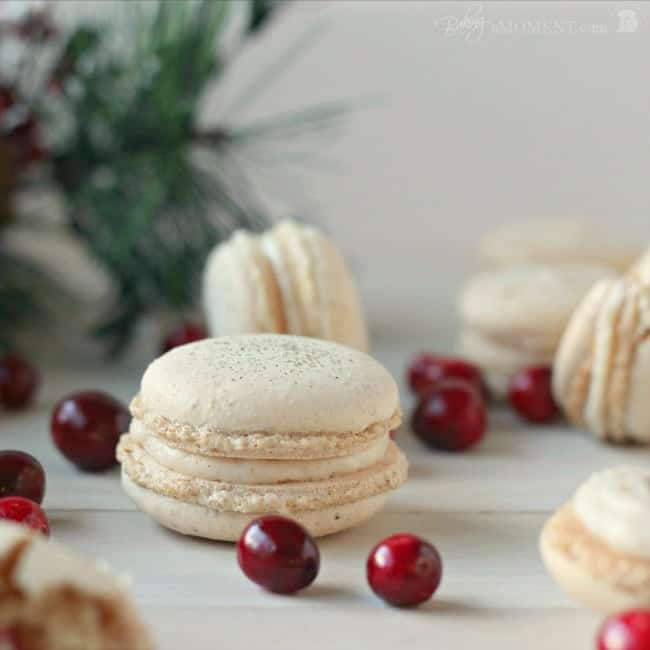 She's also one of the most intelligent people I know.  Hello, neuroscience?  That's like a whole other level of brainy… which leads me to why I'm here today.  Zainab is currently out of town and away from her beloved oven, attending a conference for neuro-scientists.  Am I even saying that right, Zainab???  Well, I'm so happy that she's invited me to guest post in her absence, and excited to share this recipe with you, her readers!
I know that macarons are a little intimidating for some, but I also know that they are one of Zainab's favorite things to make.  So, I figured, if she likes them, then you must also like them, and since I like them…
…how about a nice, late-fall/early-winter macaron rendition.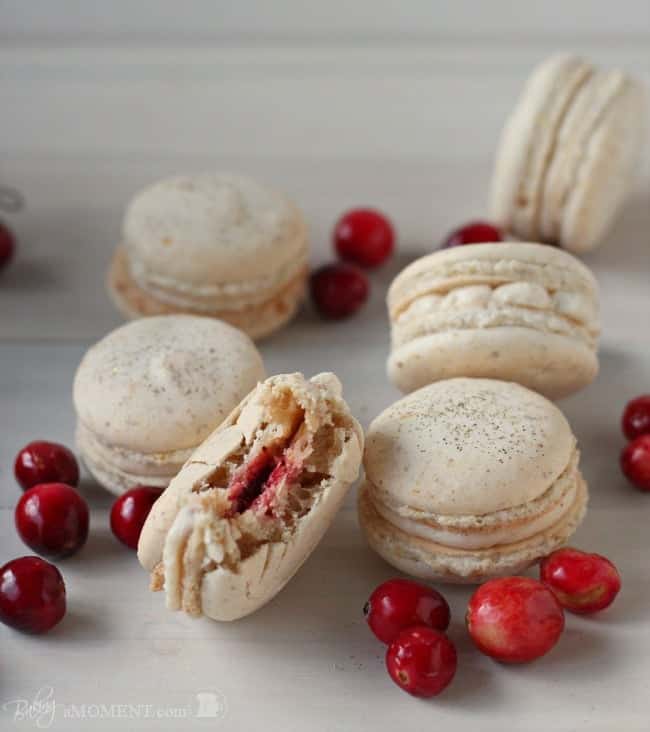 I always associate walnuts with the holiday season.  There's just something about their warm, toasty flavor that puts me in the holiday spirit!  For these macaron shells, I subbed some ground walnuts in for the traditional almonds.  Be sure to look for walnut "pieces," as opposed to "halves," when you are shopping for them.  Walnut halves are crazy expensive and they're just going to get ground up in the food processor anyway.  My food processor recently bit the dust so I actually ended up using the chopper attachment to my stick blender.  Just pulse the nuts until they are as finely ground as possible, but be careful not to turn them into nut butter!
I also added some orange zest for a citrusy pop that contrasts so nicely with all the other seasonal flavors.  And a little sprinkling of gold disco dust gives them an extra festive sparkle.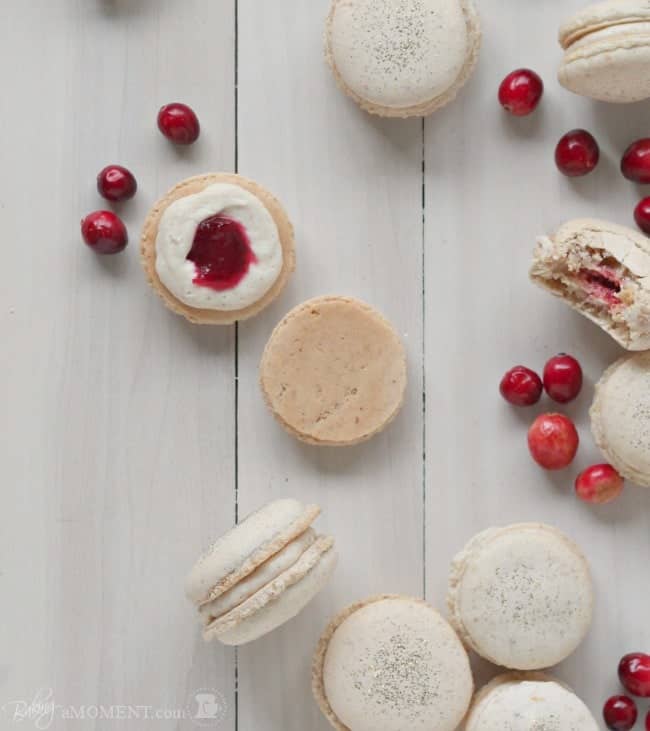 For the filling, a simple cream cheese frosting is spiked with a little cinnamon spice.  Pipe it in a circle on one macaron shell, and dollop a juicy drop of whole berry cranberry sauce in the little well you've created.  It's a happy little surprise when you bite that first macaron, and find the tart and fruity filling hiding inside!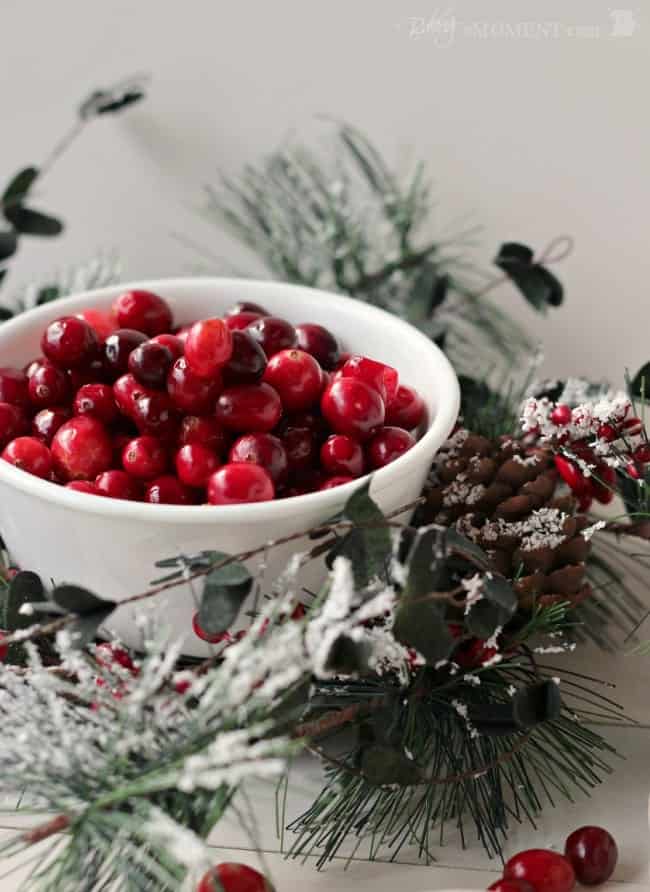 I just last year learned how easy it is to make homemade cranberry sauce.  Before that time, I was a slave to the can, but once I tried my hand at homemade, there was no going back!  I mean, we're talking three ingredients and ten minutes, you guys!  That being said, I'm sure it's pretty much the same thing in the can, so if you're in a rush, there's no shame in the shortcut.
You're going to love the way the tart fruit contrasts with the sweet, marshmallowy macaron shell!  And the toasty walnuts and citrus notes will tickle your taste buds.  The rich cream cheese filling with that hint of winter spice rounds out the flavors in such a delicious way!  Wouldn't these just be gorgeous on your holiday dessert table, or even as a little party favor for your guests to take home?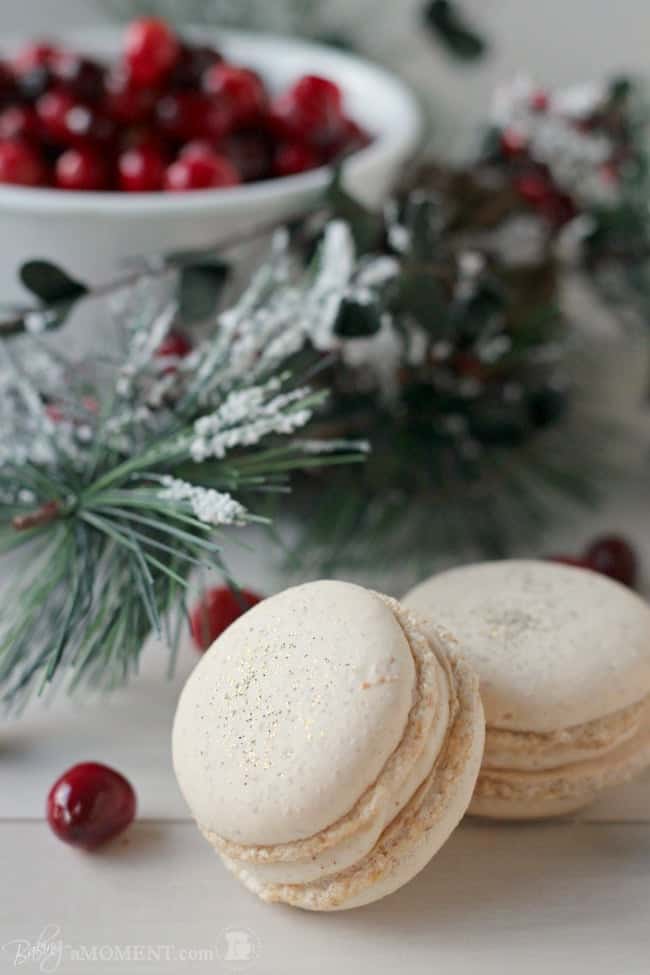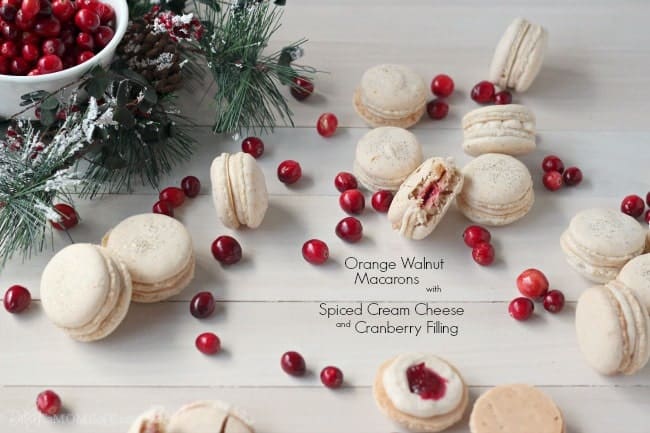 I hope you guys enjoy these fun and seasonal macarons!  I had so much fun putting them together and I'm so grateful for the opportunity to meet all of you Blahnik Baker readers.  Thank you Zainab!  You are a dear friend, and beautiful both inside and out.
Thank you very much Allie!! These macarons knocked me off my feet and I cannot wait to try them. Isn't she lovely? I told you you will love her. Head over to her blog, Baking a Moment, to find more creative recipes like this. Just remember, I loved her first!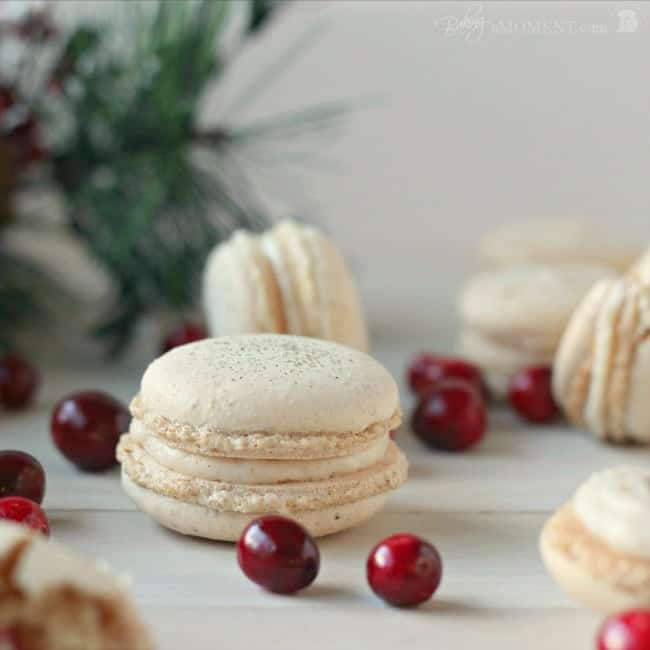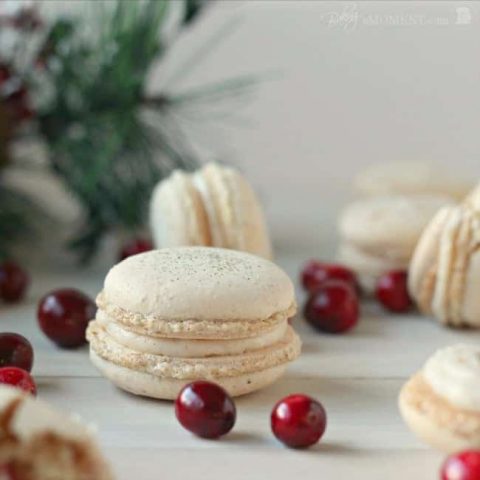 Yield: ~30 macarons
Orange Walnut Macarons with Spiced Cream Cheese and Cranberry Filling
Orange walnut macarons are filled with spiced cream cheese and a cranberry filling.
Total Time
1 hour
12 minutes
Ingredients
For the Cranberry Filling:
• 1 12-ounce bag fresh cranberries
• 1 cup granulated sugar
• 1 cup water
For the Shells:
• 155 grams powdered (confectioners) sugar
• 50 grams walnut pieces
• 50 grams almond meal/flour
• zest of half an orange
• 3 egg whites
• ¼ teaspoon cream of tartar
• pinch of kosher salt
• 55 grams granulated sugar
• Gold Disco Dust, optional
For the Spiced Cream Cheese Filling:
• 4 ounces softened cream cheese (I used ⅓ less fat)
• 3 tablespoons unsalted butter, softened
• ¼ cup powdered (confectioners) sugar
• ½ teaspoon vanilla extract
• ¼ teaspoon ground cinnamon
• pinch of kosher salt
Instructions
Make the Cranberry Compote:
Place the cranberries, water, and sugar in a medium pot and bring to boil.
Lower the heat and simmer for 10 minutes.
Cool completely.
Make the Macaron Shells:
Place the bowl of the food processor on a kitchen scale and zero it out.
Weigh out the nuts, almond flour, and confectioners sugar, add the orange zest, and process finely.
Sift the mixture, re-process any large pieces that may remain, sift again, and set aside.
Place the egg whites, cream of tartar, and salt in a large mixing bowl, and whip on medium speed to soft peaks.
Gradually whip in the granulated sugar, turn the speed up to high, and continue to whip to stiff, glossy peaks.
Add the nut mixture all at once. Fold together just until the mixture falls from the spatula in one thick, long, continuous ribbon. Do not overmix.
Fill a pastry bag with the batter, and pipe 2-inch diameter circles on a parchment-lined baking sheet. Sprinkle with gold disco dust, if using.
Preheat the oven to 375 degrees F.
Allow the piped batter to dry until a thin membrane has formed over the surface (about 20-30 minutes).
Place one tray of macaron shells in the hot oven, and immediately drop the temperature to 325 degrees F. Bake for 11-12 minutes, remove from the oven, and raise the temperature back to 375 F before putting the next tray in and immediately lowering again.
Cool the shells completely, on the baking sheet, before filling.
Make the Spiced Cream Cheese Filling:
Place all the Spiced Cream Cheese Filling ingredients in a small mixing bowl and beat until fluffy and smooth.
Assemble the Macarons:
Pipe a ring around the bottom of one macaron shell.
Fill the center of the ring with about ½ teaspoon of Cranberry Filling.
Sandwich another macaron shell on top.
Notes
You will have (a lot of) extra cranberry filling.
Canned Whole Berry Cranberry Sauce can be substituted for the Cranberry Filling.
Recommended Products
As an Amazon Associate and member of other affiliate programs, I earn from qualifying purchases.