Caramelized Pears and Mascarpone Donuts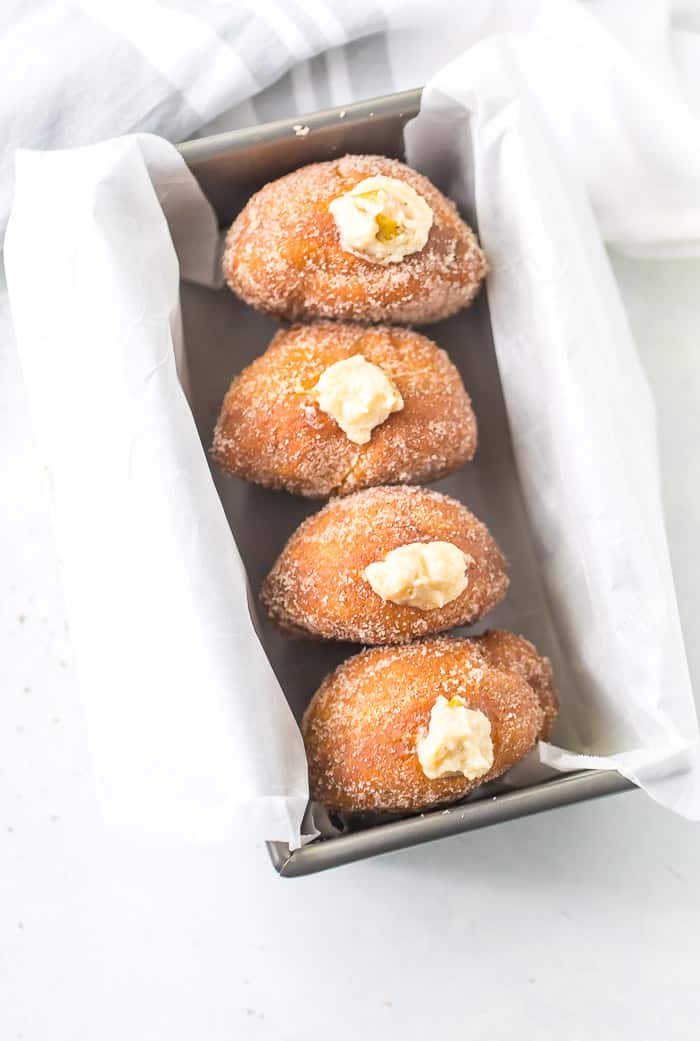 Hi friends! I hope you are enjoying the official start of Fall. I'm bringing you a new recipe that I hope gets your excited to enjoy pears this season. These caramelized pears and mascarpone donuts are satisfying, sweet, and oh so perfect with that fried dough wrapped around the filling.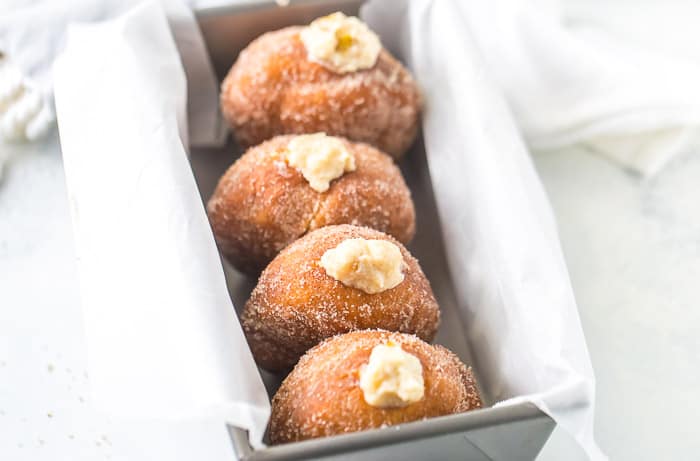 With every new season, comes a change in fresh produce and flavors. Fall is notorious for focusing on apples and pumpkin but I love the underdogs of the season. Pears fall in this category. I wish more people baked with pears and discover just how amazing the flavor is. There's nothing like baked pears in spices. The texture is indescribable and the enhancement of the pear flavors is just great. It's hard to describe. Just do it. Here are some ideas; pear almond galette, cranberry ginger pie, spiced pear bread, and maple spiced pear cake.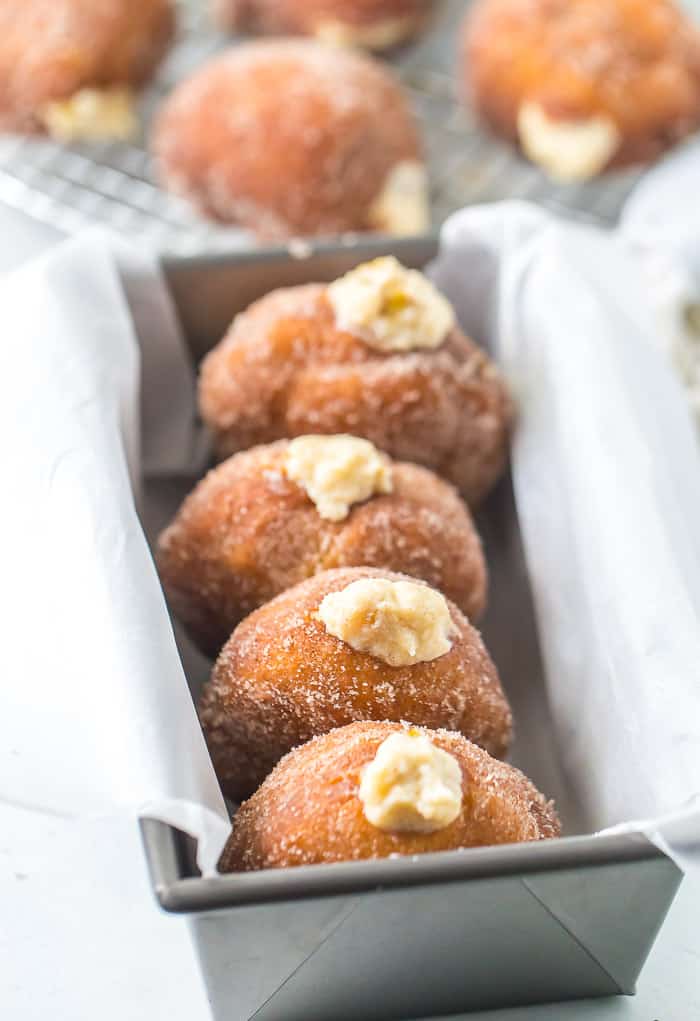 Now that I have convinced you, let's talk about these donuts. They are not baked but they have that spiced pear goodness we just talked about.
These donuts were an attempt to make bakery-worthy donuts at home since there are no more trips to donut shops. One of my favorite things about any new city I visit is finding gourmet donuts shops and ordering a variety of half a dozen donuts. I eat them as I stroll around time/explore. My husband is not always a fan of going off the beaten path to find these holes in the wall places, but he is always very happy with the end results.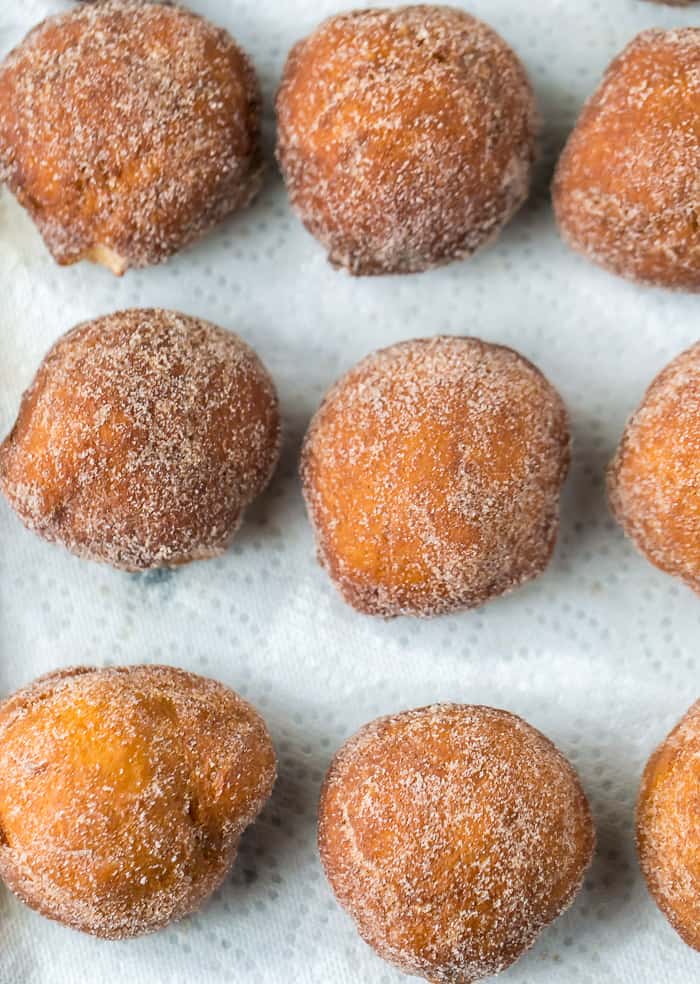 My experience with donut making is limited. I can tell you that upfront. But I sure do make great ones. These lemon filled donuts were a hit a few years ago and remain one of my favorites. It is a great one to start with. I took my donut game up a notch with these caramelized pears and mascarpone donuts.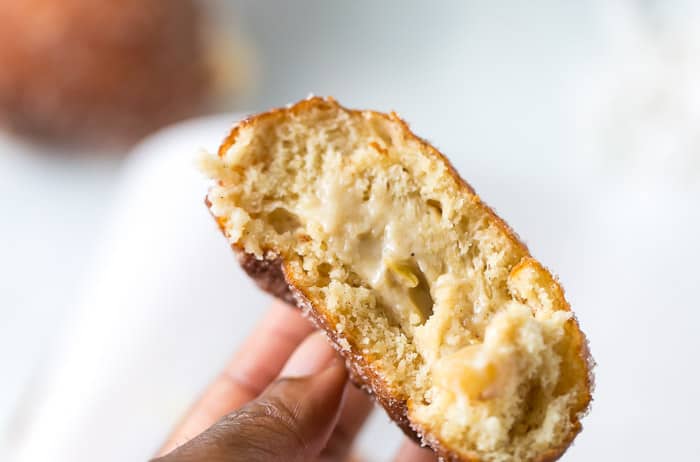 A yeast donut, the best kind, is fried until golden brown and then filled with the filling. The filling here are pears cooked down with brown sugar and spices until the sugar is caramelized. Once cooled, the pears are folded into mascarpone cheese. This filing is then used to fill each of those warm donuts. It is glorious and what donuts are meant to be.
While I can't replicate my favorite donut store donuts, I can at least try. For the sake of research, I will continue to make donuts. What other fall-inspired donuts should I make?? Let me know in the comments below.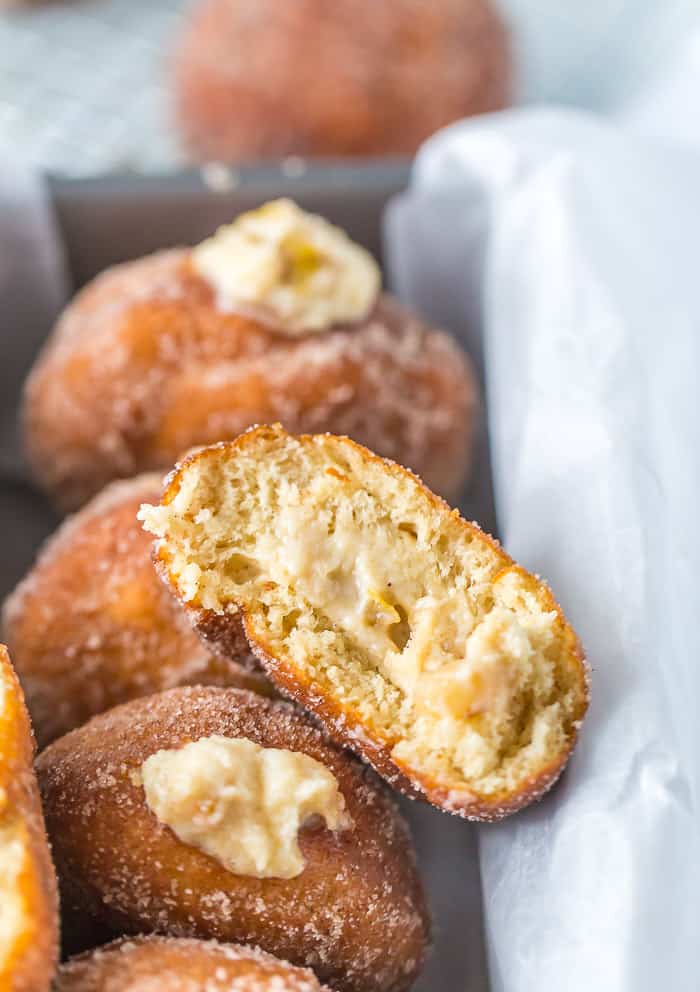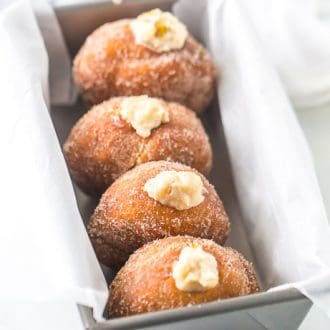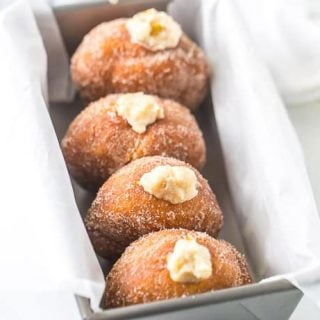 Yield: 8-10 donuts
Caramelized Pears and Mascarpone Donuts
These caramelized pears and mascarpone donuts are just what you need!
Total Time
3 hours
30 minutes
Ingredients
Caramelized Pears and Mascarpone Filling
2 medium pears, cored and diced
2 tablespoons brown sugar
1/4 teaspoon ground cinnamon
a pinch of nutmeg
8 ounces mascarpone cheese
Donuts:
1 package active dry yeast (1/4 ounce)
2 tablespoons warm water (~110 degrees F)
3 ¼ cup all-purpose flour (plus more for rolling)
1 cup milk, at room temperature
¼ cup unsalted butter, softened
3 large egg yolks
2 tablespoons granulated sugar
1 ½ teaspoon salt
½ teaspoon ground cinnamon
¼ teaspoon freshly nutmeg
Vegetable oil for frying (about 1/2 gallon)
Cinnamon sugar or powdered sugar for rolling
Instructions
For the Pear Filling:
In a medium saucepan combine the pears, brown sugar, cinnamon, and nutmeg. Cook over medium to low heat, stirring occasionally. Cook until pears soften, sugar melts, and caramelized. Remove from heat and let cool completely.
When ready to fill the donuts, prepare mascarpone. Using a spoon whisk the mascarpone until smooth. Gently fold in the pears into the mascarpone. You can chill filling until ready to use.
For Donuts:
In a small bowl, combine the yeast and warm water. Mix until yeast dissolves and let stand for 5-10 minutes until foamy. (If the yeast is not foamy, do not continue. Start again with new yeast and save yourself the heartbreak.)
In the bowl of an electric mixer fitted with the hook attachment, mix the flour, milk, butter, egg yolks, sugar, salt, cinnamon, nutmeg, and yeast mixture on low speed until the dough comes together. Knead the dough for 3-5 minutes until elastic and smooth. (Alternatively, mix the ingredients in a medium bowl with a wooden spatula until dough comes together. Turn dough onto a well-floured surface and knead for 7 minutes until the dough is smooth and elastic.)
Transfer dough into a lightly oiled large bowl and sprinkle lightly with flour to prevent a crust from forming. Cover the bowl loosely with a kitchen towel and let rise until double in size, about 2 hours in a draft-free place at room temperature. (Alternatively and preferably, you can let the dough rise in the refrigerator for 8-12 hours or overnight).
Lightly flour a surface and turn out the dough. Roll dough out to about one-inch thick. Using a biscuit cutter or round cookie cutter (mine was 3-inches in diameter), cut out as many rounds as possible. Transfer the donuts to a lightly flour baking sheet. Cover the baking sheet loosely with a kitchen towel and let donuts rise at room temperature until puffed about 1-2 hours (Don't re-roll the scraps. You can fry them up if you like)
When ready to fry, heat up the vegetable oil in a deep heavy-bottomed pot over medium-high heat. The oil should be at least 2 ½ inches. If you like you can check the oil with a thermometer, should be about 350 degrees F or 175 degrees C. This is where you need to be very CAREFUL, it's hot oil.
Fry donuts, 3-4 at a time, until puffed and golden brown about 1-2 minutes each side. Make sure you turn the donuts occasionally as they fry. Remove from oil with a slotted spoon and transfer to a paper towel-lined baking sheet
Let donuts cool for a few minutes. Optional: toss each donut in a bowl of cinnamon sugar or powdered sugar
. To fill donuts, use a long-tipped pastry bag to poke a hole in each donut (or use a butter knife to cut a hole in the side) and fill with the pear filling.
Enjoy!
Recommended Products
As an Amazon Associate and member of other affiliate programs, I earn from qualifying purchases.