Pear Almond Galette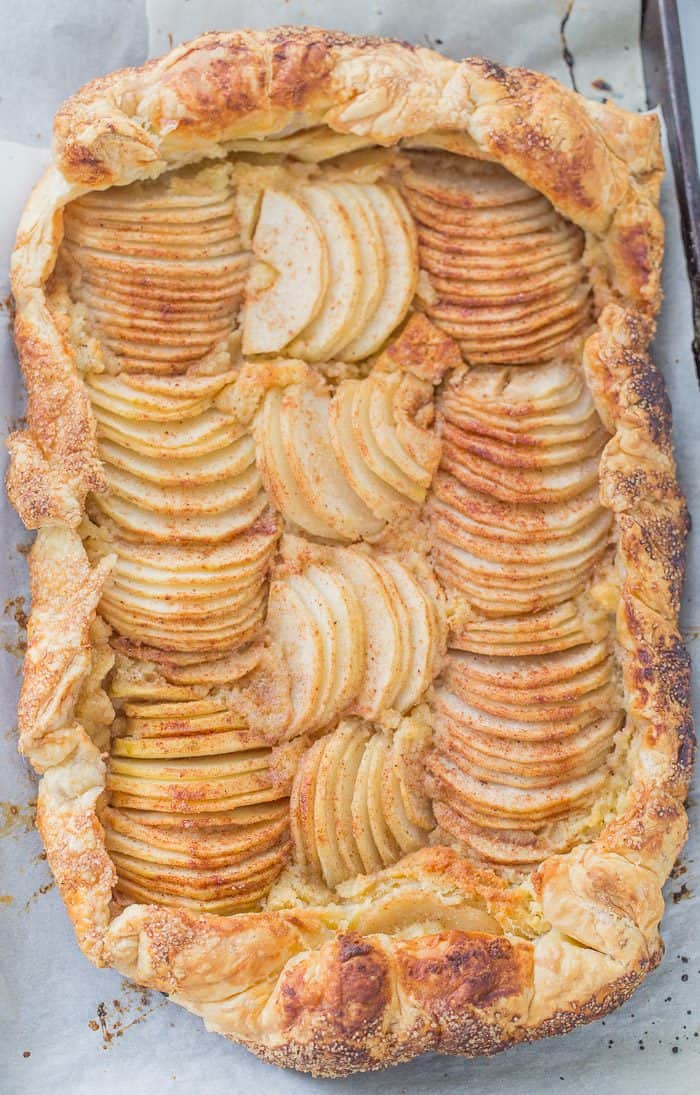 I am back again with another galette. This time with fall's unsung hero – pears. This pear almond galette is a fall must-have with juicy tender pears cooked inside flaky puff pastry. Simple, delightful and even better with a drizzle of maple caramel. Just what fall desserts are made of.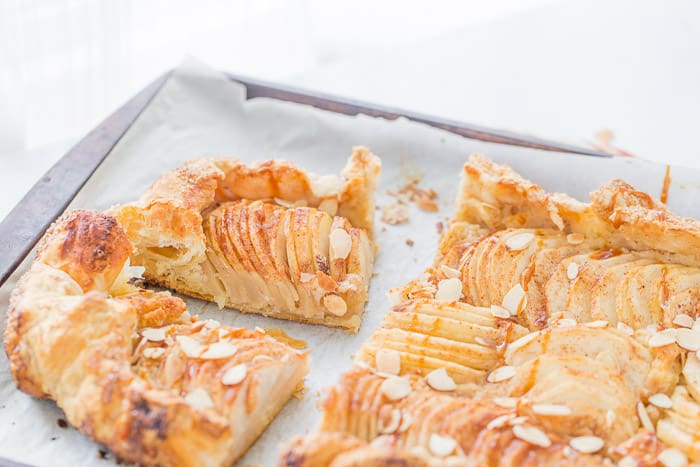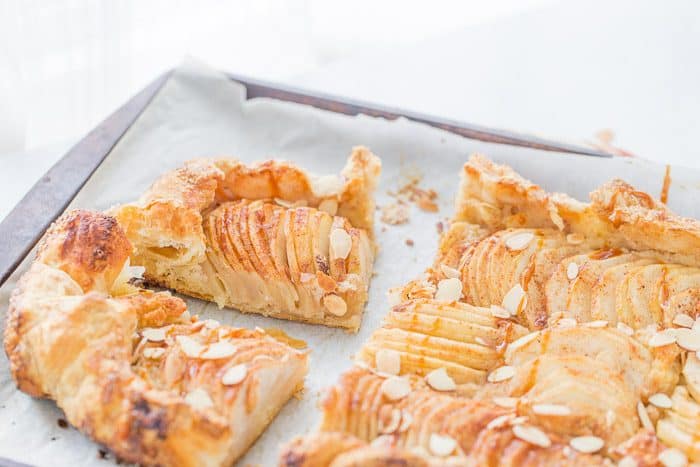 Pears are one of my favorite fall fruits. I wish I baked more with them but beyond a poached pear now and then, I forget of how good they are baked. This year, I was determined to throw a few into a pie form. But as usual, the lazy side of me takes over and I result to a galette instead. It has all the flavors of a pie – warm fruit, buttery crust- and not the work. This pear almond galette starts with a puff pastry crust, a pillowy goodness of buttery crust. The pastry crust is filled with a sweet almond frangipane and the spiced pears layered on top of it. It's all baked to golden perfection!!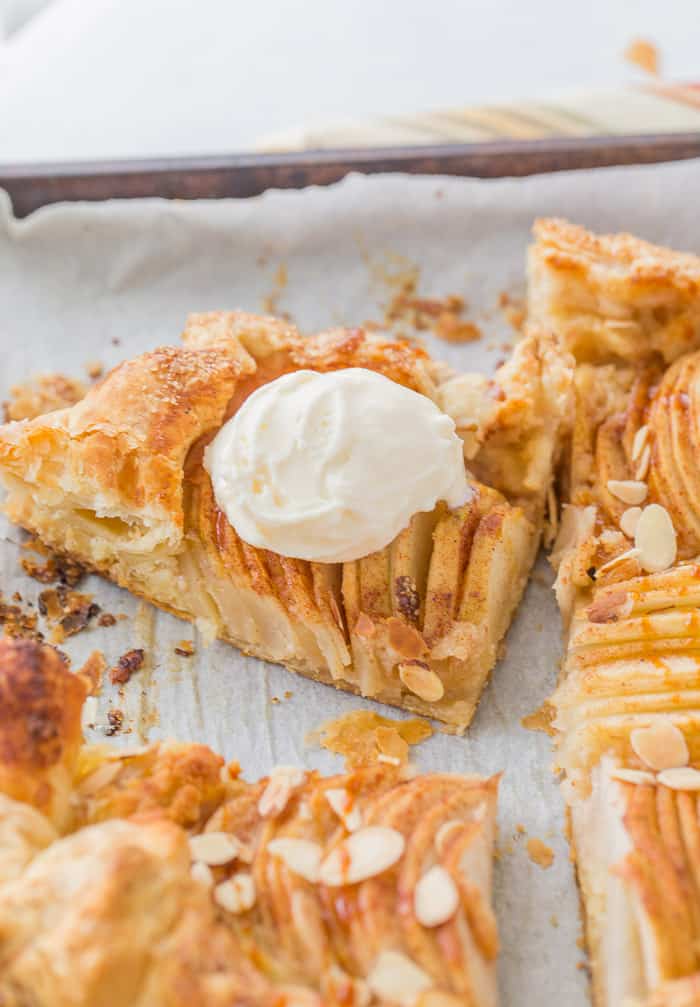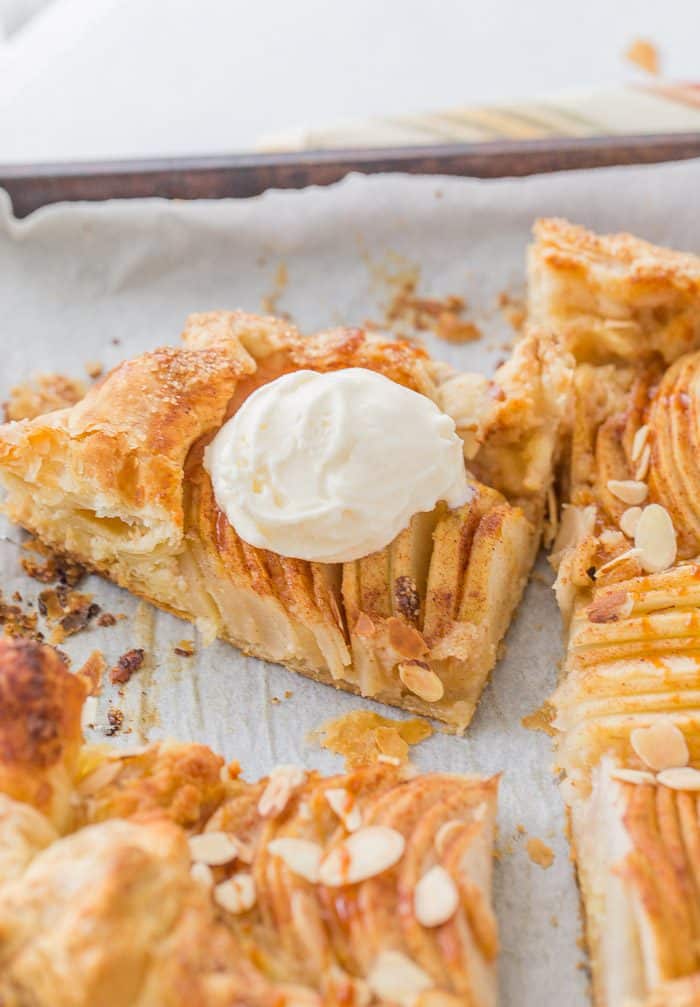 It's simply delicious. It's going to be my go-to dessert this fall to any gatherings.
This recipe was inspired by the new Simple Bites Kitchen cookbook. If you are not already a fan of Aimee over at Simple Bites, you need to be. She's one of my favorite blogs and I've been reading it for years. Her second cookbook just came out and it's full of amazing cozy family-friendly recipes. I adapted her recipe for apple galette with pears. Grab a copy of this must-have book on Amazon.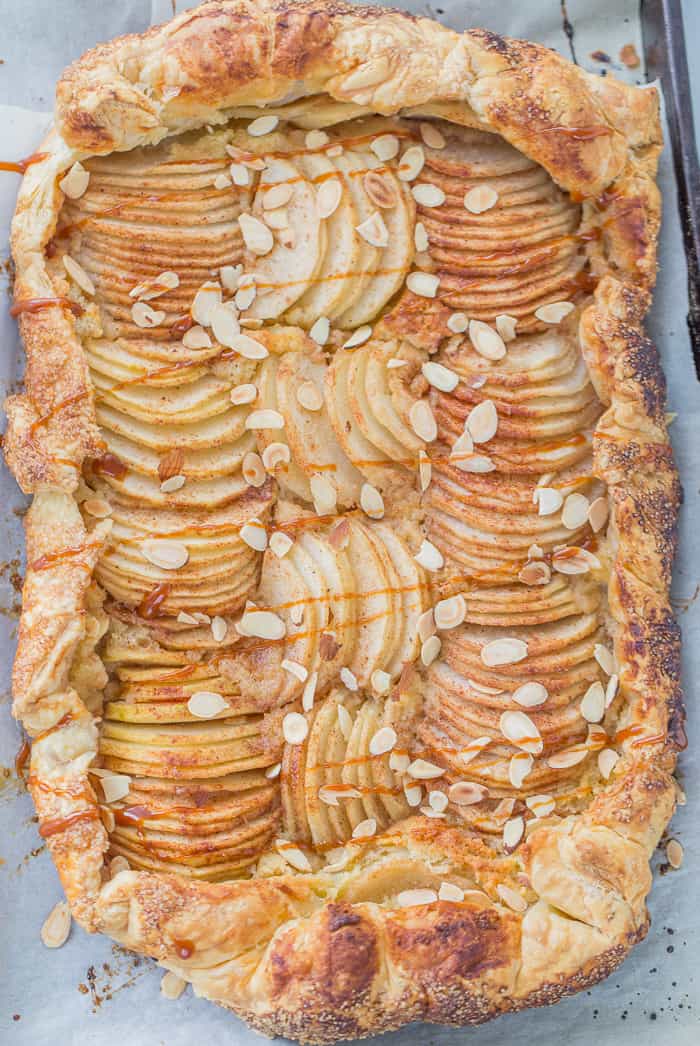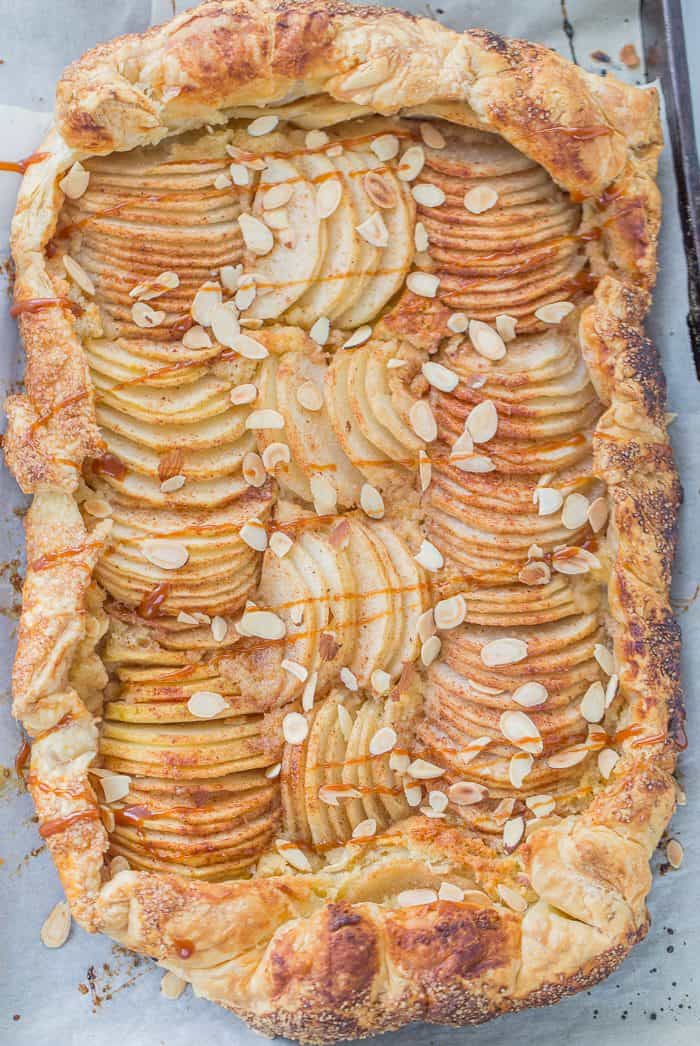 More Pear Recipes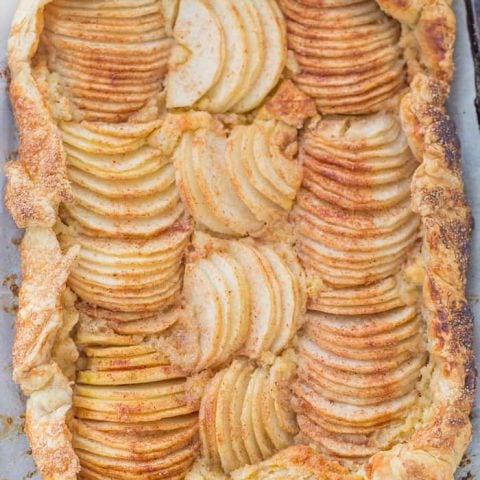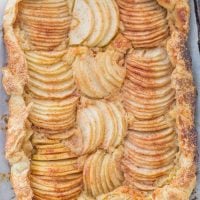 Yield: 1 rectangular galette
Pear Almond Galette
This pear almond galette is a fall-must have with juicy tender pears cooked on top of an almond frangipane inside a flaky puff pastry crust.
Ingredients
1 pound puff pastry, thawed overnight in the refrigerator
⅓ cup unsalted butter, softened
⅔ cup brown sugar, divided
2 large eggs
½ cup almond meal/flour
2 tablespoons all-purpose flour
4-5 large pears (I used Bosc pears)
¼ teaspoon freshly grated nutmeg
1/2 teaspoon ground cinnamon
1 tablespoon unsalted butter, melted
1 tablespoon turbinado or raw cane sugar, for sprinkling
2 tablespoons sliced almonds, toasted, for garnish
Instructions
Preheat oven to 400 degrees F. Line a baking sheet with parchment paper.
On a lightly floured surface, roll out the puff pastry into a rectangle about 1/8th inch thick. Transfer the pastry to the prepared sheet and place in freezer.
In a medium bowl, cream together the butter and a 1/3 cup of the brown sugar. Add in 1 egg and beat until smooth. Finally, add the almond meal and flour and mix until smooth paste forms.
Peel and core the pears and slice into ¼ inch slices. Toss the pears with the remaining sugar and the nutmeg and cinnamon.
Remove the pastry from the freezer. Spread the almond frangipane over the puff pastry, leaving at least 2-3-inch border on all sides. Arrange the pear slices over the frangipane, making sure to tuck them in close together.
Fold the sides over the pears in a freeform manner, pinching the folds together as you go. It doesn't have to be perfect – that's the beauty! Brush the pears with the melted butter. Beat the remaining egg and use to brush over the puff pastry. Sprinkle the whole galette with the turbinado sugar.
Bake galette for 50-55 minutes, until the pastry is golden and the pears are soft to the touch. Let cool slightly before sprinkling with the almonds. Serve warm with a scoop of ice cream.