Pear Crisp with Oat Crumb Topping
Warm spiced pear crisp spiced with cardamom is topped with an oat streusel and a scoop of ice cream for the perfect fall comfort dessert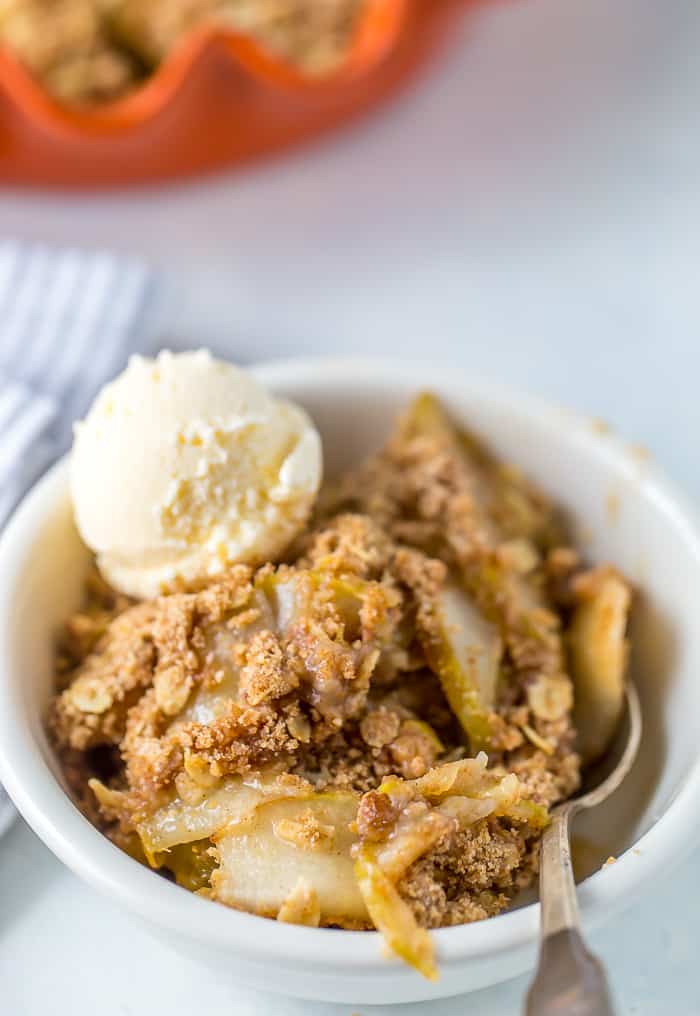 Hi friends! We are in the last stretch before Thanksgiving. I've shared a lot of fall perfect recipes for your celebration and this pear crisp with oat crumb topping has gotta be one of my favorites.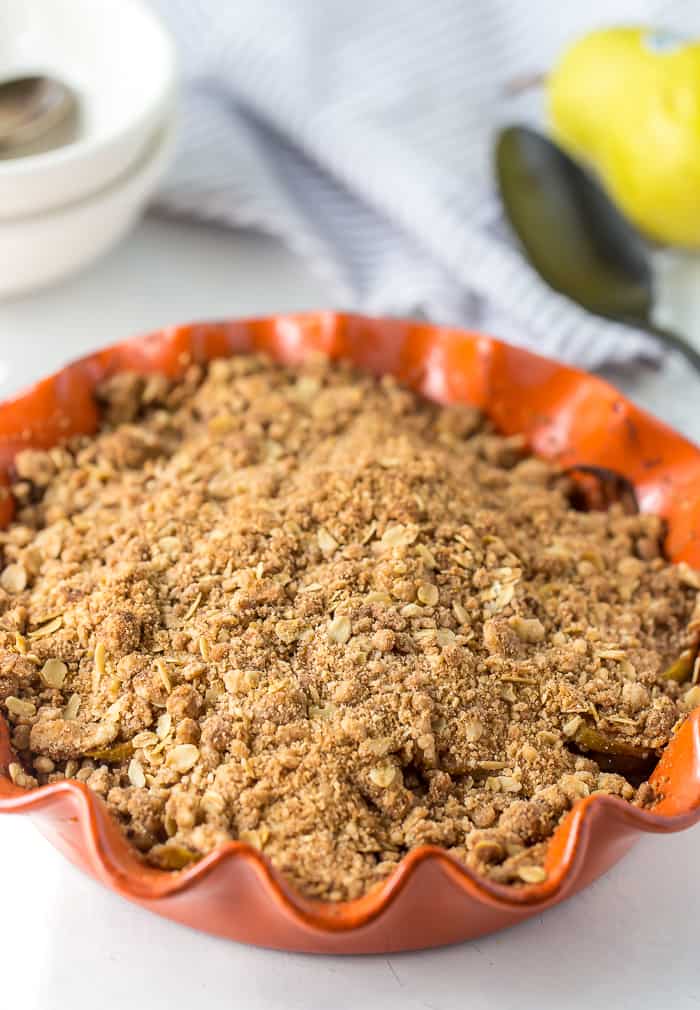 While everyone focuses on apples and pumpkins, pears get ignored. They are underdogs when it comes to fall desserts but they shouldn't be. Baked pears are incredible and a flavor we should all enjoy while in season.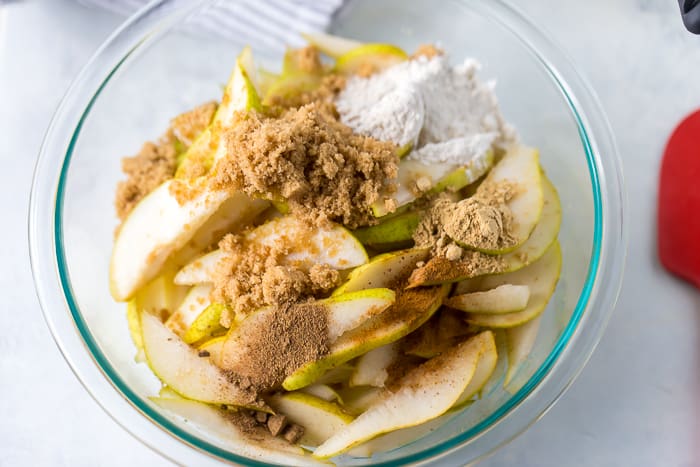 I love making crisps as they are so easy! Talk about maximum results for minimum efforts. Tender, ripe seasonal pears are tossed with brown sugar, cardamom, and ginger. It's topped with a crunchy oatmeal topping that is made with browned butter. So many flavors to unpack here and it is so good.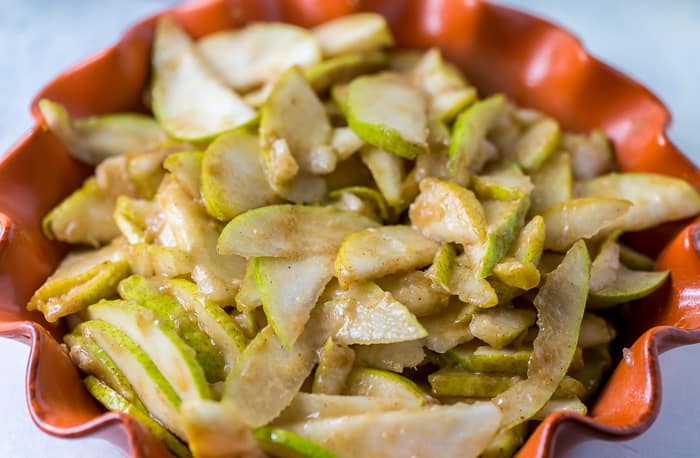 First, I love using cardamom because it is so warming. It brightens up anything you use. My apple cardamom crisp inspired this pear crisp. Baked until tender and juicy, the pears are perfectly baked and just delicious.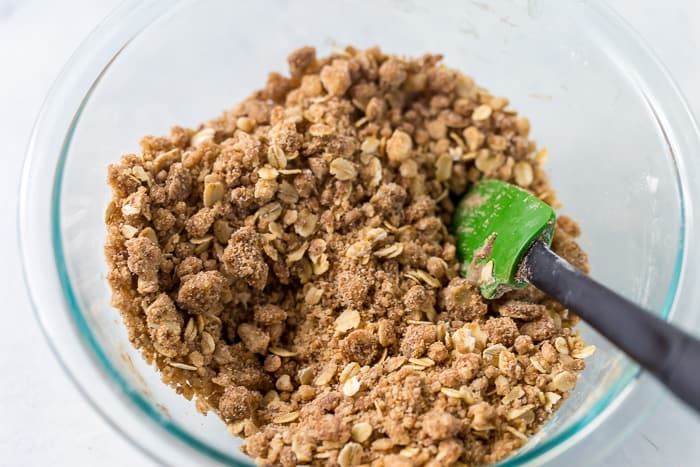 Second the topping. Oh, I could eat this by the spoonful. I use browned butter because nothing elevates an oat topping than browned nutty butter. Buttery spiced oatmeal is baked on top of juicy pears in this delightful and easy crisp recipe.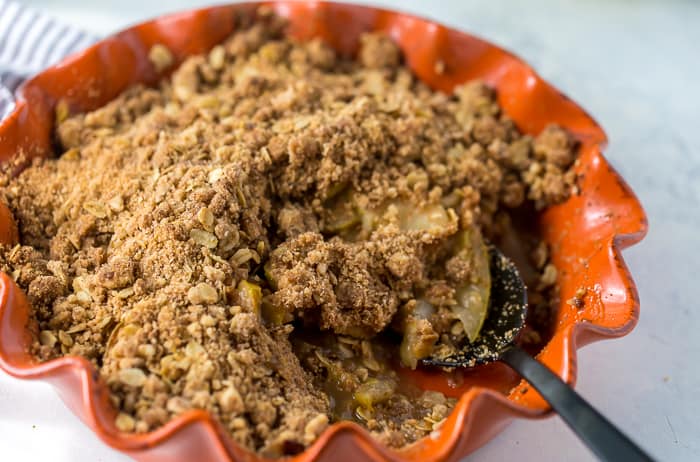 If you are looking for something comforting, easy, and quick to pull together, then this pear crisp is for you. A bowl of this with a scoop of ice cream is sure to make any fall or winter night perfect.
If you love easy recipes try out my blueberry crumb bars too!
Happy baking!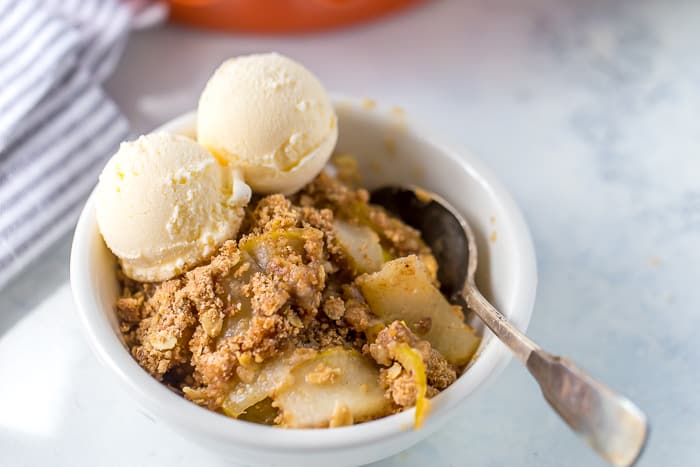 More Pear Recipes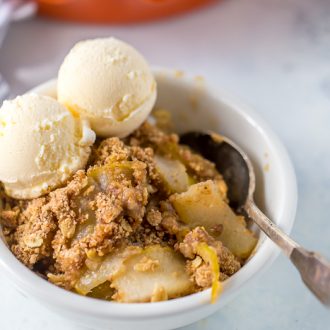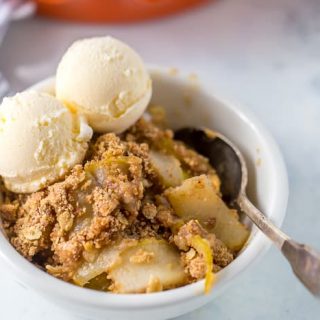 Pear Crisp
Warm spiced pear crisp spiced with cardamom is topped with an oat streusel and a scoop of ice cream for the perfect fall comfort dessert. 
Total Time
1 hour
10 minutes
Ingredients
4-5 medium-sized pears, you can use a mix of pears
3 tablespoons brown sugar
1 teaspoon cardamom
½ teaspoon freshly grated ginger
zest of one lemon
1 tablespoon lemon juice
1 tablespoon cornstarch
For the Topping:
1⅓ cups all-purpose flour (or gluten-free flour mix)
⅓ cup old fashioned rolled oats
1/2 cup brown sugar
½ teaspoon cardamom
1/4 teaspoon nutmeg
½ cup pecans, chopped
½ cup (1 stick) unsalted butter, melted and browned
Instructions
Preheat oven to 350 degrees. Position the oven rack in the center. Grease a 9-inch pie pan or large round ramekin.
Peel and core pears. Slice into thick ¼-inch slices and place in a medium bowl. Toss pears with brown sugar, cardamom, lemon zest and juice, and cornstarch. Set aside.
In a medium bowl, whisk together all the topping ingredients except the butter. Drizzle the butter the topping and mix until the mixture resembles wet sand.
Toss the pears with a 1/2 cup of the topping and place in prepared pan. Scatter the rest of the topping on top of the pears evenly.
Bake until topping is toasted and filling is bubbling, 50-55 minutes.
Let cool before serving with a scoop of vanilla ice cream.
Recommended Products
As an Amazon Associate and member of other affiliate programs, I earn from qualifying purchases.