How to Make Homemade Pie Crust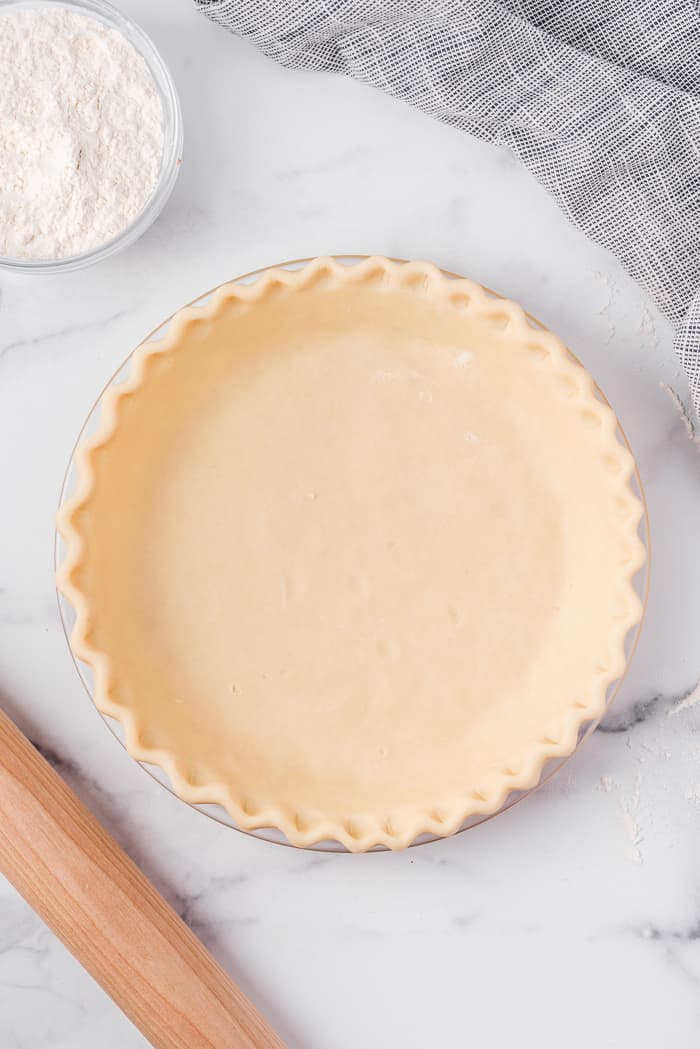 Hi friends! How are you doing?? Hope everyone is staying healthy and well. As we enter into what seems to be a dark winter, I am choosing to focus on the good things we get to do in the winter months while staying safe. Like, make lots and lots of pie while enjoying the process and comforting treat at the end.
Thanksgiving and the holiday season is upon us. Which means it is officially pie season. Pie season is my favorite as I do not discriminate against pies. Whether it is fruit pies like my apple pie, custard pies (chocolate pie!), double-crusted pies, or lattice pies (pear apple pie), give me all the pies.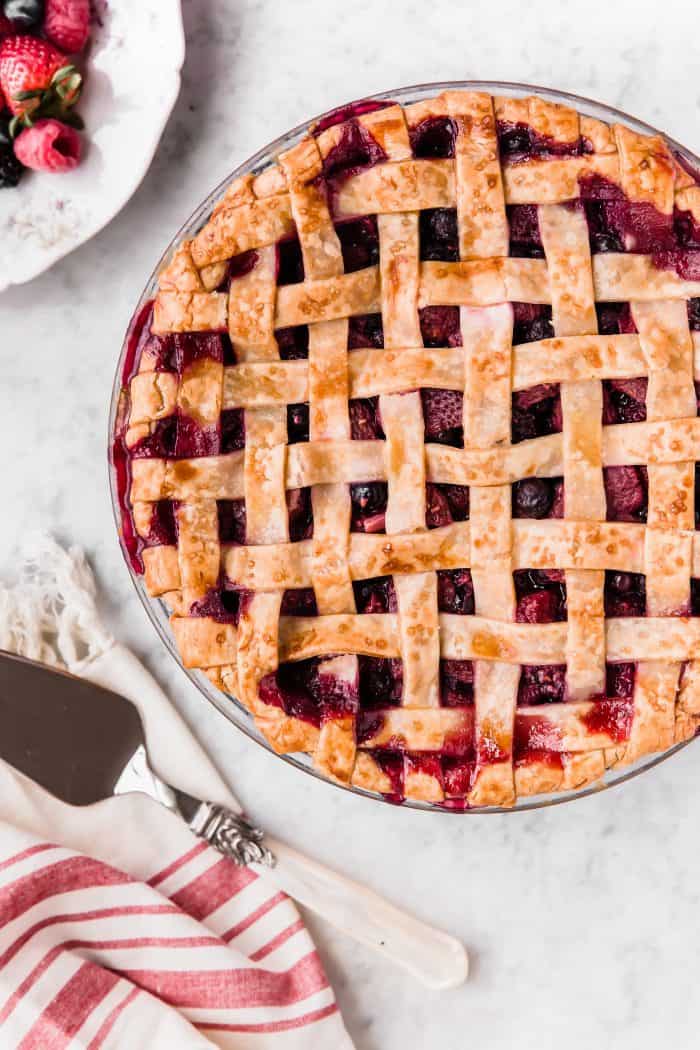 The base of every good pie is the crust. It's one of the most critical parts as what is a pie without a flaky buttery crust?? I am here to tell you, nothing. So let's learn how to make a pie crust.
My go-to pie crust uses all butter. There is a cult of people who find this abominable however hear me out. I like a butter crust because it is light, flaky, and gives us complex layers. don't get me wrong, using shortening or butter or both will give you a great crust. Use what fat you prefer (unless if it is lard then I don't know about that.)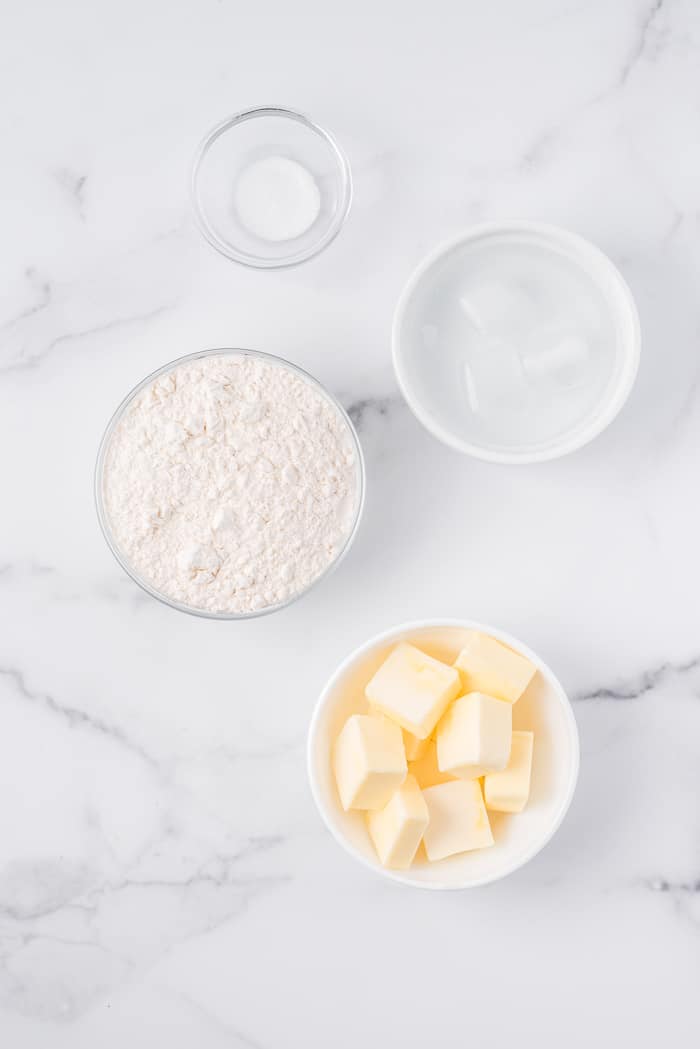 How do you make a pie crust? There are several ways and I am showing you today the way I like to make pie crust. I like to make my pie crust using a food processor. For me, it ensures my butter is cut into the flour evenly and quickly.
To start, gather all your ingredients, measure them, and ready to use. This enables you to work quickly and also not let the butter get to room temperature.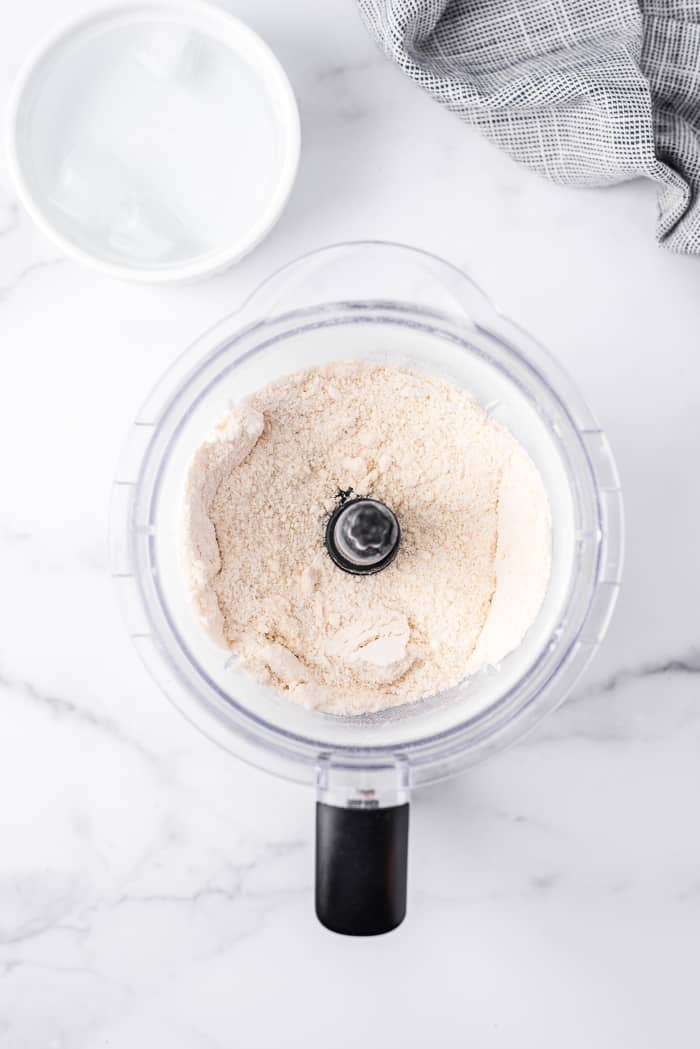 Combine the dry ingredients in the bowl of your food processor. Pulse a few times to ensure the salt is incorporated. Here, you can also add other spices. For a savory crust, add in some black pepper or herbs like in my Strawberry Thyme Galette.
Add in half of the cold butter and pulse to cut into the flour mixture. Add in the rest. Pulse gently. Tip for the butter: make sure it is COLD and you are only pulsing it briefly into the dry ingredients. Having chunks of butter in the mixture is always a great idea!! Leave pea-sized in the flour mixture.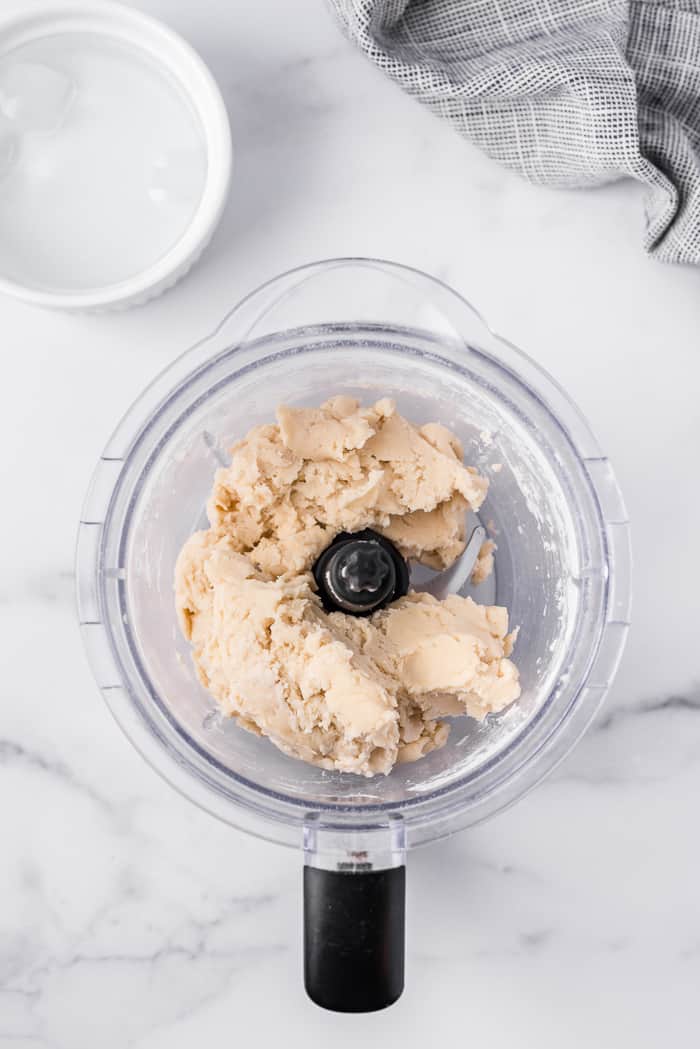 Next, is the liquid. Our liquid for this pie crust is ice cold water.
Like with everything else, you want to keep everything cold when making pie crust. The water is one of the first things I prep before I start so it remains cold longer.
Another liquid you can add to the pie crust is vodka. Ice- cold vodka can make the crust tender and I find that my pies roll out easily with some in it. Just a tablespoon or two in place of cold water.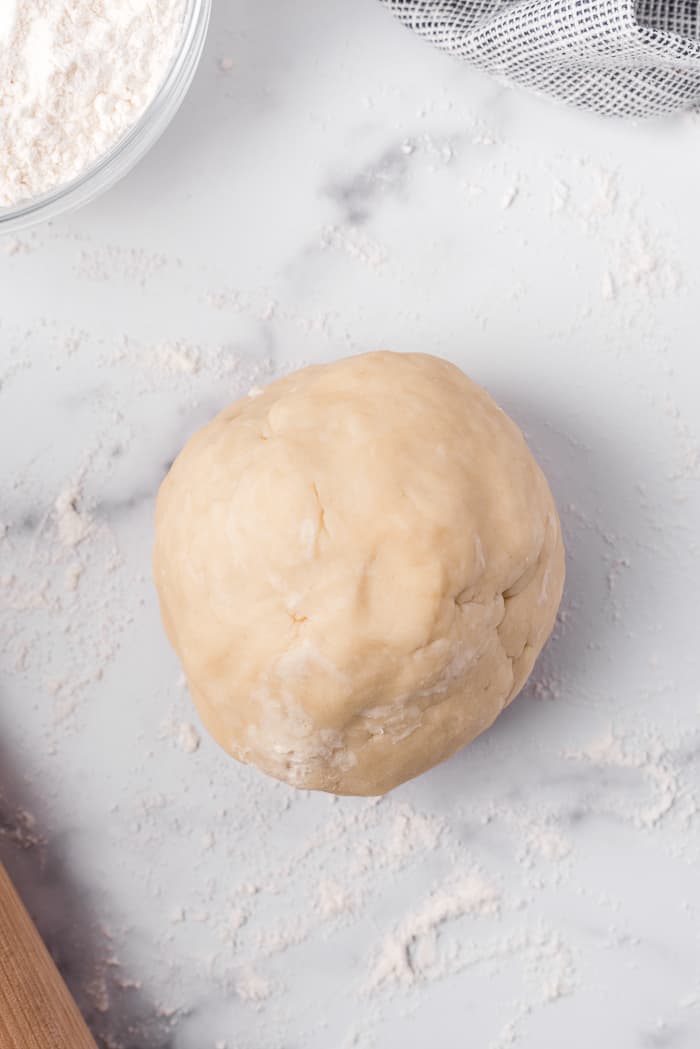 Using the food processor does leave room for over-processing the crust so you need to be careful. After adding in the cold water, one tablespoon at a time, pulse until the dough just starts to come together. Transfer to a lightly floured surface and bring together with your hands quickly.
That's it! There you have it, my simple and easy way to make homemade pie crust. It takes less than 10 minutes and you will have yourself a tender, buttery flaky crust.
How you move forward with your crust depends on your recipe. You could par-bake the crust or fully bake it or leave it unbaked as you continue with the rest of your recipe. I would advise you to follow the recipe you are using.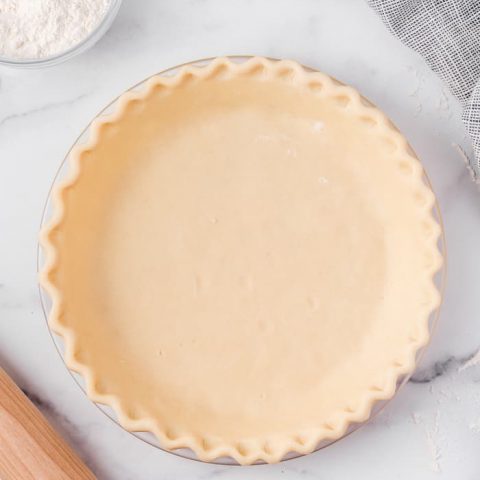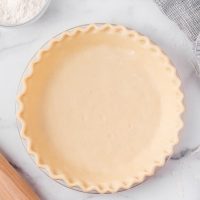 Yield: 1 double crusted pie
Pie Crust Recipe
Ingredients
FOR PIE CRUST:
2 ½ cups all-purpose flour
1 teaspoon granulated sugar
1 ¼ teaspoons salt
6 tablespoons unsalted butter, cold
¾ cup vegetable shortening, chilled
OPTIONAL:
1/2 teaspoon black pepper (for a savory pie)
1/2 teaspoon ground cinnamon
1/4 cup freeze-dried fruit of choice (strawberry, mango, raspberries etc)
Instructions
Prepare ½ cup ice-cold water and keep in the fridge. In a food processor, pulse flour, sugar, and salt. Add in the butter and pulse for 30 seconds. Add in the shortening and pulse until the mixture looks like a coarse meal.
Sprinkle about 6 tablespoons cold water over the mixture and pulse until the dough comes together in clumps. If dry, add a little bit more water (1 tablespoon at a time) until the dough comes together.
Remove dough from the processor and bring it together. Divide dough into two equal disks and wrap each in plastic wrap. Chill for at least an hour or overnight. The dough can be made up to 3 days ahead. Keep chilled.
When ready to bake your pie, preheat oven to 400 degrees F. Roll, out one chilled dough on a lightly floured surface into a 12-inch circle. Transfer dough to a 9 x 2-inch pie dish. Smooth the sides and bottom and cut off overhangs. Chill for at least 30 minutes.