Apple Pie Recipe
A classic all-American apple pie recipe with a very buttery, flaky crust and a cinnamon-spiced homemade apple filling.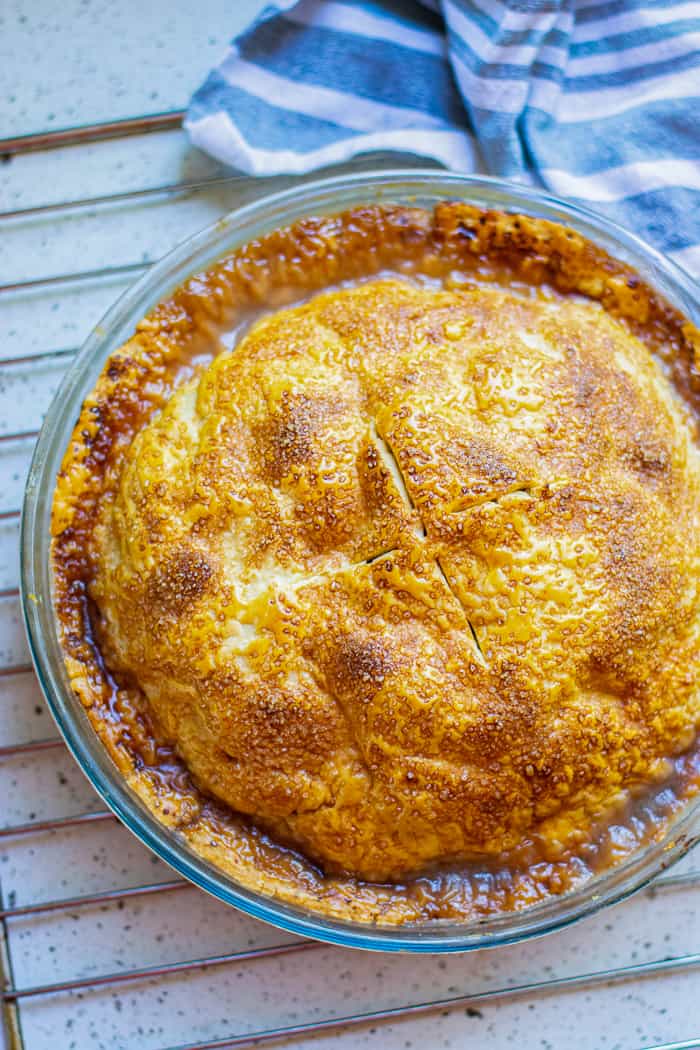 Apples are in full force already here in Upstate NY and I have a classic apple pie recipe for you today to share my love!!
This weekend my girlfriends and I went apple picking. It's become a tradition since we all moved up here for school a few years ago. Luckily it was the perfect fall day and it was great to walk through the orchard in the crisp breeze. I left the orchard with 15 pounds of apples, fresh apple cider, and some warm apple cider donuts! And what better way to start using my apples than a classic apple pie recipe. After all, it's the first official day of fall!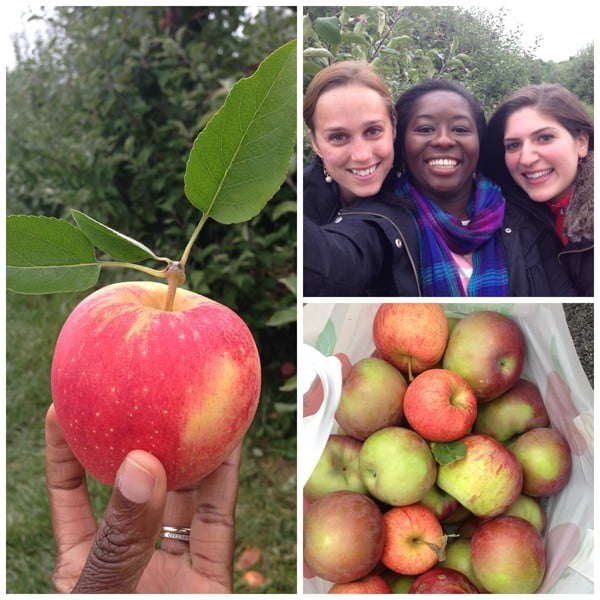 The apple pie recipe I used is from one of my favorite bloggers, Sally of
Sally's Baking Addiction
. I make a lot of her recipes in my kitchen and they always turn out great. If you haven't checked out her blog, you need to ASAP. Check out her cookies while you are there, you will find at least a dozen that you can't live without. Oh, she also has her
first cookbook
coming out next spring. It's now ready for pre-order and it's one that you would want to grace your shelves. I know I'm excited to get my hands on it.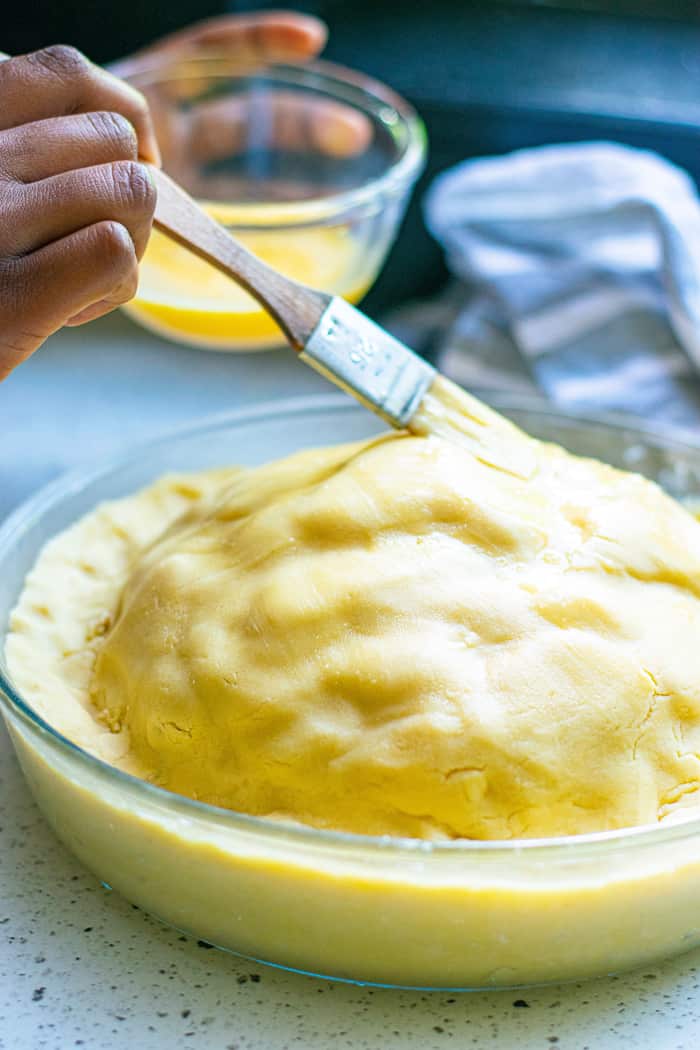 Back to the pie. The original recipe is salted caramel apple pie…a great combination of course. But my phone talking during salted caramel making lead to burnt caramel sauce, and no one wants burnt caramel in their pie. So I changed course, adapted the recipe, and made an all-American classic apple pie instead. I am so happy I did because this pie is amazing!
Starting with a very buttery, flaky crust that is made with a combination of butter and shortening. Nothing really beats that and the crust is just so good.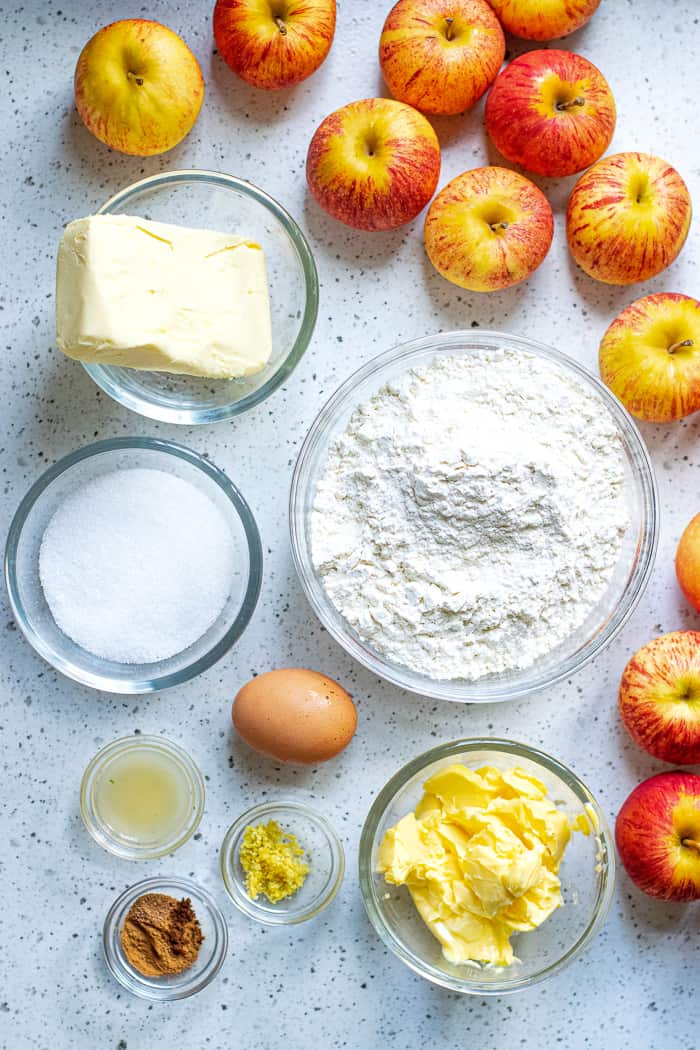 The crust is filled with a simple apple filling. the apples are spiced lightly with cinnamon and a hint of nutmeg and cloves, with lemon juice bringing everything together.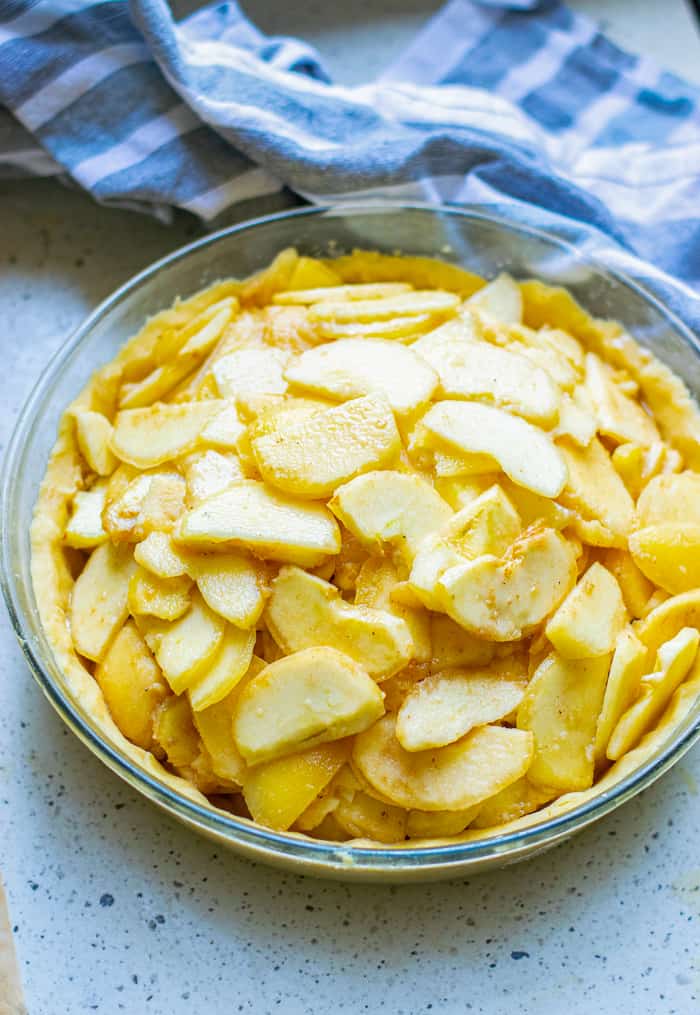 The filling bakes up perfectly in the crust and remains juicy.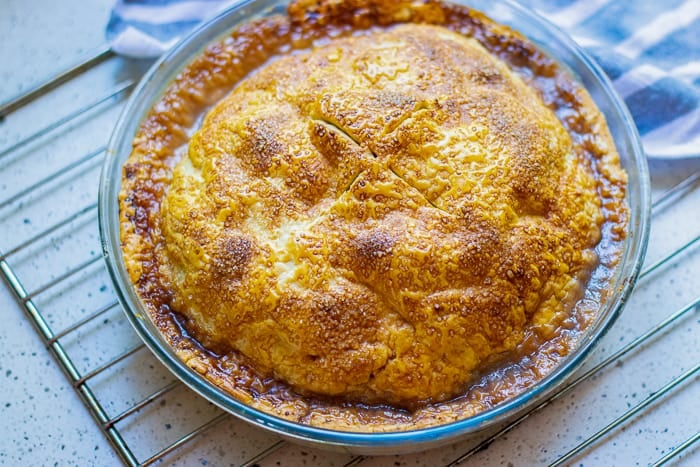 If you are looking for a classic apple pie recipe, look no further. This recipe is going to bring back all those comforting feelings we love about apple pie. I hope you try it!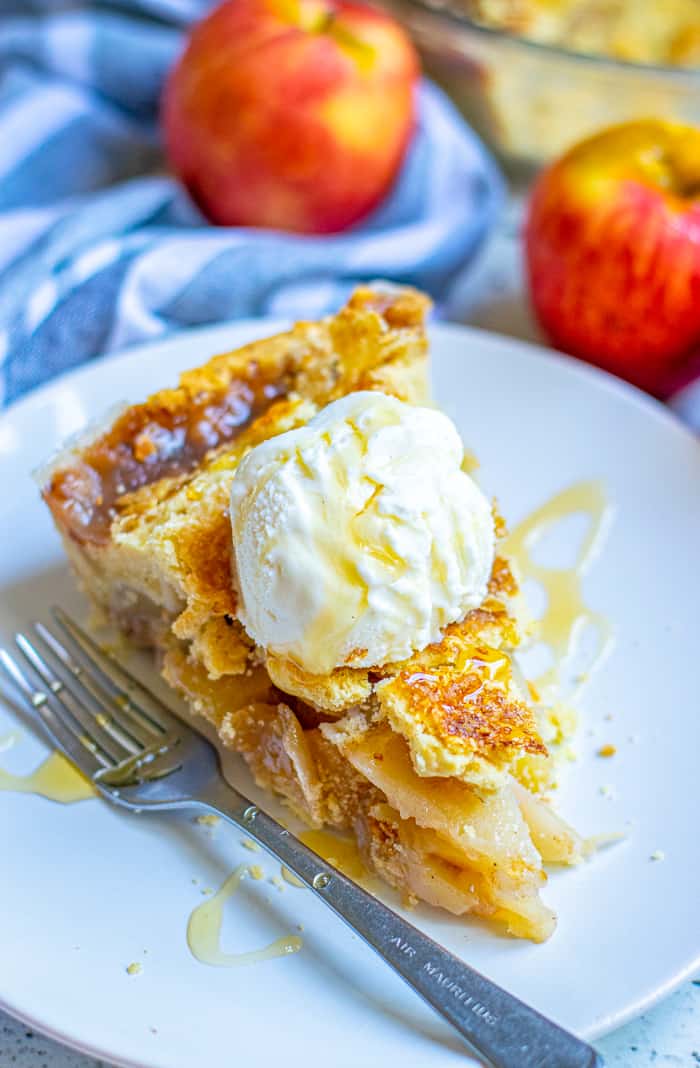 With all the apples in my kitchen, be prepared for more apple recipes in the coming weeks. Whether you plan on apple picking or grabbing a few pounds from the grocery store, you will want to make this pie!!
Happy fall baking!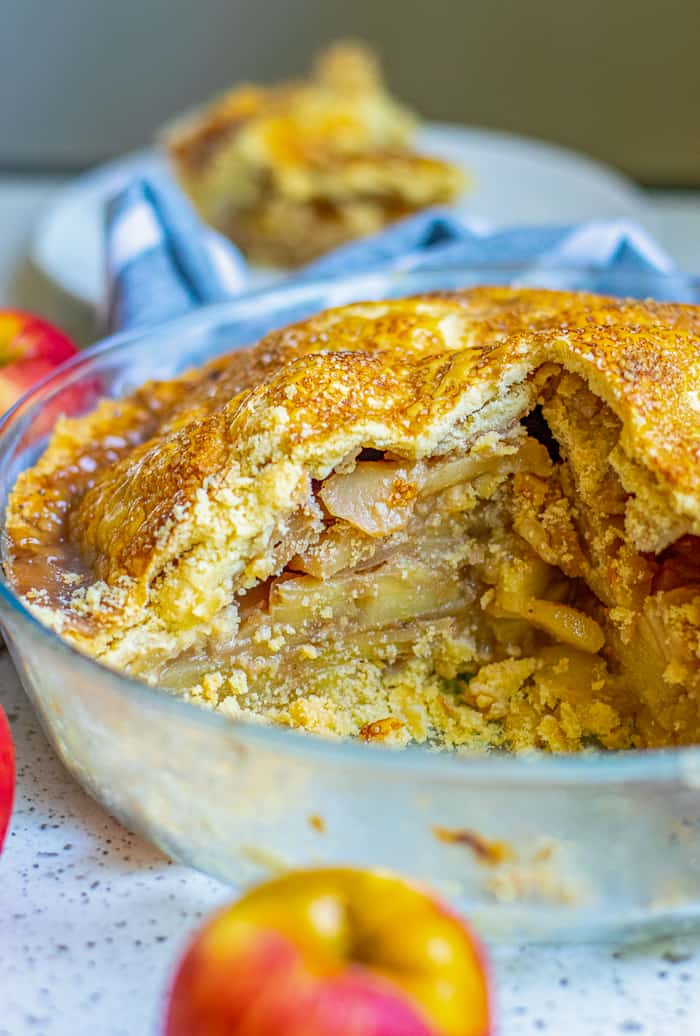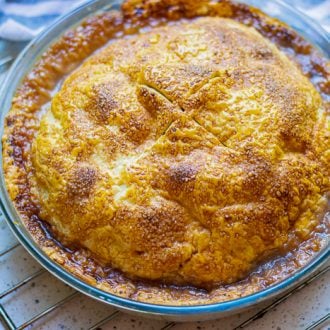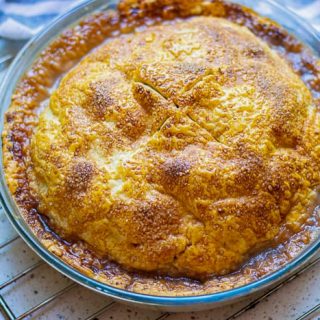 Yield: 1 9-inch pie
Apple Pie
Total Time
2 hours
40 minutes
Ingredients
For Pie Crust:
2 ½ cups all-purpose flour
1 teaspoon granulated sugar
1 ¼ teaspoons salt
6 tablespoons unsalted butter, cold
¾ cup vegetable shortening, chilled
For Filling:
3 pounds apples, cored, peeled and thinly sliced (I like using a mix of Granny Smith, Lady Red and Honeycrisp. Use any varieties you like)
½ cup granulated sugar
¼ cup all-purpose flour or cornstarch
¼ teaspoon ground cloves
¼ teaspoon ground nutmeg
1 ½ teaspoon ground cinnamon
2 teaspoons lemon zest
2 tablespoons lemon juice
1 egg, beaten with 1 tablespoon water
Coarse sugar for topping
Instructions
Prepare ½ cup ice-cold water and keep in the fridge. In a food processor, pulse flour, sugar, and salt. Add in the butter and pulse for 30 seconds. Add in the shortening and pulse until the mixture looks like a coarse meal.
Sprinkle about 6 tablespoons cold water over the mixture and pulse until the dough comes together in clumps. If dry, add a little bit more water (1 tablespoon at a time) until the dough comes together.
Remove dough from the processor and bring it together. Divide dough into two equal disks and wrap each in plastic wrap. Chill for at least an hour or overnight. The dough can be made up to 3 days ahead. Keep chilled.
When ready to bake the pie, preheat oven to 400 degrees F. Roll, out one chilled dough on a lightly floured surface into a 12-inch circle. Transfer dough to a 9 x 2-inch pie dish. Smooth the sides and bottom and cut off overhangs. Chill for at least 30 minutes.
Meanwhile, prepare the filling. In a large bowl toss the apples with the sugar, flour. spices, lemon zest, and lemon juice. Mix until flour is fully incorporated. Let sit for about 10 minutes.
Fill the chilled crust with the apple mixture, making sure to pile the apples tight and high in the middle. Roll out the second dough similarly into a 12-inch circle and carefully place over the apple filling. Tuck in the edges or decorate as desired.
Brush the top of the pie with egg wash. Sprinkle with coarse sugar and cut slits on top of the pie to allow steam out. Place the pie dish on a baking sheet and bake for 20 minutes. Reduce oven temperature to 375 degrees F and continue baking for another 40-50 minutes until the crust is golden. A small knife inserted in the middle should come out almost clean. If pie edges are browning too fast, cover pie loosely with foil.
Allow pie to cool completely before serving.
Serve with a scoop of vanilla ice cream.
Recommended Products
As an Amazon Associate and member of other affiliate programs, I earn from qualifying purchases.
Nutrition Information:
Amount Per Serving:
Calories:

0
Cholesterol:

0mg
Sodium:

0mg
Carbohydrates:

0g
Fiber:

0g
Sugar:

0g
Protein:

0g