Zucchini Coconut Chocolate Chip Cookies
Guys, I really wish I could tell you I am a more active human being and spend a lot of time outdoors and not on my couch watching TV. Or that I do not enjoy watching a gazillion TV shows. But I can't. I love TV shows. I watch way too many for my own good. I know it. My shows are mostly dramas (medical and crime) and comedies. No zombies, vampires, fake housewives drama, or any 'reality' TV for that matter for me. So you will find me glued to Grey's Anatomy (should seriously stop watching), Scandal (LOVE!!), Big Bang Theory, Modern Family, SVU to name a few of my favorites. So the arrival of fall, does not only bring pumpkin lattes and apple bars, it also brings back all my shows. My DVR gets super busy and my weekends are mainly used to catch up. Luckily, it snows a lot and gets really cold around here from Halloween to March and I have no desire to be out in it, so I hibernate. Story of my life.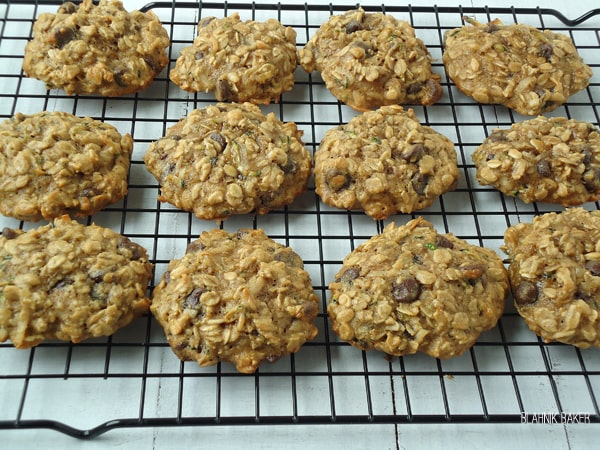 But why am I talking about TV when there are these (totally wonderful) zucchini coconut chocolate chip cookies staring at you? Well, while baking these cookies, I was in TV mode. My friend suggested that I watch a Netflix original series "Orange is the new black" and I started it last weekend. And let me tell you. IT IS ADDICTING. We watched almost the entire season in one sitting staying up till 2am. If it wasn't because my (ir)responsible man had to work on Sunday, we would have finished it all in one sitting. Needless to say the next day I was ready to finish the last three episodes but due to mister's busy work schedule and early bedtime, we were unable to get to the show. All day I was just itching to find out what happened in the last episodes. I kept rushing through the day in the kitchen, housework etc to make room for time on the couch later. These zucchini coconut chocolate chip cookies happened then and the fact that they survived my mental state and turned out so great speaks to the simplicity of the recipe.
The cookies are made with loads of zucchini, coconut oil, coconut flakes, oatmeal and chocolate chips. I love me some coconut but never thought of combining zucchini and coconut until a few weeks ago when I saw this recipe on Two Peas and their Pod. It's a great combination folks and these cookies are super soft. Lots of chewy goodness and they make for great breakfasts and snacks. You have to use up the last of those zucchinis to make these cookies. My only regret was that I made one batch and didn't save enough for myself before sending them off to a new friend.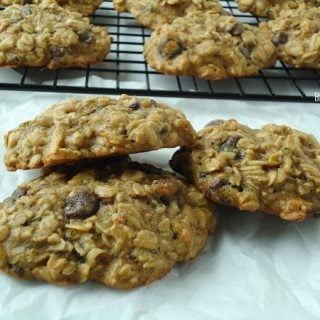 Yield: 2 1/2 dozen cookies
Zucchini Coconut Chocolate Chip Cookies
These cookies are made with loads of zucchini, coconut oil, coconut flakes, oatmeal and chocolate chips for a super moist and flavorful cookie!
Cook Time 12 minutes
Total Time 12 minutes
Ingredients
1 cup all-purpose flour
1 teaspoon baking soda
½ teaspoon salt
4 tablespoons coconut oil,
½ cup dark brown sugar
¼ granulated sugar
1 large egg
1 teaspoon vanilla extract
1 cup shredded zucchini
2 cups old fashioned oats
½ cup sweetened coconut flakes
¾ cup semisweet chocolate chips
Instructions
Preheat oven to 350 degrees F and line baking sheets with parchment paper.
Combine flour, baking soda and salt in a medium bowl.
In the bowl of an electric mixer fitted with the paddle attachment, mix the coconut oil and sugars until smooth, about 2-3 minutes on medium speed. Add in egg and vanilla extract and mix to combine. Beat in the shredded zucchini until just combined.
Reduce speed to low and slowly add the flour mixture. Mix until just combined. Stir in the oats, coconut flakes and chocolate chips.
Using a tablespoon-sized cookie scoop, drop cookie dough onto prepared sheets about 2 inches apart. Bake for 10-12 minutes or until cookies are golden on the edges and set. Let cool completely on wire racks.
Quick question: Do we really have to wait for significant others to watch a show you started together? Like seriously? If you have a bedtime that is not compatible with amazing show watching, then catch up on your own time. Am I wrong here? He thinks so and in the end I waited for him and we finished the show together 🙂
(Yes, I have a problem but these zucchini coconut chocolate chip cookies help me forget!)