Pumpkin Bundt Cake with Bourbon Cream Cheese Frosting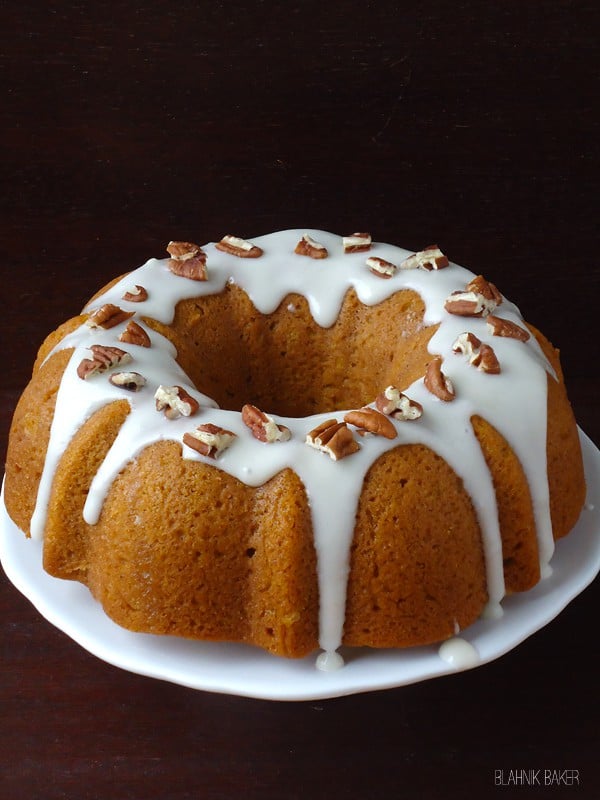 Have you seen this
fall bucket list for food bloggers
from Dorothy of
Crazy for Crust
? I love it! It had me excited for fall baking even though I am not a bucket list kind of girl. I already get bonus points for picking my own apples and starting with an
apple pie
. Today, I am sharing with you another pumpkin dessert, specifically a pumpkin bundt cake with bourbon cream cheese frosting!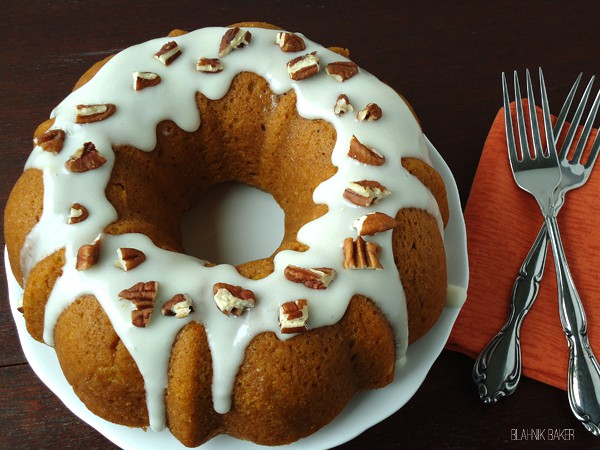 A few weeks ago, I bought a super cute 6-cup bundt pan so I halved the recipe you see below to use my new pan. The cake is super moist and of course pumpkin-y. The bourbon glaze was my favorite part (alchy? eh!) and it's a great compliment to pumpkin flavor. It just took this cake to the next level. The cake was such a huge hit in my house that the boy begged me not to share with anyone. Luckily as I said, I made half of the recipe so it wasn't too much for just the two of us to enjoy in two to three days.
If you are looking for a great pumpkin cake, you have it right here folks!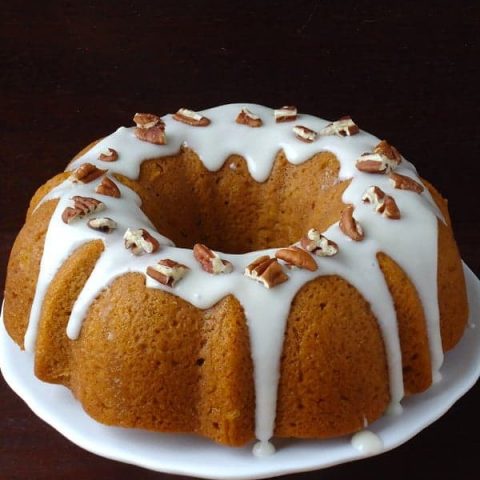 Yield: 1 12-cup bundt cake
Pumpkin Bundt Cake with Bourbon Cream Cheese Frosting
Prep Time 40 minutes

Cook Time 50 minutes

Total Time 1 hour 30 minutes
Ingredients
For the Cake
3 large eggs, room temperature
2 ¼ cups all-purpose flour
2 teaspoons baking powder
1 teaspoon baking soda
1 teaspoon cinnamon
¾ teaspoon ground allspice
½ teaspoon salt
1 ¼ cups pumpkin puree
¾ cup buttermilk, room temperature
1 teaspoon vanilla extract
¾ cup unsalted butter, softened at room temperature
1 ¼ cups granulated sugar
For the Glaze
3 ounces cream cheese, room temperature
1 tablespoon bourbon (or more to taste)
1 ½ cups confectioner's sugar
Instructions
Preheat oven to 350 degrees F. Grease a 12-cup bundt pan and set aside.
In a medium bowl, whisk together the first six ingredients. In a large measuring cup, whisk the pumpkin, buttermilk and vanilla extract together.
In the bowl of an electric mixer fitted with the paddle attachment, cream together the butter and sugar until light and fluffy, about 4 minutes on medium speed. Add the eggs, one at a time, and beating until combined in between each addition.
Reduce speed to low and add a third of the flour mixture. Add half of pumpkin mixture and mix until combined. Add another third of flour and the rest of pumpkin mixture. Mix until combined. Add the rest of the flour mixture and mix until just combined.
Pour batter into prepared pan and bake for 40-50 minutes (about 30 minutes for a 6-cup bundt pan) or until a cake tester inserted into the center comes out clean.
Let cool on wire rack completely.
To make glaze
On medium speed, beat the cream cheese and bourbon until smooth and fluffy. Add in the sugar and mix until combined. If the glaze is too thick, add a few teaspoons of milk or bourbon to thin out.
Drizzle glaze over bundt cake before serving. Decorate with toasted pecan if desired.
Nutrition Information:

Amount Per Serving: Calories: 0Cholesterol: 0mgSodium: 0mgCarbohydrates: 0gFiber: 0gSugar: 0gProtein: 0g
MAKING THIS RECIPE? Share it with us on Instagram using #aclassictwist so we can see what you are baking up in your kitchen!