Ginger Soy Beef Stir-Fry with Chile Tomatoes
A sweet, spicy and sour ginger sauce brings terrific flavor to this easy weeknight beef stir fry!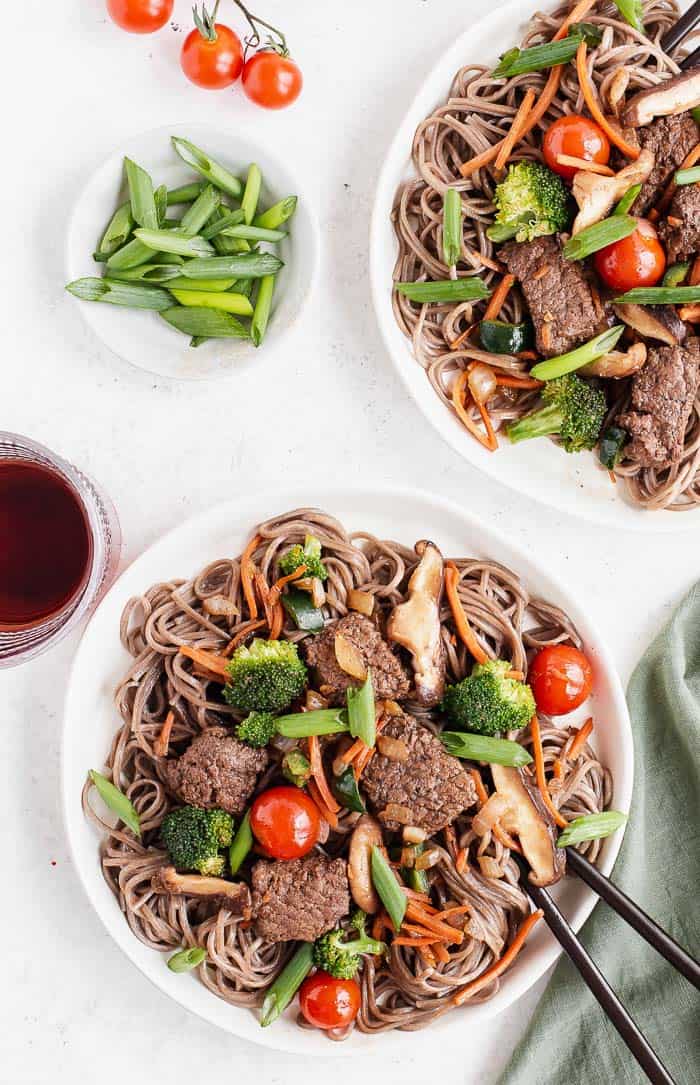 Yes, we are taking a brief break from sweets today and I am bringing you a savory dish! It's all about balance people 🙂 To be honest, I cook more savory dishes in my kitchen than bake. And since I don't like repeating dishes much I'm always looking for new dinner ideas, which is why my food boards on Pinterest have the most pins. This beef stir fry is a go-to for an easy weeknight dinner now!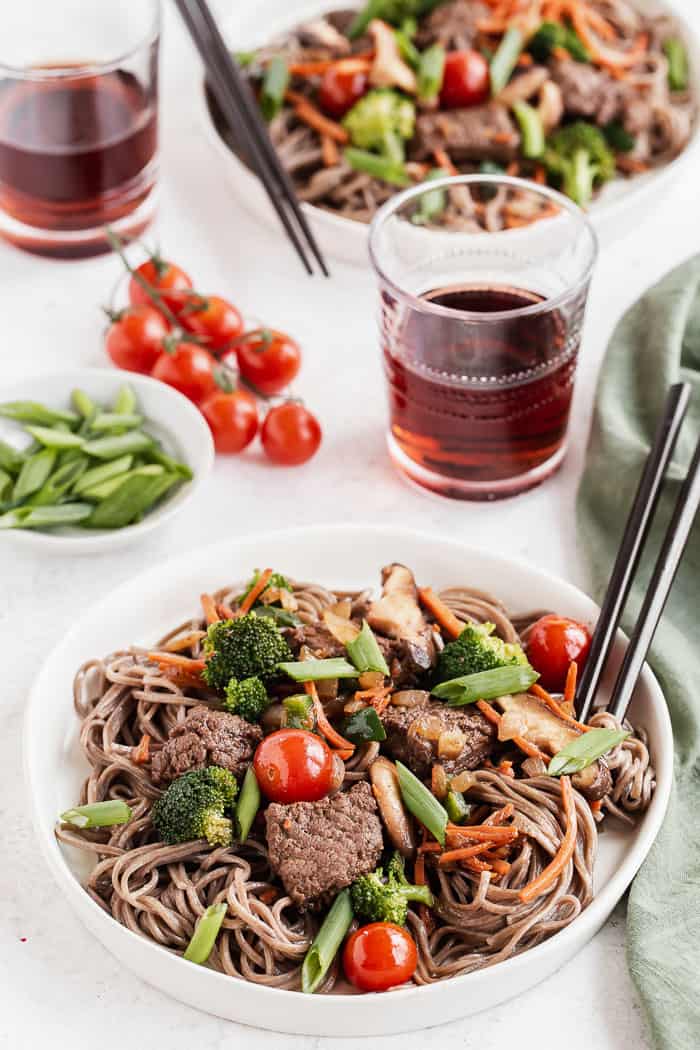 This installment of Pass the Cook Book Club introduced me to a new cookbook and Korean cooking. Samantha of The Little Ferraro Kitchen picked the cookbook Seoultown Kitchen: Korean Pub Grub to Share with Family and Friends by Debbie Lee. The three recipes chosen for us to try were Spam and Eggs, Ginger Soy Beef with Chile-Tomatoes, and Chile-Chicken Wings.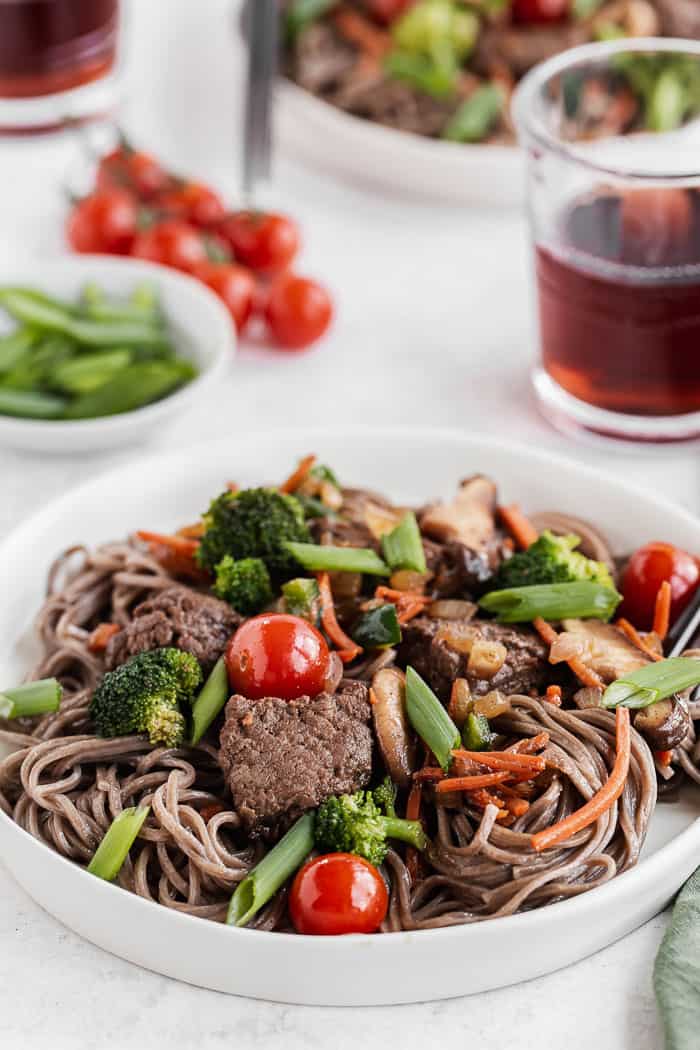 The ginger soy beef with chile tomatoes recipe in the book makes kebabs and calls for grilling but the season for grilling is over here and I couldn't be bothered to take out the grill so I converted it into a stir fry. I am so happy I did because I was able to use some of the wonderful ginger-soy marinades as the base.
What makes this stir fry so delicious?? It starts with the best marinade!! A sweet, sour, and spicy marinade that's filled with ginger, soy, and garlic. It's the sticky sauce that up won't stop licking off the spoon. But please don't, save some for your dinner. It is so good with noodles.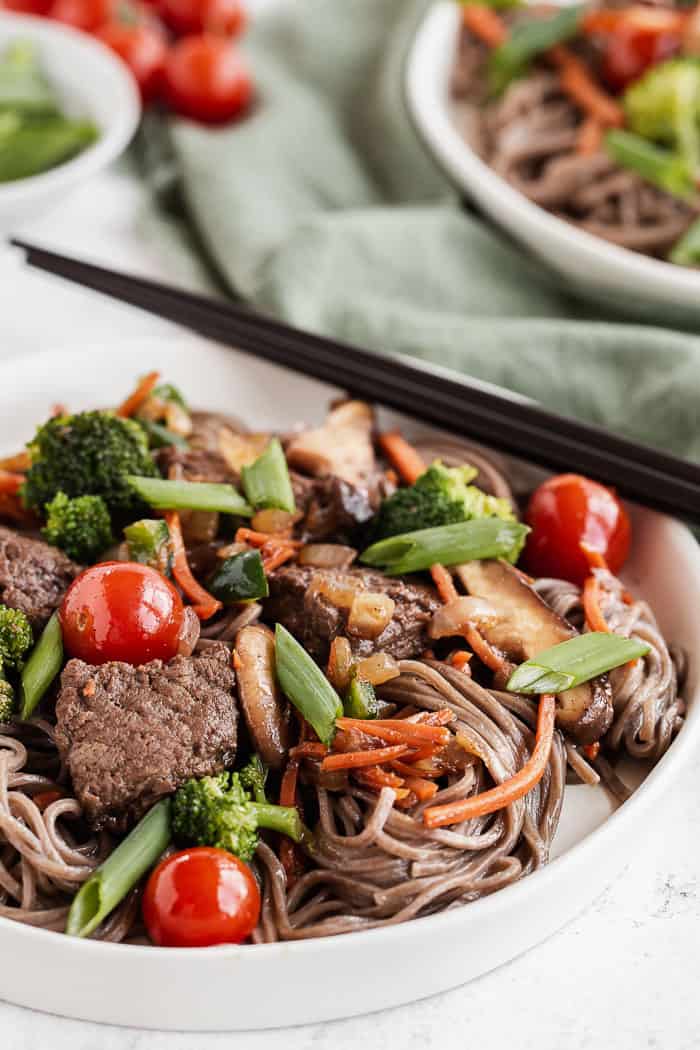 I tossed the marinade with some vegetables I had mushrooms, carrots, and broccoli. And I stuck with the tomatoes as well. The ginger and fresh tomatoes combination is creative and is a must-try. If you want it a little bit more spicy, add a few extra teaspoons of chile powder. It takes the heat up a bit. This is now a new favorite in our house!
If you are looking for a new stir fry for your weeknight dinner, this is your chance!!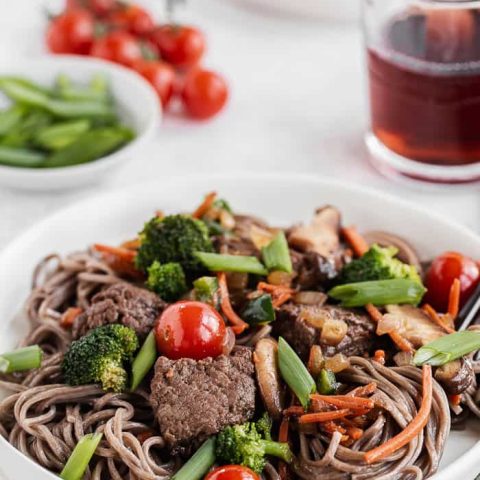 Yield: 2
Ginger Soy Beef Stir-Fry with Chile Tomatoes
Total Time
1 hour
5 minutes
Ingredients
Ginger-Soy marinade:
½ yellow onion, cut in quarters
1 pound rib-eye steak, (about 1in thick), cut into 8 cubes
¼ c sesame oil
1Tb minced fresh ginger
¼ c Coke or other soda
1 tsp smoked paprika
1 Tb finely ground chile powder
½ tsp black pepper
1 tsp onion powder
1 Tb garlic powder
¼ c mirin
¼ c brown sugar
¼ c soy sauce
1 Tb minced fresh garlic
For Stir-Fry
Salt and black pepper, to taste
1 poblano pepper, diced
2 carrots, julienned
1 cup broccoli
6 ounces sliced mushrooms
16 grape tomatoes
1 onion, chopped
2 garlic cloves, minced
1 Tb olive oil
1 Tb sesame oil
2 Tb chopped scallions (green parts only, for garnish)
Instructions
Make the ginger-soy marinade. In a food processor, mince the yellow onion. Add ginger, garlic, soy sauce, brown sugar, mirin and spices and blend well. Transfer to a mixing bowl and add cola, then whisk in the sesame oil to emulsify the marinade. Pour half of the marinade over steak cubes in another mixing bowl. Cover the bowl with plastic wrap and refrigerate for 30 minutes.
Heat a large nonstick skillet or wok over high heat until very hot. Add the sesame oil, olive oil, and garlic. Stir-fry until fragrant, about 1 minute. Add the beef and cook, stirring occasionally, 1-2 minutes. Transfer the beef with a slotted spoon to a medium bowl.
Add the onions and cook until just soft, about 2 minutes. Add the rest of the vegetables; stir-fry until tender, about 3-4 minutes. Return the beef and a few tablespoons of the marinade to the pan and stir to combine. Cook for an additional minute or two, stirring occasionally. Season with salt and pepper to taste.
Serve over soba noodles or rice.
Nutrition Information:
Amount Per Serving:
Calories:

0
Cholesterol:

0mg
Sodium:

0mg
Carbohydrates:

0g
Fiber:

0g
Sugar:

0g
Protein:

0g