Chocolate Cream Pie Recipe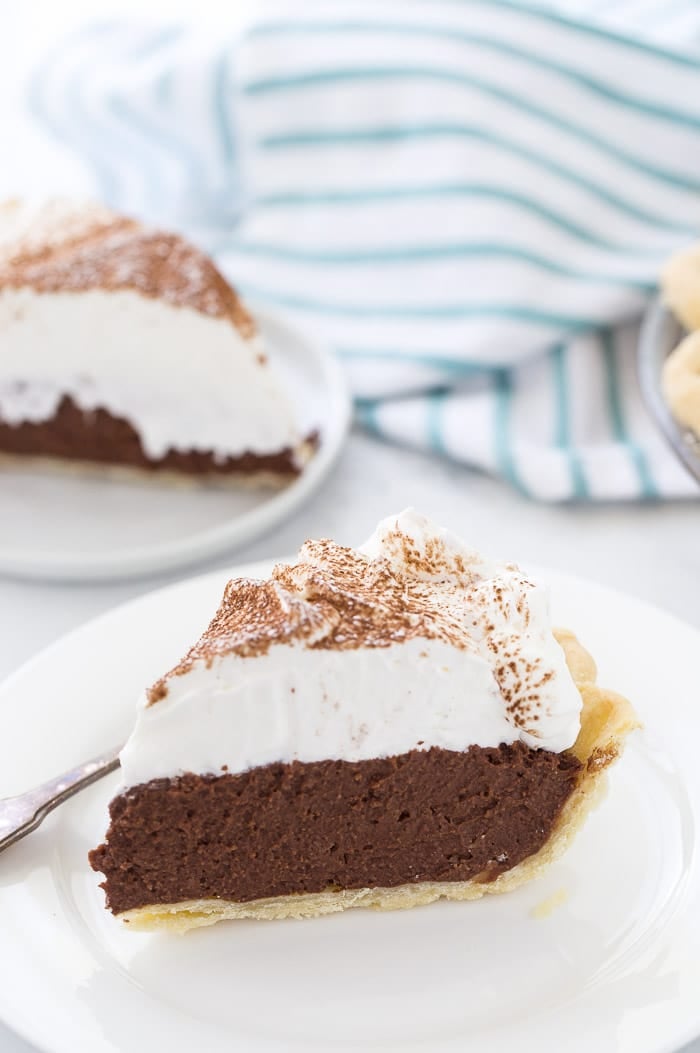 Hi friends! I have another classic recipe for you today. This chocolate cream pie recipe is going to be your go-to recipe for anything creamy, decadent and delicious in the form of a pie. It's a true dinner classic and I wanted to share with you the recipe I've been using for a while now for my family.
I'm sure you are no stranger to the chocolate cream pie. It's a decadent, creamy chocolate lover dream recipe of both chocolate and pie in one treat. The pie starts with a flaky, buttery pie crust that is filled will a rich chocolate filing which tastes almost like chocolate pudding, and it's all topped with a lightly sweetened homemade whipped cream. It's seriously the perfect combination!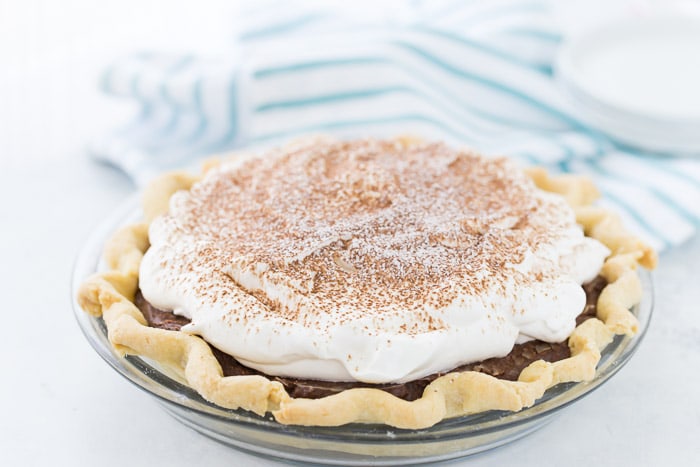 There is lot of room for customizing your chocolate in the filling. I used a mixture of bittersweet and unsweetened but you can do whatever you like (milk chocolate, semi-sweet etc.), it all depends on what's your favorite. You can also add some flavors into the filling. I've added in the past a touch of orange blossom water to the filling, I've used a cup of coconut milk and a dash of coconut extract for that tropical flavor and I've also lined the bottom of the pie with slices of banana. So it is a very versatile recipe that needs to be in your recipe box!! These are my favorite kinds of recipe to share 🙂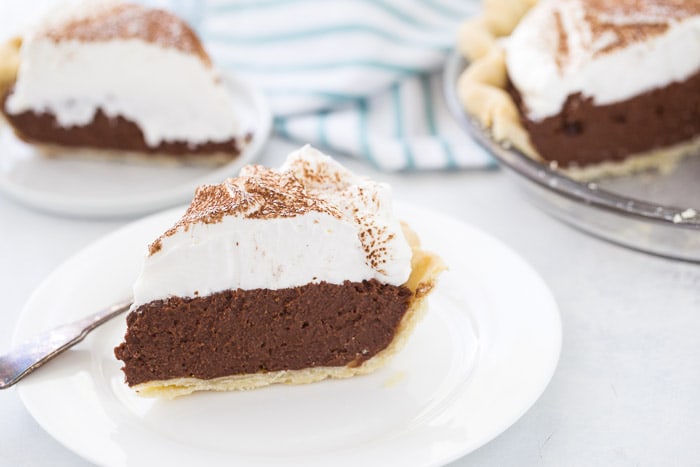 Another thing I love about this recipe is that it is so easy to whip up. It is (almost) no-bake and perfect for making ahead of time for gatherings. In the summer when we are all striving to be outside and spend less time over the oven, this is the perfect recipe.
This chocolate cream pie recipe is a truly a great one that I know you will love. Perfect for all your entertaining and sure will please the chocolate lovers in your family.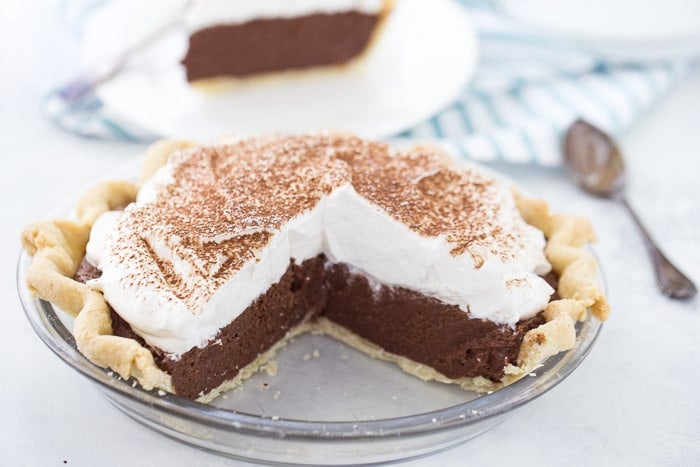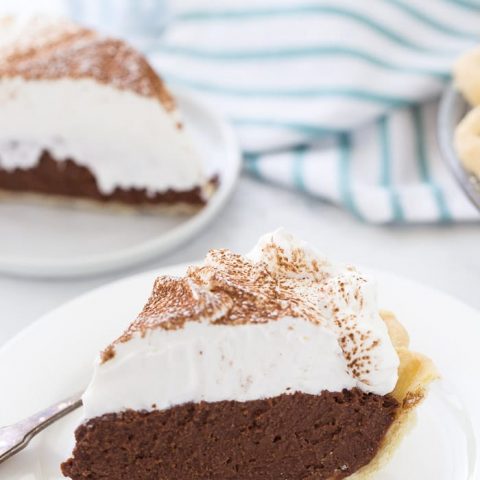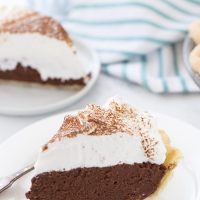 Yield: 1 9-inch pie
Chocolate Cream Pie Recipe
Silky, classic chocolate cream pie recipe is a must have for any summer gathering
Total Time
7 hours
5 minutes
Ingredients
For the crust:
1 9-inch pie crust, baked (homemade or store-bought)
For the Filling:
2/3 cup granulated sugar
1/4 cup cornstarch
1/2 teaspoon salt
4 large egg yolks
3 cups whole milk
8 ounces fine-quality chocolate (I used a combination of unsweetened and bittersweet), melted
2 tablespoons unsalted butter, softened
1 1/2 teaspoons pure vanilla extract
For the topping:
3/4 cup heavy cream, chilled
2 tablespoons powdered sugar
Instructions
For the crust:
Bake your pie crust as directed by your recipe. Here's one of my favorite homemade recipe. Let the crust cool completely before filling.
For the filling:
Meanwhile, in a medium heavy saucepan, whisk together the sugar, cornstarch salt, and egg yolks until combined. Gradually whisk in the milk into the mixture. Bring the mixture to boil over medium heat, whisking constantly. Reduce heat to simmer and whisk for an additional minute or until mixture is thick.
Remove from heat and pass through a fine-mesh sieve into a large bowl. Whisk in the chocolate, butter and vanilla extract. Cover the filling with a buttered wax paper and let cool completely about 2 hours.
Spoon the filling into the prepared (and cooled) crust. Cover with plastic wrap and chill pie for at least 6 hours or overnight.
When ready to serve, using an electric mixer beat the heavy cream and sugar in a medium bowl until stiff peaks form. Spoon the whipped cream on top of the pie. Serve immediately. Store leftover pies in the refrigerator for 2-3 days.
Notes
You can assemble the pie (without the topping) a day in advance and keep it refrigerated.