Sweet Potato Pie with Maple Marshmallow Topping
This classic sweet potato pie is silky smooth, perfectly spiced, and topped with a sweet maple marshmallow topping.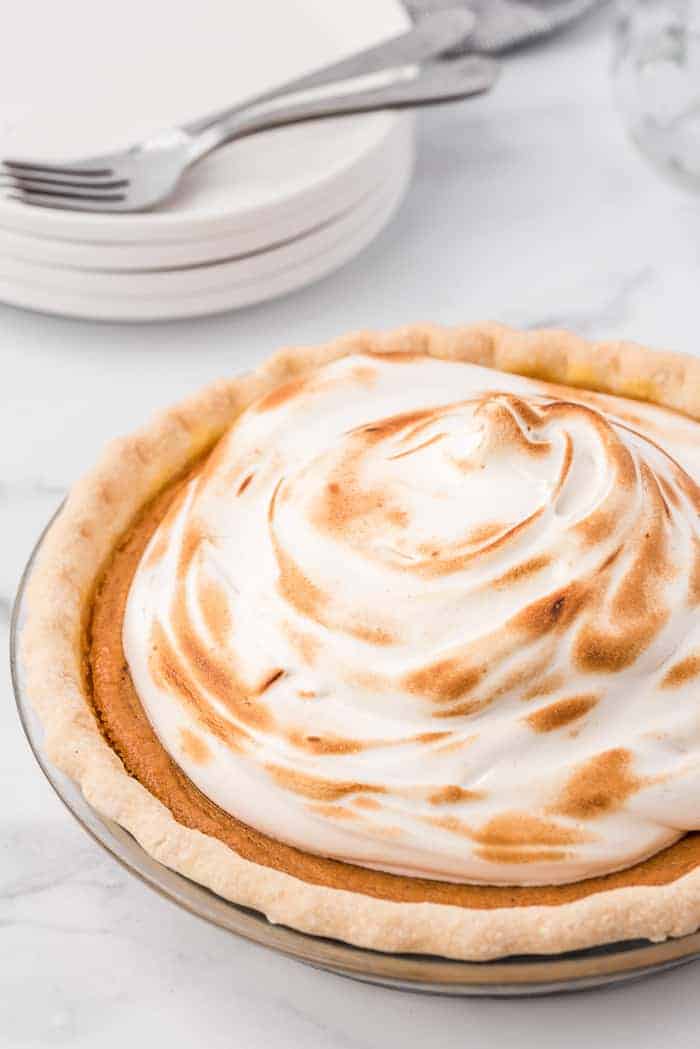 Happy Friday friends! I hope you are excited for another fall weekend. We are on the road this weekend visiting some friends and I am excited to catch up with girlfriends I haven't seen in months. We have a big reunion meal planned, almost like a Friendsgiving and I will be bringing this sweet potato pie recipe with me. It's a Thanksgiving classic that is always a must on our table and is perfect for a Friendsgiving dinner. It's also a great one to make a day or two before the big day to lessen the burden.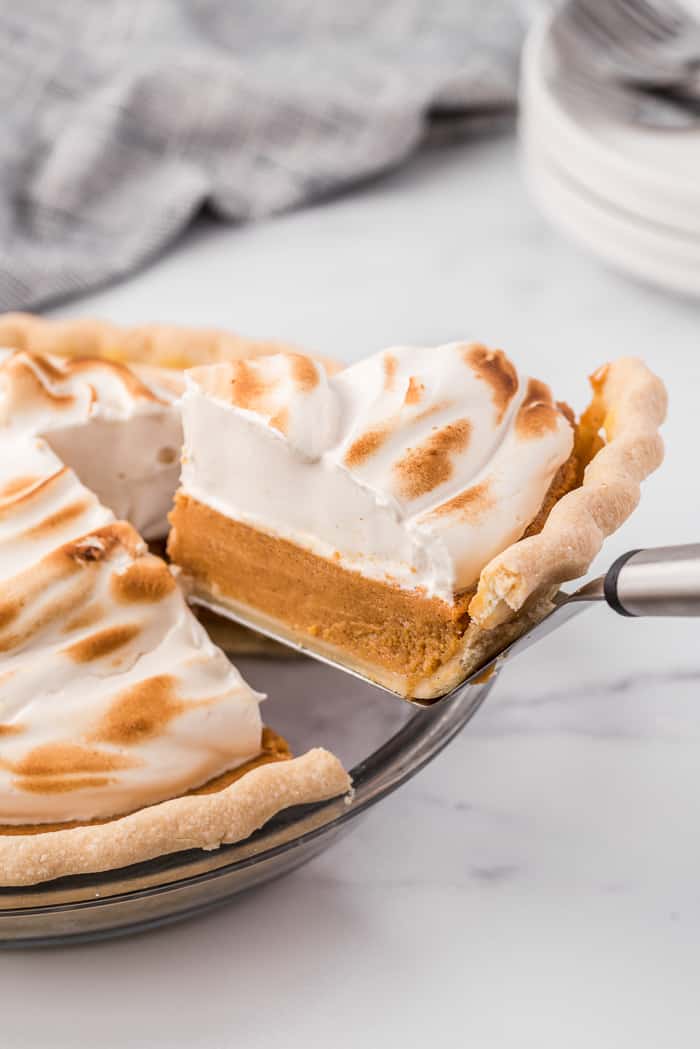 Sweet potato pie is as classic as pumpkin pie on the Thanksgiving table. At least in my part of the world where it is a staple that's always welcome. Just like its counterpart, it's sweet, silky smooth, spiced, and satisfying.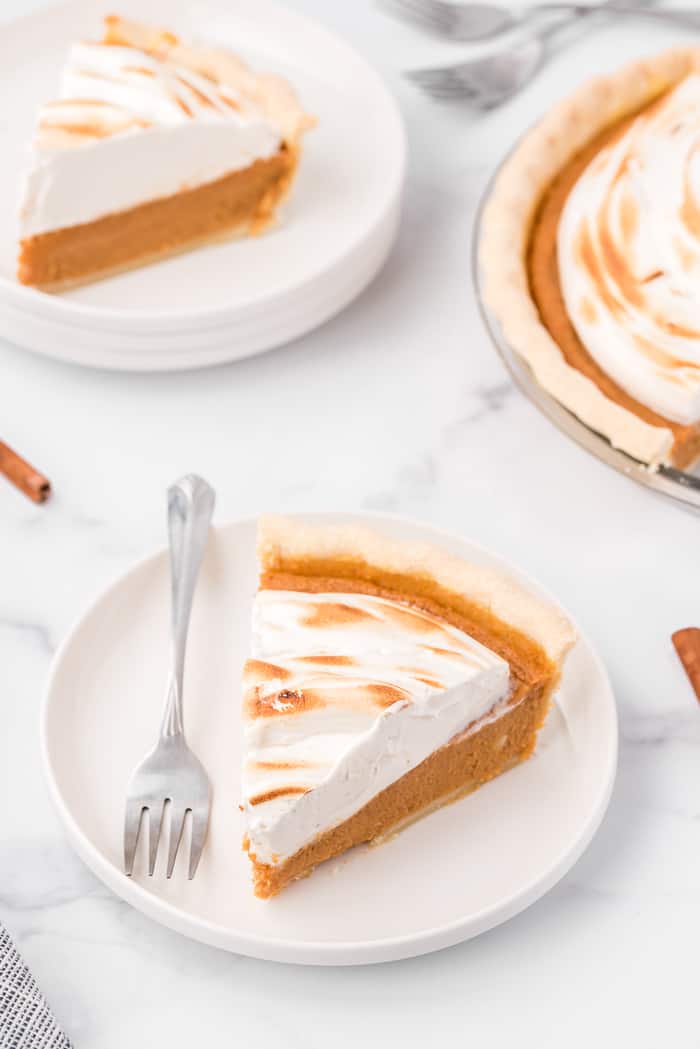 This recipe is easy as pie to whip up as well. To make this pie, you simply puree your boiled sweet potatoes with your spices, brown sugar and buttermilk until smooth. This is your filling that is baked in a flaky, buttery pie crust. I always make my own sweet potato puree but you can use the canned sweet potato puree as well, just make sure you do not buy the sweet potato pie filling.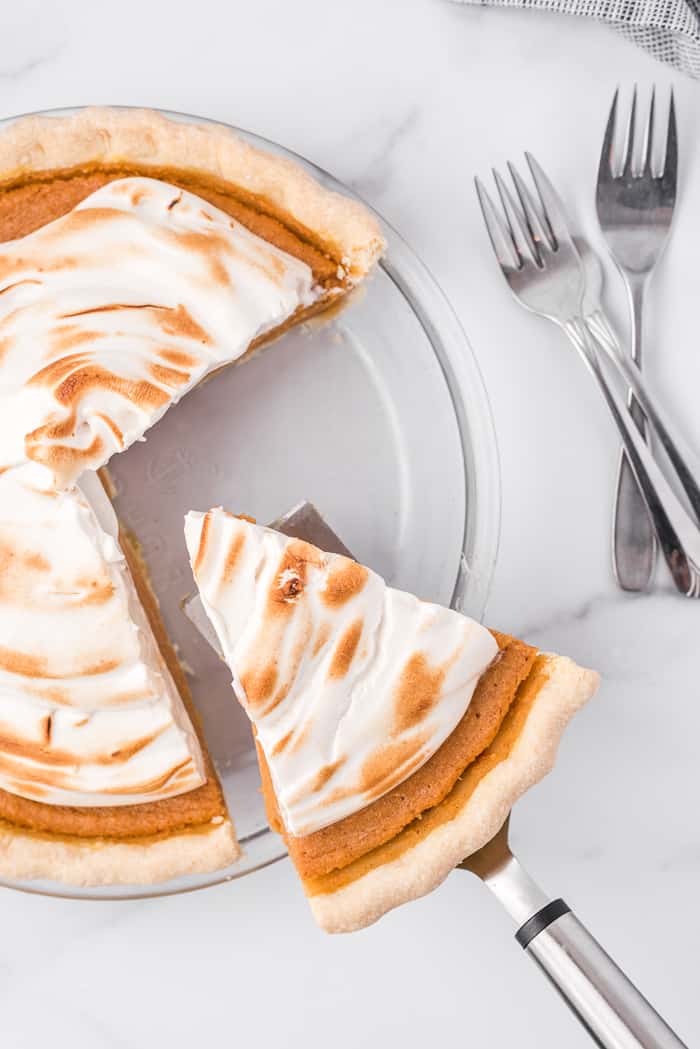 Your sweet potato pie can be served as it but I love topping mine with a whipped marshmallow topping which is the perfect complement to anything sweet potatoes. I mean who loves sweet potato casserole on Thanksgiving? (hands raised!!). The maple marshmallow topping on this pie has the same effect – sweet, sticky and wrapped in maple flavor which complements the spices of the pie. Definitely, a must if you are trying this sweet potato pie.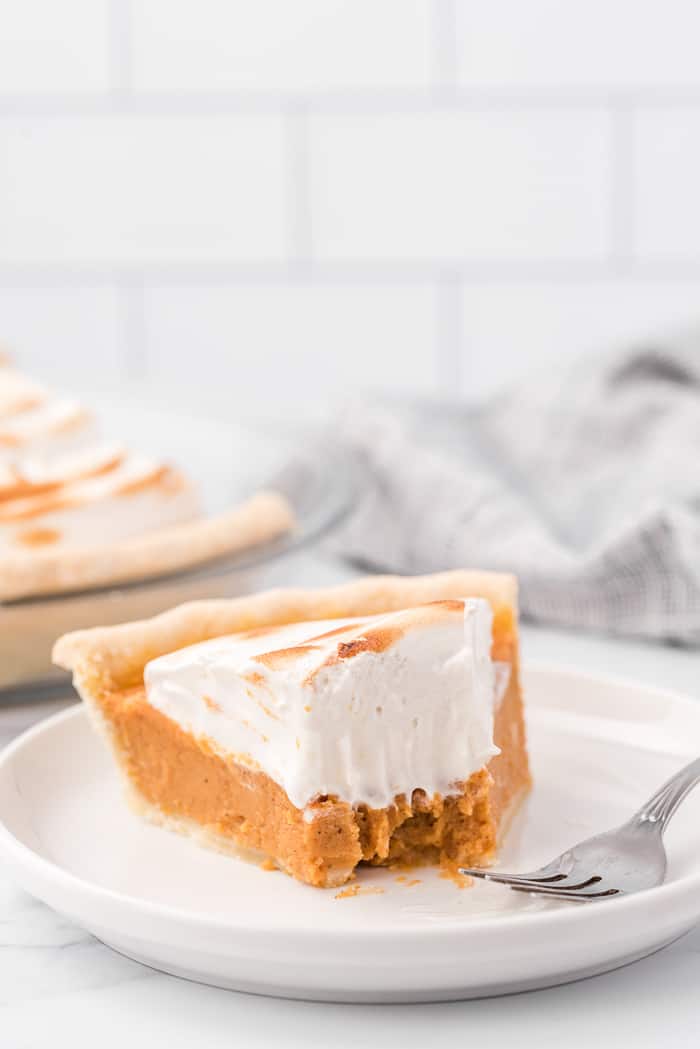 Have a great weekend! Happy Baking!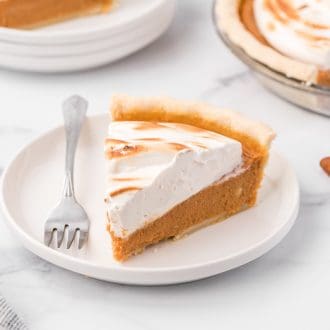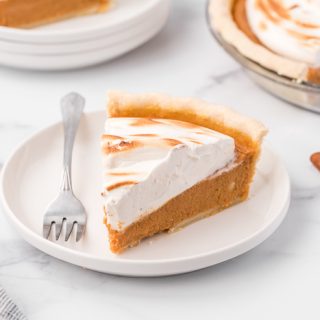 Yield: 1 9-inch pie
Sweet Potato Pie with Maple Marshmallow Topping
Your classic sweet potato pie is topped with a sweet maple marshmallow topping for an easy holiday pie.
Total Time
1 hour
45 minutes
Ingredients
For Crust
1 1/2 cups all-purpose flour
10 tablespoons unsalted butter
1/2 teaspoon salt
Ice cold water
For Filling
2 cups boiled sweet potatoes (about 3 medium potatoes)
1/2 cup unsalted butter, softened and cut in cubes
1 cup packed brown sugar
1 teaspoon ground cinnamon
1/2 teaspoon freshly ground nutmeg
1/4 teaspoon ground ginger
1/2 cup buttermilk
2 eggs, lightly beaten
For Maple Marshmallow Topping
3 egg whites, at room temperature
1/2 cup sugar
1/3 cup maple syrup
Instructions
For Pie:
Prepare 1/2 cup ice-cold water and keep in fridge. In a food processor, pulse the flour, salt and butter until the mixture looks like wet sand. Drizzle some iced cold water, and process until dough starts to come together.
Then simply turn out the dough onto a lightly floured surface and knead until it comes together in a ball. Just wrap in plastic wrap and chill until you are ready to assemble your pie. You can make this dough up to three days ahead. Keep refrigerated
Roll out dough on a lightly floured surface into a 14-inch circle and fit into a 9-inch pie dish. Trim off excess dough and crimp edges. Chill dough while you prepare filling.
For filling
Preheat oven 375 degrees F. In the bowl of your food processor combine the boiled sweet potatoes, butter, brown sugar, cinnamon, nutmeg, ginger and half of the buttermilk. Pulse until smooth. Add in the rest of the buttermilk and eggs, and pulse until combined.
Pour filling into the chilled crust and place pie dish on a baking sheet. Bake pie at 375 degrees F for 10 minutes and reduce temperature to 325 degrees F and bake until just set (center jiggles slightly), about 50 minutes.
Let pie cool completely before topping.
For Maple Marshmallow Topping:
In the bowl of a stand mixer, whip the egg whites until soft peaks form. Gradually add the sugar to the egg whites with the mixer on medium speed.
Whip until stiff peaks form. Gradually add the maple syrup and beat for additional minute.
Top the marshmallow fluff onto cooled pie when ready to serve. Use a kitchen torch to toast slightly.