Spiced Shortbread Cookies
These buttery spiced shortbread cookies are great on any holiday cookie tray and fun to customize with your favorite holiday toppings.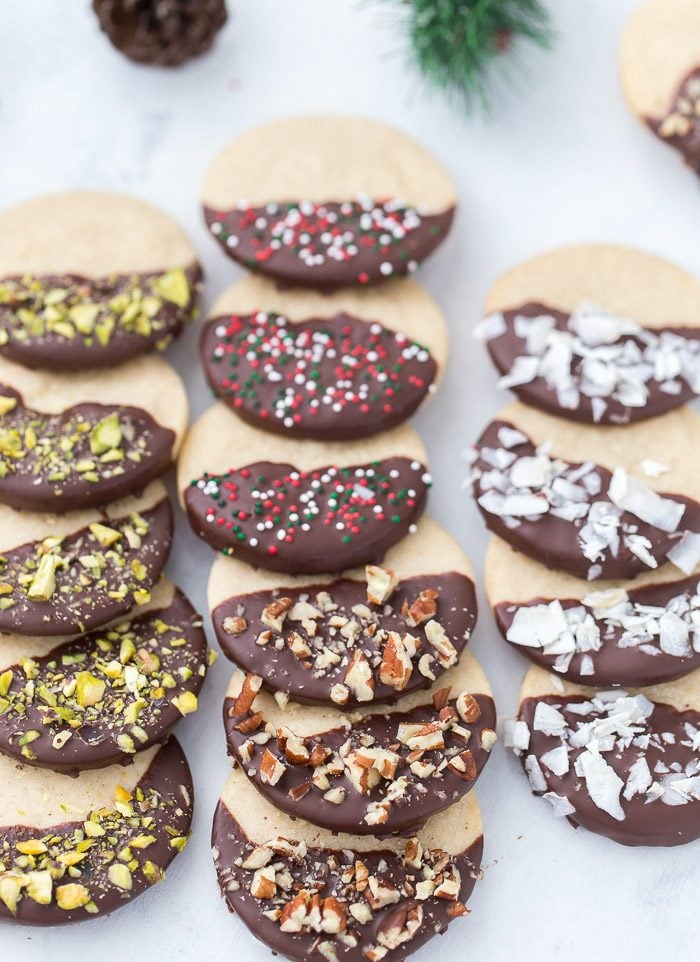 Happy December friends! It's been a hectic few weeks for me since Thanksgiving so I haven't had time to stop in and check on you guys. Luckily for you, I have a healthy archive of holiday desserts and recipes that I see you have all been enjoying. Before we packed up and moved our family from NY to Maryland (more on that later), I was able to bake a few holiday recipes in anticipation of my kitchen lockdown. These spiced shortbread cookies were one of those recipes and I am very happy to share them with you. They are buttery, soft and perfectly spiced to make any holiday cookie box happy.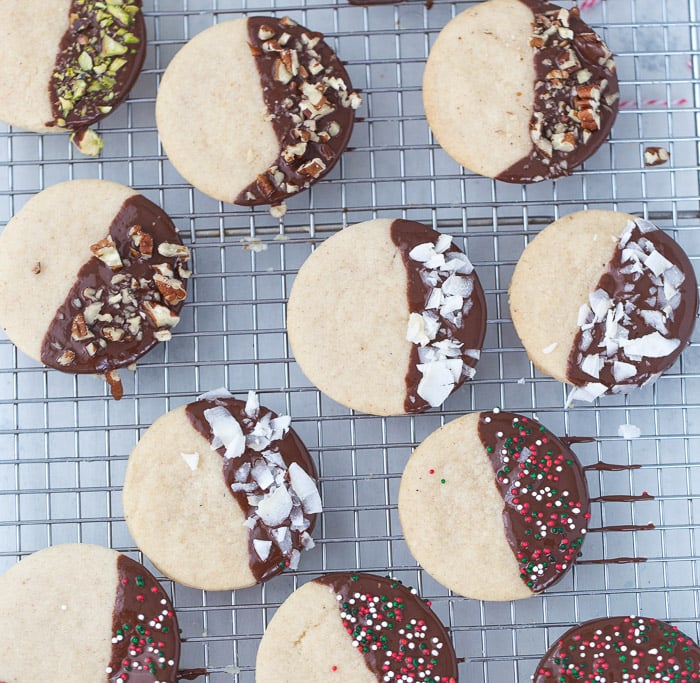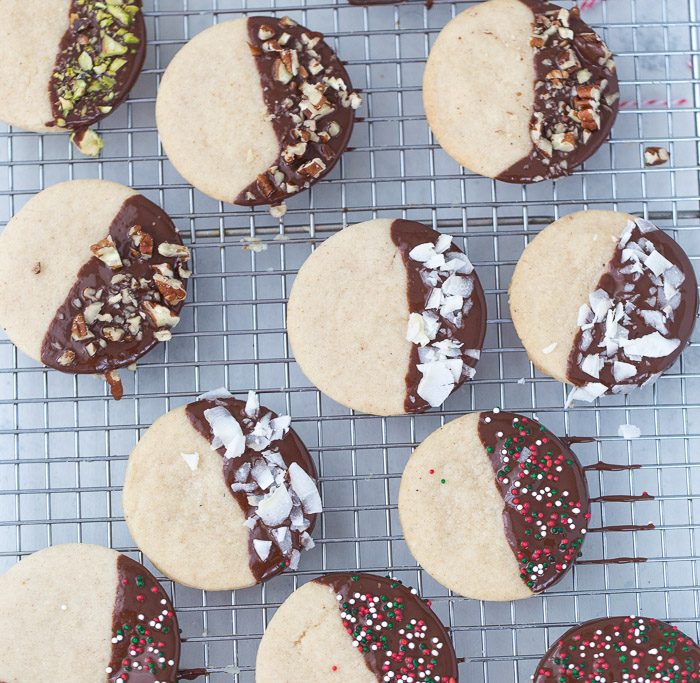 Holiday cookies are a must on every baking list this time of the year. They bring joy, happiness, and warmth to every home and make for great edible gift ideas too. It's also an annual tradition with my niece (and now son) to bake holiday cookies together.
These spiced shortbread cookies were on my baking list last year. I made them, loved them, shared them with family and friends but I never got around to sharing the recipe with you. So this year, I remade them and decided to add a twist to them by dipping them in chocolate and adding my favorite toppings. This is a great activity for kids as they can decorate their cookies as desired. I used chopped nuts (pecans and pistachios), shredded coconut flakes and sprinkles. But you can do your family's favorite toppings to complete the look of these cookies. You can also leave them plain as they are just as delicious.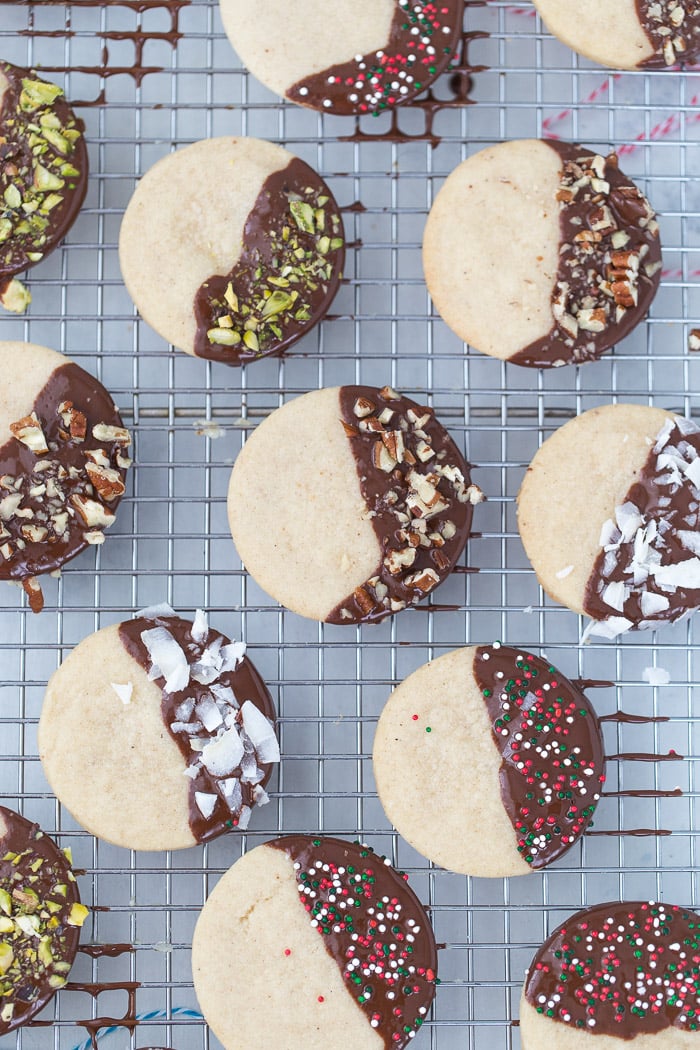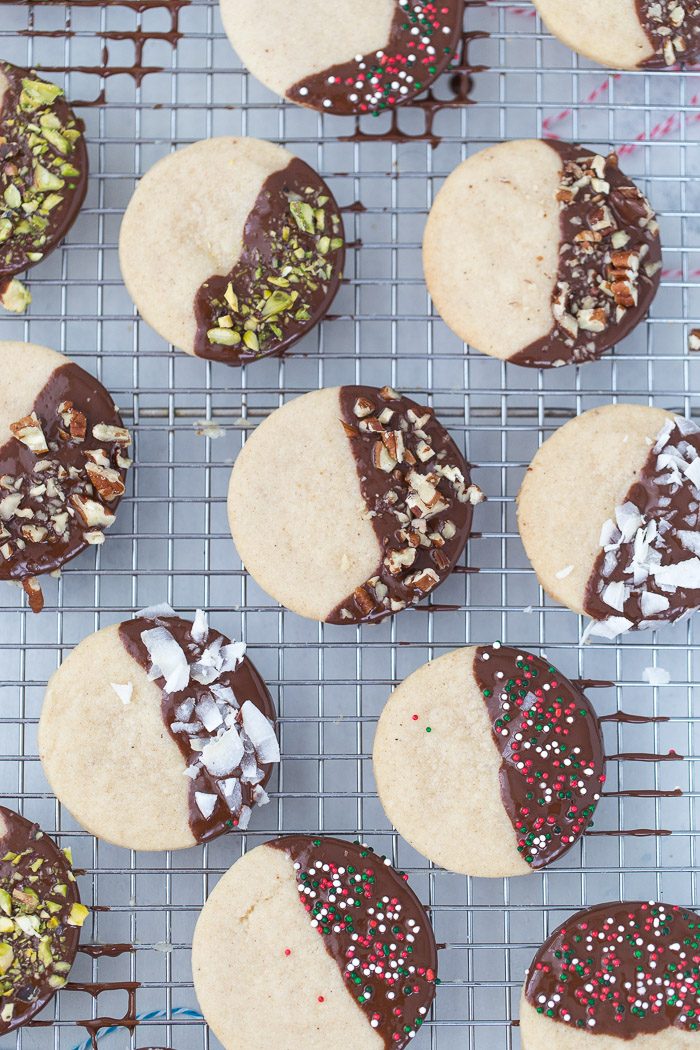 You really can't go wrong with buttery shortbread cookies this holiday season. The warm spices of cinnamon, nutmeg, and cardamom make this recipe extra special!
I hope you can take some time this season to slow down, spend quality time with friends and family and enjoy some holiday baking. As we get settled into a new house, city, and community, I'll be digging into my holiday baking repertoire to continue some of holiday season traditions.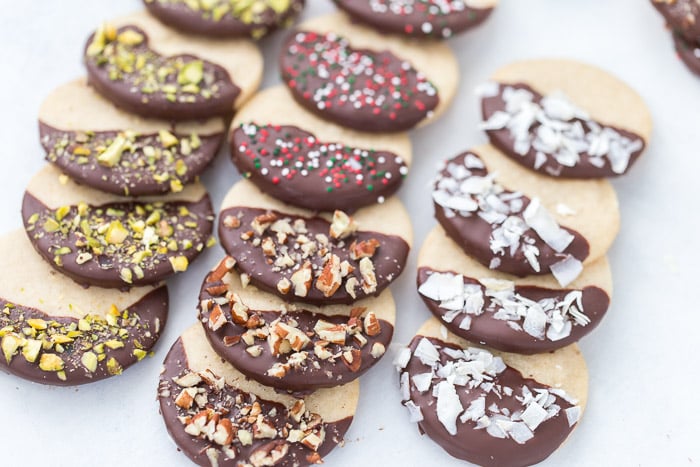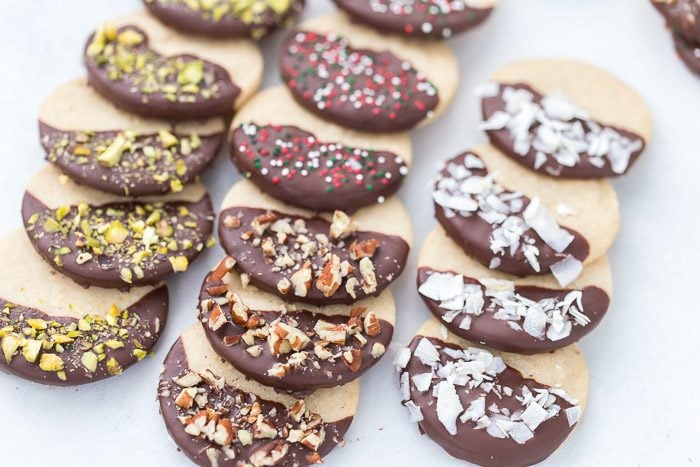 In case you need more inspiration, here are a few of my favorite holiday cookies in addition to these spiced shortbread cookies:
Enjoy!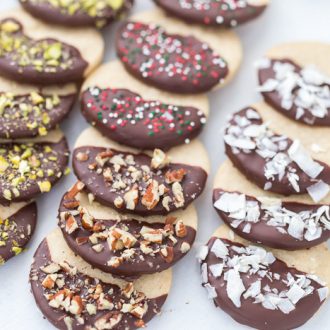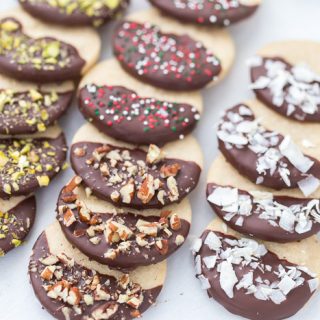 Yield: ~30 cookies
Spiced Shortbread Cookies
Total Time
2 hours
55 minutes
Ingredients
2 1/2 cups all-purpose flour
1/2 cup almond flour
1/2 teaspoon kosher salt
1/2 teaspoon ground cinnamon
1/4 teaspoon ground cardamon
1/4 teaspoon ground nutmeg
a pinch of cloves
1 1/4 cups unsalted butter, at room temperature
1 cup granulated sugar
1 tablespoon vanilla extract
For Dipping:
2 ounces dark chocolate or white chocolate
1 teaspoon coconut oil
For Toppings:
chopped pistachios
chopped pecans
dried rose petals
Instructions
Whisk together flour, salt, cinnamon, cardamom, nutmeg, and cloves in a large bowl.
Cream the butter and sugar together in another large bowl using an electric mixer at medium speed until light and fluffy, about 3-4 minutes.
Beat in the vanilla extract.
In two to three additions, add in the dry ingredients until incorporated and the dough forms.
Turn the dough onto a plastic wrap and bring together the dough.
Wrap the dough in plastic wrap and chill for at least 2 hours or overnight.
When ready to bake, let the dough sit at room temperature for 30 minutes.
Preheat oven to 350 degrees F.
Roll out the dough to 2-inch thickness. Use any cookie cutter to cut out cookies.
Bake cookies until lightly golden, about 15 minutes.
Let cool on the cooling rack completely.
For dipping: combine the chocolate and coconut oil and melt in a microwave-safe bowl. Dip cooled cookies in the melted chocolate and top with desired toppings.
Notes
Shortbread Cookie base adapted from Bake from Scratch
Recommended Products
As an Amazon Associate and member of other affiliate programs, I earn from qualifying purchases.