Peppermint Chocolate Layer Cake with Peppermint Frosting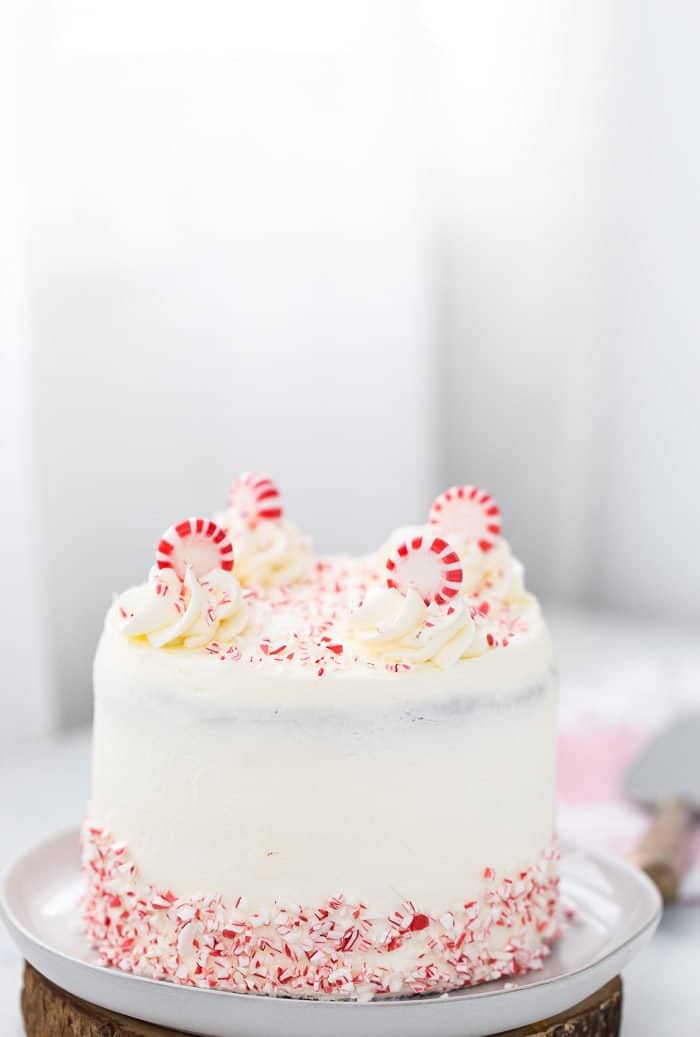 When you think of classic holiday season flavors, peppermint and chocolate always rank up there for me. Don't get me wrong, I love eggnog, gingerbread and anything with molasses in it but for sure peppermint is always the winner in my books. Especially when chocolate is involved as you can see from my extensive peppermint recipe collection. A few favorites include this peppermint white chocolate cheesecake, my favorite peppermint mocha cupcakes, and this epic peppermint cloud cake. Clearly, I am a fan but so are you 😊.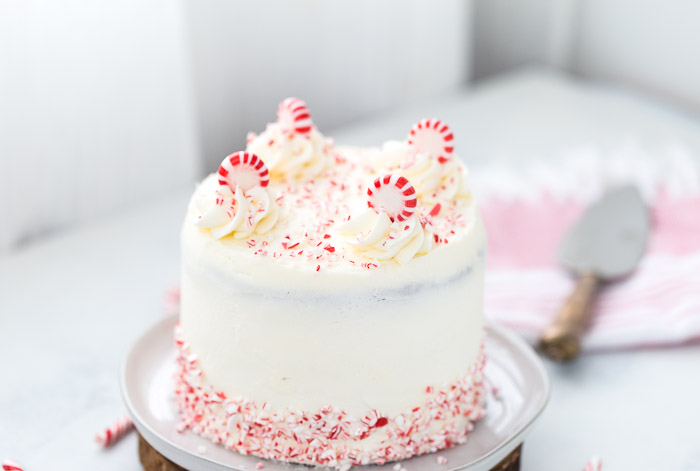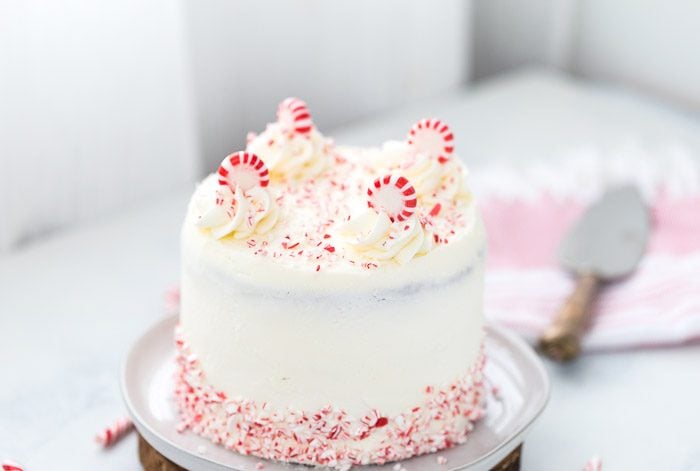 To continue in the tradition of at least one peppermint treat over the holidays, I made this peppermint chocolate layer cake. It is my peppermint mocha cupcake recipes converted into a layer cake for your convenience. Every now and then I get questions from you on how to convert cupcake recipes to layer cakes. It is easy but I think spelling it out helps you a lot.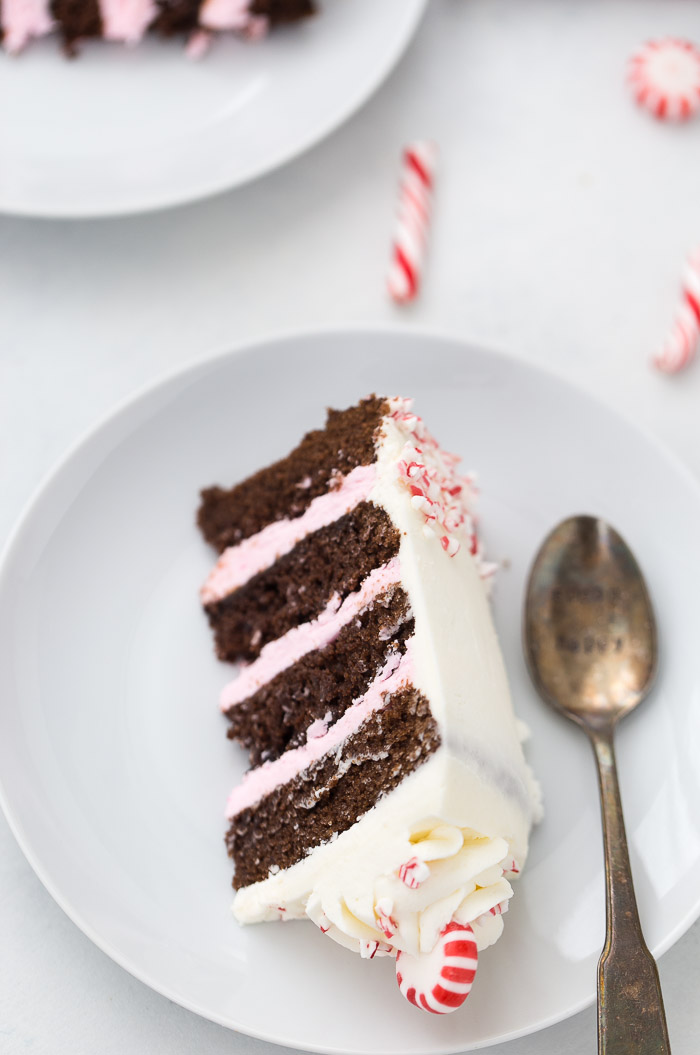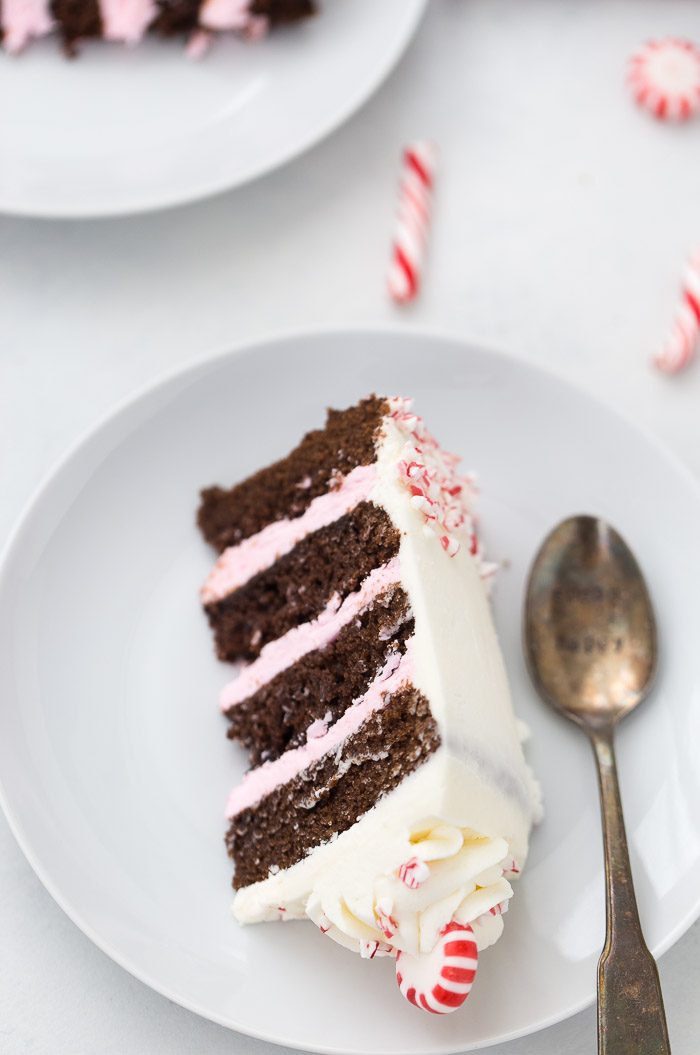 For this peppermint chocolate layer cake, we start off with my go-to chocolate cake recipe. It is rich, moist and oh so soft. A dose of espresso in the cake brings out the decadent chocolate flavor and the addition of peppermint extract to the cake batter adds in the smooth cool flavor. The cake is then filled with a whipped peppermint frosting. I love whipped buttercreams because they are light, sweet and so airy on cakes. I colored some of the frosting with a touch of pink gel coloring to give you the wintery effect peppermint brings to the holidays.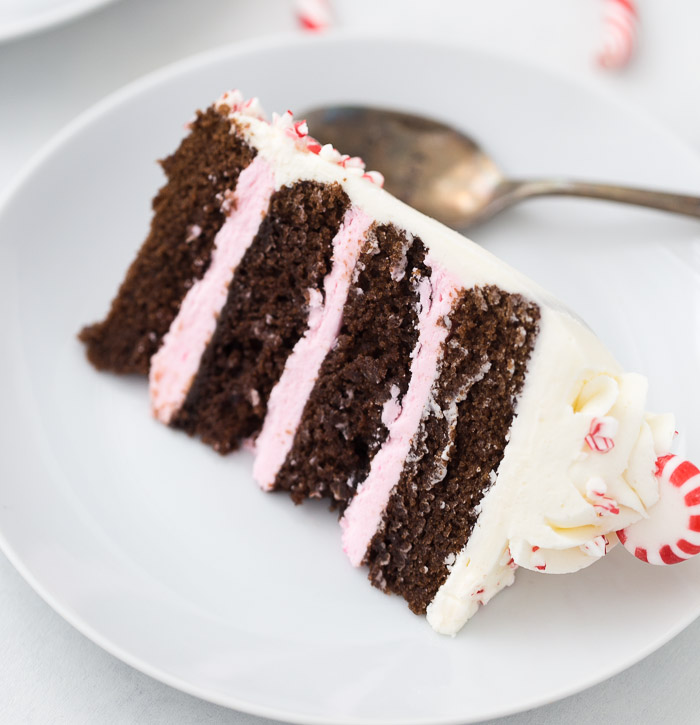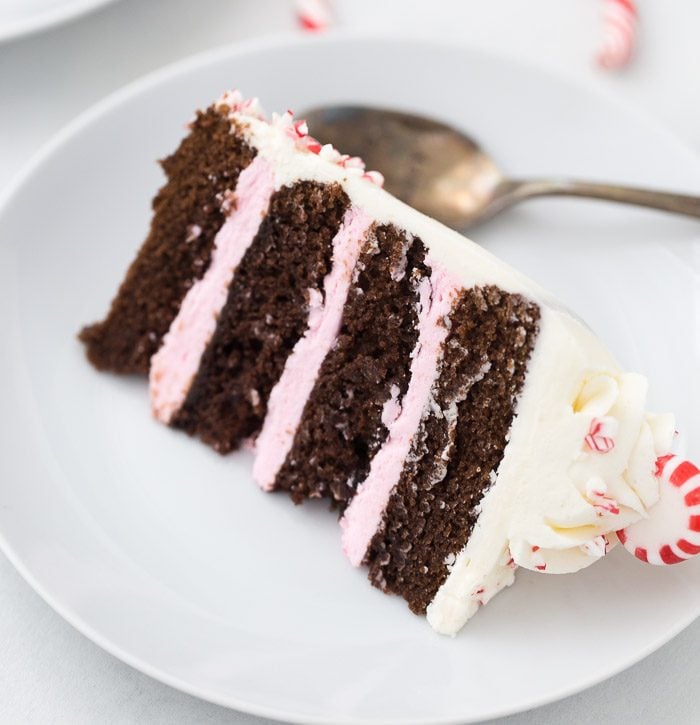 Overall, it is a simple cake yet spectacular in taste and looks. No doubt, everyone will enjoy it as it is a classic holiday flavor combo that just incites joy and happiness. I hope you find some time to try this recipe and share with your loved ones this season.
Happy Baking!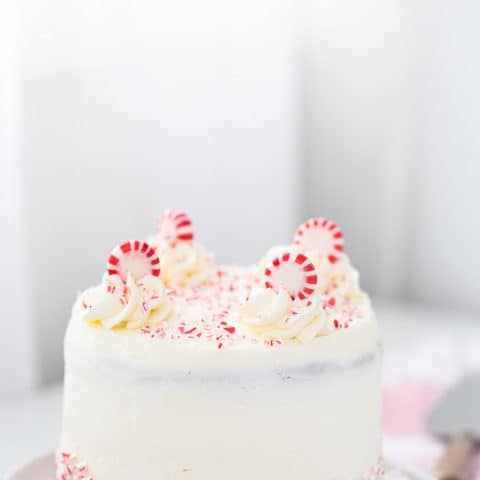 Yield: 1 6-inch layer cake
Peppermint Chocolate Layer Cake
This peppermint chocolate layer cake celebrates the magic of the holiday classic combo of decadent chocolate cake topped with sweet and cool peppermint frosting.
Ingredients
FOR THE CAKE:
1 cup all-purpose flour
1 cup granulated sugar
⅓ cup cocoa powder (I used Ghirardelli)
1 teaspoon baking soda
½ teaspoon baking powder
½ teaspoon kosher salt
1 large egg, at room temperature
½ cup buttermilk, at room temperature
½ cup strong black coffee, hot
¼ cup vegetable oil
1½ teaspoons pure vanilla extract
1 teaspoon peppermint extract
FOR THE FROSTING:
1 cup (2 sticks) unsalted butter, at room temperature
3-4 cups powdered sugar
2 teaspoons pure vanilla extract
1 teaspoon peppermint extract
Pinch of salt
2-3 tablespoon heavy cream
a drop or two of pink gel coloring
Instructions
FOR THE CHOCOLATE CAKE:
Preheat oven to 350 degrees F. Grease and line three 6-inch cake pans with parchment paper. Grease the parchment.
Sift together all the dry ingredients into the bowl of an electric mixer.
In a medium bowl, combine all the wet ingredients using a whisk.
Mix the dry ingredients on low speed for 1 minute. Stop the mixer and add the wet ingredients. Mix for 2 minutes on medium speed and scrape the sides and bottom of the bowl. Mix for an additional minute on medium speed until well combined.
The batter will be thin. Divide the batter evenly into the prepared pans.
Bake for 20-25 minutes or until a toothpick inserted in the center comes out almost clean.
Cool cakes in pan on wire rack for 10 minutes before inverting onto the wire racks to cool completely. Meanwhile, you could start on the frosting.
FOR THE FROSTING:
Whip butter on medium speed for about 2-3 minutes in the bowl of a stand mixer fitted with the paddle attachment until light and creamy.
Add the powdered sugar, vanilla extract, peppermint extract, salt and heavy cream and mix on low for 1 minute until combined. Increase speed to medium-high and whip for 5-6 minutes until light and fluffy.
In a separate bowl, place about 1 1/2 cup of frosting. Color with pink gel coloring if desired.
TO ASSEMBLE THE CAKE:
Level the cakes if needed.
Onto a cake stand, place the first layer of cake. Evenly spread about 1/2 cup colored (if using) buttercream on top. Repeat until the last layer. Add the top layer of cake with the top of the cake down. Crumb coat the cake with a thin layer of buttercream.
Then spread the icing evenly and frost the cake. Decorate as desired with crushed peppermint candies.
The cake will store in an airtight container at room temperature for up to 3 days or refrigerated.
Notes
You can bake the cakes in two 8-inch rounds. Just be sure to adjust the baking temperature to about 25-30 mins
Cakes can baked 2-3 days ahead of time. Wrap tightly in plastic wrap and refrigerate or freeze until ready to decorate.