Homemade Cranberry Sauce Recipe
This homemade cranberry sauce recipe is sweet, tart and zesty. Made with brown sugar, fresh orange juice, and prosecco, it's the perfect complement to your Thanksgiving dinner.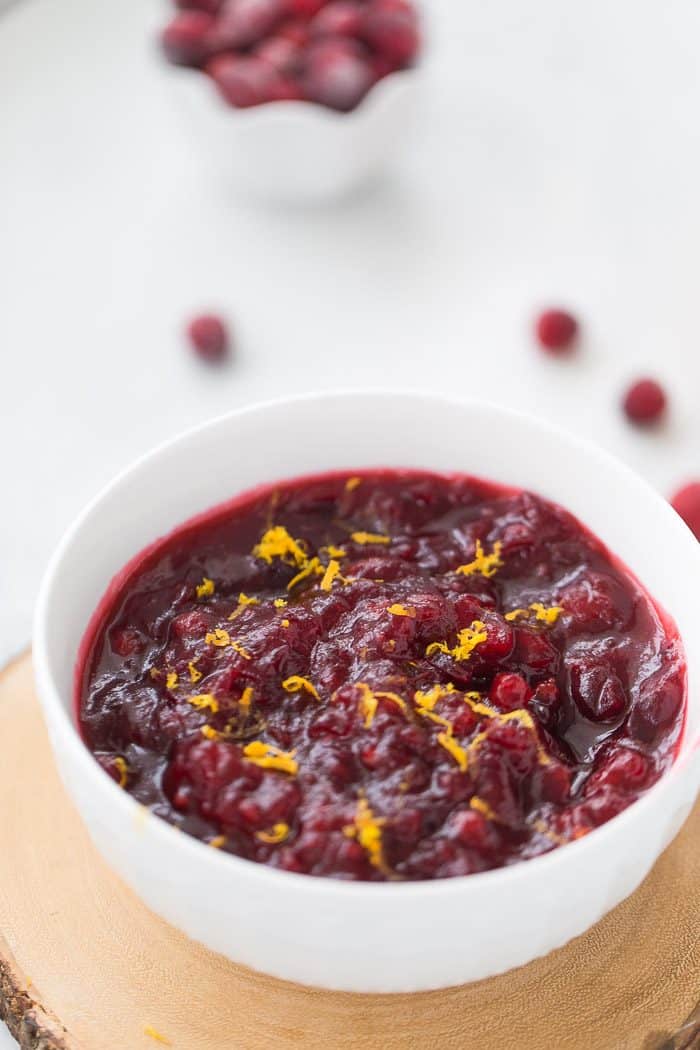 Hi guys! I am popping in today to share with you a quick Thanksgiving recipe. This homemade cranberry sauce recipe is one I've been making for years and even feel weird sharing it as a recipe. It's so easy and customizable that I am not even sure it should be called a recipe. But if you are looking for a solid cranberry sauce recipe, this is a great place to start. It's sweet, tart and filled with hints of orange. The perfect complement to your turkey dinner.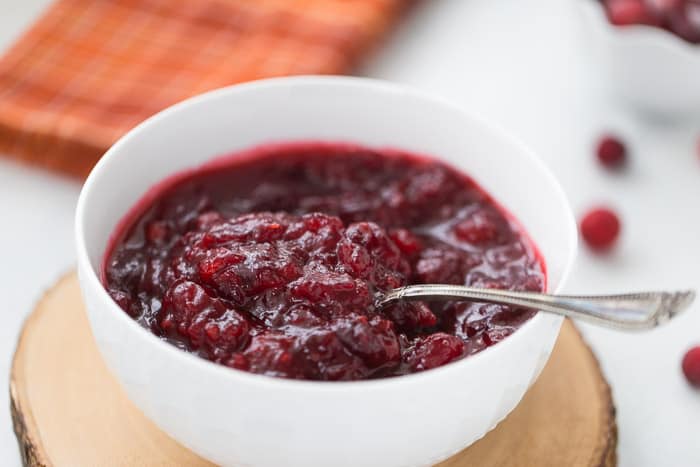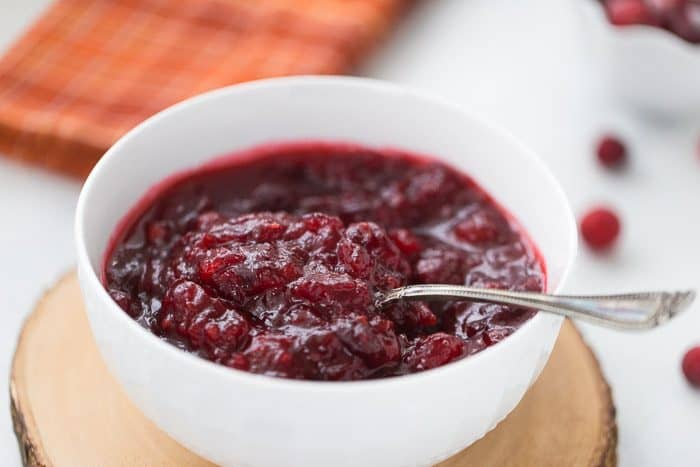 So what goes to into this Thanksgiving staple?? First of all, it's simple and you know everything that's in it (unlike the canned stuff). Fresh cranberries, brown sugar (I like using this instead of granulated sugar), fresh orange zest and orange juice, and prosecco or white wine. This last ingredient is my personal favorite as it adds a crisp fresh flavor to the cranberry sauce. Cook up everything slowly to allow the flavors to blend and let chill overnight.
That's my easy homemade cranberry sauce recipe. If you are a cranberry sauce lover, then you have to try this. Like the classic pumpkin pie recipe, every Thanksgiving table needs a great cranberry sauce. Feel free to adapt my recipe to your family's favorite flavors (I've added in flavors such as cinnamon, vanilla extract).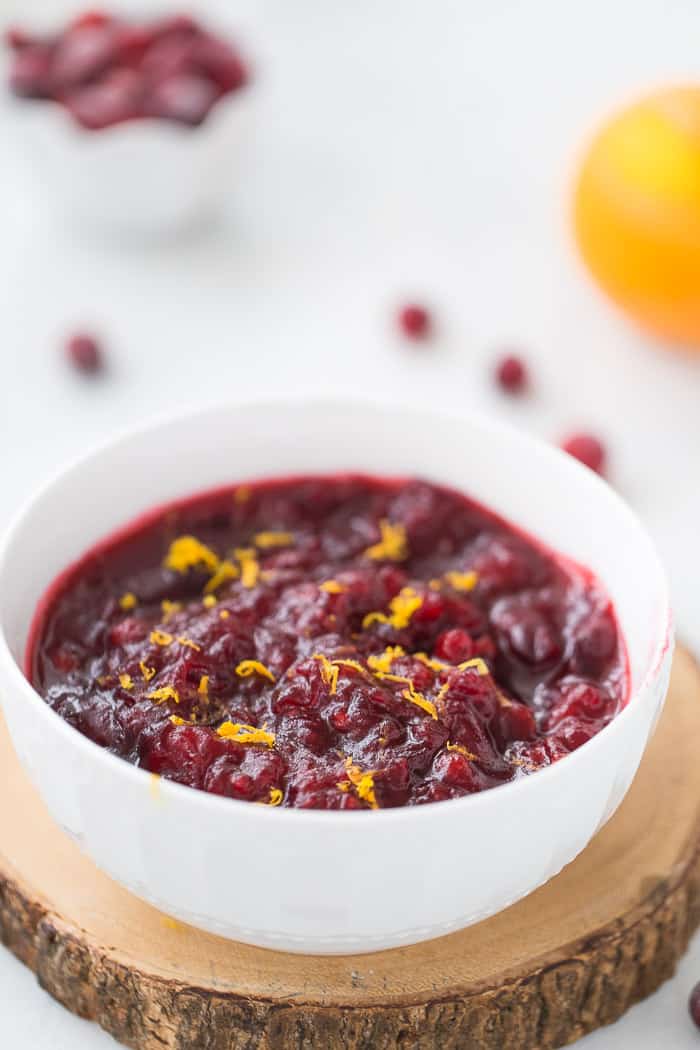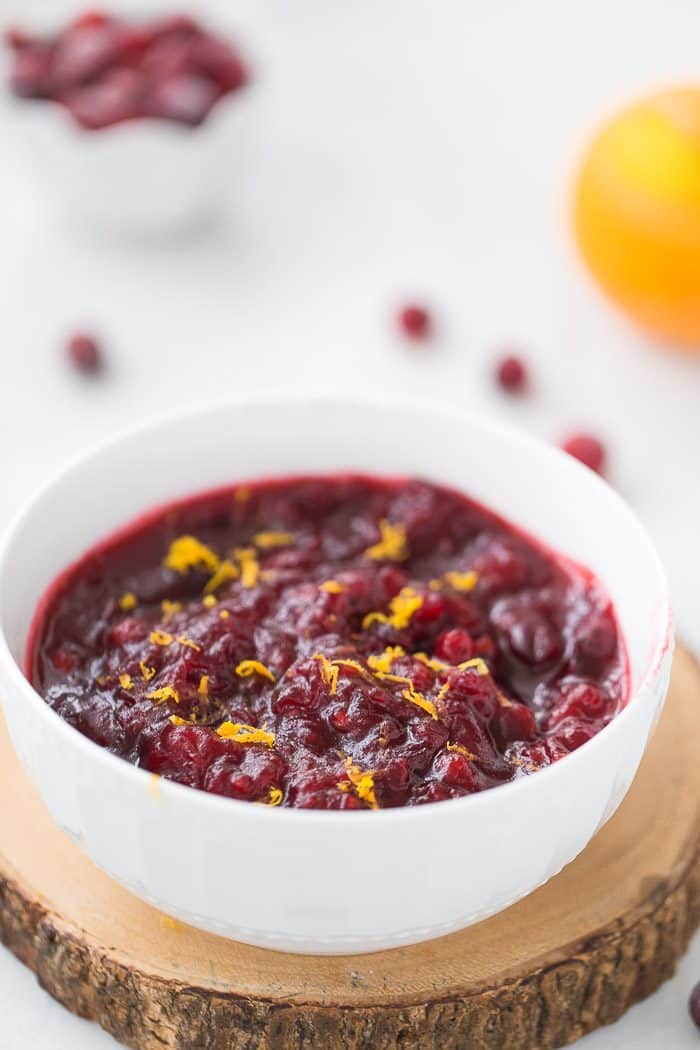 Now to the back story of this recipe. I started making this recipe about 8 years ago when my then boyfriend's (now husband's) mom invited me to their Thanksgiving dinner. It was a stressful first Thanksgiving so I was happy she said bring cranberry sauce. It's always nerve-racking to contribute to a family tradition that's been set in stone but I was excited to bring a staple like cranberry sauce. I, of course, tested about a gazillion cranberry sauce recipes that year and this one was the winner after a few tweaks. I felt good about it and was proud to bring it to the table.
We sat down to dinner and all the dishes were on the table. My cranberry sauce in a fancy white bowl one of the many. As we passed dishes around, my sister-in-law asked for the cranberry sauce and someone passed it to her. She went "oh I meant the canned stuff, not this weird one". My heart sunk and my MIL was quick to react and tried to not let that awkward moment ruin the meal. needless to say, she had to open a can of cranberry jelly for my sister-in-law who is against change in life.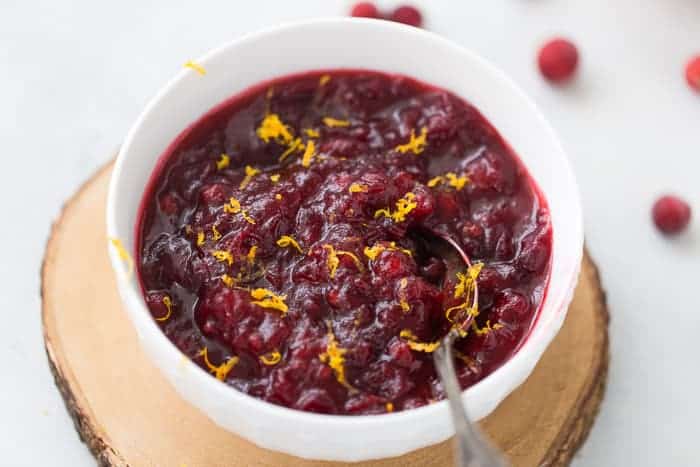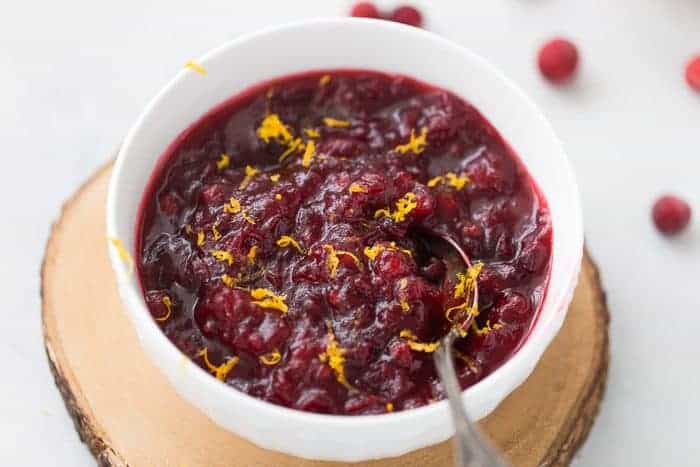 Fast forward, 8 years later, I am still making this homemade cranberry sauce recipe for our Thanksgiving dinner and bringing a can of the gross jellied stuff too. Because there are some people who can't handle change and I am not letting it deprive the rest of us of the magic that's freshly made homemade cranberry sauce.
For more Thanksgiving recipes, check out my Thanksgiving recipe index archive.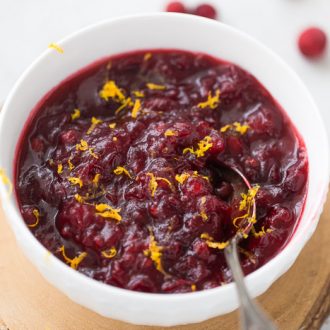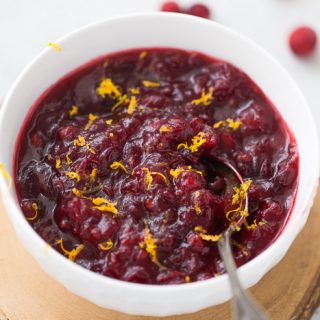 Yield: ~2 cups sauce
Homemade Cranberry Sauce Recipe
Fresh homemade cranberry sauce that's sweet, tart and zesty.
Ingredients
3/4 cup light brown sugar
1/2 cup water
1 medium orange, zested and juiced
12 oz fresh cranberries
a pinch of salt
1/4 cup white wine or prosecco (optional)
Instructions
In a medium heavy-bottomed pot set over medium heat, bring the sugar, water and orange juice to boil. Add in the cranberries, orange zest and white wine. Bring to a boil and stir.
Reduce heat to medium-low and boil for about 10 minutes, or until most of the cranberries have burst open.
Transfer sauce to a bowl and let cool completely. Cover and chill until ready to serve.
Notes
- For a thicker sauce, cook for additional 5-7 minutes to ensure all the cranberries have burst open and broken down.
- For a smoother sauce, pass the cranberry sauce over a fine sieve before letting cool.
- To create pretty molds, strain the cranberry sauce over a fine sieve and pour the smooth sauce into lightly greased mini bundt pans. Chill overnight before unmolding.