Apple Spice Cake with Cinnamon Frosting
A warm and spiced apple spice cake is topped with a whipped cinnamon frosting and drizzle of caramel for this fall-tacular cake!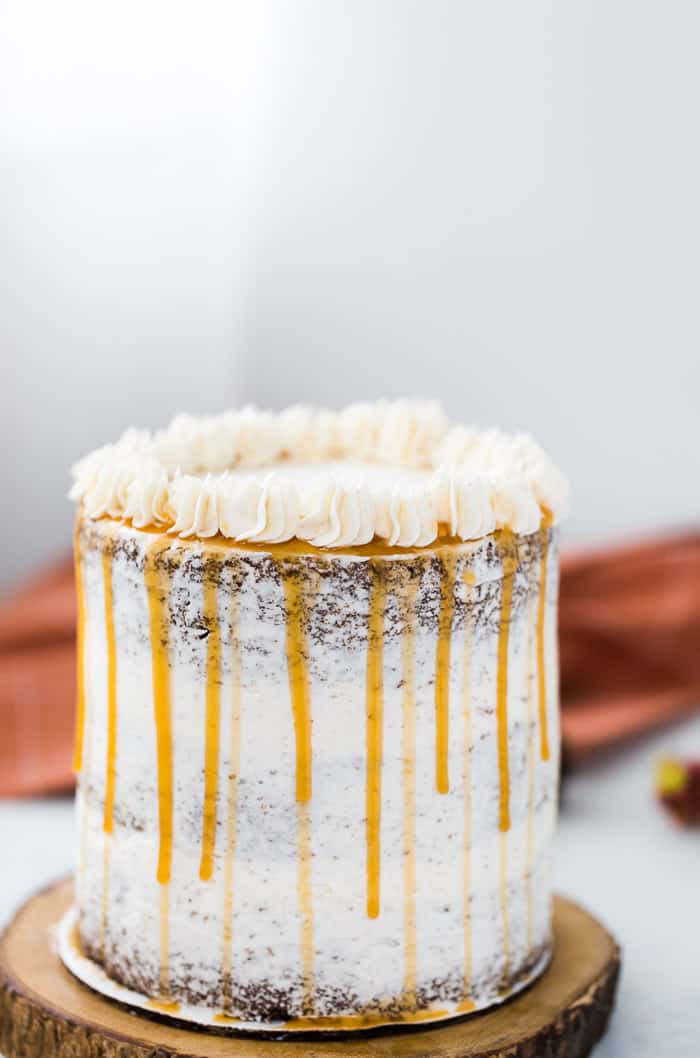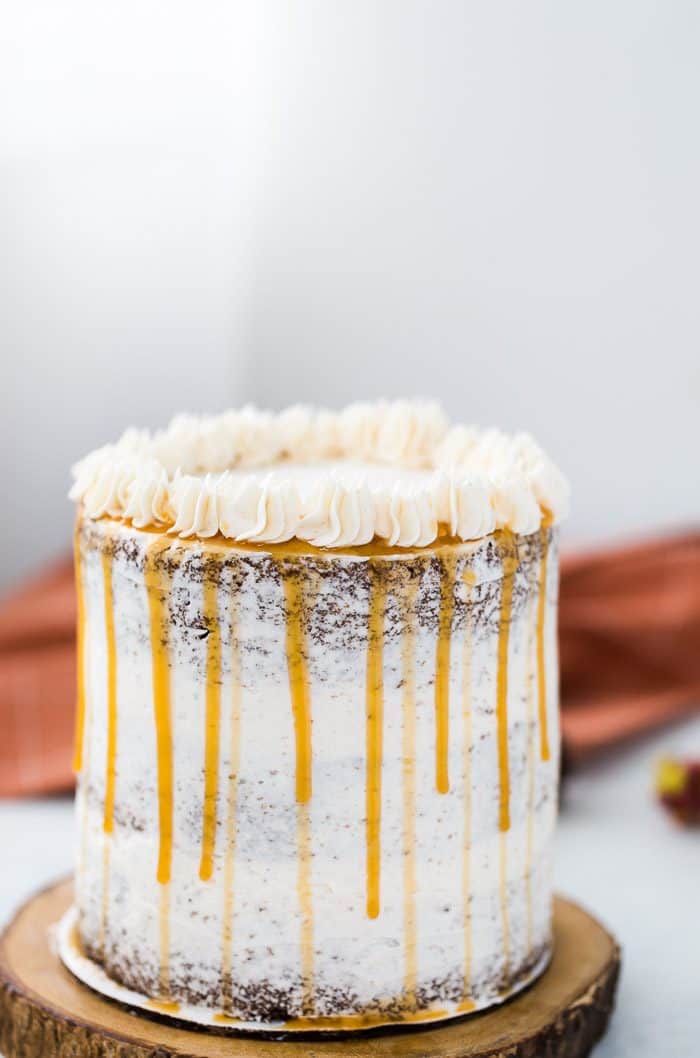 Happy Monday friends! I've got an epic apple spice cake with cinnamon frosting for you today that is going to rock your world. But first, how are we in the middle of November already? Can you believe it?? I am excited for the upcoming holiday season and all that it brings. Family gatherings, cooking, baking and all the food that comes along with that.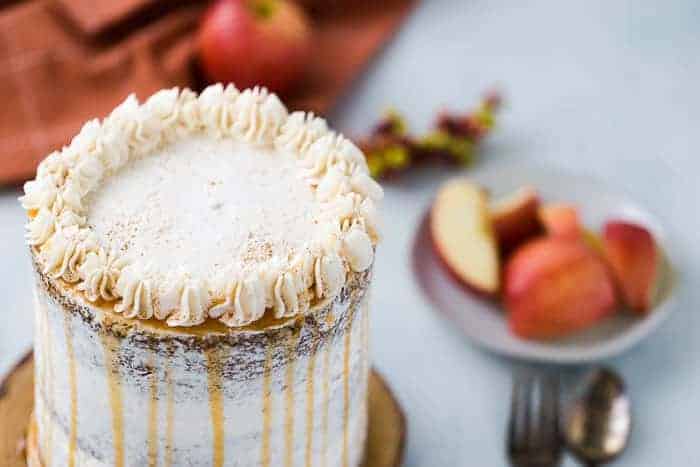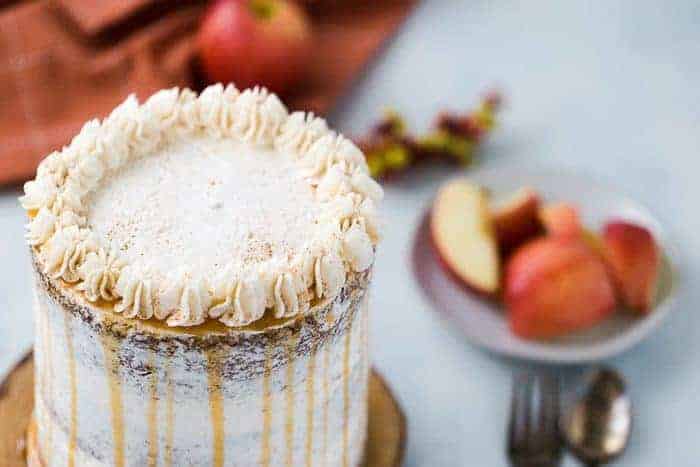 I think it is officially time we start thinking about Thanksgiving which is the ultimate feast of the year here in the US. I am always in the dessert camp, although I have a few side recipes I am excited about too. To start, nothing beats an epic cake that's a centerpiece to your dessert table. Yes, pumpkin pie needs to be front and center…but does it really? This year, I am bringing an apple spice cake to the dessert table. Because it is seriously a GREAT way to say, move aside pumpkin pie. Hello, warm and cozy cinnamon.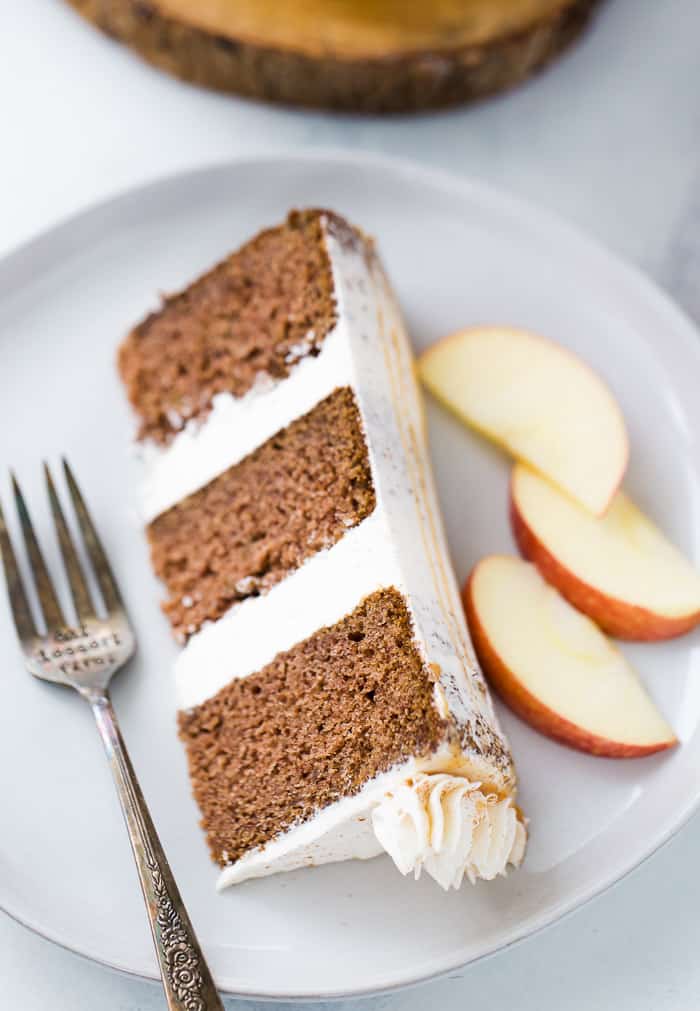 If you agree, then let's talk more about this cake. Why am I hailing this apple cider cake this year? Because, nothing really beats an easy, homemade down to earth fall cake. This cake is perfectly spiced and filled with moist fresh apples that it is nothing but a bliss of fall in every bite. Finished with a whipped cinnamon buttercream and a drizzle of caramel, it is truly a delicious fall cake that would be great on any Thanksgiving table.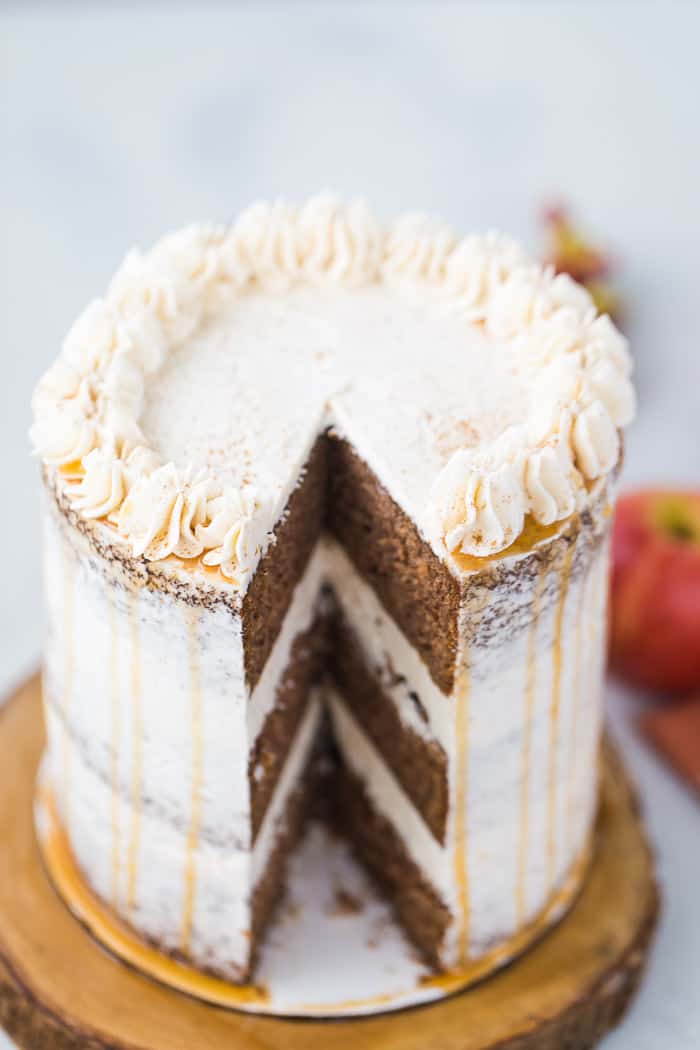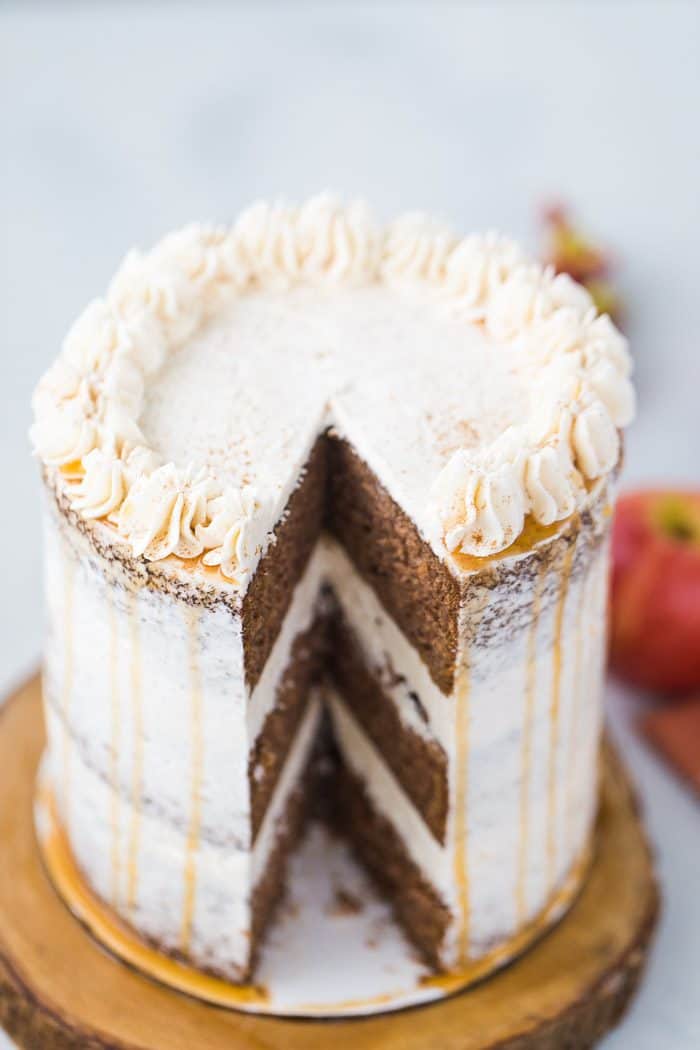 Try it and let me know what you think 🙂
Of course, if you want some pie for your Thanksgiving table, I have plenty of that too. Like this classic pumpkin pie recipe or my sweet potato pecan pie recipe or this twist on pumpkin coconut pie. Check out my Thanksgiving recipe index for more ideas.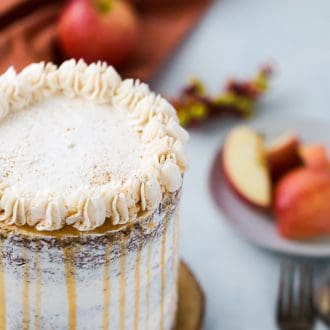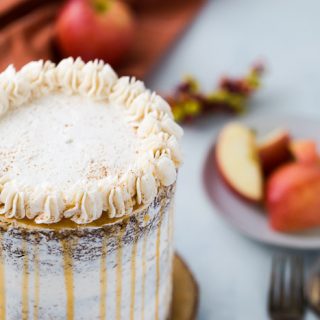 Yield: 1 6-inch layer cake
Apple Spice Cake with Cinnamon Frosting
This apple spice cake with cinnamon frosting is great on any holiday table. With fresh apples in the cake and a sweet frosting, it's warm and comforting.
Total Time
1 hour
20 minutes
Ingredients
Apple Spice Cake
1 ¾ cups all-purpose flour
1 tablespoon ground cinnamon
1 ¼ teaspoons baking soda
1 teaspoon ground allspice
½ teaspoon ground ginger
A pinch of salt
¾ cup unsalted butter, softened at room temperature
1 ½ light brown sugar
3 large eggs, at room temperature
1 tablespoon pure vanilla extract
½ cup Greek yogurt
¾ cup shredded apples
Cinnamon Frosting
1 ½ cup (3 sticks) unsalted butter, softened at room temperature
3 cups powdered sugar
2 teaspoons ground cinnamon
2-3 tablespoons heavy cream
2 tablespoons caramel sauce (for topping, optional)
Instructions
Preheat oven to 350 degrees F. Butter and flour three 6-inch round cake pans. Line with parchment and grease parchment.
In a medium bowl, whisk together flour, ground cinnamon, baking soda, allspice, ginger, and salt.
In the bowl of an electric mixer, beat butter and sugar on medium speed until light and fluffy, about 3-5 minutes. Add in eggs, one at a time, and mix until combined. Beat in vanilla extract.
With mixer on low speed, add half of the flour mixture and mix until just combined. Beat in yogurt. Add the remaining flour and beat until just combined. Using a rubber spatula, gently fold in the apples into the batter until well combined.
Divide the batter among the prepared baking pans. Bake cakes until the center springs back when touched and a tester comes out clean, about 25-30 minutes. Let cakes cool in pan for at least 10 minutes before turning out onto a cooling rack. Let cool completely.
To make frosting, combine all the ingredients in a large bowl. Beat with an electric mixer on medium-high speed until combined. Beat for additional 2-3 minutes until frosting is smooth and whipped.
Using a serrated knife, level each cake layer before frosting. Spread cinnamon frosting between layers. Spread a thin crumb coat of frosting on top and sides of the cake. Refrigerate for 15 minutes. Frost cake with the remaining frosting and decorate as desired. Drizzle with caramel if desired.
Notes
Cake Adapted from Bake from Scratch