Sweet Potato Pecan Pie
This sweet potato pecan pie is perfectly spiced, silky smooth and topped with a crunchy pecan streusel. Just what every Thanksgiving table needs.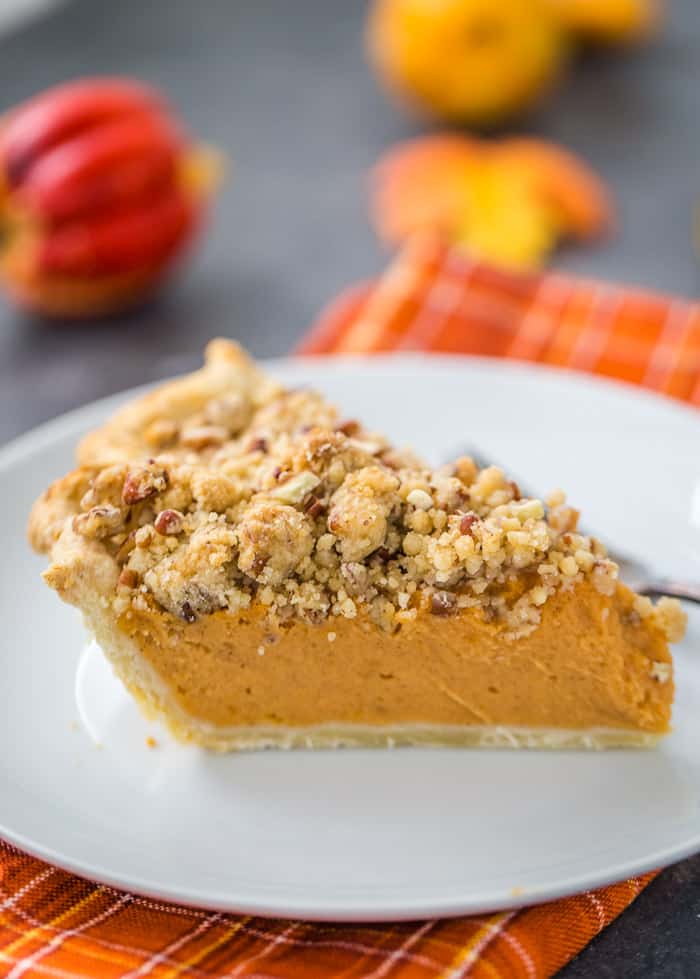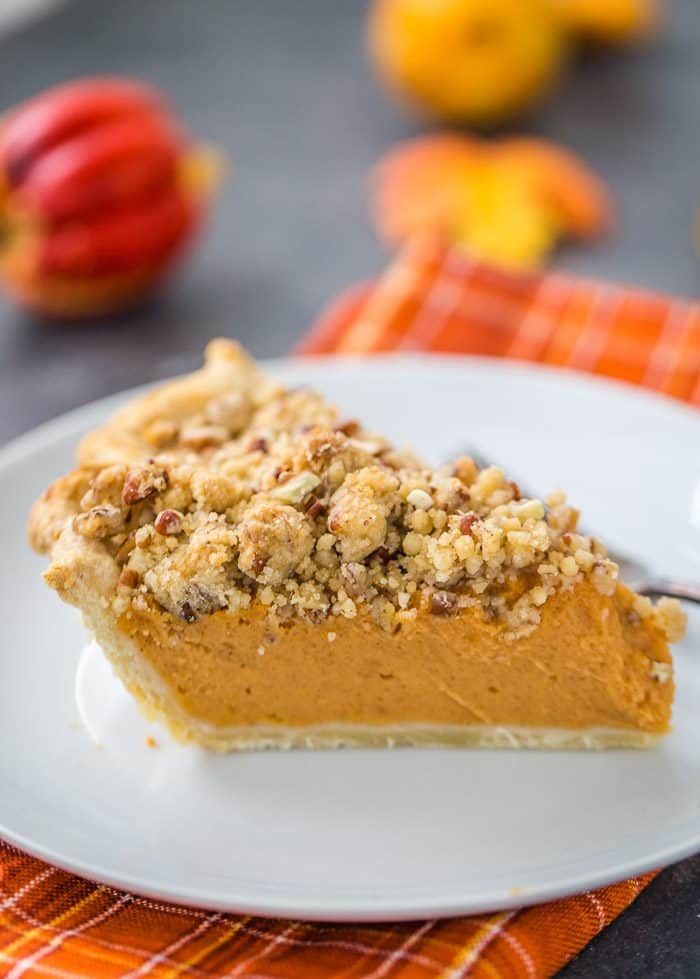 (This recipe and post were originally published in November 2013. Pictures and recipe updated in November 2018 but post content below remain unchanged.)
*****************
Hi friends! Before we get to this incredible sweet potato pecan pie today, I need to talk about shopping. Have you guys been out shopping lately? I have been doing a bit of shopping this week, despite my jet-lagged state. My sister is leaving soon and together we have been gathering gifts for family members. Usually shopping during the week is calmer and you don't have to mangle through crowds of people. But no, that has not been the case this week. Everywhere we go is packed with holiday shoppers. Be it Target, TJMaxx, the Mall or even Walmart. Am I the only one who isn't even thinking about holiday shopping yet?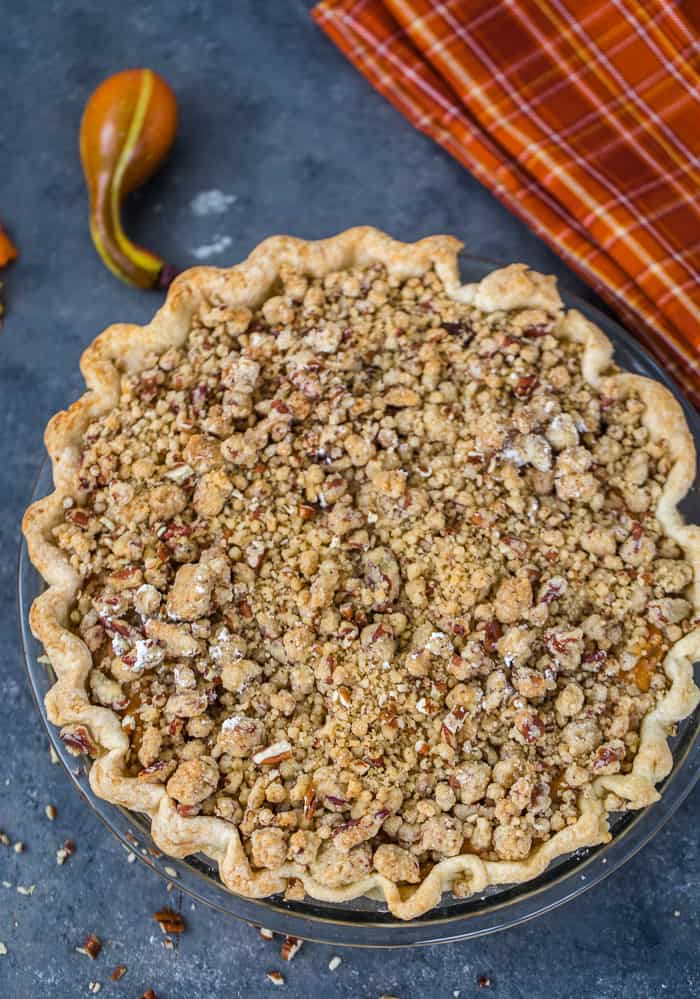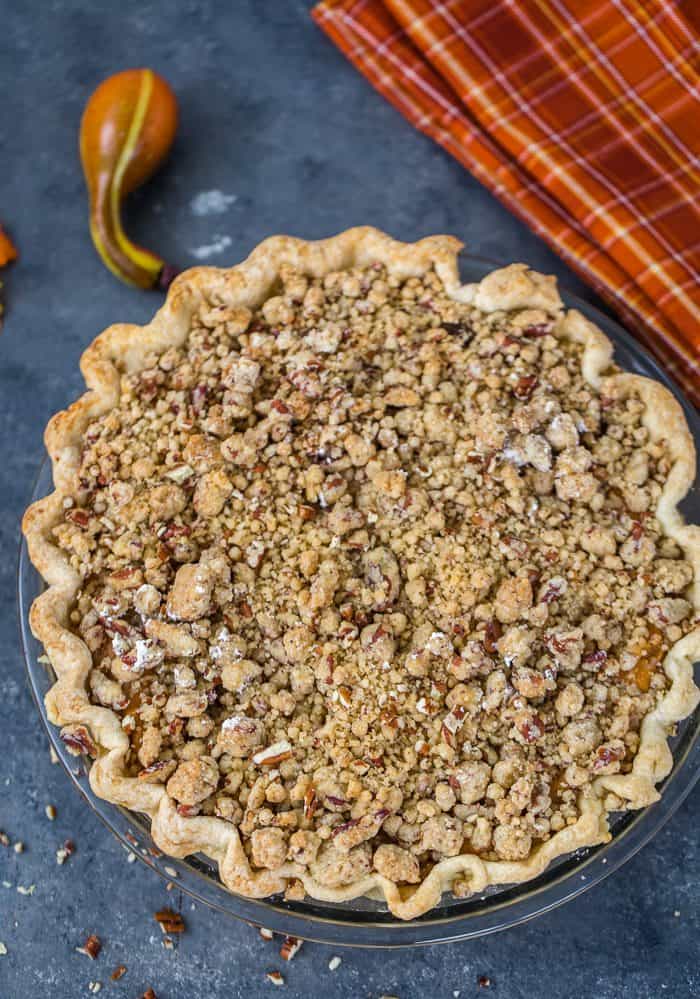 What's even worse is that all these stores are playing Christmas music already!!!!! Don't get me wrong, I love Christmas. It's my favorite time of the year. I get all romantic (a very rare occasion for this gal), enjoy all the family gatherings and especially love all the presents that come with it. But we haven't even had turkey and stuffing yet!!! I want my stuffing before thinking of Santa (No offense Santa. I've been a good girl 🙂 ).
I think there is a secret group on corporate America hill who is plotting to get rid of Thanksgiving soon to start the marketing campaigns earlier and earlier. This year, stores are opening as early as 5 pm Thanksgiving Day for Black Friday shopping. We sit down to have dinner at 4 pm. Goodness!!!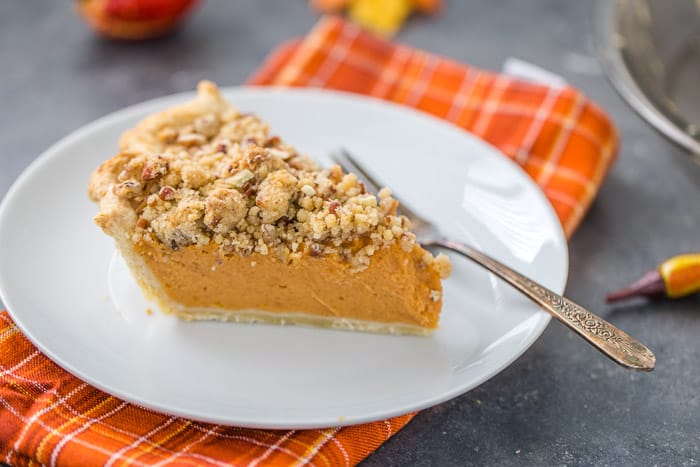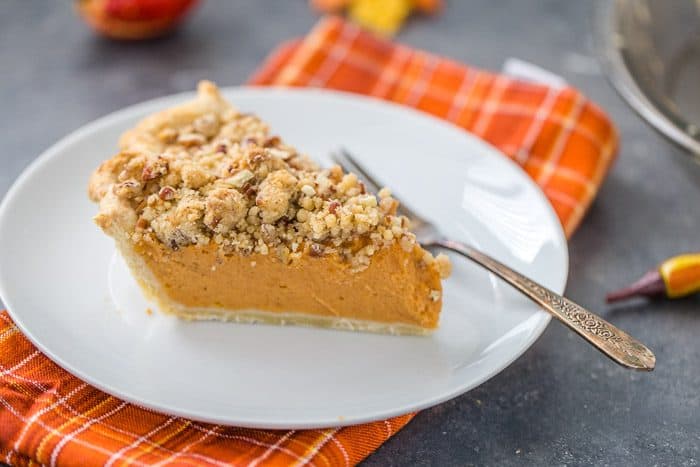 But talking about turkey and Thanksgiving, this sweet potato pecan pie needs to be on your dinner menu (ahem late planners) if you love sweet potatoes. When I was planning Pie Fridays, the man of the house requested sweet potato pie because it is his favorite on Thanksgiving! So I obliged even though I am not a fan of sweet potatoes in my desserts. I am a convert now.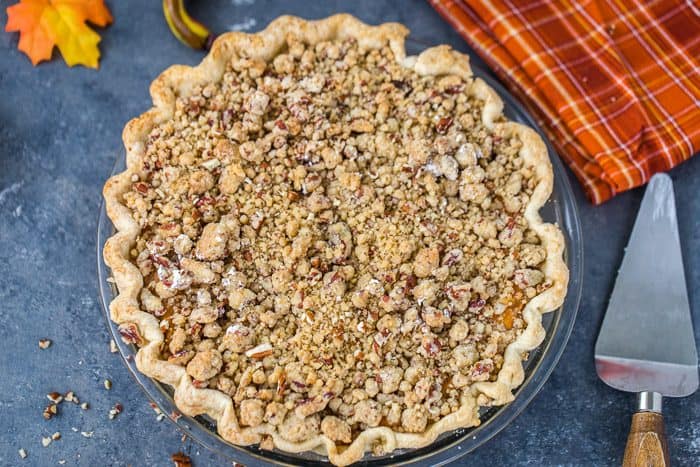 I started with a homemade sweet potato puree for the filling. It is so easy to make your own instead of buying the canned stuff. Just peel, dice, and boil sweet potatoes until they are very soft. Drain and puree potatoes in the food processor (or mash if you like using your arm muscles). That's it. To ensure the filling is smooth and the spices are well-developed, I added the sugar, spices and some of the milk to the processor and blended for an additional minute. Next time, I might even cook the filling a little over the stove to blend the spices further.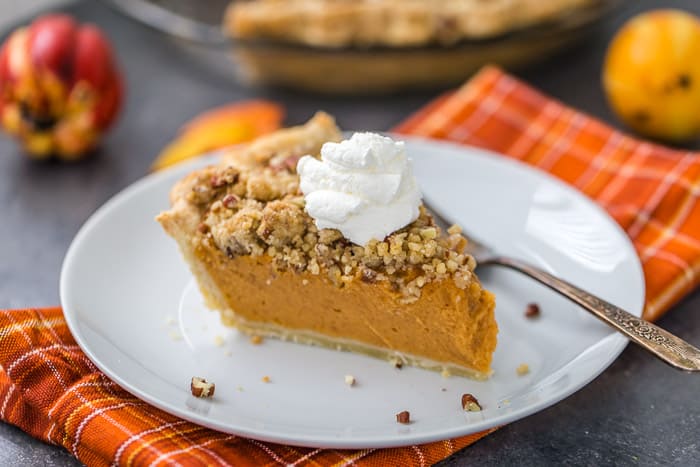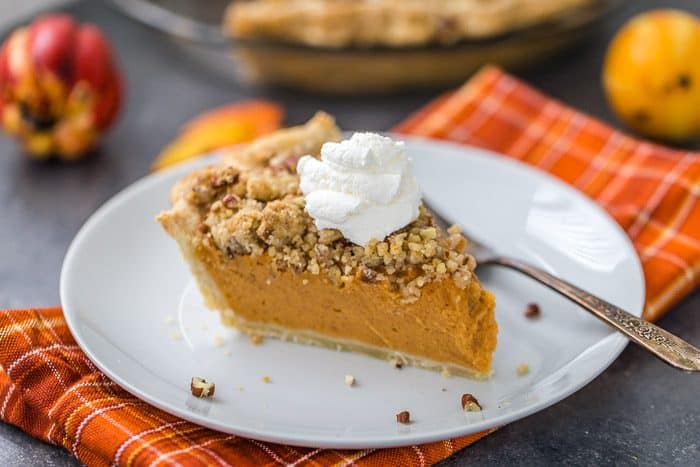 The pie filling is silky smooth, perfectly spiced and the brightest orange I have ever seen. (Sorry the pictures do not show this striking color. I am struggling to shoot brown and orange food at the moment). The pecan streusel here is also very delicious and adds another fall flavor to the pie. It was my favorite part, to be honest despite being sweet. It's a beautiful pie and would be a show stopper at your Thanksgiving dinner. You can make the pie up to two days ahead of time and stored refrigerated.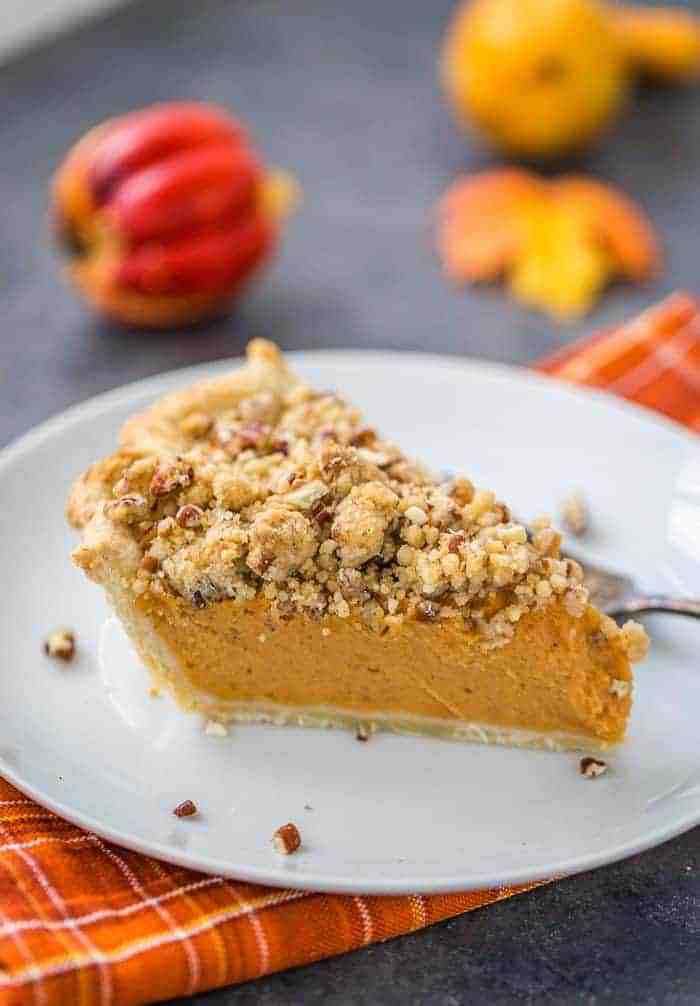 More Pies to try
For more Thanksgiving inspired desserts and recipes, check out my Thanksgiving Recipe board on Pinterest or my Thanksgiving recipe archives.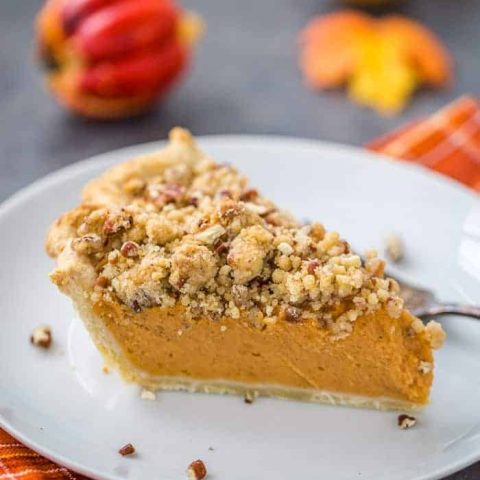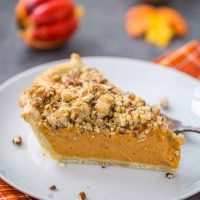 Yield: 1 9-inch pie
Sweet Potato Pecan Pie
This sweet potato pecan pie is perfectly spiced, silky smooth and topped with a crunchy pecan streusel.
Prep Time
3 hours
15 minutes
Cook Time
1 hour
10 minutes
Total Time
4 hours
25 minutes
Ingredients
For the Crust:
1½ cups all-purpose flour
6 tablespoons cold unsalted butter, cut into cubes
2 tablespoons cold vegetable shortening
1 tablespoon granulated sugar
½ teaspoon salt
For the Crumb Topping:
¾ cup all-purpose flour
½ cup pecans, chopped
½ cup packed light brown sugar
5 tablespoons unsalted butter, melted
¼ teaspoon salt
For the Filling:
2 cups sweet potato puree (I made my own from 3 medium sweet potatoes)
1 teaspoon ground cinnamon
½ teaspoon ground ginger
¼ teaspoon freshly grated nutmeg
1 cup evaporated milk, divided
¾ cup granulated sugar
2 large eggs, lightly beaten
Instructions
To make pie crust:
Prepare ¼ cup ice-cold water and keep in fridge. In a food processor, pulse the flour, shortening, 2 tablespoons butter and salt until combined. Add in the rest of butter and pulse until the mixture looks like coarse meal. Sprinkle about 2 tablespoons cold water over mixture and pulse until dough comes together in clumps. If dry, add a little bit more water (1 teaspoon at a time). Remove dough from processor and form into a disk. Wrap in plastic wrap and chill for at least an hour. The dough can be made up to 3 days ahead. Keep chilled. Let stand at room temperature 15-30 minutes before rolling out.
Roll out dough on a lightly floured surface and fit into a 9-inch round pie dish. Press the dough into the bottom and up the sides. Using sharp shears, trim the overhanging dough, leaving about 2-inches. Fold overhanging dough under itself and crimp the crimps. Chill for 30 minutes.
Preheat oven to 350 degrees. Line the crust with foil and top with pie weights or beans. Bake crust for 15-20 minutes, until the edges are golden then remove the foil and pie weights and continue baking until the crust is golden all over, another 5 minutes. Let cool completely.
To make the topping:
Combine all the ingredients in a medium bowl and mix until clumps form. Squeeze the clumps into bite sizes and transfer to a plate and place in the freezer until hard, about 30 minutes.
To Make to Filling:
If you are making your own sweet potato puree, peel and dice your potatoes. Boil in a medium saucepan until potatoes are soft. Drain water and process puree potatoes in a food processor. Add the cinnamon, ginger, nutmeg, ½ cup milk and sugar. Pulse for another minute until smooth. Transfer puree to a large bowl and gently whisk in the remaining milk and eggs until combined. (If you are using canned sweet potato puree, gently whisk together all the ingredients until smooth). Pour filling into cooled crust.
Place pie dish on a baking sheet and bake for 30 minutes. Scatter topping on the pie and continue baking until the center is almost set, about 30-45 minutes. The center should still jiggle slightly. Transfer to a cooling rack and let cool completely.
Recommended Products
As an Amazon Associate and member of other affiliate programs, I earn from qualifying purchases.