Brown Sugar Maple Pie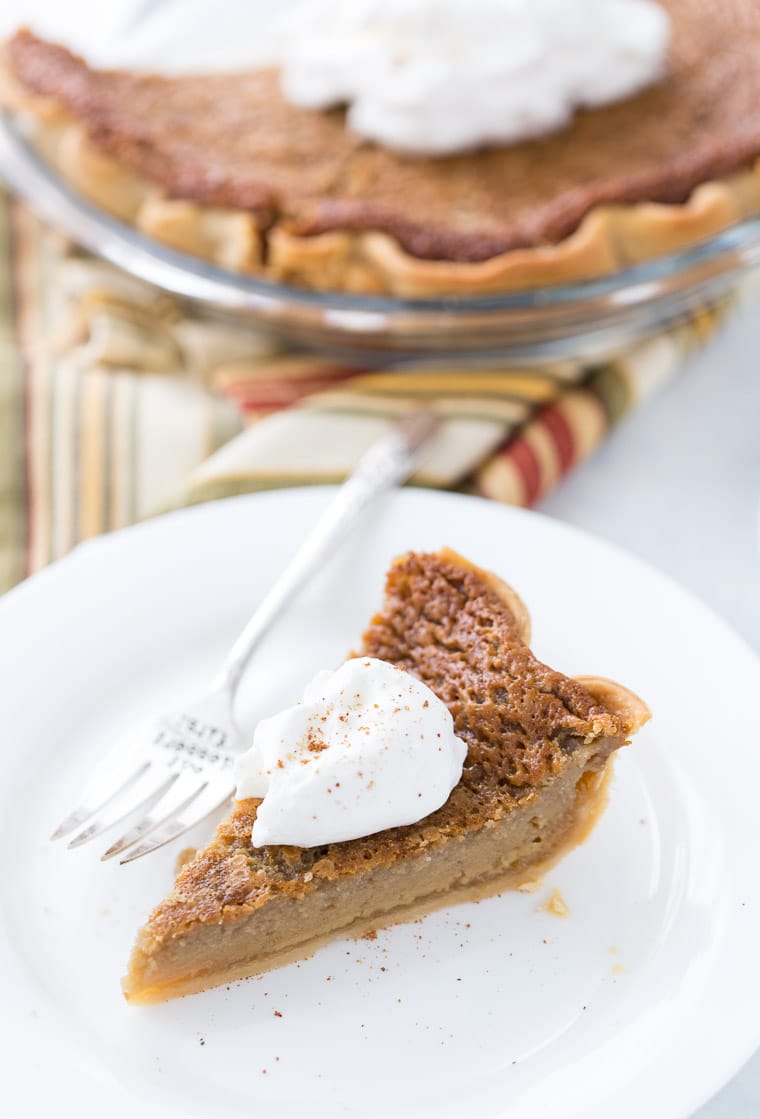 Pie!! It is pie season…finally! Are you one of those people who only bakes pies over the holiday season and summer? I know I am one of those. Pie baking is a lot of work and a whole lot of love so it is reserved in my opinion for those treasured family times like when we gather for the holidays. Or in the summer when fresh berries and peaches take over the markets.
This brown sugar maple pie is the first pie of the season for me and I am so happy I started here. Sweet, caramelized, custard-y goodness in one slice.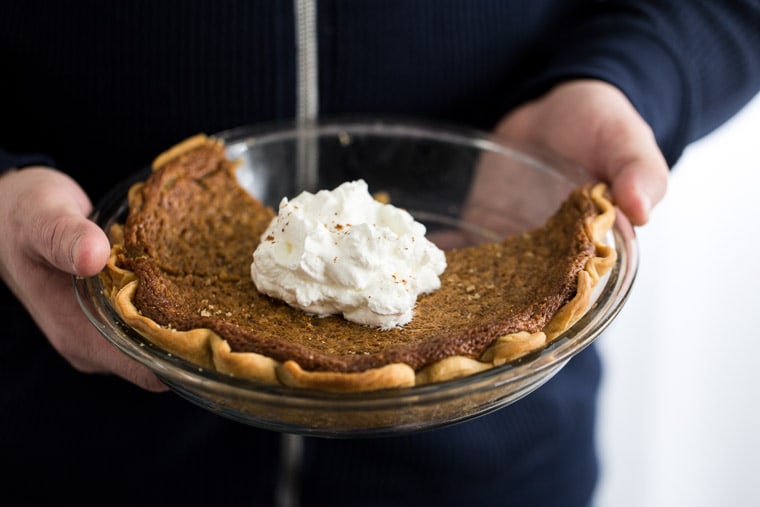 Even Mr J. was amazed by it. And he is a tough pie critic.
This brown sugar maple pie has no maple in it. BUT it is not a mistake as you get that candied maple flavor with the caramelized brown sugar notes in the pie. It is simply delicious. And so very easy to make my friends.
Just start with your favorite flaky pie crust recipe and fill it with a custard-like filling made of brown sugar, heavy cream, butter and a dash of whiskey. It's oh so good and got the right flavors for a cold winter night delight.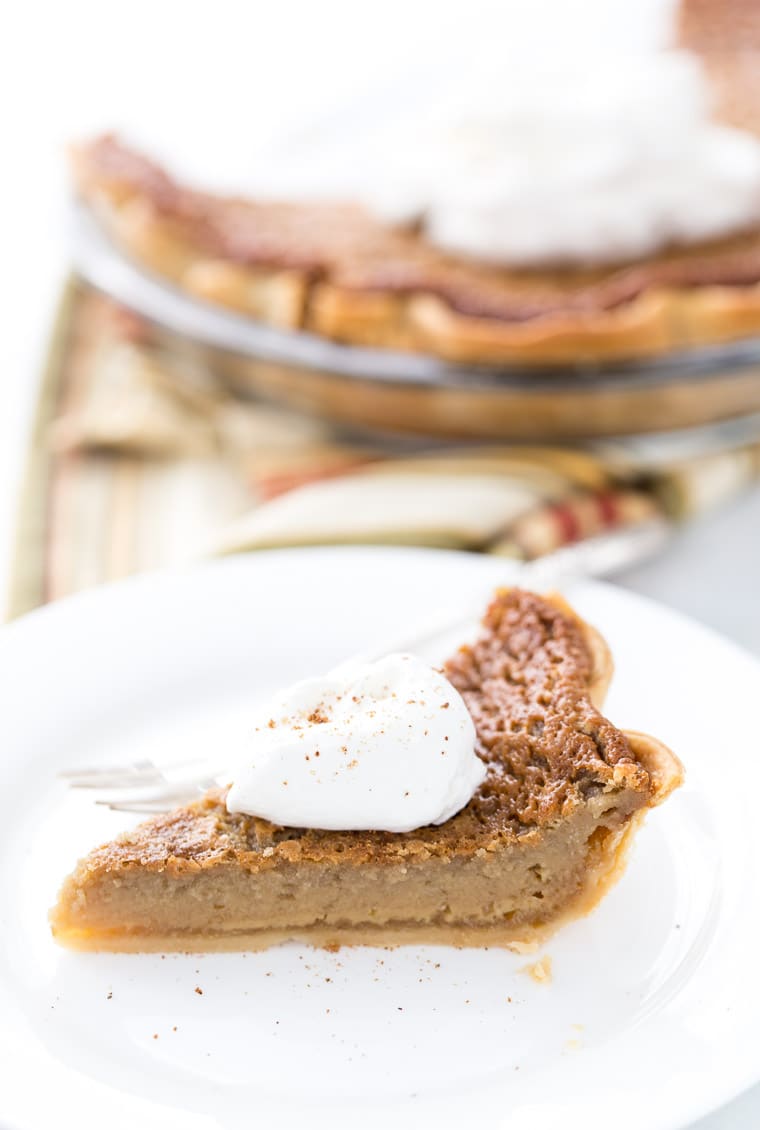 This pie will be perfect for Thanksgiving and honestly any dinner parties you are hosting this winter. It's hard not to fall in love with the caramelized brown sugar star in this pie.
For more thanksgiving pie ideas, check out this collection I shared last week of my favorite holiday pies.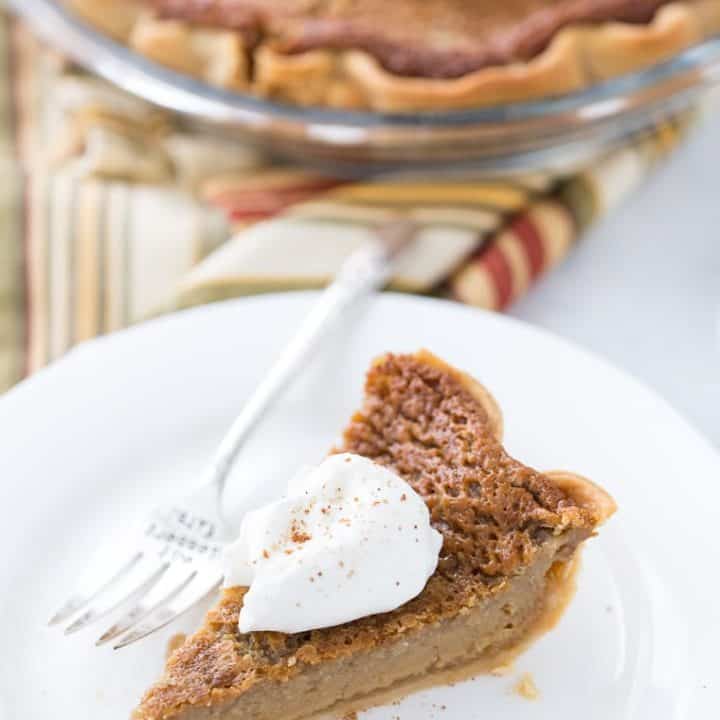 Yield: 1 pie
Brown Sugar Maple Pie
Total Time
1 hour
40 minutes
Ingredients
For Crust:
1 ¼ cups all-purpose flour
½ teaspoon salt
2 teaspoons granulated sugar
8 tablespoons cold unsalted butter, cut into cubes
For Filling:
2 cups light brown sugar
1 cup heavy cream
½ cup unsalted butter
1 tablespoon whiskey
2 tablespoons pure maple syrup
2 teaspoons pure vanilla extract
5 large eggs, room temperature
1 cup all-purpose flour
¾ teaspoon kosher salt
whipped cream (for serving)
Instructions
For Crust:
Prepare ¼ cup of ice-cold water in the fridge. In a food processor, pulse flour, sugar, and salt. Add in half of the butter and pulse for 30 seconds. Add in the rest of the butter and pulse until the mixture looks like a coarse meal. Sprinkle about 3tablespoons cold water over the mixture and pulse until the dough comes together in clumps. If dry, add a little bit more water (1 tablespoon at a time) until the dough comes together.
Remove dough from processor and pat into a disk and wrap in plastic wrap. Chill for at least an hour or overnight. The dough can be made up to 3 days ahead. Keep chilled. Let stand at room temperature for a few minutes before rolling out.
When ready to use roll out dough on a lightly floured surface to a large circle. Fit into an ungreased 9-inch pie dish, trim the edges leaving an inch or two overhangs. Freeze for 15 minutes.
Preheat oven to 425 degrees. Fill the pie crust with pie weights (I place a lightly greased foil over the crust before adding the pie weights.) Bake crust until the edges of the crust is golden, about 15 minutes. Remove the pie weights and foil if using and continue baking crust for additional 5 minutes, until the bottom of the crust looks dry. Remove from heat and let pie crust cool.
For Filling and Assembly:
Reduce oven to 325 degrees F. In a large saucepan, heat the brown sugar, cream and butter over a large saucepan of barely simmering water. Stir constantly, until butter is melted and sugar is dissolved and the mixture is smooth. Remove the bowl from the heat and whisk in the whiskey, maple syrup, and vanilla extract.
Whisking constantly, whisk in the eggs, one at a time, until completely incorporated. Add in the flour and salt and whisk until smooth.
Pour filling into crust. Bake pie until filling top is browned and puffed around the edges, about 45-55 minutes. The center will still be wobbly. Remove from heat and let the pie cool for at least 4 hours before slicing it. Do not refrigerate pie as it cools. Pie can be baked one day ahead. Let cool then store loosely covered at room temperature.
Notes
Adapted from Food Network