Homemade Buttermilk Cornbread Recipe
Nothing beats a warm slice of cornbread on a cold day except a homemade buttermilk cornbread recipe with hints of jalapeno. This recipe is sponsored by Iowa Corn but all opinions are my own.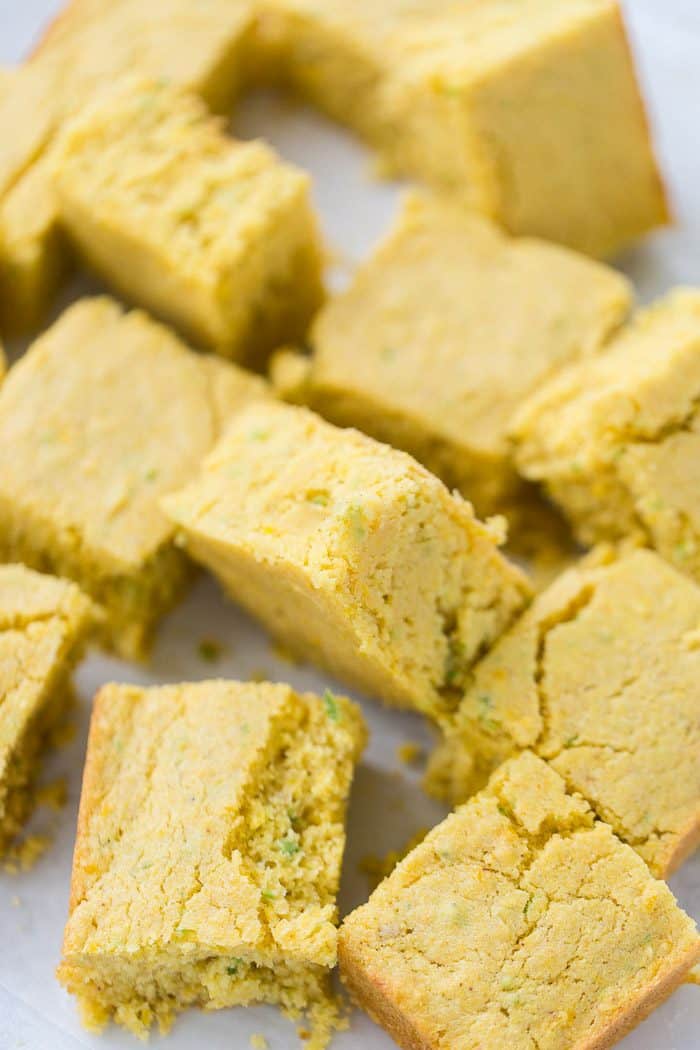 Hi friends! I have a sweet/savory recipe for you today. This homemade buttermilk cornbread recipe was inspired by a recent trip to Iowa with Iowa Corn where I learned so much about the farmers who grow our food.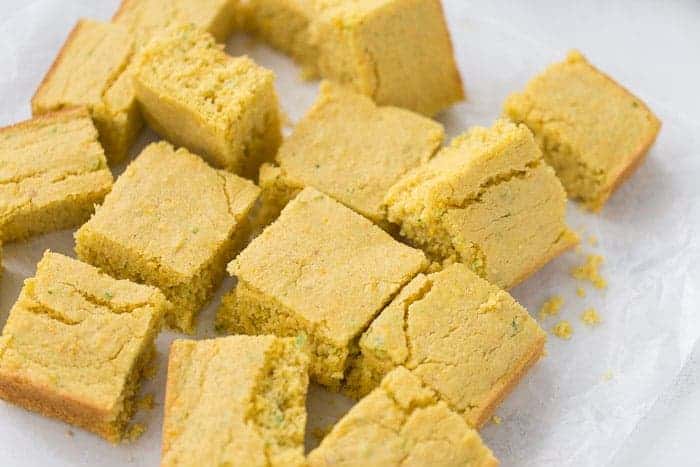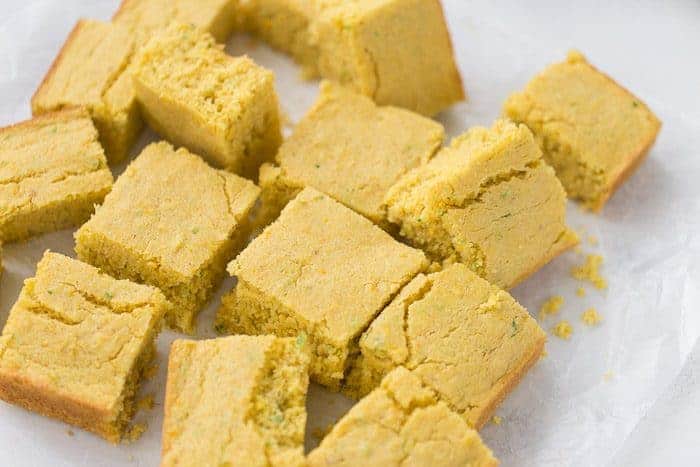 While on that trip (read more about it here), I had a sweet corn cake that ignited my taste buds and curiosity to investigate how to make your own cornbread from scratch. Don't get me wrong, I love using boxed mixes for convenience but like everything else, homemade is always 1000 times better which is why I went in search of a good ole from-scratch recipe.
I dug through old magazines and cookbooks and saw this homemade buttermilk cornbread recipe from Cook's Illustrated (2015 issue I believe) which looked like a great place to start. It used whole corn kernels in addition to cornmeal for a packed corn flavor in the batter.


I liked that this recipe included whole corn kernels as there are so many benefits of incorporating corn into our diets. I remember when I was growing up, my dad would stress the importance of making sure we had fresh corn, especially while in season as we get not only starch from the kernels but protein, fiber as well as oil. Somethings stuck and I learned even more recently when I visited Iowa Corn. Check out their website for more corn facts!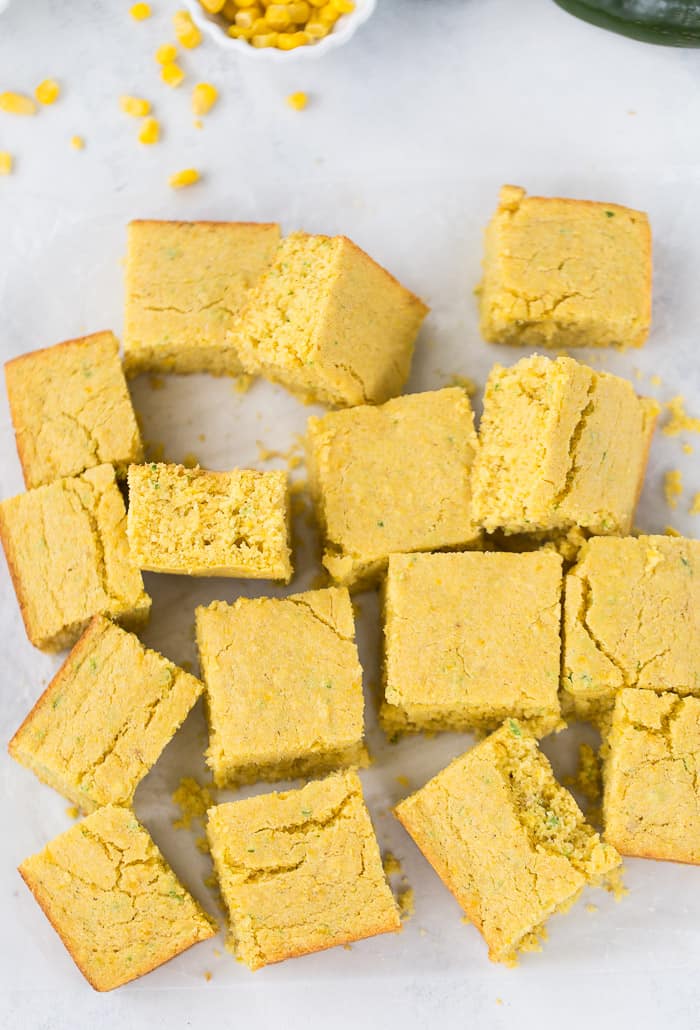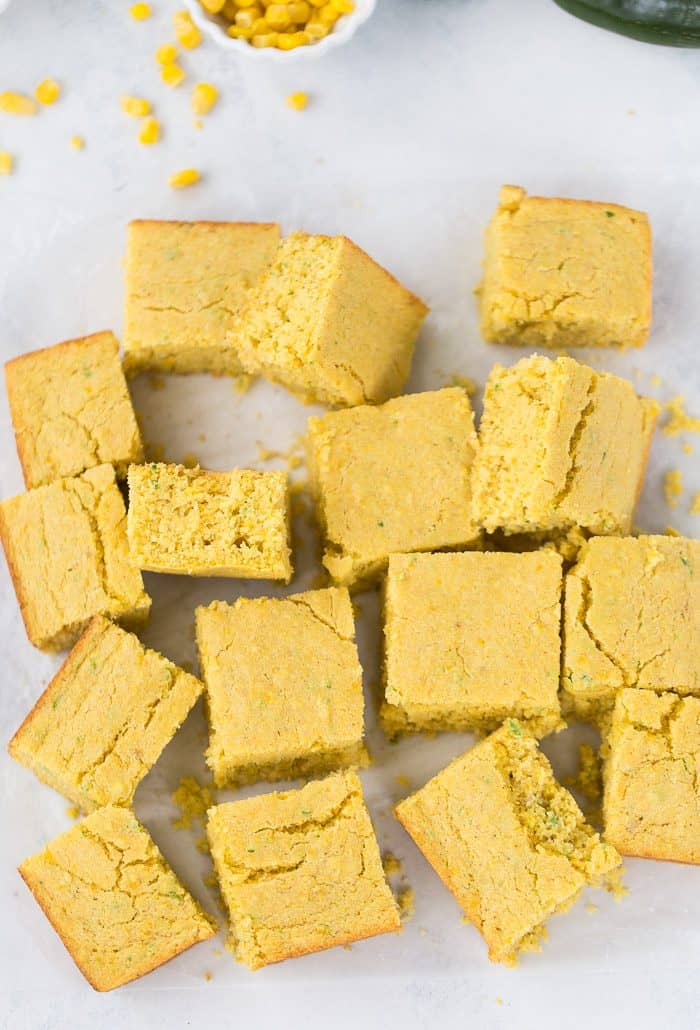 Okay, back to this recipe. Once you gather up all your ingredients, it takes you less than 30 minutes to make this recipe. You start by pureeing the corn kernels with buttermilk, a hint of brown sugar and jalapenos (optional) in a food processor. You then fold the wet ingredients in with the dry (flour, cornmeal, baking soda, and baking powder). Finally, you fold in melted butter for that buttery base. Side note: I always use browned butter when a recipe calls for melted butter, because why not?? Added nutty buttery flavor never hurts anything. Otherwise, that's it for the prep. Easy peasy.
You can bake the recipe in a square baking dish as I show here but I've also used a large cast iron skillet as well. Both are great options but you will need to adjust your baking times depending on your pan choice. In the square pan, it takes about 20-22 minutes. In the cast iron, anywhere from 15-20 minutes.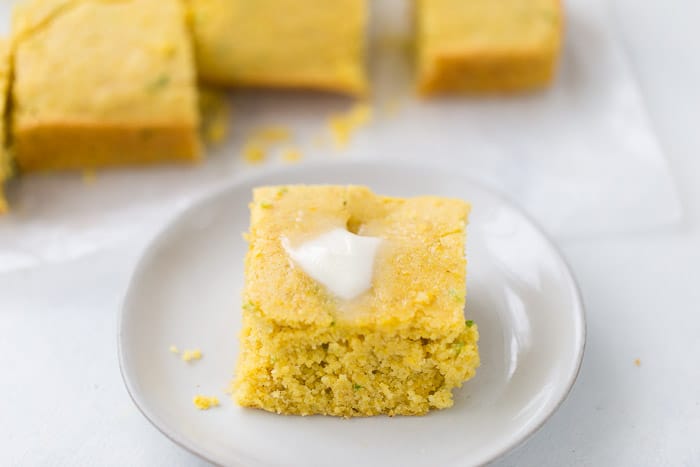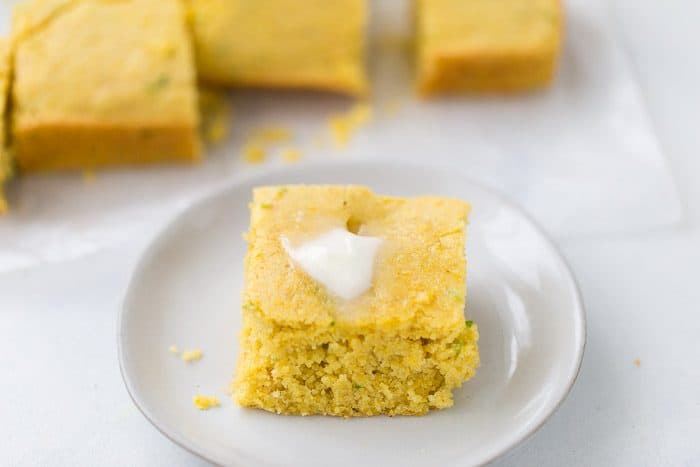 The end result of this homemade buttermilk cornbread is nothing but amazing. Each slice is filled with corn, buttery, browned butter flavors and is moist and crumbly. It's perfect served warm with a little slab of butter. If you do choose to add jalapenos, you will LOVE the added flavor. It's not spicy, just a great hint of flavor that's perfect with your warm bowl of chili this fall.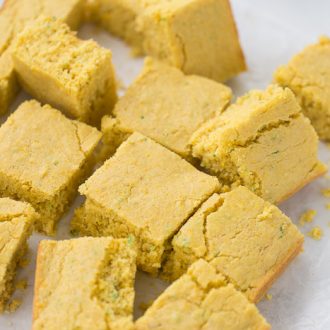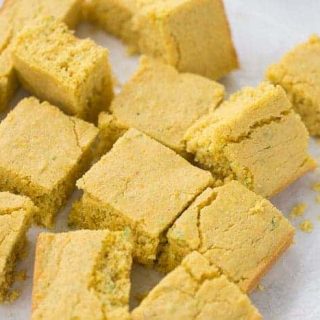 Yield: 1 9-inch square
Homemade Jalapeno Buttermilk Cornbread
Ingredients
1 ½ cups all-purpose flour
1 cup yellow cornmeal
2 teaspoons baking powder
¾ teaspoon kosher salt
¼ teaspoon baking soda
¼ cup light brown sugar
¾ cup corn kernels (I used canned, drained but you can also use thawed)
1 cup buttermilk
1 medium jalapeno pepper, seeded and sliced (optional)
2 large eggs
½ cup unsalted butter, melted and browned, cool slightly
Instructions
Preheat oven to 400 degrees F. Grease a 8-inch or 9-inch square baking dish with baking spray.
In a large bowl, whisk together the flour, cornmeal, baking powder, baking soda and salt. Make a well in the middle of the dry ingredients.
In the bowl of a food processor, combine the brown sugar, corn, buttermilk and jalapeno. Process until combined. Add in the eggs and process until combined.
Pour the wet ingredients in the center of the dry ingredients. Using a rubber spatula, fold the wet ingredients into the dry, until just combined. Add in the melted butter and continue folding gently until all the dry ingredients are incorporated. Do not overmix.
Transfer the batter into the prepared baking dish. Smooth the surface. Bake until golden brown and a toothpick inserted into the center comes out clean, about 20-30 minutes. Let cool in the pan on a cooling rack for at least 10 minutes before turning the cornbread out. Let cool slightly before cutting into squares.
Store leftovers in an airtight container at room temperature for up to 3 days.
Recommended Products
As an Amazon Associate and member of other affiliate programs, I earn from qualifying purchases.