Strawberry Galette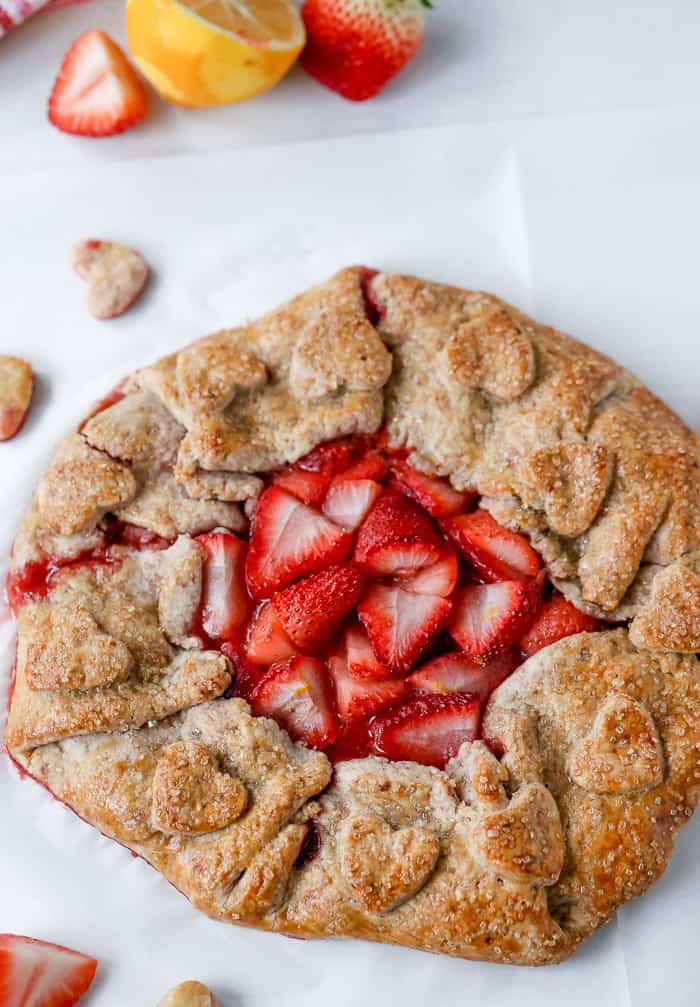 I have a sweet strawberry recipe for you today and it is perfect for your weekend baking project! I love me some pie, especially one that is as sweet as this strawberry galette. Of course, it helps that it is a galette because you know it does not take that much time to go from pie dough + pie filling to a buttery flaky bite of pie crust and warm strawberry pie filling.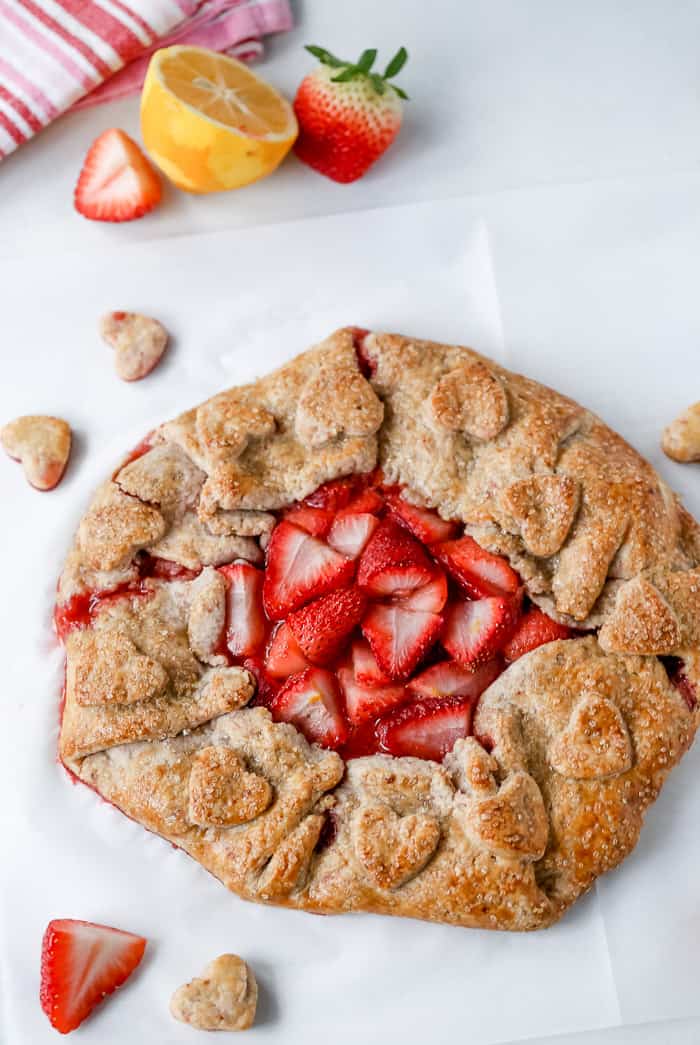 Okay, let's break down this pie. It starts with infusing as much flavor as possible in the pie dough by using freeze-dried strawberries. I love using freeze-dried strawberries in pie dough since I discovered that trick last summer and used it in these double berry hand pies and my homemade strawberry pie. I also love using freeze-dried fruits in macarons…my mango macarons are a hit thanks to freeze-dried mangoes. So now that I have convinced you that you need freeze-dried fruits in your baking, grab a few bags and let's get baking. I purchase mine at Trader Joe's but you can get yours from most grocery stores or online.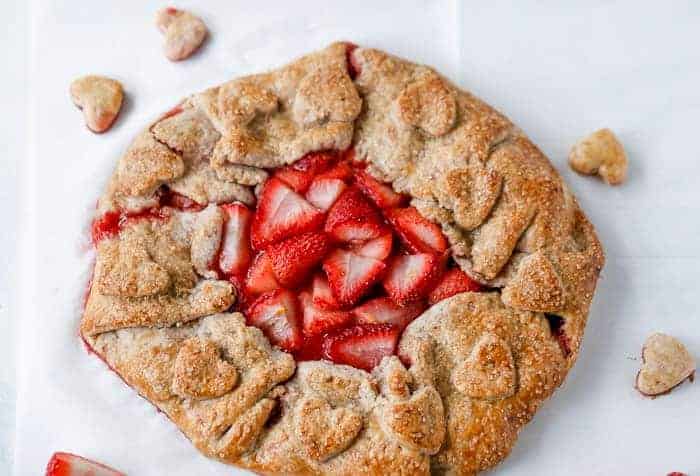 Back to the making of this strawberry galette. You pulverize the freeze-dried strawberries before you make the dough so it is incorporated into the dry flour mixture of the butter. It is an amazing flavor addition. The pie is filled with your typical strawberry pie filling. Juicy fresh strawberries macerated with brown sugar and fresh lemon juice are pilled in the center of the rolled out strawberry dough.
I decorated the dough with little cutout hearts from extra dough to make it festive for Valentine's Day. You can decorate any way that you like as galettes are very forgiving. Just get creative! Over the summer, I can see this being perfect for a July 4th celebration or any outdoor picnics.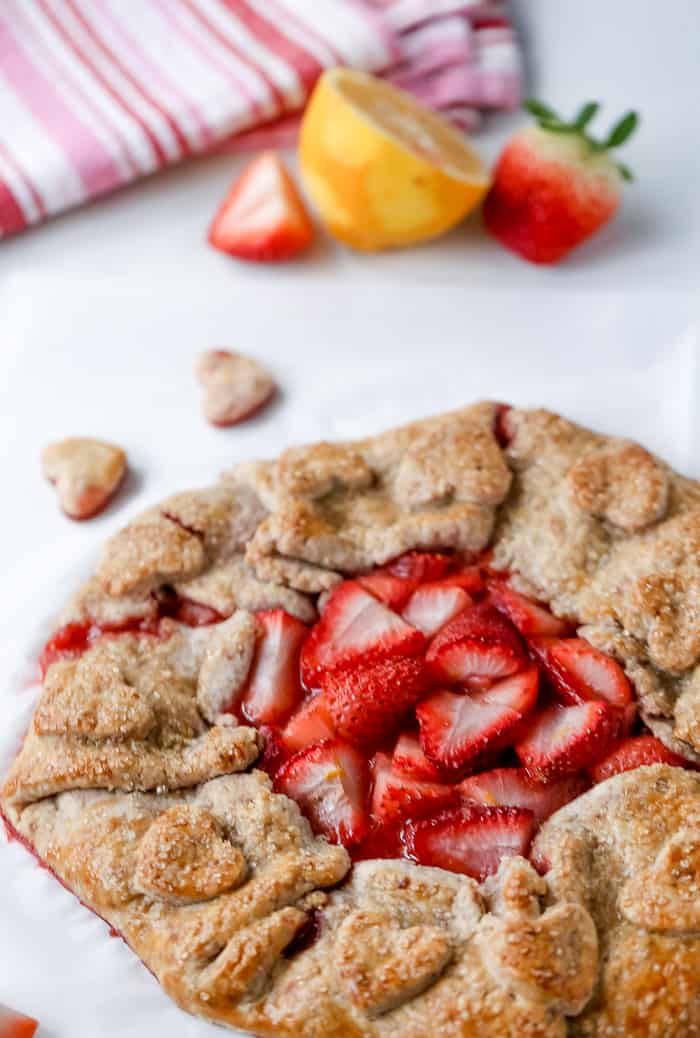 Once baked, this strawberry galette is a wonderful delight. Warm juicy pie filling wrapped in a sweet flaky pie crust. This pie should be added to your favorite baking list. It is truly a crowd pleaser and would hit that sweet tooth spot when it comes around. Of course, if you are celebrating Valentine's Day, it would be perfect for the occasion. I've tried drizzling Nutella over a slice and it is also a great combination.
Here are some other Valentine's Day recipes that you may enjoy!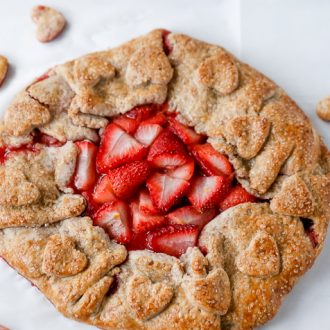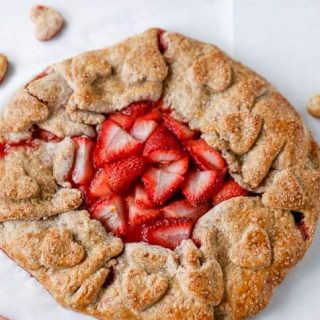 Yield: 1 small galette
Strawberry Galette
This rustic strawberry galette is easy, fun and decorated for Valentine's Day. Juicy strawberries are wrapped in a flaky, buttery pie crust.
Additional Time
1 hour
15 minutes
Total Time
2 hours
35 minutes
Ingredients
FOR THE CRUST:
¼ cup freeze-dried strawberries
1¼ cup all-purpose flour
6 tablespoons unsalted butter, cold and cut into cubes
2 tablespoon shortening, cold and cut into cubes
2 tablespoons granulated sugar
¼ cup of ice-cold water
FOR THE FILLING:
4 cups fresh strawberries, hulled and sliced
1/2 cup light brown sugar
zest and juice of half a lemon
3 tablespoons cornstarch or pie filling enhancer
1 large egg, beaten with 1 tablespoon milk for egg wash
2 tablespoon turbinado sugar, for sprinkling
Instructions
In the bowl of the food processor, process the freeze-dried strawberries until fine. Add in the flour and the butter, shortening, and sugar.
Pulse a few times until butter is about the size of a pea. With processor on, slowly drizzle in ice-cold water to the mixture, one tablespoon at a time, until the dough starts to come together. Remove dough from bowl and pat down into a disc. Wrap in plastic wrap and chill for at least an hour.
In a large bowl, toss together the strawberries, brown sugar and lemon juice. Add in the cornstarch or pie filling enhancer. Gently mix to combine. Set aside.
When the dough is chilled, roll out into a 12-inch circle. (I rolled mine onto a well-floured parchment to make transfer easy). Transfer to a baking sheet. *Note: Alternatively, you could divide the dough into three and make three mini galettes.
Spoon the strawberry mixture into the center of the crust, leaving 2-3 inch borders. Fold up the sides, gently tucking in over the fruit in a folding/pleating pattern. Transfer dough to the freezer and let chill for 15 minutes.
Preheat oven to 375 degrees F. Remove the galette from freezer and brush dough with egg wash. Sprinkle dough with turbinado sugar. Bake galette for 50-55 minutes until crust is golden and juice from the fruit runs out. Let cool before serving warm. Optional: Drizzle nutella over galette before serving.
Recommended Products
As an Amazon Associate and member of other affiliate programs, I earn from qualifying purchases.