Red Velvet Blossom Cookies
These classic red velvet blossom cookies are crispy, indulgent and perfect for Valentine's Day and Christmas cookie season.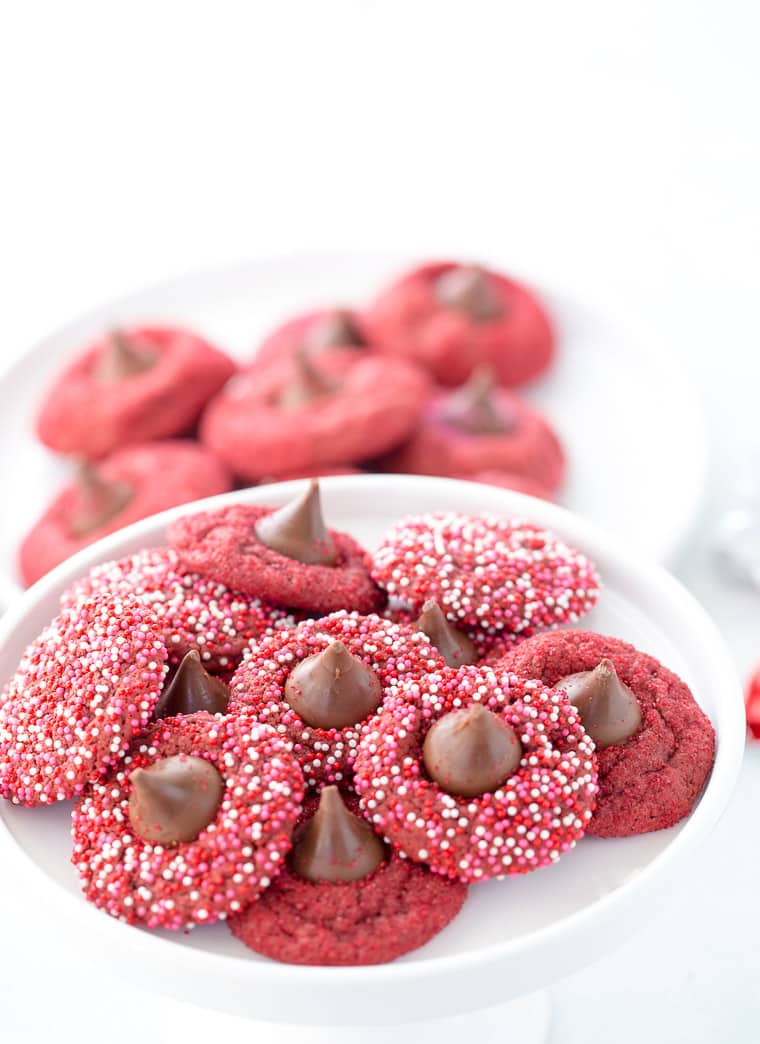 Happy February! Can you believe we are done with the first month of 2017 already? Time is flying by too fast, as usual.
How are you doing on your New Year resolutions? I hope you are still doing good with them. I didn't make any resolutions this year but I decided to join in on the one word a year trend. A word that I can live by to help improve aspects of my life.
Be present.
This year, I am trying be present for my baby. Be present for my husband. Be present for my passions. Be present for my job.
I am trying to be more present with the limited time I have in every facet of my life. I've come to accept that there will never be enough time for everything. I am a working mom, wife, daughter, sister and passionate food blogger. Time is non-existent. But what I can do is make each facet intentional by being more present. Disconnect from everything while I am with my son or home or at work or in the kitchen. You get the idea.
What are you trying to improve on this year?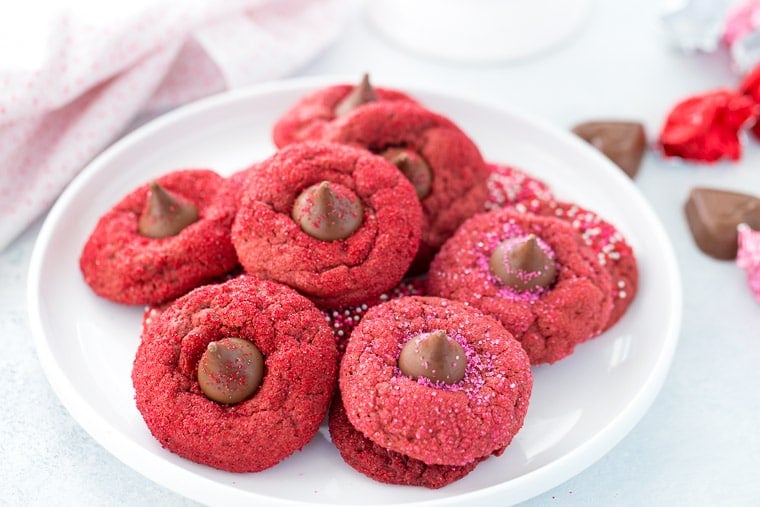 I am also working on my cookie collection. It is rather slim pickings around here but I am adding to it every day. These red velvet blossom cookies are a great addition and will soon become a favorite in your house.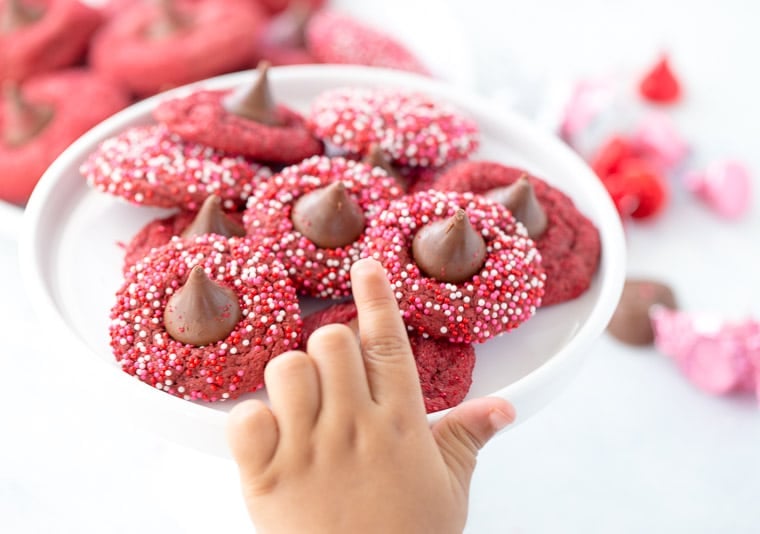 These cookies were a fun afternoon project with the hubs and the baby. I wanted to include them in my 'work' as we were all home relaxing on a cold snow day. I had them pick out the sanding sugars and sprinkles to roll the cookie dough in, which was fun for Elliott as he made a HUGE mess of the sprinkles. But it was fun.
Classic red velvet blossom cookies for your Valentine!
Click To Tweet
The cookies are classic red velvet cookies; rich, chocolate-y hints with a crispy exterior. They are rolled in your sprinkles of choice and topped with chocolate kisses for that classic look. Everyone loved them and they were a big hit.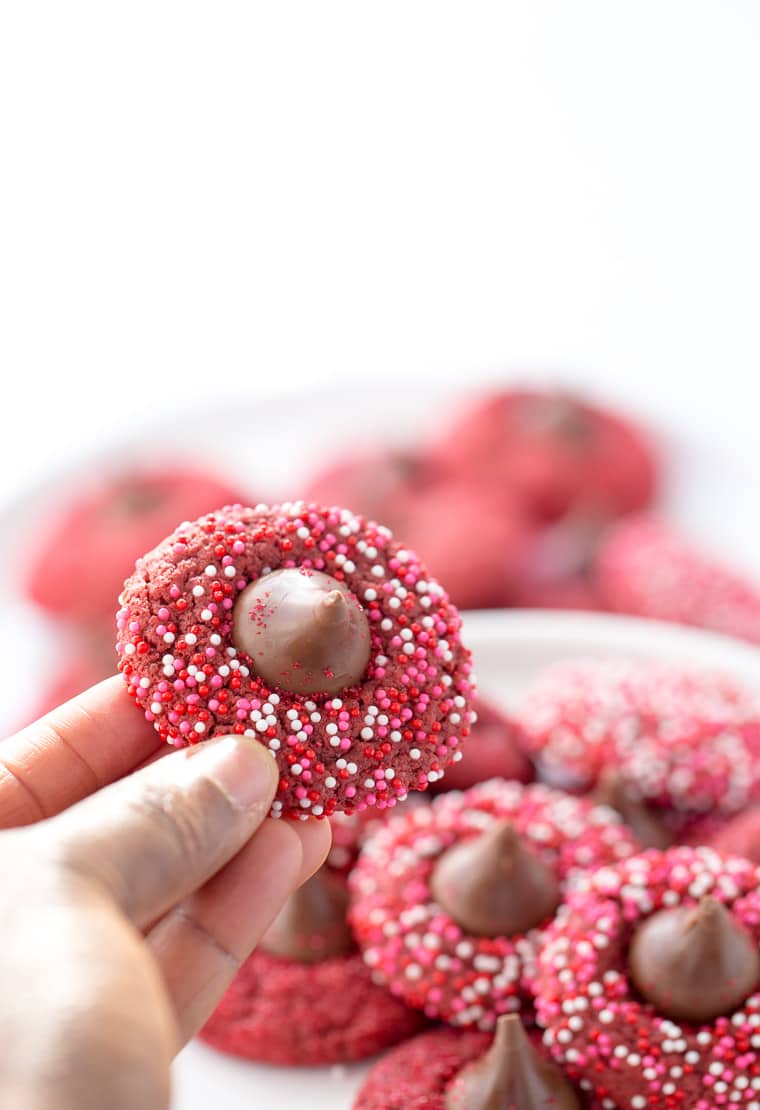 I hope you enjoy these cookies!
And feel free to share with me your New Year intentions.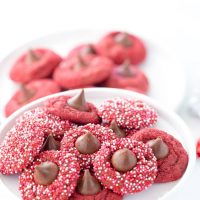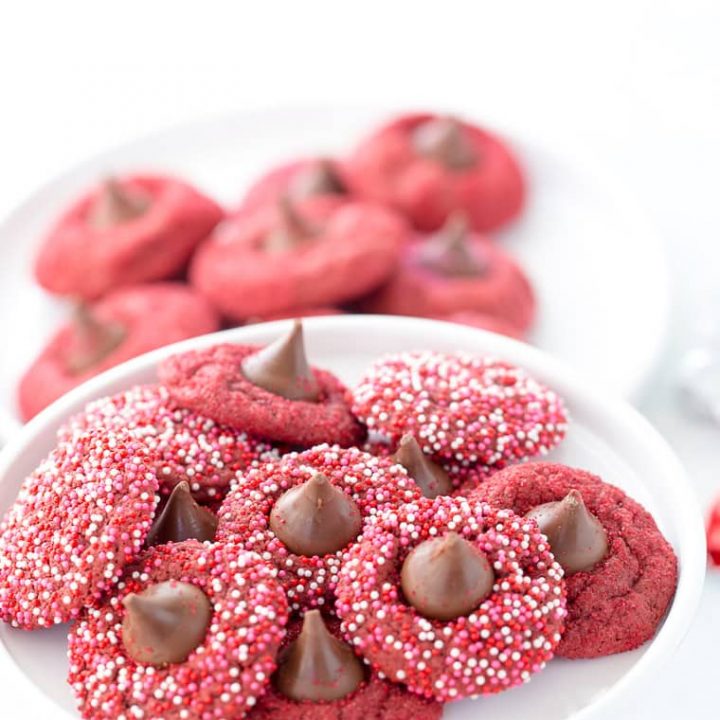 Yield: 2 dozen cookies
Red Velvet Blossom Cookies
These classic red velvet blossom cookies are crispy, indulgent and perfect for Valentine's Day and Christmas cookie season. 
Prep Time 30 minutes
Cook Time 12 minutes
Total Time 42 minutes
Ingredients
1 ¾ cup all-purpose flour
¼ cup cocoa powder
1 teaspoon baking soda
½ teaspoon salt
1 ½ stick unsalted butter
1 1/3 cup granulated sugar
1 large egg + 1 egg yolk
1 tablespoon liquid red coloring
2 teaspoons pure vanilla extract
2 tablespoons buttermilk
Toppings: red sanding sugar, pink sanding sugar and sprinkles
1 bag Hershey kisses, peeled
Instructions
Preheat oven to 350 degrees F. Line a baking sheet with parchment paper.
In a medium bowl, whisk together the flour, cocoa powder, baking soda and salt.
In another medium bowl, cream the sugar and butter together until light, about 3 minutes on medium speed. Beat in the egg and egg yolk, food coloring, vanilla extract and buttermilk. Add in the flour mixture and mix on low speed until incorporated.
Chill dough for at least 30 minutes or up to 2 hours.
Roll one tablespoon of dough into a ball and roll in sanding sugar or sprinkles. Place cookie doughs one inch apart on the prepared cookie sheet.
Bake cookies 10-12 minutes or until cookies are done around the edges.
Remove cookies from oven and immediately place kisses in the center. Let cookies cool completely on a cooling rack.
MAKING THIS RECIPE? Share it with us on Instagram using #aclassictwist so we can see what you are baking up in your kitchen!