Grapefruit Creme Brulee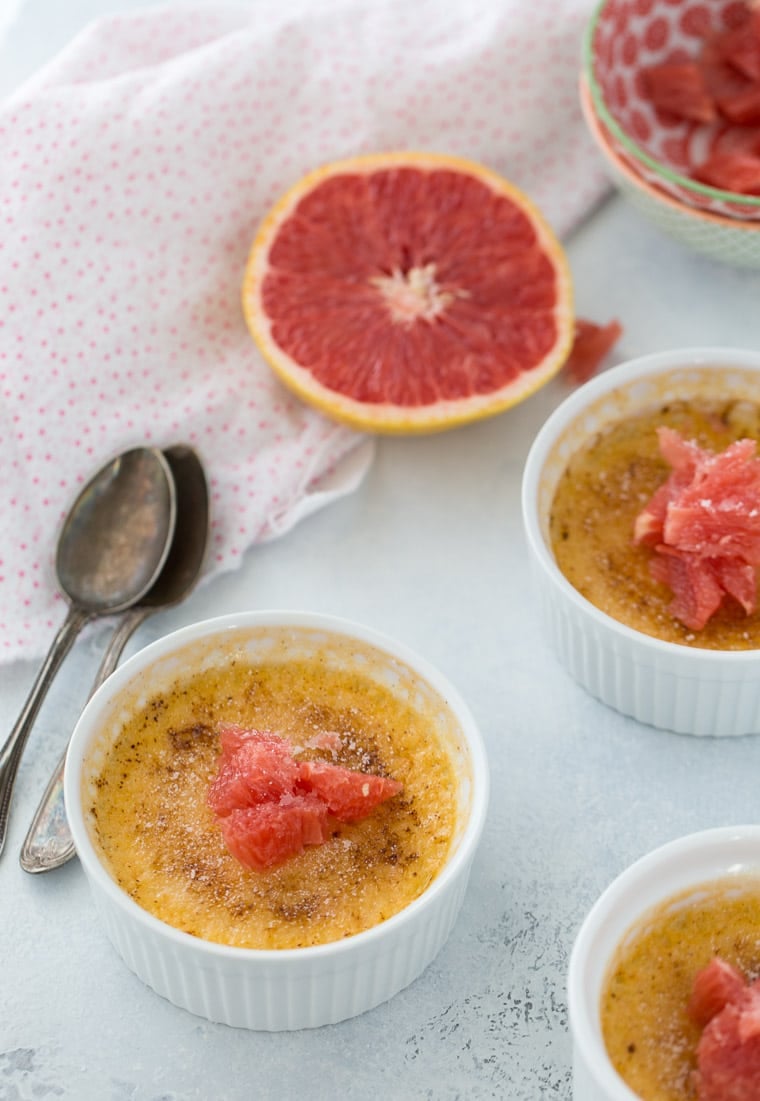 Happy Monday friends! Even though the state of our country is in disarray right now, I am choosing to focus my energy on positive interactions and passing the love around. Talking about love, Valentine's Day is just around the corner. I will be sharing lots of new Valentine's Day desserts for you and your loved ones. Last year, I was unable to do much baking during this time of the year as I was finishing my degree. But this year, I am ready!! Starting with this grapefruit creme brulee.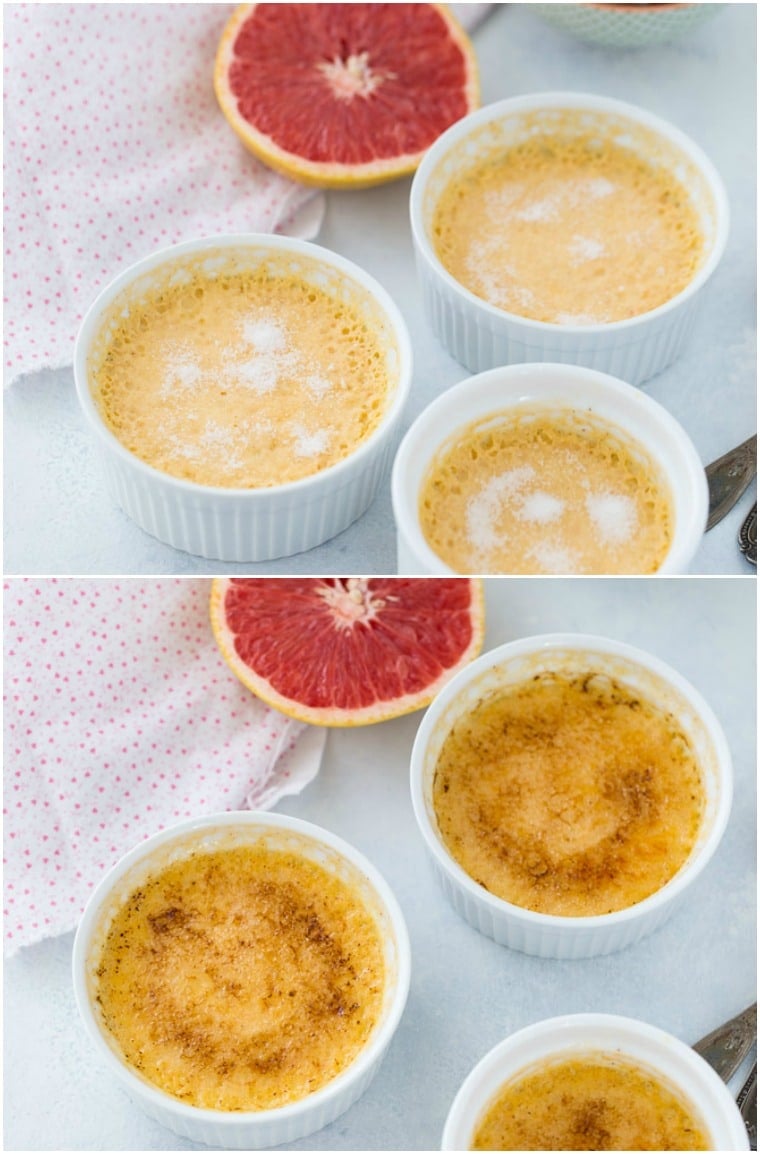 Creme brûlée is the perfect lover's dish and this winter version needs to be your Valentine's Day dessert of choice.
I love making creme brulee ever since my OBGYN wrote her mother's recipe for me on the back of a prescription. I made her vanilla bean creme brulee and it has since been the base for all my creme brulee recipes on the blog. It is extremely easy to whip up and fancy to serve at home.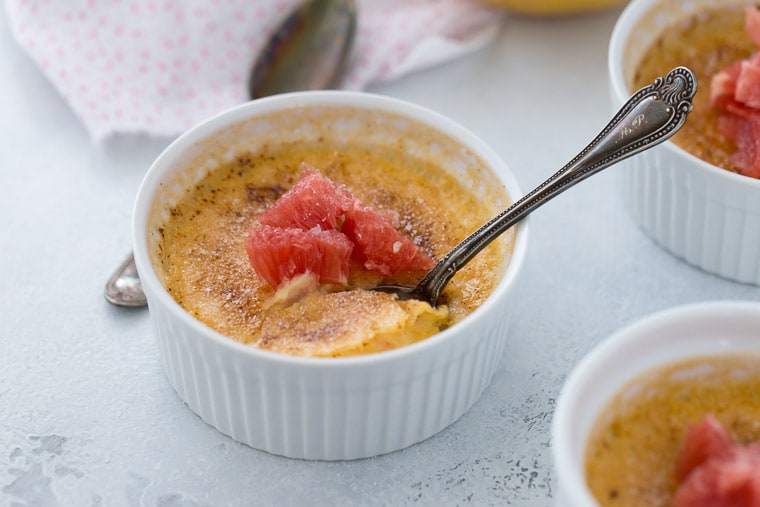 Before I made her recipe, I always assumed creme brulee is hard to make. My friends if you have not yet tried making creme brulee, don't wait any longer. So easy as whipping together warm heavy cream and egg yolks to make the base. You can then use that base as a blank canvas. I've infused white chocolate and peppermint in some, pumpkin puree or in this case fresh grapefruit juice and coconut cream.
The grapefruit is a perfect winter addition and the hint of coconut adds a bit of the tropics to this creme brûlée. If you don't like the tart citrus, you can always substitute for a sweet citrus like blood oranges.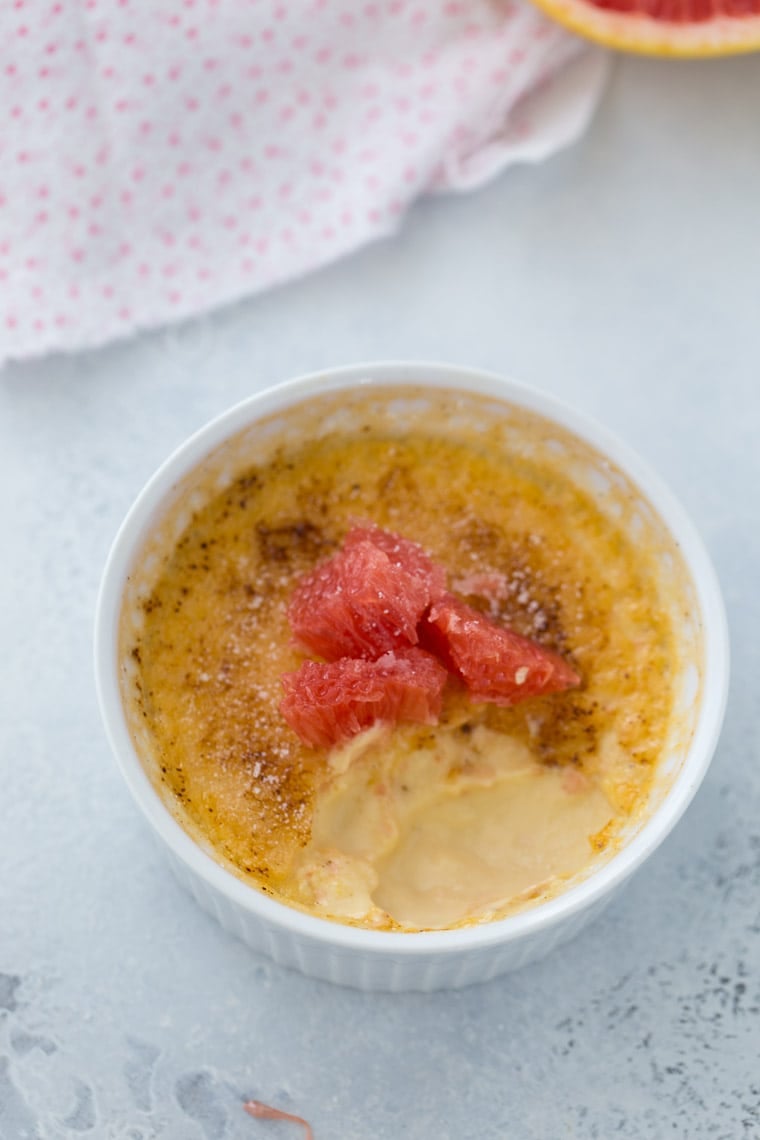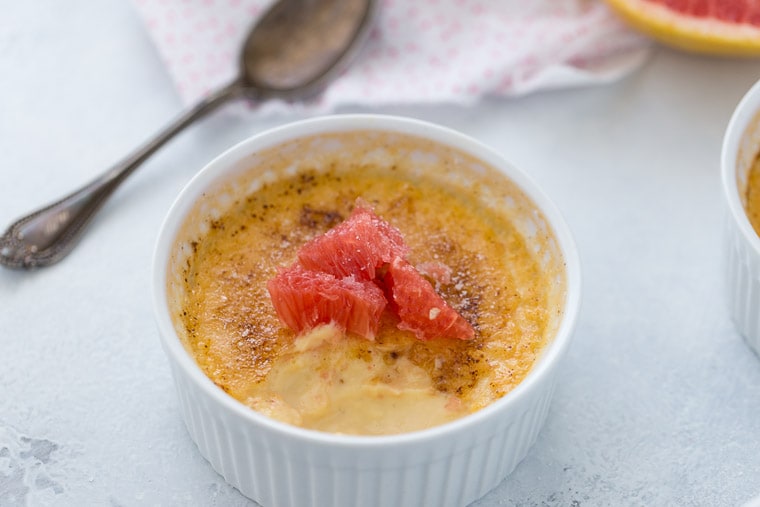 This Valentine's Day be sure to add this grapefruit creme brulee to your list! Heck, make it a few weeks in advance to 'test' it and enjoy for yourself.
And as we share one sweet recipe after another here, remember to share these with your friends, family and neighbors. Our communities need more love and sweetness.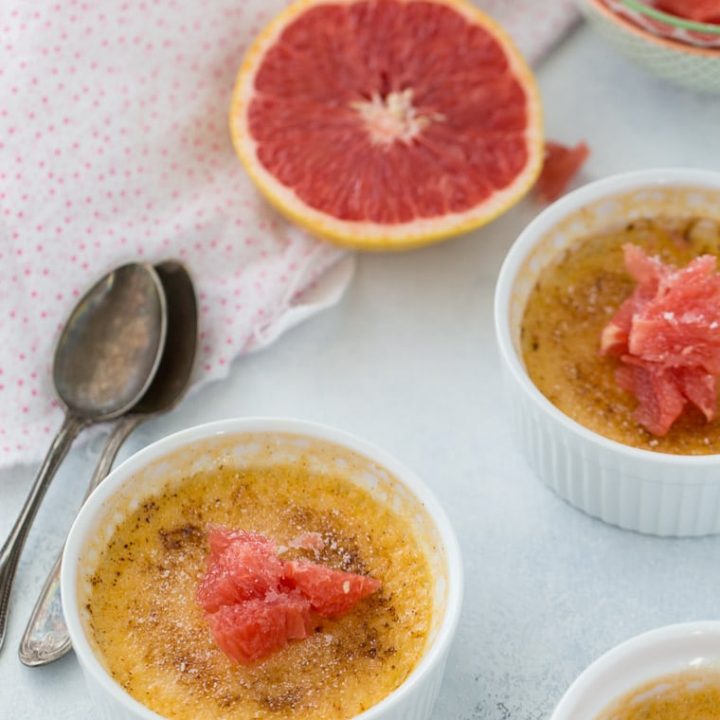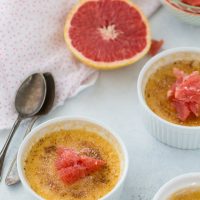 Yield: 6 servings
Grapefruit Coconut Creme Brulee
Total Time
1 hour
10 minutes
Ingredients
1 vanilla bean (I used Neilsen Massey vanilla beans)
2 cups heavy cream
½ cup coconut cream
3 tablespoons grapefruit juice
8 egg yolks
½ cup granulated sugar
Topping: ¼ cup turbinado sugar (or superfine sugar), fresh grapefruit, toasted coconut
Instructions
Preheat oven to 300 degrees F.
Split the vanilla bean in half and scrape the seeds out with a knife. Combine the vanilla bean seeds with heavy cream, coconut cream and grapefruit juice in a medium saucepan. Heat over medium heat until cream starts foaming around the edges. Do not boil. Let cool for about 10 minutes. Strain mixture to remove vanilla beans.
In a large bowl, whip the egg yolks and sugar until pale yellow in color and slightly thicken. While stirring constantly, gradually add the hot cream mixture into the eggs mixture. Add the cream slowly to avoid cooking the eggs. Mix until combined.
Pour equal amounts into 6 ramekins (6 ounces each). Transfer ramekins to baking pans (9-inch or bigger) and fill baking pans with hot water about halfway up the sides of ramekins.
Bake custards until set but still jiggly in the center, about 35-40 minutes. Remove from oven and let cool on cooling rack. Cover with plastic wrap and refrigerate for at least 2 hours or overnight.
When ready to serve, sprinkle about 1 tablespoon turbinado sugar over each ramekin. Using a torch, melt the sugar until golden brown. Or using an oven set to broil, broil for 30 seconds to a minute to melt the sugar. Be careful not to burn the sugar (like I did).
Let cool until the sugar hardens.