Roasted Persimmon Yogurt Bowl
This roasted persimmon yogurt bowl is a quick and easy breakfast bowl  full of winter flavors. 
(This post was originally published in 2014. Republishing today with new images and updated recipe).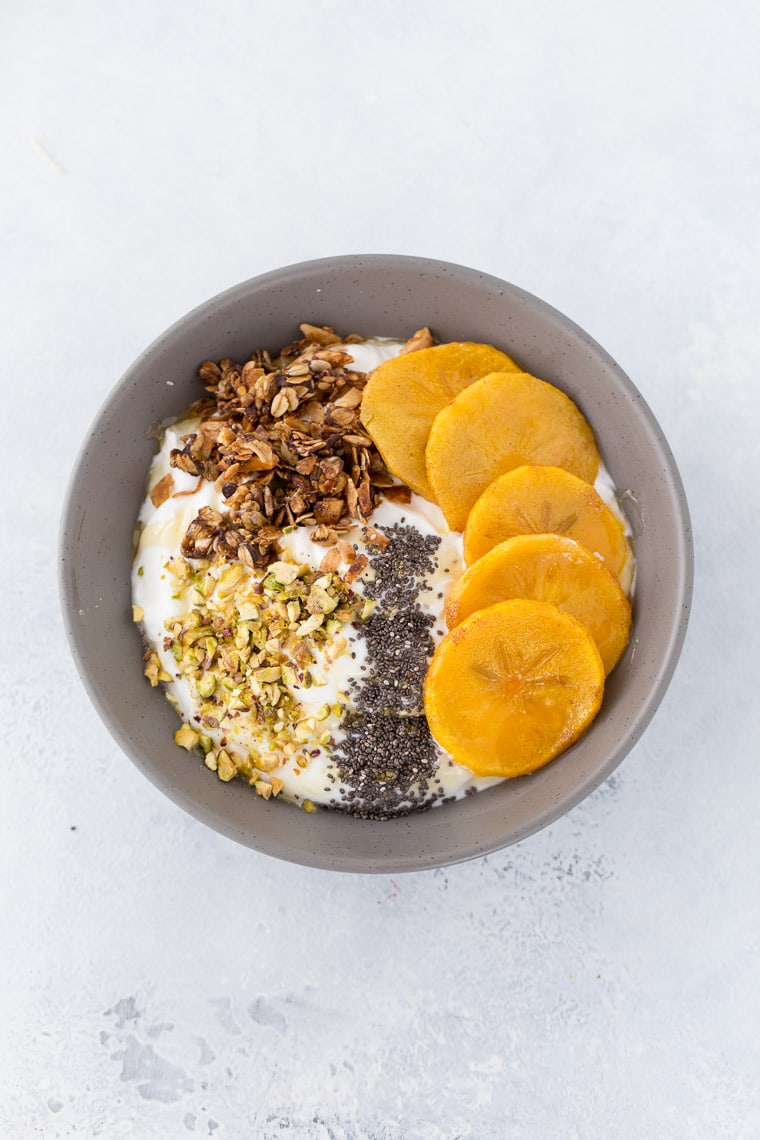 One of the things I take for granted is that I am experiencing new things everyday. Despite living in the US for over a decade, I still get to experience new flavors, new dishes and traditions now and then. I keep discovering fruits that are not native to Africa.  I've told you about my discovery (and love) of pears, pomegranates and now it's persimmons.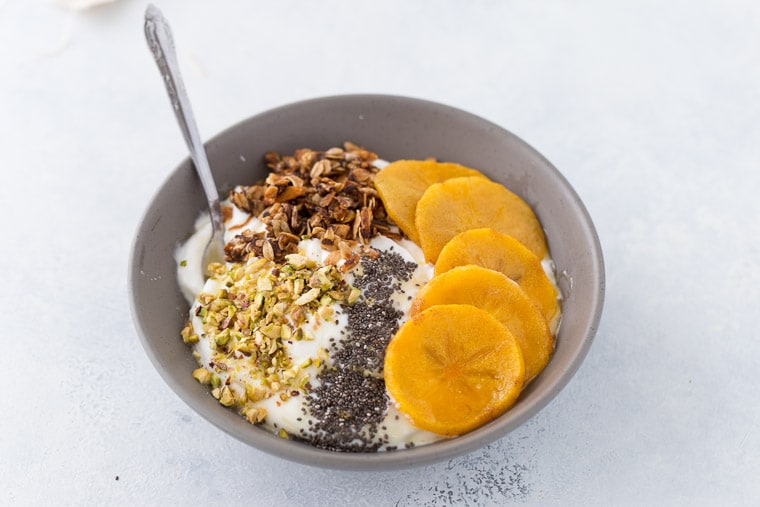 I first tried a persimmon a few months ago while staying with a friend in San Diego. Her one-year old daughter and I shared one and I was hooked despite only having a few bites because the baby was enjoying it more than me and I had to be a good Aunty. So I had to get my own when I returned home.
Have you ever tried a persimmon? I love the texture, sweetness and of course the vibrant color. To me it's a mix between a pear and a pumpkin. Is that even possible? And look at that gorgeous color! My exploration lead to this roasted persimmon yogurt bowl that I made a few days ago for a healthier breakfast.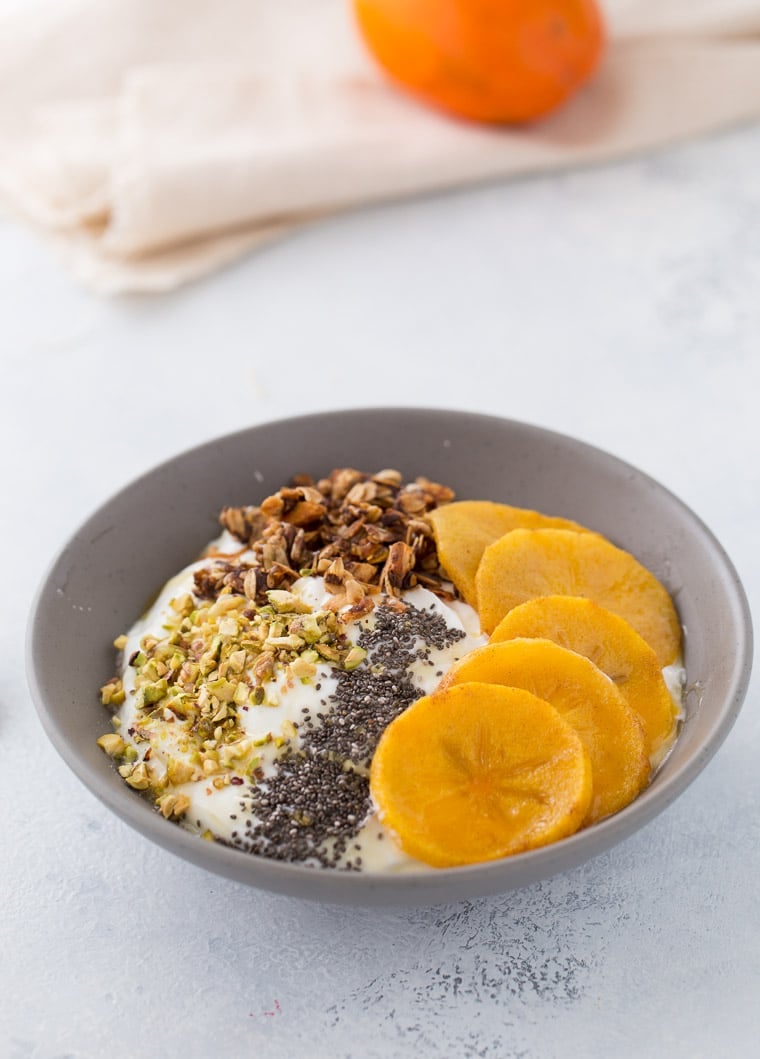 This yogurt bowl is my new way of adding texture and diversity to my mornings. I used plain 0% fat greek yogurt as the based and topped with roasted persimmons, homemade coconut granola, pistachios and chia seeds, all drizzled with honey and a sprinkle of sea salt. Lots of crunch and good-for-you toppings and diet-friendly if you are on one at this time of the year.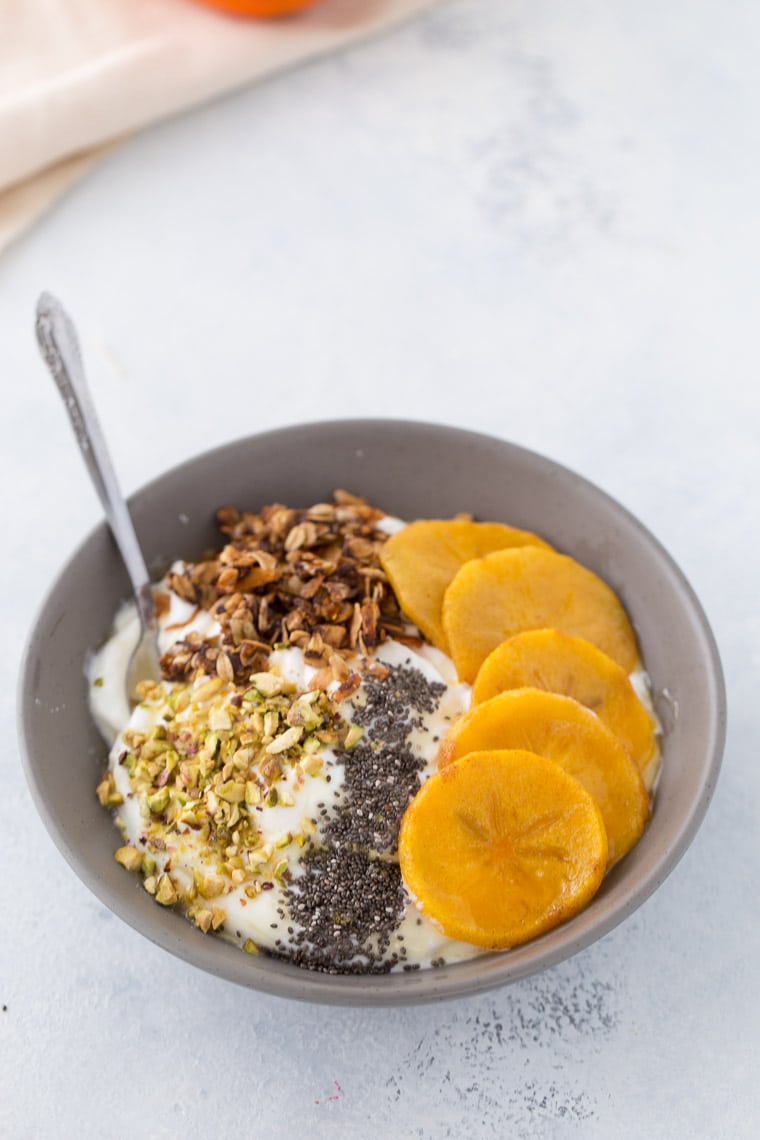 Yield: 1
Roasted Persimmons with Greek Yogurt and Pistachios
Ingredients
1 ripe persimmon, peeled and cut into wedges
1 teaspoon extra virgin olive oil
1 cup plain greek yogurt
1 tablespoon chopped shelled pistachios
2 tablespoons homemade granola
1 tablespoon chia seeds
1 tablespoon honey
Sea salt for sprinkling
Instructions
Preheat oven to 375 degrees F. Line a baking sheet with parchment paper.
In a small bowl, toss persimmons gently with oil. Spread persimmon on baking sheet. Roast for about 30 minutes or until persimmons are tender and not mushy. Let cool completely before using.
Place yogurt in bowl. Top with roasted persimmon, pistachios, granola, chia seeds. Drizzle with honey and sprinkle with sea salt.
Notes
Adapted from bon appetit Magazine