Coconut Chocolate Chip Granola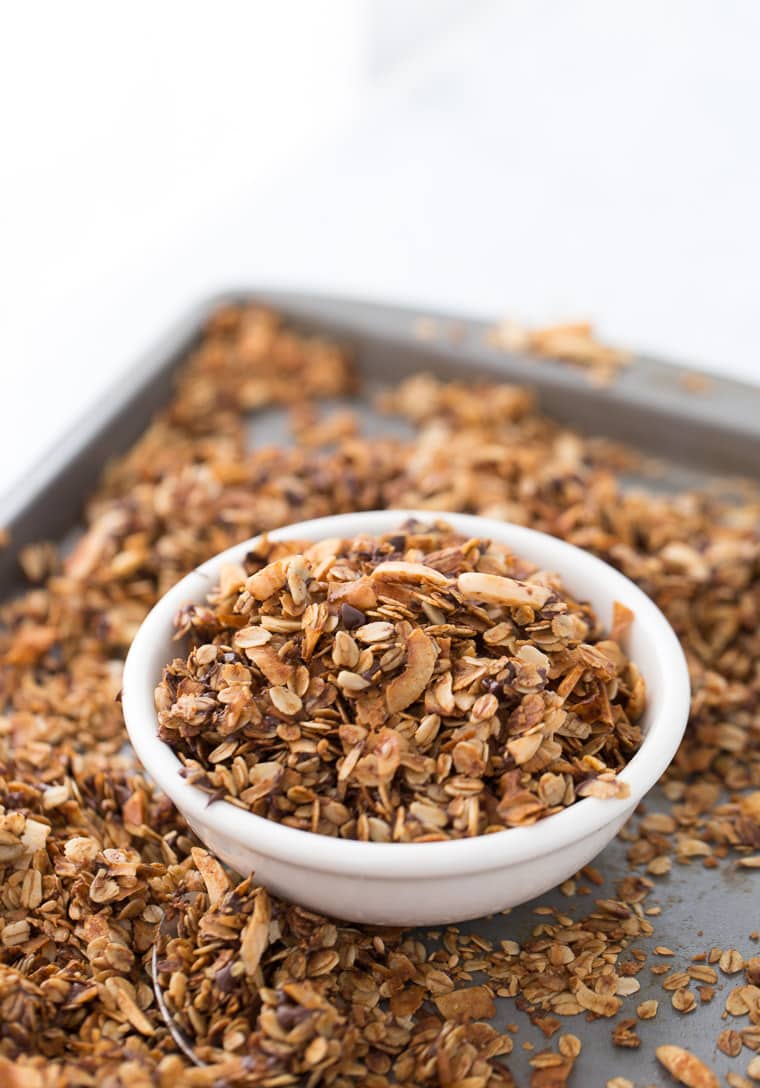 Happy Monday friends!! I hope you had a great weekend. We had an arctic blast this weekend and stayed in for almost all of it. A few inches of snow and 10 degrees weather calls for cozy pajamas, hot chocolate and binge-watching tv-shows. That is exactly what I did this weekend and I am not sorry. Anyone watch Suits? I was behind two seasons so had to catch up before they come back.
I was able to get started on my weekly meal prep with lunches and this coconut chocolate chip granola for snacks and breakfasts. Do you do weekly meal prep on Sundays? I am starting to get used to it thanks to this 3 week Lunch Prep Challenge where Denise provides meal prep lunch recipes and shopping list. She also has a breakfast prep challenge I loved.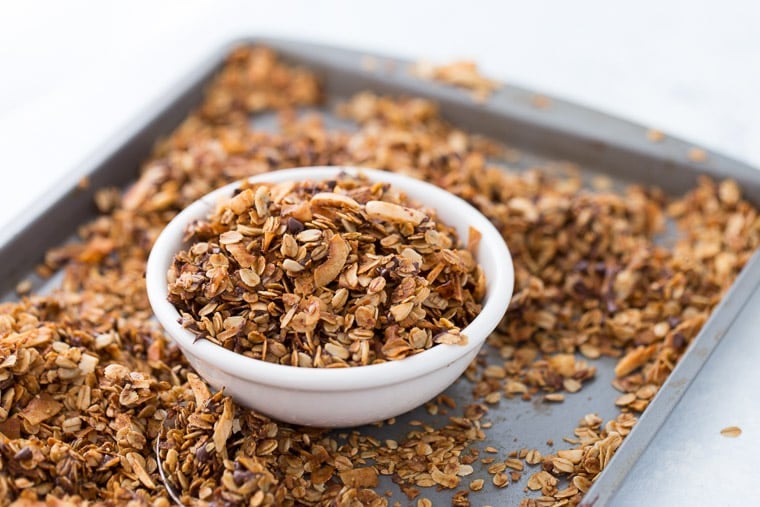 I love making homemade granola! It's so easy and I get to add in exactly what I want. It's my favorite way to clear out the pantry. Got a left over almonds? A tablespoon of chia seeds? Flaxseeds? Throw it all in and customize it to your taste. I always have a container of granola for quick snacks and energy boost.
For this coconut chocolate chip granola, I wanted a little but of indulgent kick so I threw in chocolate chip. I upgraded my base coconut almond granola and added in chocolate chips after baking the granola. Easy peasy and my new favorite granola. After all, there is double coconut in these!!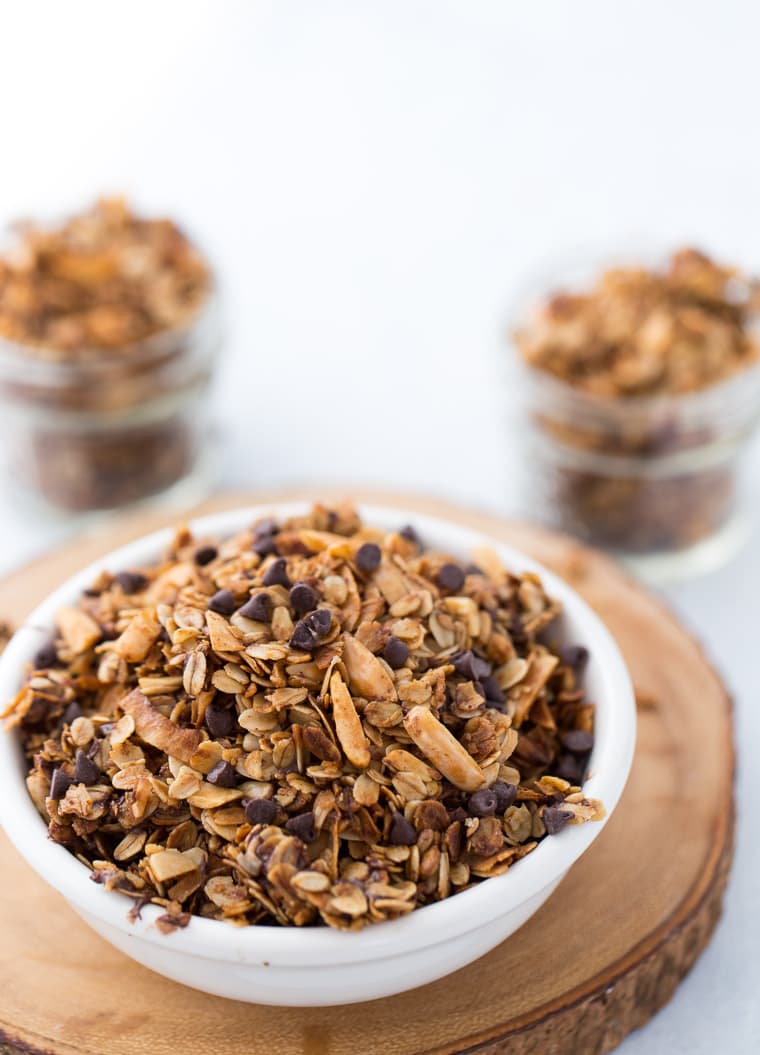 Here are a few other granola recipes you might like:
Peanut Butter Banana Chocolate Chip Granola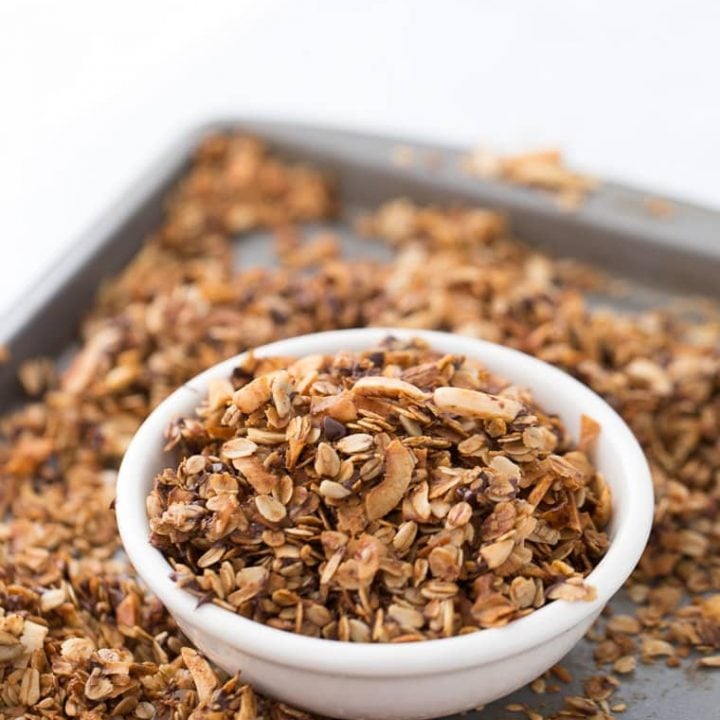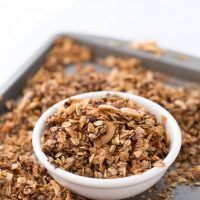 Yield: ~3 cups
Coconut Chocolate Chip Granola
Ingredients
1/3 cup melted coconut oil
1/4 cup pure maple syrup
1 teaspoon pure vanilla extract
1/2 teaspoon ground cinnamon
1/4 teaspoon sea salt
2 1/2 cups old fashioned oats (use GF oats if you want this recipe to be GF)
1/2 cup unsweetened coconut flakes
1/2 cup silvered almonds
1/4 cup sunflower seeds
2 tablespoons flaxseeds
1/2 cup mini chocolate chips
Instructions
Preheat oven to 325 degrees F. Prepare a large baking sheet with parchment paper.
In a medium bowl, whisk together the coconut oil, maple syrup, vanilla, cinnamon and sea salt. Mix in the oats, coconut flakes, almonds sunflower seeds and flaxseeds into the wet ingredients.
Pour the mixture into the prepared baking sheet and evenly spread into a single layer.
Bake the granola until golden brown and dry, about 20-25 minutes.
Remove from oven and let cool for 5-10 minutes on the sheet. Gently toss in the chocolate chips into the granola.
Store cooled granola in an airtight container at room temperature.