Coconut Almond Granola
 Crunchy, hearty and delicious coconut almond granola to start off the year on the right foot!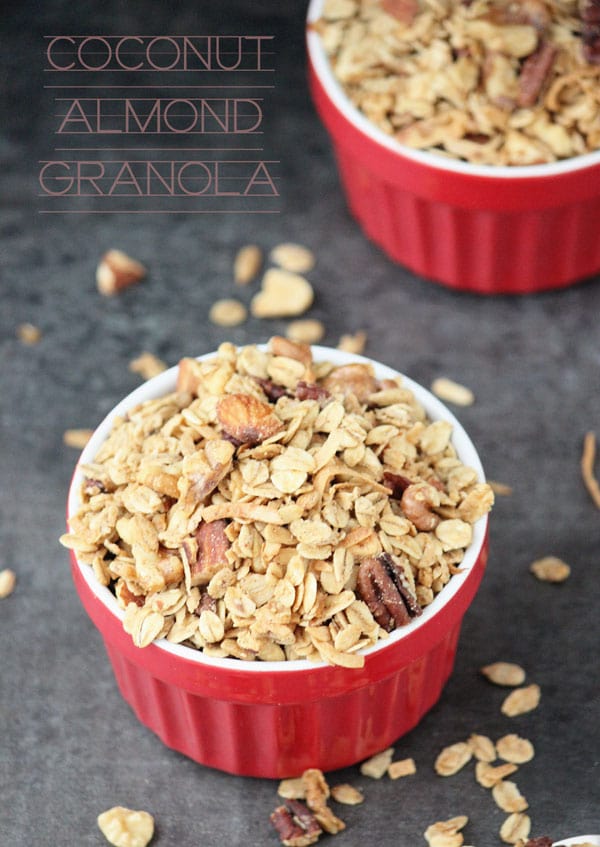 Happy New Year friends!! 2014 is here 🙂 I wish you all a wonderful healthy year filled with all your heart desires.
At the risk of being cliché, I really can't believe we are done with 2013. Swooosh, just like that. It came, conquered and now it's gone. Looking back, it was a pretty awesome year! But it is time to look forward. Rightfully so, many people are setting goals, declaring resolutions, intentions and attempting to make changes in their lives. It is that time of the year indeed!
I tend not to make resolutions, simply because I don't believe in the idea. Some years, I do however have one goal I work towards. Last year was to start a blog (yay!!), the year before was to plan two wedding ceremonies without killing anyone (succeeded!!) and this year it's to graduate with my PhD (God willing). Well, that's not really a goal as it is not entirely up to me but more to the Gods of science. But that's what I am setting my eyes on in 2014.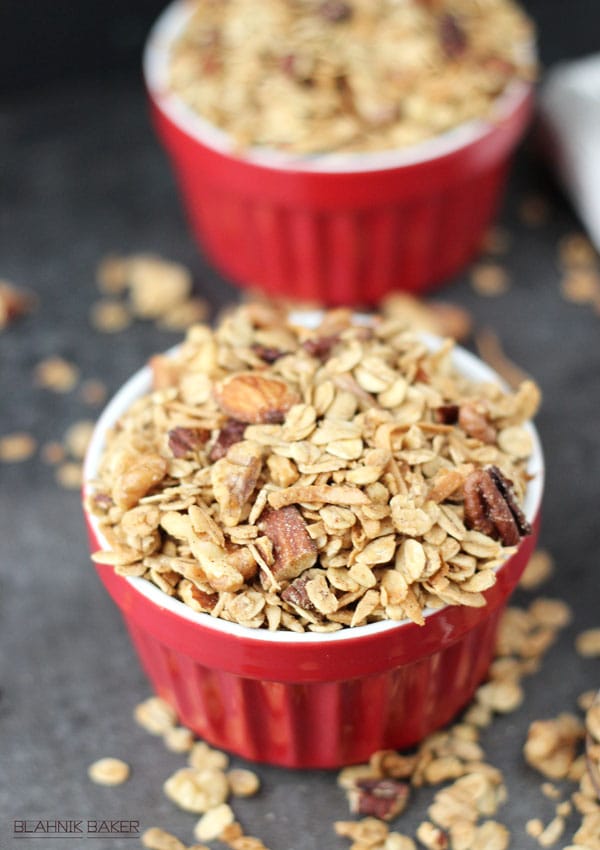 As you can see, I am not really one to make resolutions to lose weight, drink green juices daily and/or go on any crazy diets. However, I do believe in moderation and balancing one's diet. I try to balance all the sweets I bake with daily consumption of greens, fruits, grains and fibers. Key word being try as it is work in progress. And one of the ways that I have successfully transformed my breakfasts these past few years has been with this coconut almond granola recipe.
I make my own granola frequently, at least once every month because I eat it A LOT. It's on my rotation of breakfasts and I snack on it all day long in lab. And I love it because you can easily change the flavors and nuts to match the season or your feelings. But today I am sharing my absolute favorite go-to granola, a coconut almond granola recipe. It's a blend of a few of my favorite nuts; almond, walnuts, pecans but the almond is more prominent. And of course coconut!! There is toasted coconut flakes and also coconut butter incorporated in the mix.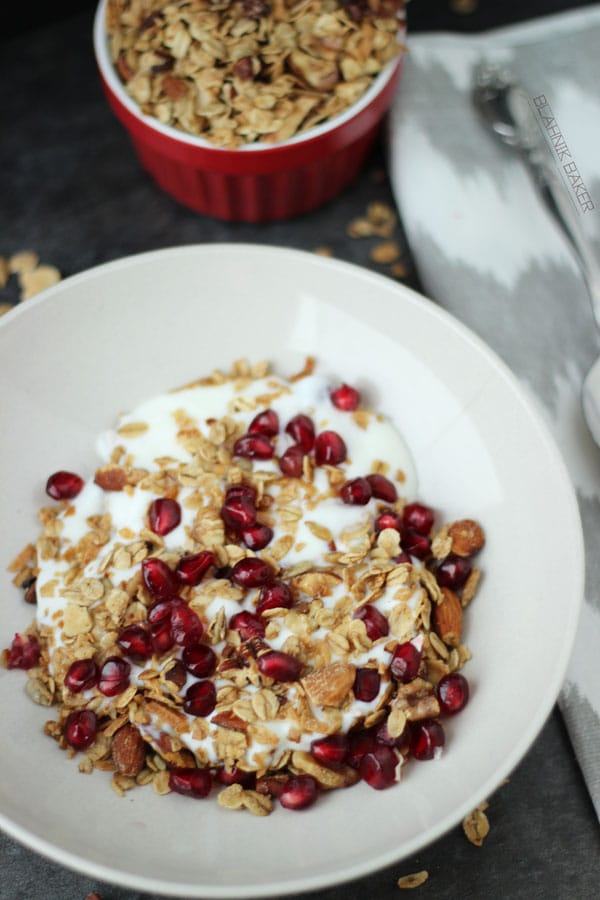 Have you tried making your own granola? I'm sure most of you have but if you have not it is the easiest thing to make and once you do you will never buy it again. All you do is combine old-fashioned rolled oats, nuts of your choice, seeds (I like flax seeds and sunflower seeds) mix with a sweetener of your choice. I always use honey or maple syrup. Combine wet and dry, clump if you like bigger clumps and bake for 30 minutes. Viola!! A whole three cups of granola to enjoy for breakfast and snacks.
What's your favorite healthy breakfast? Mine is pictured above. A cup of Greek yogurt, a few slices of fruits (whatever is in season, currently I am crushing on pomegranates) and a handful of homemade granola.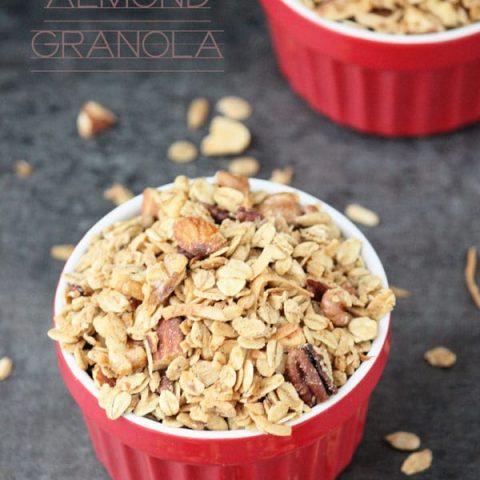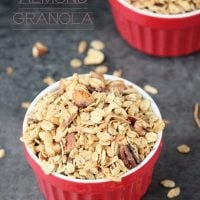 Yield: ~4 cups granola
Coconut Almond Granola
Crunchy, hearty and delicious coconut almond granola recipe to start off the year on the right foot! Easy to customize with your favorite nuts, flavors and sweetener.
Ingredients
Dry Ingredients:
3 cups old-fashioned rolled oats
1 cup whole almonds (or sliced)
½ cup walnuts, chopped
½ cup pecans, chopped
¼ cup sunflower seeds (or flax seeds)
1 cup unsweetened coconut flakes
½ teaspoon cinnamon
¼ teaspoon nutmeg
¼ teaspoon sea salt
Wet ingredients:
½ cup pure maple syrup (or honey, agave, barley malt syrup)
2 tablespoons coconut oil (measured solid)
2 teaspoons pure vanilla extract
Instructions
Preheat oven to 325 degrees F. Line two baking sheets with parchment paper or silicone mats.
In a large bowl, whisk together the dry ingredients. Combine the wet ingredients in a small saucepan and set over low-medium heat. Whisk until maple syrup warm. Pour over dry ingredients and toss until evenly coated.
Spread evenly on baking sheet. Bake for 30-35 minutes, tossing every 10 minutes, until golden brown.