Banana Coconut Bread
This banana coconut bread is soft, moist and of course bursting with coconut flavor!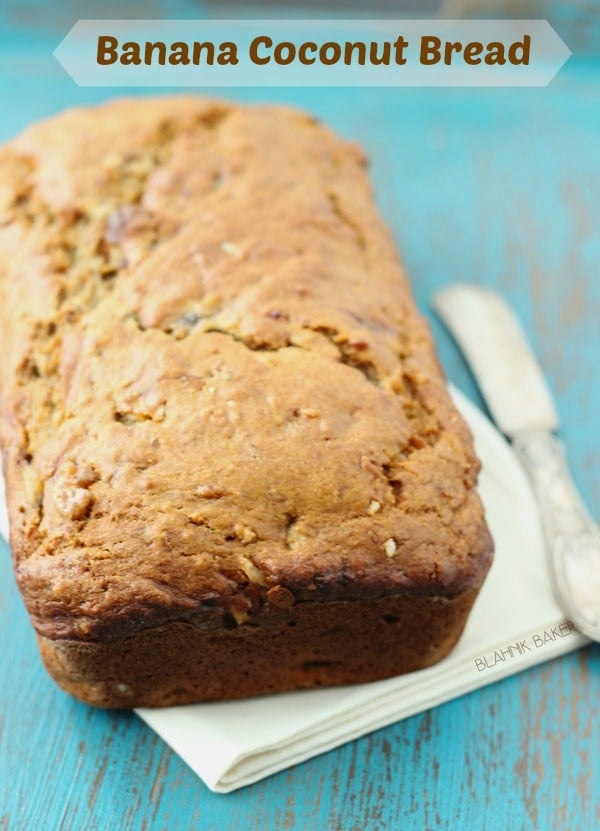 Happy Monday. How was your first weekend of 2014? I hope it was a good one. How are the resolutions coming? This banana coconut bread should help out a little if your resolution entails delicious healthier foods that satisfies the sweet tooth.
We had a great first weekend of 2014! My sister who was up a few weeks ago came back up to NY after visiting some relatives and friends in MD and VA. She spent her last two weeks with us before finally heading back to Sierra Leone. Guess what I did for her this weekend? I made her a birthday cake!!! See, to any normal person that is totally normal but it's a HUGE deal to me because my sister and I have not been in the same continent for her birthday in 10 years. No kidding.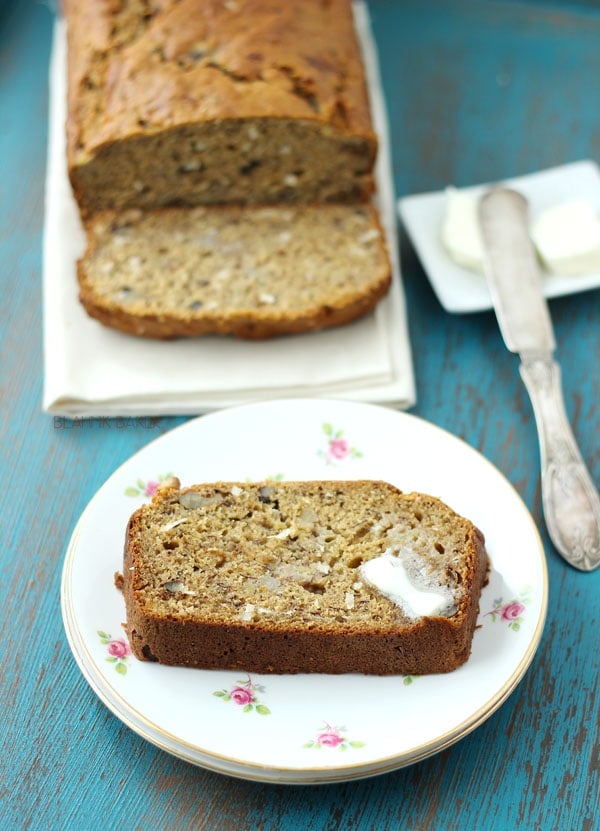 I left home in 2003 to study abroad in Singapore and at the time my sister was 17 and I just turned 19. I haven't lived there since but I do go home to visit and it always seems to be in the summer months and because of that her January 4th birthday is always celebrated over the phone. But this year, I didn't have to call her at midnight to wish her happy birthday. Instead, I was baking her a chocolate cake recipe!! I feel so so blessed to have had this opportunity. I guess I knew that the little things of life mean the most, but never realized it to the fullest I suppose.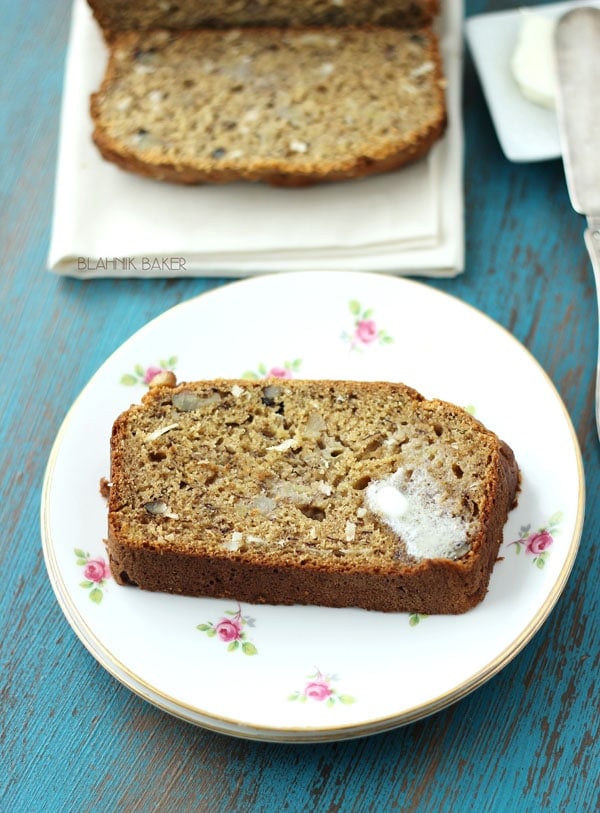 But enough about my weekend. How about we talk about this banana coconut bread? I have had the idea for this bread floating around in my head for months actually but never got to it. The idea was to make a classic banana bread with whole wheat flour using coconut oil, yogurt and applesauce to give a moist and soft bread that is a little lighter on the calories. That, my friends, is exactly what we have in this banana coconut bread.
You know by now I am coco loco with all the coconut recipes I keep sharing but discovering coconut oil has seriously sent this over the top. Coconut oil is a healthier oil to bake (or cook) with and it smells so amazing. It makes this bread delicious, moist and well, slightly coconut-y. If you are not a fan of coconut (what a travesty!!), you can leave out the coconut oil (replace with vegetable oil) and make this a traditional banana bread. It's still very good!!
I hope you all have a great start to your week!! I know I am because I am about to watch Downton Abbey 🙂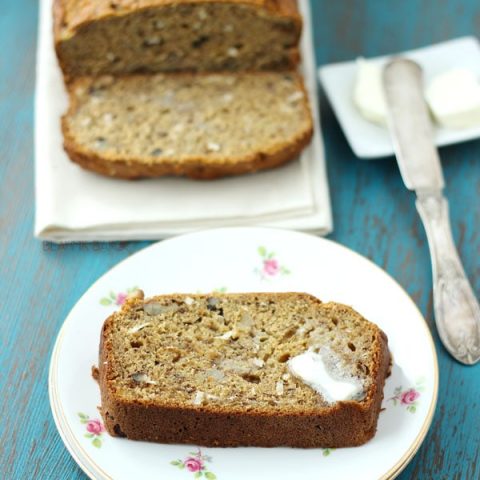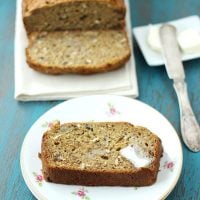 Yield: 1 9x 5 loaf
Banana Coconut Bread
This banana coconut bread is soft, moist and of course bursting with coconut flavor!
Ingredients
2 cups white whole wheat flour
1 ¼ teaspoon baking soda
¼ teaspoon salt
½ teaspoon cinnamon
2 large eggs, lightly beaten (at room temperature)
¾ cup brown sugar
½ cup coconut oil (measure solid and melted)
½ cup greek yogurt
1½ cups mashed bananas, about 3 medium very ripe bananas
1 tablespoon pure vanilla extract
¼ cup coconut flakes (I used unsweetened, toasted)
¾ cups chopped walnuts
Instructions
Preheat oven to 350 degrees F. Grease a regular loaf pan (9 x 5) and line with parchment paper. Grease parchment.
In a medium bowl, whisk together the flour, baking soda, salt and cinnamon.
In the bowl of an electric mixer, beat the eggs and sugar on medium speed until light and fluffy, about 5 minutes. Reduce speed to low and slowly add the oil. Mix in yogurt, bananas and vanilla extract and beat until combined. Using a rubber spatula, fold in flour mixture, coconut and walnuts. Make sure there are no flour streaks in the batter.
Pour batter into prepared loaf pan. Bake until golden brown and a tester inserted into the center comes out clean, about 45 minutes. Let cool in pan for 30 minutes before releasing from pan.