Chocolate Cake Recipe
Be warned, this is not a post about football. It is about a chocolate cake recipe. I just used the Superbowl as an excuse to bake and decorate a cake (like I need an occasion, right?)
My next project after these perfect vanilla cupcakes was to hunt for a good chocolate cake recipe. I don't care much for chocolate…yes I know it is insane, but it's just not my thing. However, I knew as a budding baker, I should have a go-to chocolate cake recipe under my belt for my family who devour chocolate cake like it's their job.
Well, I am glad to say that I have found the one!
Mr. J and I just moved into a new apartment and our friends were so helpful on that cold January day. I wanted to send them some cupcakes along with thank-you cards. And I also wanted to bake a football-themed cake.
This chocolate cake recipe is from Ina Garten, and I made a double batch.  I was able to get two 8′ square cakes and 36 cupcakes, killing two birds with one stone.  I used my favorite go-to frosting; a Swiss Meringue buttercream, with a chocolate addition. This chocolate cake is moist, rich, fluffy and yet not too sweet.
 'It is the best chocolate cake I have ever had' – Mr J.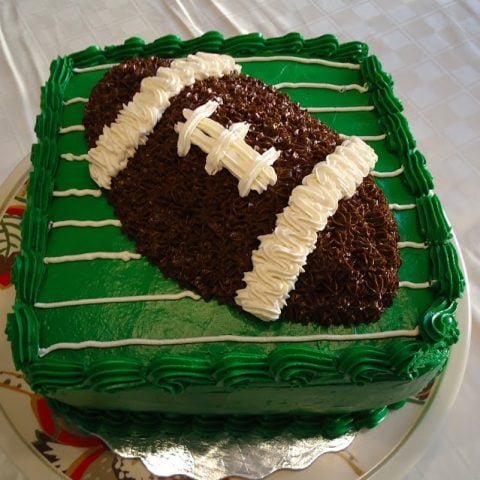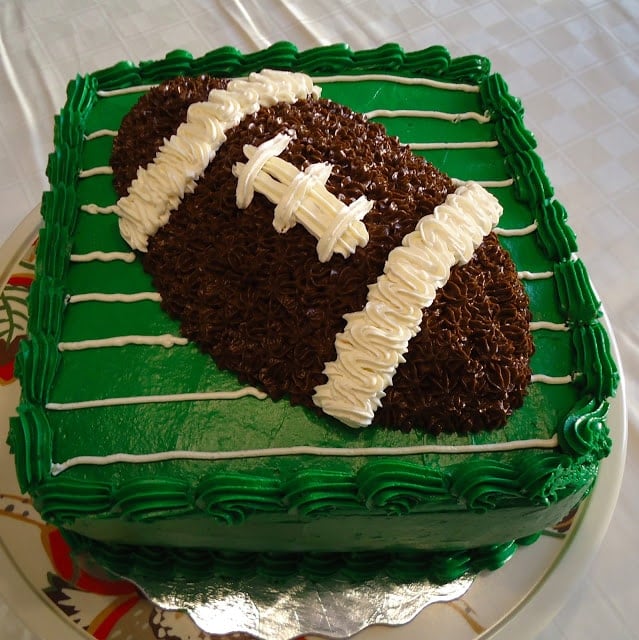 Yield: 1 8-inch layered cake
Chocolate Cake Recipe
Prep Time 45 minutes
Cook Time 30 minutes
Ingredients
1 ¾ cups all-purpose flour, plus more for pans
2 cups granulated sugar
¾ cup cocoa powder
1 teaspoon kosher salt
1 teaspoon baking powder
2 teaspoons baking soda
1 cup buttermilk
½ cup vegetable oil
2 large eggs, at room temperature
1 teaspoon pure vanilla extract
1 cup freshly brewed hot coffee
6 large egg whites, room temperature
1 1/2 cups sugar
2 cups (4 sticks)  unsalted butter, room temperature
1 teaspoon pure vanilla extract
9 ounces melted and cooled bittersweet chocolate
Instructions
Chocolate Cake

Preheat the oven to 350 degrees F. Butter two 8-inch square cake pans. Line with parchment paper, then butter and flour the pans. (I use Pam's Baking spray and there is no need to flour pans.)
Sift the flour, sugar, cocoa, baking soda, baking powder, and salt into the bowl of an electric mixer fitted with a paddle attachment and mix on low speed until combined. In another bowl, whisk the buttermilk, oil, eggs, and vanilla. With the mixer on low speed, slowly add the wet ingredients to the dry. With mixer still on low, add the coffee and stir just to combine, scraping the bottom of the bowl with a rubber spatula. Pour the batter into the prepared pans and bake for 25 to 30 minutes, until a cake tester comes out clean. Cool in the pans for 10 minutes, then turn them out onto a cooling rack and cool completely.

Chocolate Swiss Meringue Buttercream

Whisk together sugar and egg whites in a heatproof mixing bowl set over simmering water.
Whisk until war, and sugar is dissolved, 2-3 minutes. Mixture should feel completely smooth when rubbed between your fingers.
With an electric mixer on medium speed, whisk egg-white mixture 5 minutes. Increase speed to medium-high, and whisk until stiff, glossy peaks form and meringue is cooled, about 6 minutes.
Reduce speed to medium. Add butter, 2 tablespoons at a time beating well after each addition.
Continue whipping the buttercream until it comes together. The butter will take a few minutes to blend but keep whipping, it will. (Be patient with it and as long as you added the butter after the meringue is cooled, it will come together with whipping).
Frost and decorate the cake as desired.
Notes
You can bake this cake in round cake pans as well.
Enjoy!!