Strawberry Cake with Strawberry Meringue Buttercream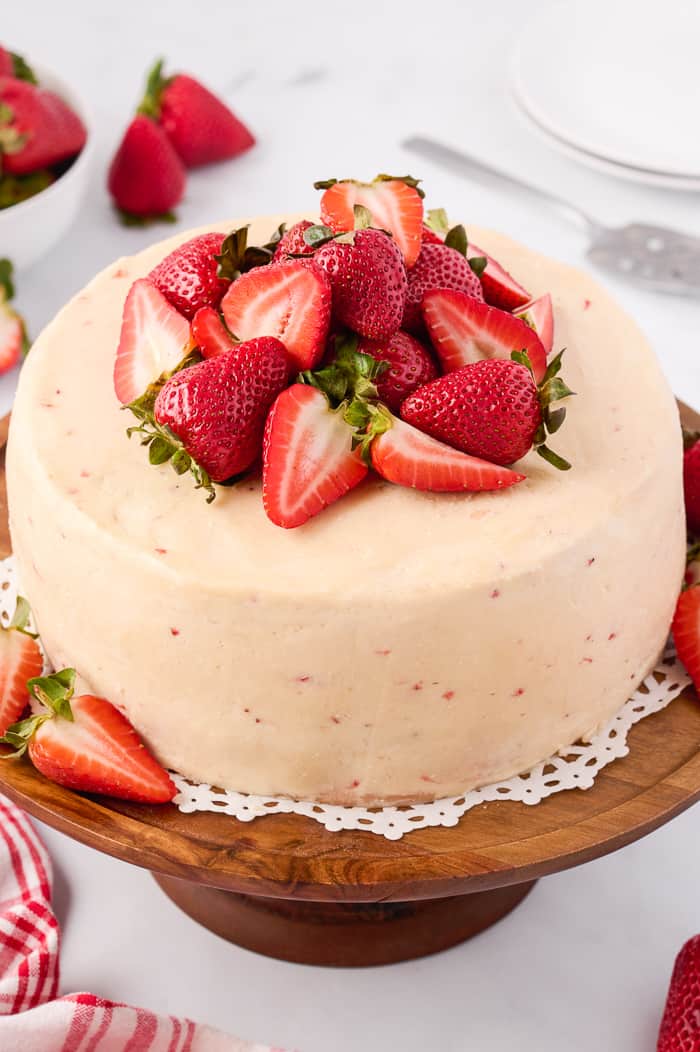 This weekend was a busy one. One of my best friend's sisters was in town, and it was her birthday. She loves strawberries, and even though it's the middle of winter, I decided to make her this strawberry cake with strawberry meringue buttercream.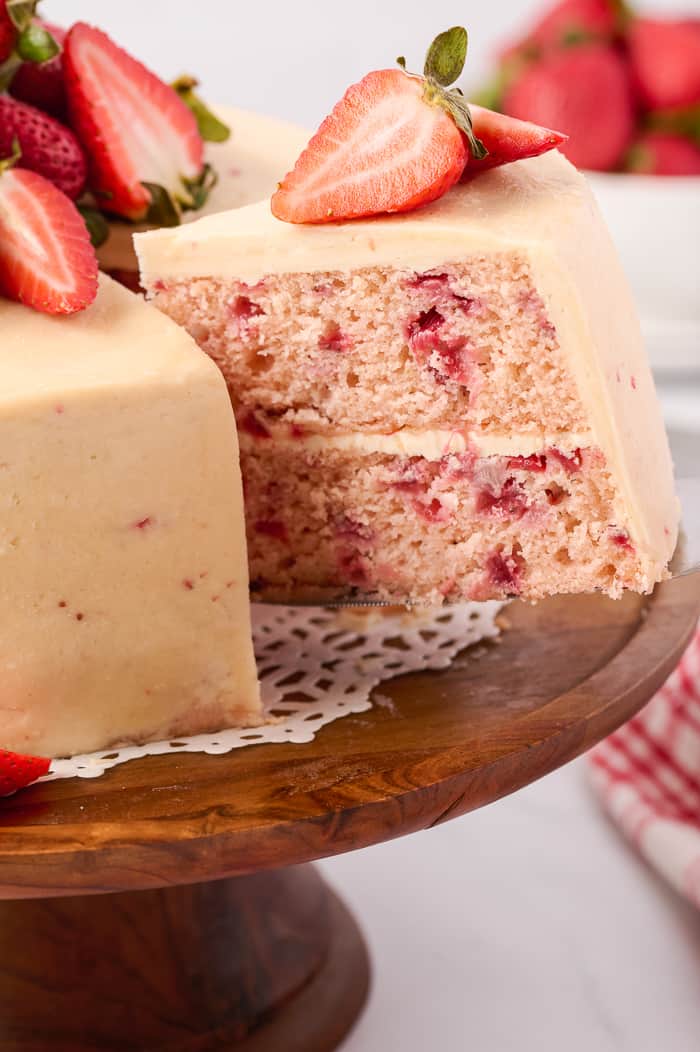 I love baking cakes over the weekend. While cakes can be a labor of love, you can spread out the process over the course of a couple of hours or a day or two. For this strawberry cake, I actually baked it in about two hours. It's so easy and, for me, a definition of quick delightful baking!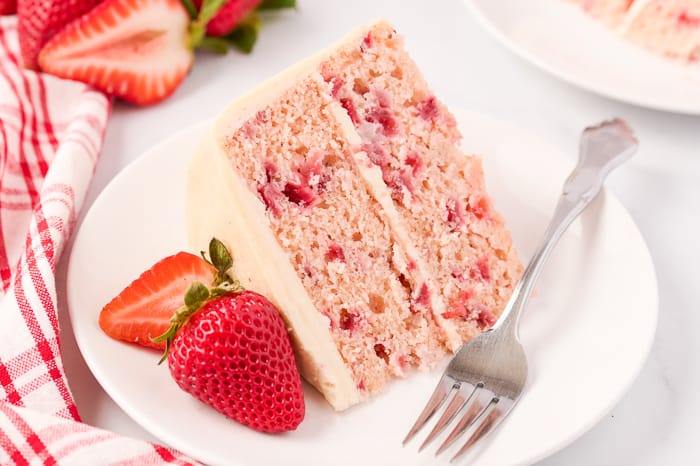 A soft, tender, and delicious cake is infused with fresh diced strawberries. The cake is then wrapped in a silky swiss meringue buttercream, infused with fresh strawberries. Let's walk through how to make this strawberry cake, shall we??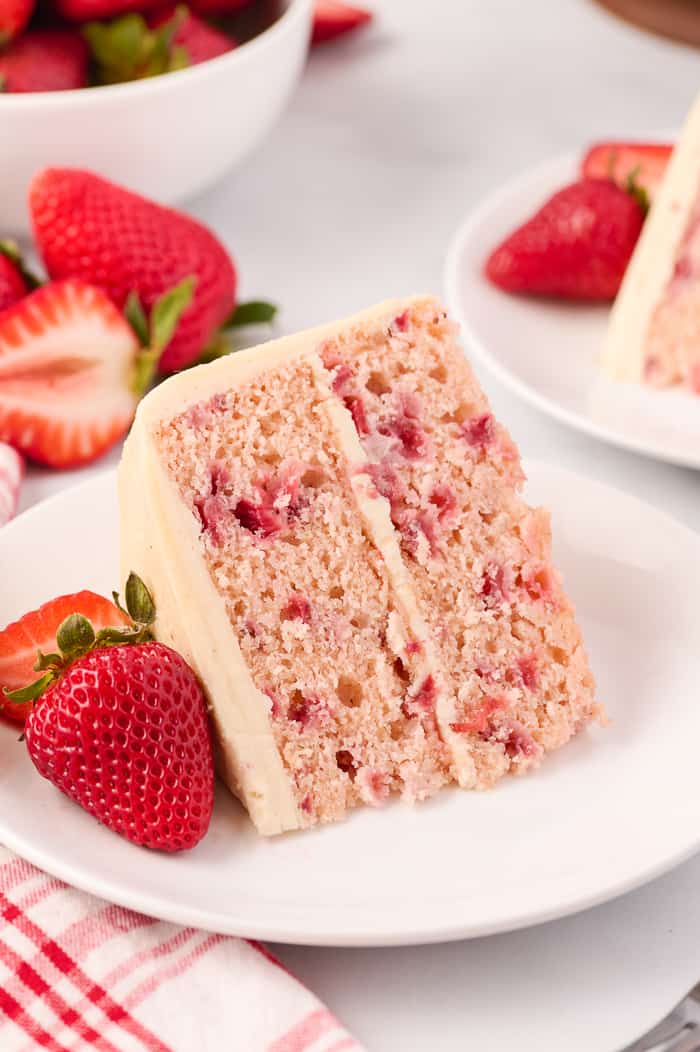 First, as usual, we gather all our ingredients.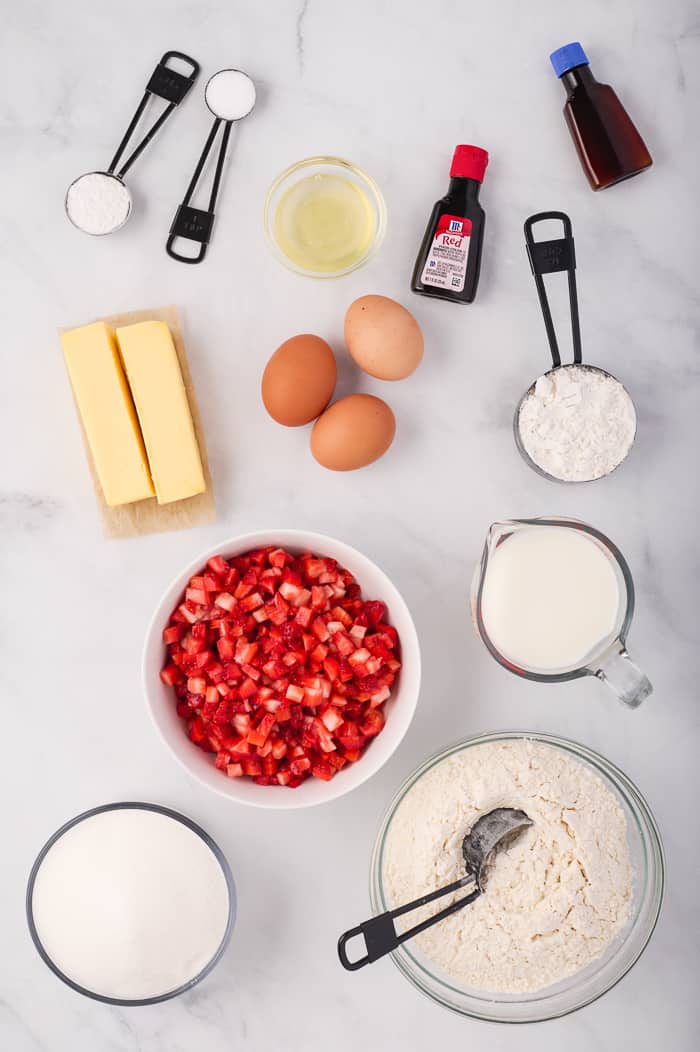 Combine your dry ingredients. Whisk them well together.
In another bowl, whisk the wet ingredients together.
let's start by creaming the sugar and butter together. You want the butter to be light and fluffy.
Add in the eggs and egg whites, one at a time, and mix until just incorporated. if you are using food coloring, add it in now.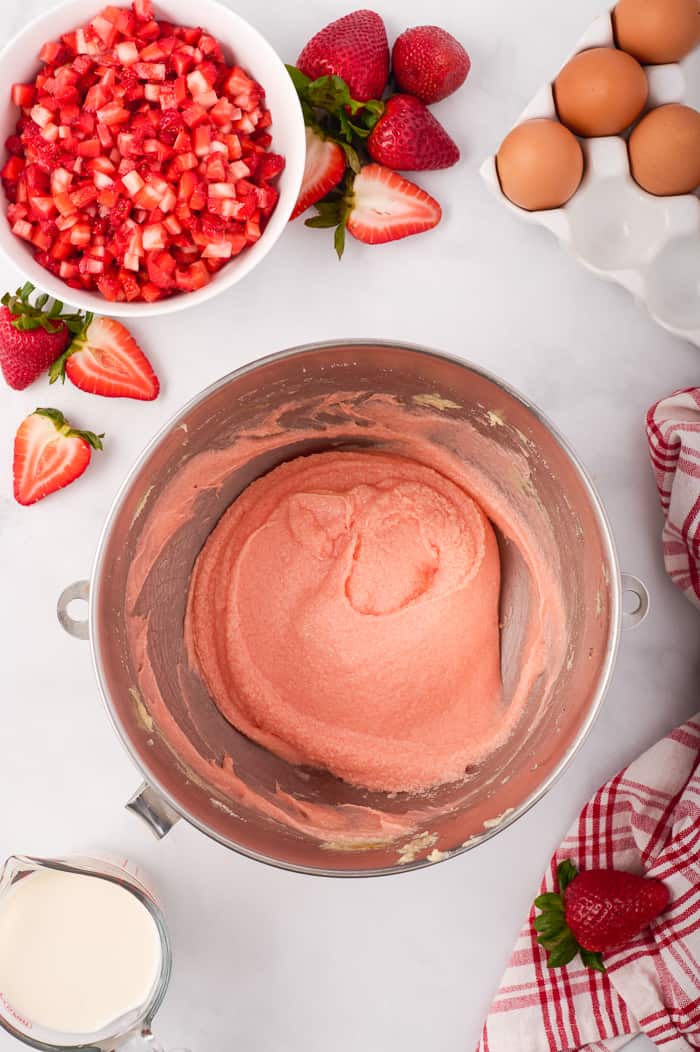 Next, we alternate our wet and dry ingredients and incorporate them until we have a batter. Please don't overmix your batter.
Finally, fold the diced strawberries into the batter. And by fold, I mean mix it in gently by hand.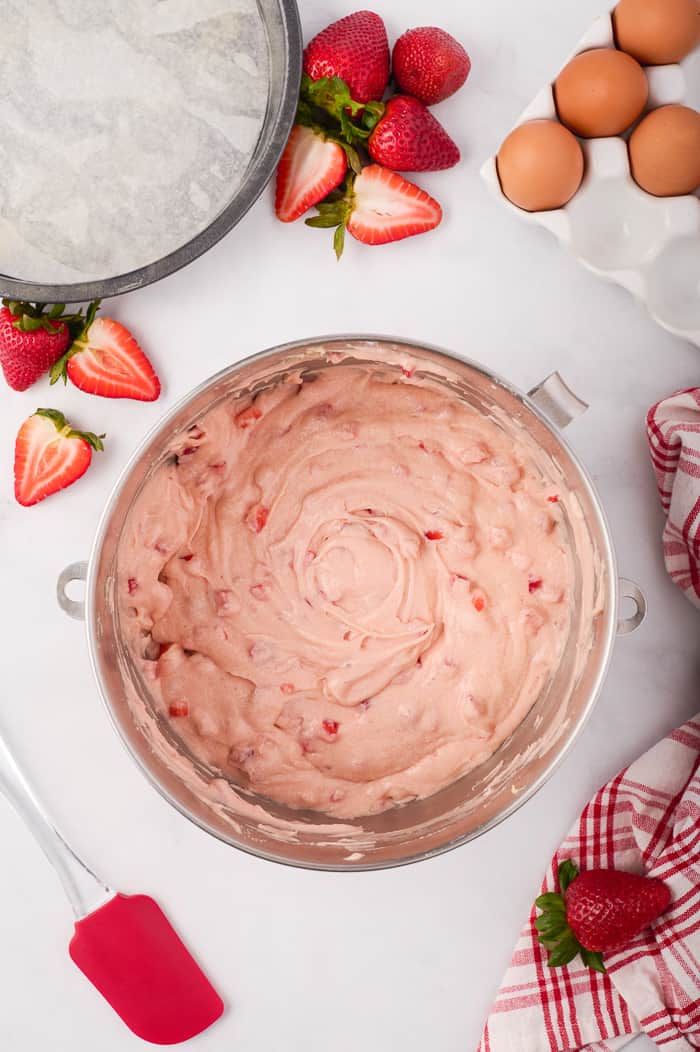 Transfer to your cake pans.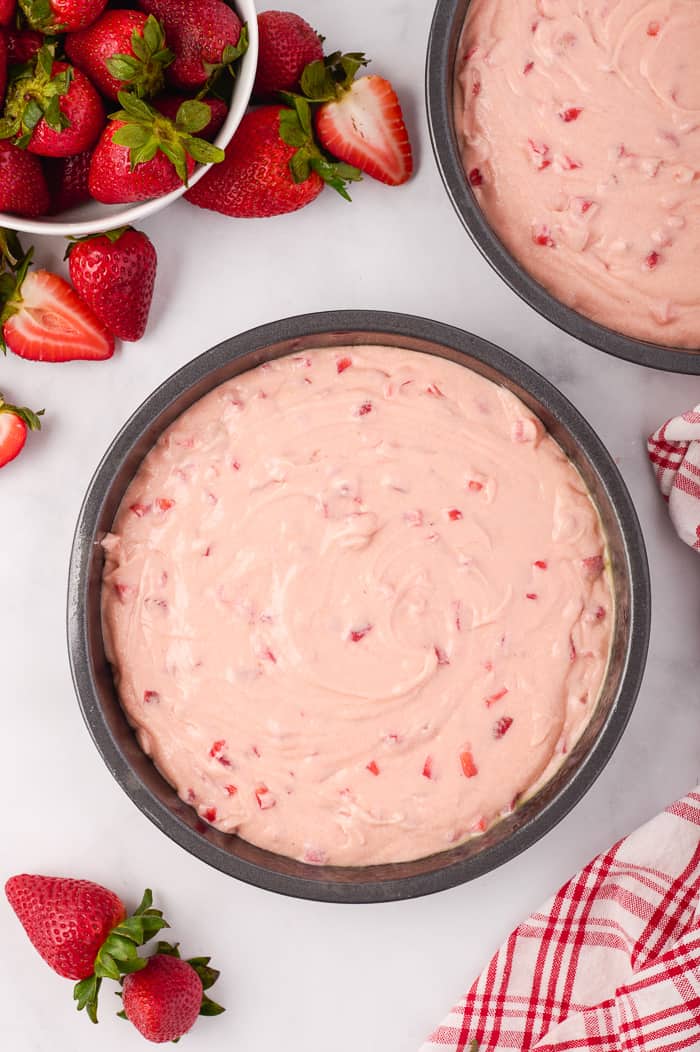 Bake and let cool while you get the frosting together.
You cook the sugar and egg whites together for the swiss meringue buttercream until the sugar dissolves.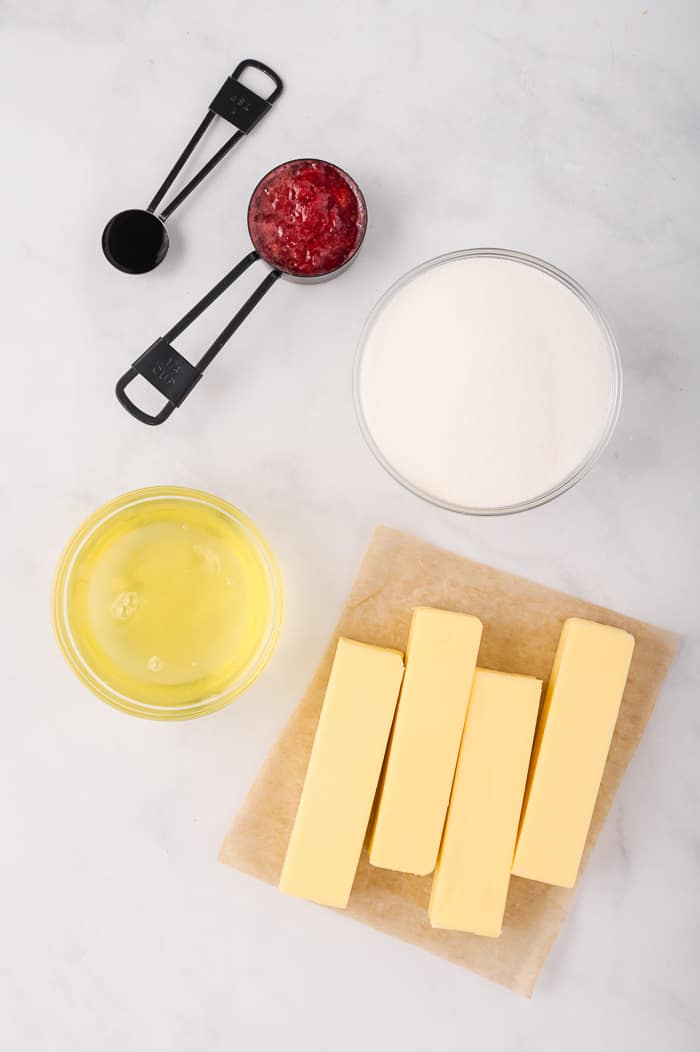 Whisk on high speed until stiff peaks form.
Then, beat in the butter, one piece at a time, until it is incorporated.
Add in your vanilla extract and then strawberry puree. I skipped the strawberry puree for the pictures.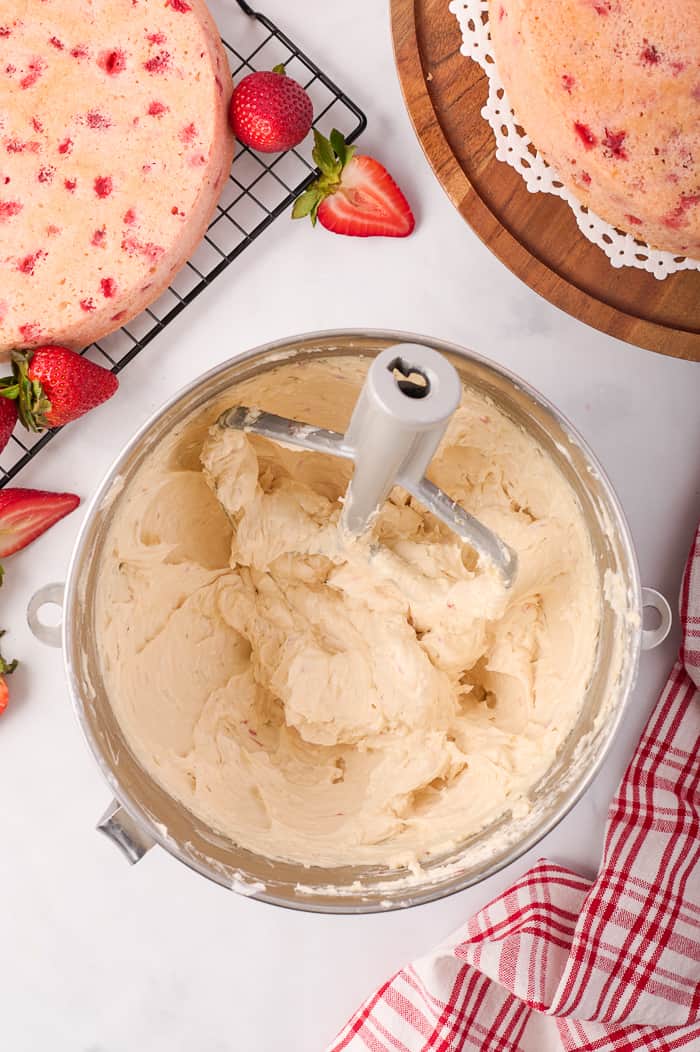 Finally, use the buttercream to frost the cake.
Enjoy this wonderful spring and summer cake!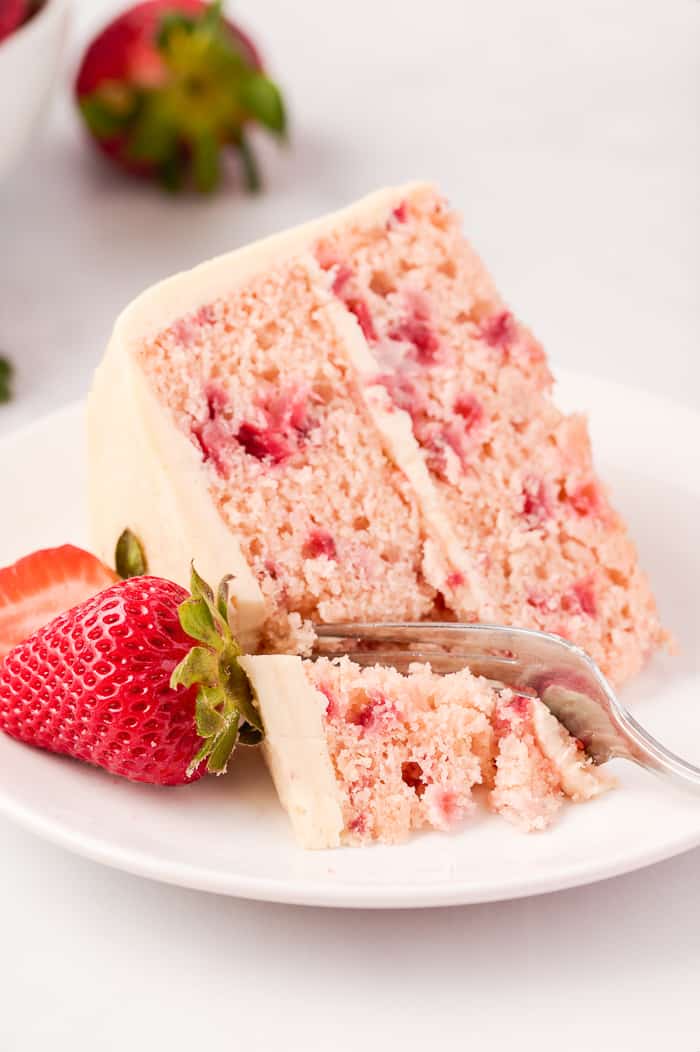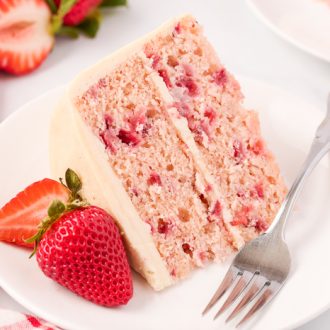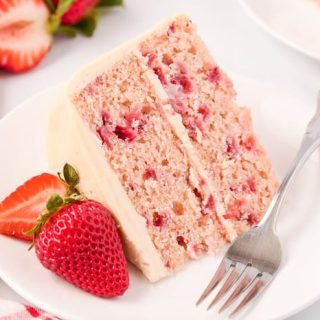 Yield: 1 9-inch round cake
Strawberry Cake with Strawberry Meringue Buttercream
Additional Time
20 minutes
Total Time
1 hour
30 minutes
Ingredients
FOR STRAWBERRY CAKE
2 3/4 cup all-purpose flour
1/2 cup cake flour
1 tablespoon baking powder
1 teaspoon salt
11/2 teaspoon pure vanilla extract
1 cup whole milk, at room temperature
1 cup (2 sticks) unsalted butter, at room temperature
2 cups granulated sugar
3 large eggs, at room temperature
1 large egg white
2-3 drops red food coloring (optional)
2 cups finely diced strawberries (mince these for better incorporation)
FOR THE STRAWBERRY SWISS MERINGUE BUTTERCREAM:
5 large egg whites
1 1/4 cup granulated sugar
2 cups (4 sticks) unsalted butter, softened
1 teaspoon pure vanilla extract
1/4 cup strawberry puree or preserve (to make puree, cook down 1/2 cup fresh strawberries with 2 tablespoons of sugar.
Instructions
FOR THE CAKE:
Preheat oven to 350 degrees F. Grease two 9-inch round cake pans (or 3 8-inch round cake pans) with baking spray and line with parchment paper. Grease parchment paper.
In a large bowl, sift (please do!) together with the flours, baking powder, and salt. In a large mixing cup, whisk together the whole milk and vanilla extract.
In the bowl of an electric mixer, cream the butter and sugar together over medium speed until light and creamy, about 3-5 minutes.
Beat in the eggs and egg white, one at a time, scraping down the bowl after each addition.
If you are using food coloring, add in 3-4 drops of food coloring.
Reduce speed to low. Alternately add in the flour and milk mixture, starting and ending with the flour. Mix well after each addition.
Gently fold in the diced strawberries into the batter.
Divide batter into the prepared pans.
Bake cakes until a toothpick inserted into the center come out clean, about 25 minutes.
Let cakes cool in the pan for 10 minutes before turning onto a wire rack. Cool completely.
FOR THE SWISS MERINGUE BUTTERCREAM
Whisk together sugar and egg whites in a heatproof mixing bowl set over (not in) a pan of simmering water. Whisk until warm and sugar is dissolved (mixture should feel completely smooth when rubbed between your fingers), 2 to 3 minutes. Remove from heat.
With an electric mixer on medium speed, whisk egg white mixture for about 5 minutes (using the whisk attachment). Increase speed to medium-high, and whisk until stiff, glossy peaks form and meringue has cooled (test by feeling bottom of the bowl), about 6 minutes.
Reduce speed to medium and switch to the paddle attachment. Add butter, one piece at a time, beating well after each addition.
Keep beating until the buttercream comes together (IT WILL COME TOGETHER). Once it does, beat in vanilla extract and strawberry puree until smooth and silky.
Use immediately or store in an airtight container in the fridge for up to a week.
TO ASSEMBLE:
Level the cakes if needed.
Onto a cake stand, place the first layer of cake. Evenly spread about 1/2 cup buttercream on top. Top with the rest of the strawberry compote. Add the top layer of cake with the top of the cake down. Crumb coat the cake with a thin layer of buttercream.
Then spread the icing evenly and frost the cake. Decorate as desired with fresh strawberries.
The cake will store in an airtight container at room temperature for up to 3 days or refrigerated.
Notes
Cake adapted from Bon Appetit.