Vanilla Cupcakes with Cream Cheese Frosting
These vanilla cupcakes with cream cheese frosting are moist, light and crumbly. It is a simple and classic cupcake recipe everyone needs!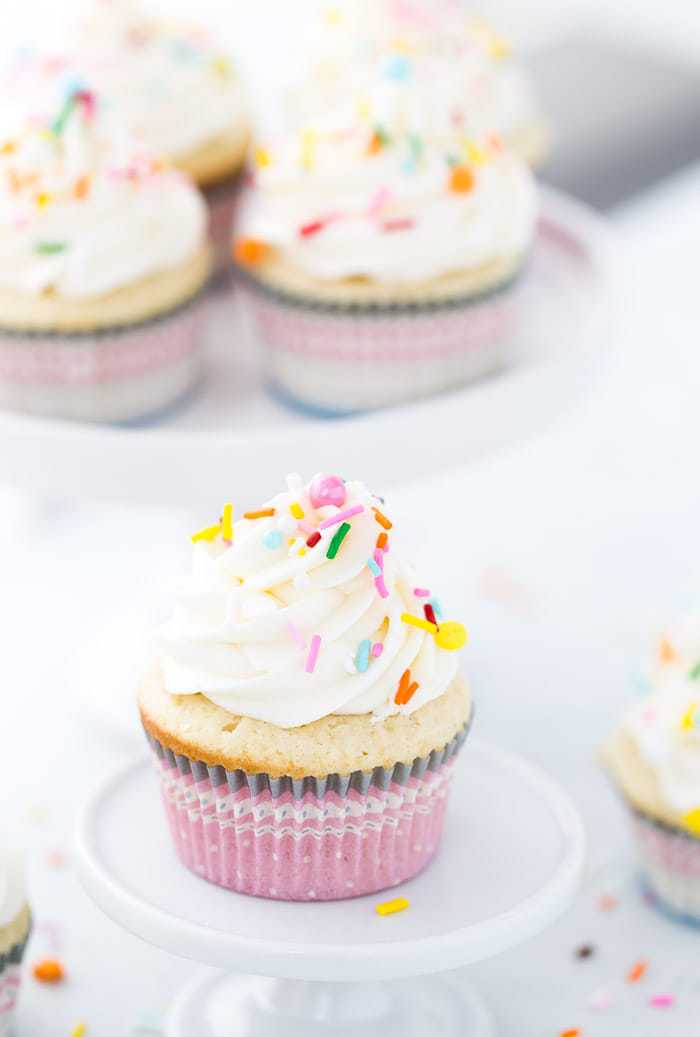 I am always looking for a great vanilla cupcake recipe since I started learning to bake. These vanilla cupcakes with cream cheese frosting were a new adventure in my kitchen and I LOVE them. They are so easy to make and tastes just like a bakery favorite.
To start, these cupcakes are moist and crumbly. This recipe uses cake flour which makes cupcakes light and yet crumbly. It is a perfect touch to any cake or cupcake. We also use a combination of vegetable oil and buttermilk. Both which make these vanilla cupcakes moist and delicious.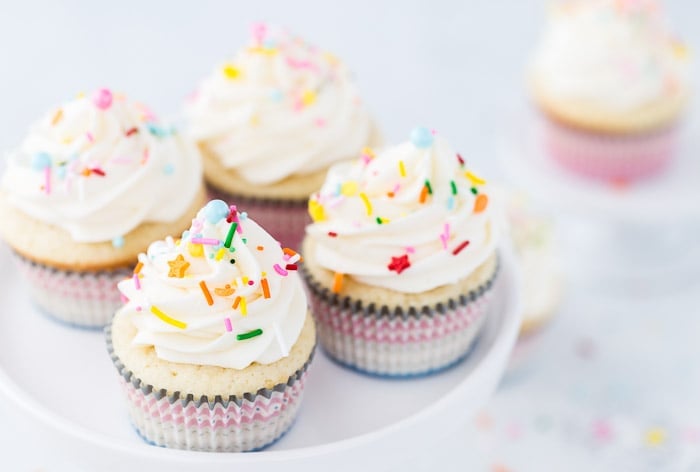 Finally, these cupcakes are topped with a sweet and creamy cream cheese frosting. This frosting has a bit of butter to it which makes it slightly buttery and also easy to pipe and handle.
After several weeks of trying vanilla cupcake recipes, I am happy to share one that I truly love. This vanilla cupcakes with cream cheese frosting recipe gives a flavorful vanilla cake that is moist, yet light and fluffy. It is simple and I love it. It will become my go-to vanilla cake. The recipe is from Glory of Glorious Treats.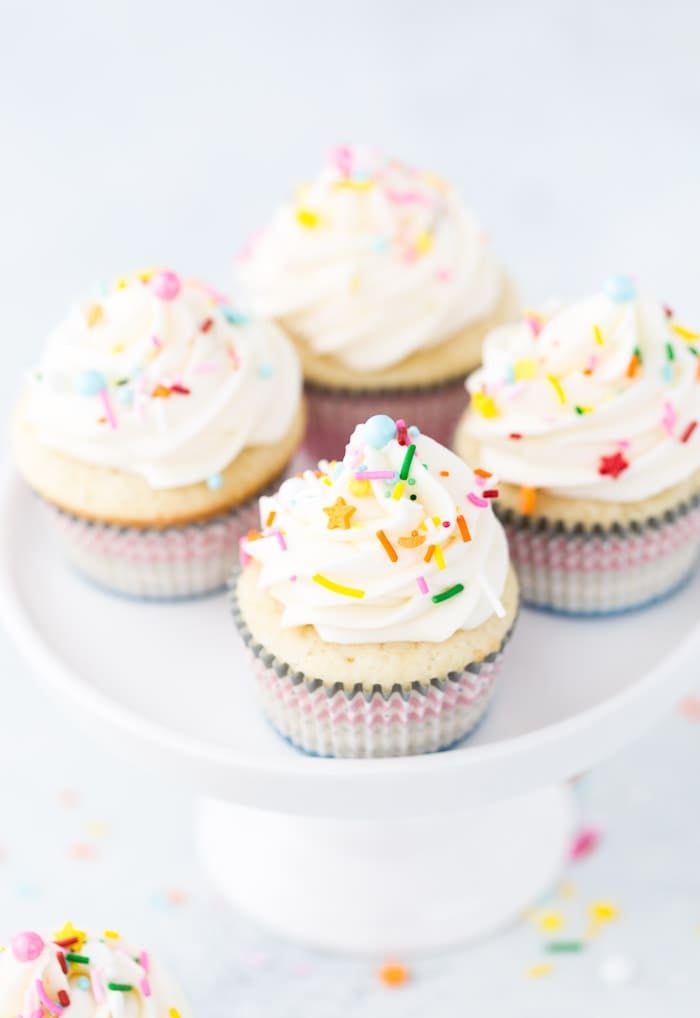 Enjoy these vanilla cupcakes with cream cheese frosting!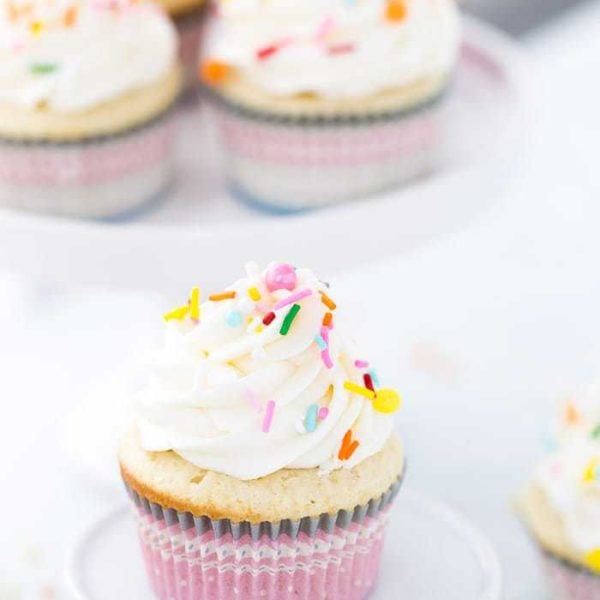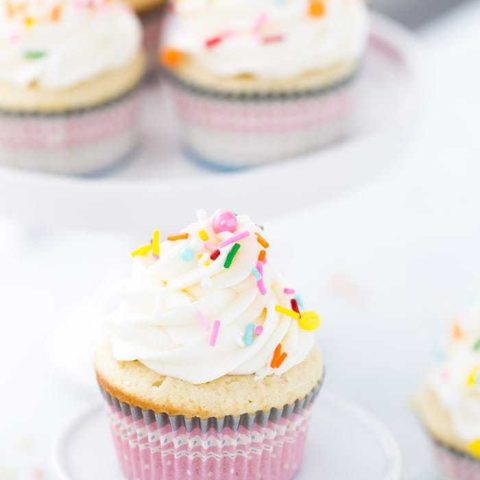 Yield: ~15 cupcakes
Vanilla Cupcakes with Cream Cheese Frosting
Ingredients
For the Cupcakes:
1¼ cups cake flour
1¼ teaspoons baking powder
½ teaspoon baking soda
½ teaspoon salt
2 large eggs, at room temperature
¾ cup granulated sugar
1½ teaspoons pure vanilla extract
½ cup oil (vegetable, canola or extra light olive oil)
½ cup buttermilk, at room temperature
(or ½ cup milk plus ½ teaspoon white vinegar or lemon juice- add acid to the milk then set aside for 5 minutes before using)
For the Frosting:
8 ounces cream cheese, at room temperature
1/2 cup unsalted butter, at room temperature
¼ teaspoon salt
4 cups powdered sugar, sifted
2 teaspoons pure vanilla extract
2-3 tablespoons heavy cream
Instructions
Preheat oven to 350 degrees F. Line a muffin tin with cupcake liners.
In a medium bowl, sift together cake flour, baking powder, baking soda and salt.
In the bowl of an electric mixer, add eggs and beat 10-20 seconds. Add sugar and continue to beat on medium speed about 30 seconds. Add vanilla and oil, beat until combined.
Reduce mixer speed to low and slowly alternate the flour mixture and buttermilk, beginning and ending with the flour mixture. add about half of the flour mixture. Beat until just combined. Scrape down the side of the bowl as needed.
The batter will be thin. Divide batter into prepared muffin tins. Fill liners about ⅔ full.
Bake cupcakes for about 12-14 minutes or until a toothpick inserted in center comes out clean.
Cool in pan 1-2 minutes, then remove cupcakes from pan (carefully) and finish cooling on a wire rack.
For Frosting
In the bowl of an electric mixer, beat butter and cream cheese on medium high until completely smooth about 2-3 minutes.
Reduce speed to low and add salt and 2 cups of sugar, one cup at a time. Beat until combined.
Add vanilla, 1 tablespoon of heavy cream and beat to combine.
Add the remaining sugar and heavy cream and beat until desired piping or spreading consistency. If buttercream is not thick enough, place in fridge for 20mins.
Frost cooled cupcakes with cream cheese frosting.
Notes
Cupcakes adapted from Glorious Treats
Recommended Products
As an Amazon Associate and member of other affiliate programs, I earn from qualifying purchases.
This post has been updated since it was originally posted in 2013. Images and recipe were updated but the text is still the same. For newer vanilla cupcake recipes, check out these below:
Vanilla Cupcake with Whipped Vanilla Bean Frosting
Vanilla Cupcakes with Strawberry Mascarpone Frosting