Vanilla Anise Cupcakes
These vanilla anise cupcakes are moist and fluffy with a delicate combination of the sweet and aromatic flavors of anise, almond and vanilla!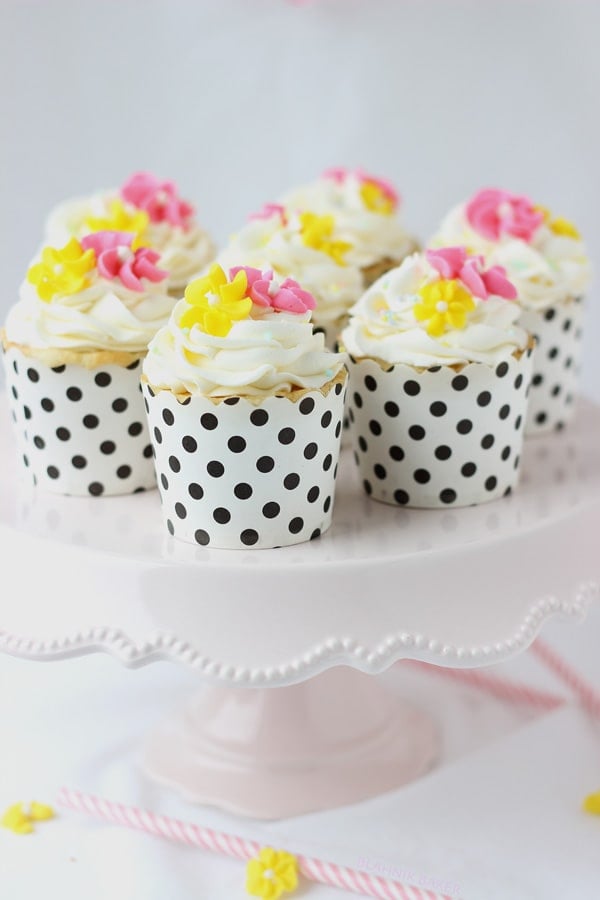 Cupcakes are always so much fun to make (and decorate!!) and I think I caught the bug after these vanilla cupcakes with whipped vanilla bean frosting a few weeks ago. I decided to play with a basic vanilla recipe and try a new flavor. These vanilla anise cupcakes were born and seemed perfect to bring along to a virtual baby shower!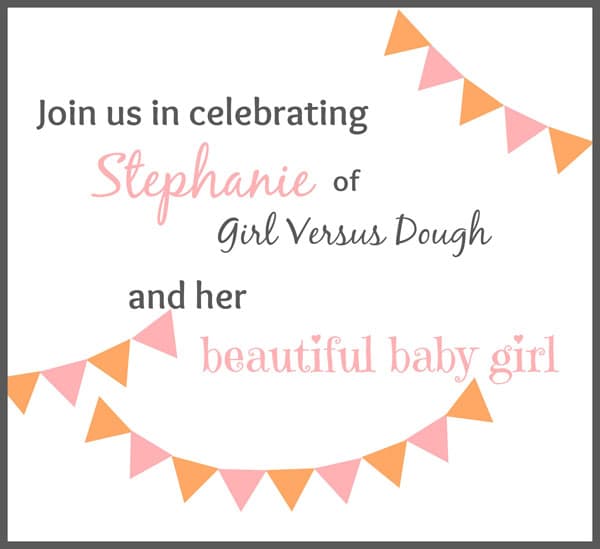 SURPRISE!! You are invited to a virtual baby shower in honor of Stephanie of Girl Versus Dough who is expecting a beautiful baby girl!! I'm so honored to be a part of this party as Stephanie is a food blogger I highly admire and I'm always inspired by her creative recipes, pictures and writing. Above all she is very kind, sweet and supportive to others, especially to a newbie blogger like myself.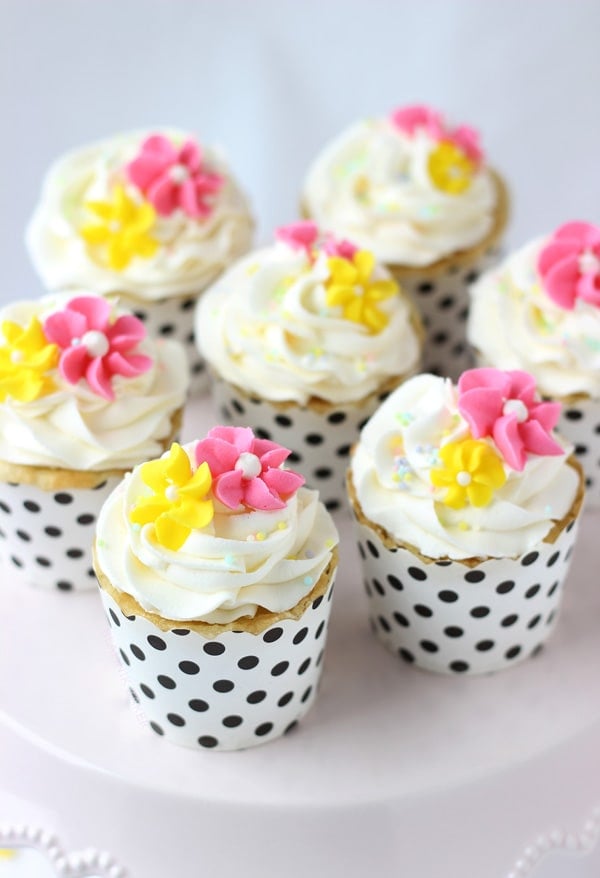 In light of Stephanie's sweet nature, I wanted to bring something delicate, beautiful and delicious (of course) to her baby shower. These vanilla anise cupcakes are just that and will be perfect for any baby shower. You guys the combination of vanilla, almond and anise in these cupcakes is just wonderful. Let me break it down…I started with a moist and fluffy vanilla-almond cupcake which is then topped with a creamy whipped vanilla anise frosting. I made my anise frosting with milk infused with anise seeds I received from my friend Renee giving the frosting the sweet and aromatic flavor of anise without overpowering the cupcake. You could add anise in the cupcakes as well but I chose to just have it in the frosting to allow the vanilla and almond to blend together.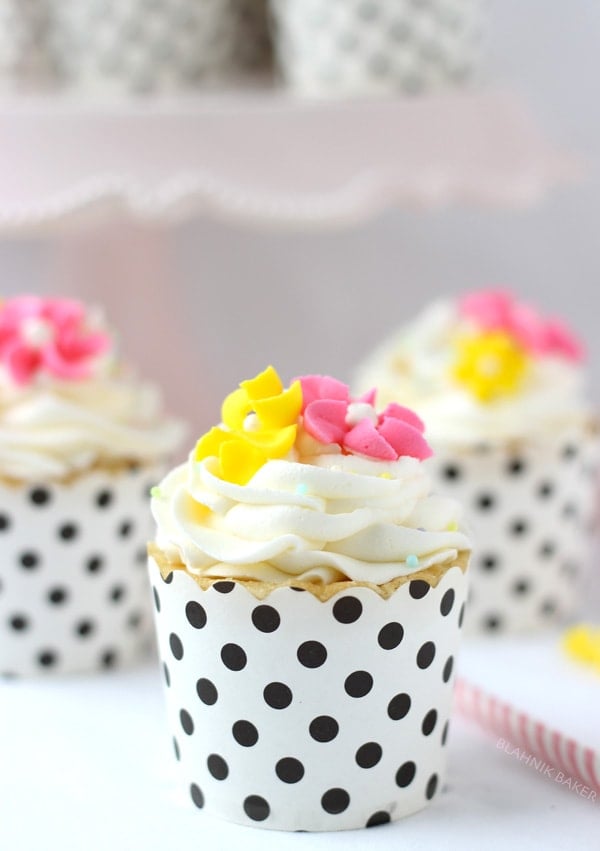 I hope one day I will get the pleasure of meeting Stephanie and her little one! Being an adoptive MN native, I am sure we will make that happen. Until then, enjoy these pretty little cupcakes Stephanie! I hope they are perfect for a little princess and a lovely momma!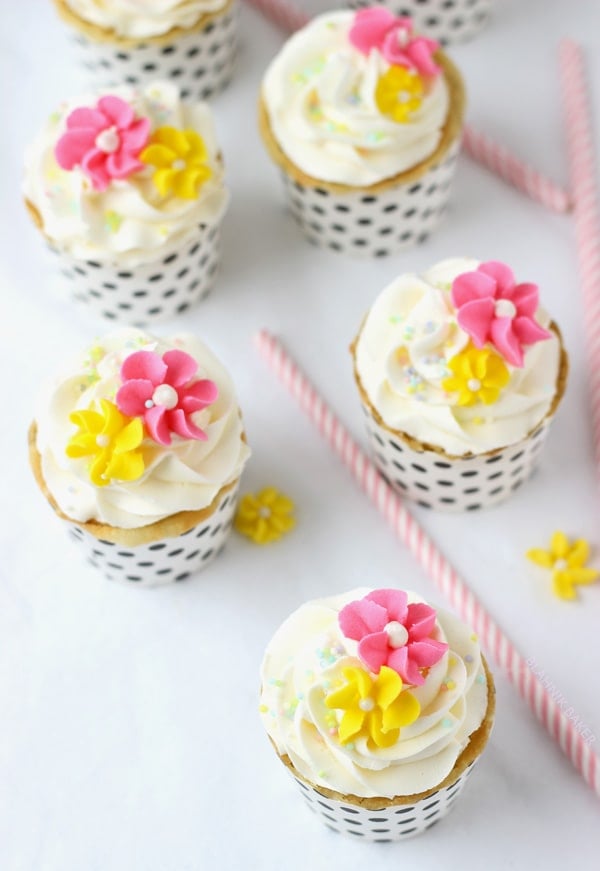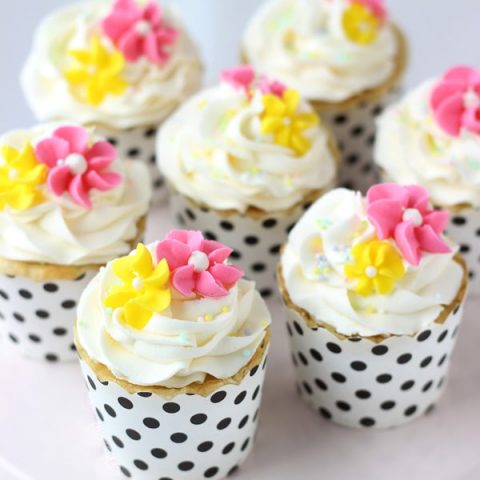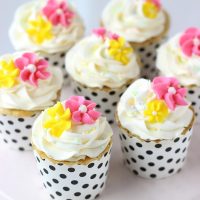 Yield: 15 cupcakes
Vanilla Anise Cupcakes
These vanilla anise cupcakes are moist and fluffy with a delicate combination of vanilla-almond cupcakes topped with whipped anise buttercream.
Ingredients
1 cup cake flour
¾ cup all-purpose flour
1 cup granulated sugar
1 ½ teaspoons baking powder
½ teaspoon salt
½ cup (1 stick) unsalted butter cut into 1-inch cubes, room temperature
2 large eggs, at room temperature
½ cup whole milk, at room temperature
½ teaspoon pure vanilla extract
¼ teaspoon pure almond extract
1 1/2 cup (3 sticks) unsalted butter,
3 cups confectioners' sugar, sifted
2-3 tablespoons milk infused with anise pods (or just use regular milk + ¾ teaspoon anise extract)
1 teaspoon pure vanilla extract
pinch of salt
Instructions
For Cupcakes
Preheat oven to 325 degrees F. Line muffin tins with cupcake liners and set aside.
In the bowl of an electric mixer, combine the dry ingredients and mix on low-speed until well blended.
Increase speed to medium-low and add the cubes of butter, one at a time mixing each one for a few seconds before adding the next. Mix until there are no large chunks.
Add eggs, one at a time and mix well between each addition. In a small mixing bowl, whisk together the milk, vanilla and almond extract. Increase mixer speed to medium and add in the wet ingredients in 3 parts, mixing until incorporated and scraping down the bowls after each addition. DO NOT over beat otherwise you will end up with dense cupcakes.
Divide batter into prepared cupcake liners, filling each about ⅔ full. Bake cupcakes until a toothpick inserted into the center comes out clean, 17-20 minutes. Remove cupcakes from oven and let cool on cooling rack completely before frosting.
For Frosting
I infused my milk with anise for 4-6 hours (aka soaking the dried pods in milk, covered in the refrigerator) before using. If you don't have anise, you can use ¾ teaspoon pure anise extract and 3-4 tablespoons milk.
Whip butter for 8 minutes on medium speed using the paddle attachment of an electric mixer. The butter will become pale and creamy
Add the rest of the ingredients and mix on low-speed for 1 minute. Then increase speed to medium and mix for 6 minutes until the frosting is very light, creamy and fluffy.
Frost cooled cupcakes.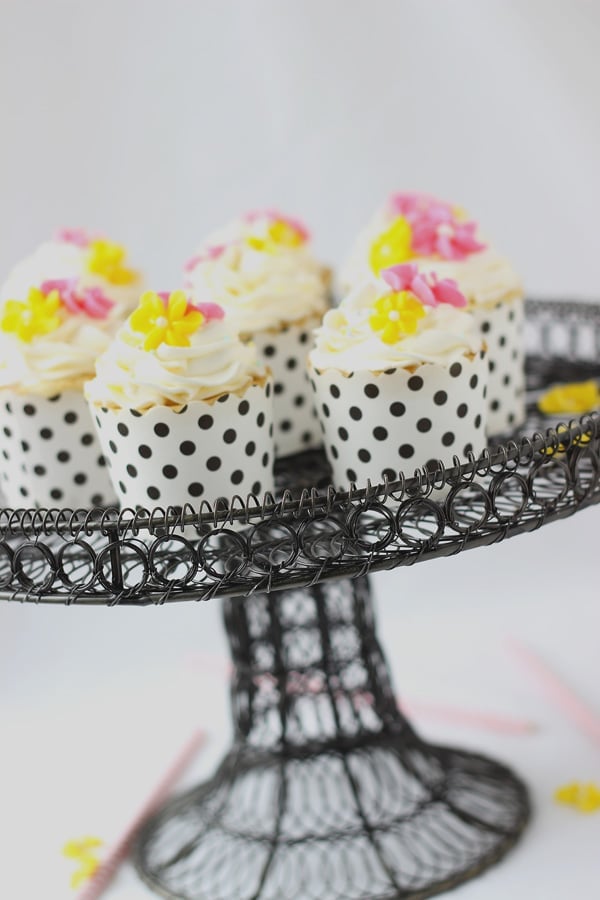 Thank you Stephie, Taylor, and Stef for inviting me to take part in this shower. Be sure to check out all of the delicious recipes created in honor of Stephanie. Below is a list of bloggers participating in the festivities!
Happy Baby Shower Stephanie!!!
Mini Strawberry Cheesecakes from Sarcastic Cooking
Lemon Blueberry Coffee Cake with Lemon Drizzle from Greens & Chocolate
Super Chewy M&M Blondies from The Realistic Nutritionist
Strawberry Cinnamon Twist Knots from A Kitchen Addiction
Lemon Shortbread with Salted Chocolate Drizzle from The Lemon Bowl
Chocolate Cherry Ice Cream from A Zesty Bite
Blackberry and Mango Curd Pie from Joanne Eats Well With Others
Pecan Sticky Buns from Warm Vanilla Sugar
Strawberry Rhubarb Muffins from Garnish with Lemon
Chocolate Chip Pancakes from Susie Freaking Homemaker
Super Simple Sugar Cookies from Espresso and Cream
Raspberry Acai Frozen Margarita from Nutmeg Nanny
Berry Coconut Frozen Yogurt from The Law Student's Wife
Pretty in Pink Buttercream Cups from Keep it Sweet Desserts
Broccoli Salad with Honey Toasted Walnuts from The Roasted Root
Neapolitan Baked Doughnuts from Climbing Grier Mountain
Giant Pink M&M and Raisinette Cookies from Steph's Bite by Bite
No-Bake Rhubarb Cheesecake Parfait Cups from Hungry Girl Por Vida
Strawberry Rhubarb Crisp from A Cedar Spoon
Freckled Strawberry Rhubarb Lemonade from Take a Megabite
Vanilla Anise Cupcakes from Blahnik Baker
Mini Vanilla Bean Layer Cakes from The Baker Chick
Mini Blackberry Hazelnut Meringue Cakes from Eat Your Heart Out