Salted Cashew-Bittersweet Chocolate Tart – Guest Post by URBAN BAKES
A creamy, silky-rich bittersweet chocolate ganache tart topped with a spread of sweetened dulce de leche and a finishing touch of sprinkled salted cashews and sea salt in a tender flaky buttermilk crust.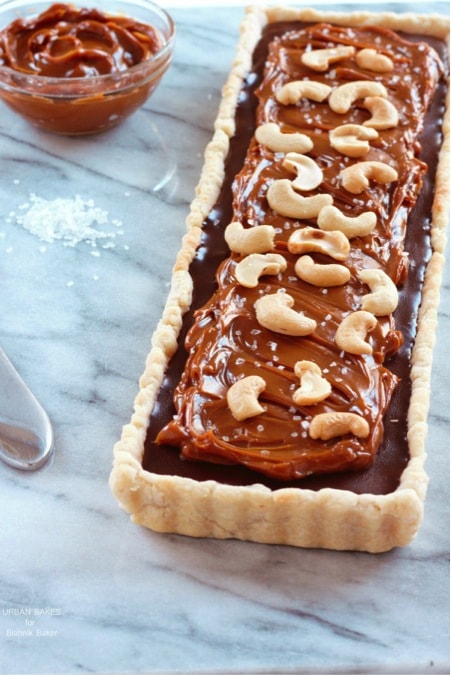 Happy Monday! I hope you are excited to meet a few of my blogging friends as they step in for a few weeks here with scrumptious recipes while I hunker down in books for some school projects. First up is Connie from URBAN BAKES! Connie and I have been friends for only a few months and we've quickly come to realize that we have so much in common beyond our love for pretty baked things and blogging. She is very nice and beyond willing to always help as you can tell she is here on short notice! She is also an amazing baker and I'm always in love with her creations as they are creative, beautiful and well.. oh so drool worthy. A few of my favorites include this valentine rose cake and these speckled Easter cupcakes. I hope you enjoy this salted cashew bittersweet chocolate tart recipe she is sharing with you today. It sure looks amazing! Here is Connie:
*********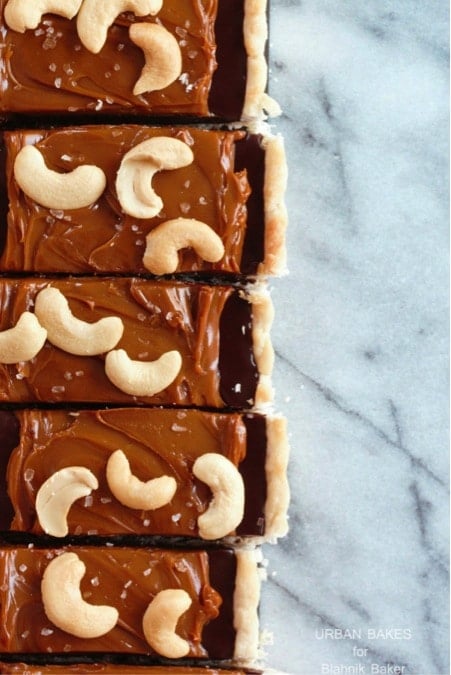 Hey there Blahnik Baker fans!  I'm Connie from URBAN BAKES and I'm thrilled to take the floor today guest posting in Zainab's space while she focuses in school.  She's coming to the tail end of the semester and has plenty of things to keep her occupied.  So while her head is in the books, attending meetings and preparing papers along with her annual presentation, I'm honored to show you a little something I've been craving.
But before I delve right into this luscious chocolate tart, can I take a moment here and to say that I have much respect for Zainab.  Did you know she's studying neuroscience?  Yea!  That alone would give me more than enough reason to take a step back and gear my focus on school too.  That's not an easy topic! So to Zainab, I'd like to say, I wish you all the best and nothing but success!  Get it girl!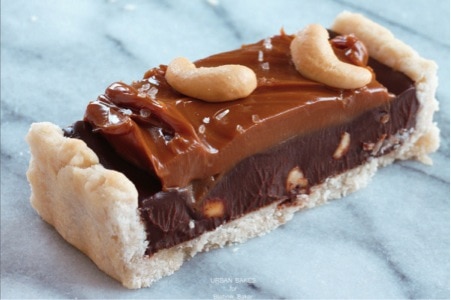 What better way to have a sweet & salty dessert than with chocolate?  I've had my eye on this particular recipe for quite some time.  It's simply perfect.  The original recipe calls for bittersweet chocolate but you may certainly substitute according to your own preference.  Personally, I've never been a huge fan of bittersweet because of its slight bitterness however, the addition of sweetened dulce de leche makes this combination, a perfect match.  The sweetness from caramelized condensed milk makes a huge difference toning the bitter taste down a notch.
Then add chopped salted pecans and VOILA!  Heaven.  You have yourself a creamy, silky-rich bittersweet chocolate ganache topped with a spread of sweetened dulce de leche, and a finishing touch of sprinkled salted cashews and sea salt.  All this in a tender flaky buttermilk crust!  I love this tart!  Best part now that we're coming close to warmer weather is that the oven is only in use for the most 15 minutes and that's including its preheat time!  This recipe is a definite must make, especially if you're a chocolate lover like myself.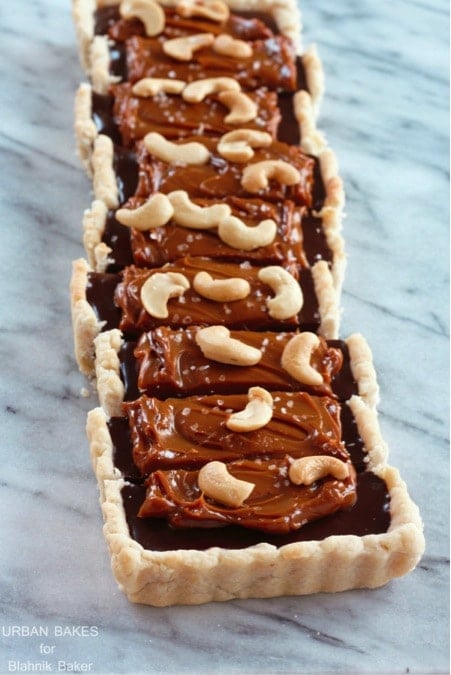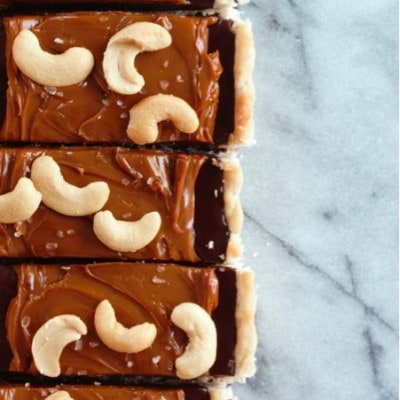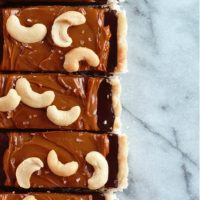 Yield: 8 slices
Salted Cashew-Bittersweet Chocolate Tart
A creamy, silky-rich bittersweet chocolate ganache tart topped with a spread of sweetened dulce de leche and a finishing touch of sprinkled salted cashews and sea salt in a tender flaky buttermilk crust.
Ingredients
• 2 cups + 2 tablespoons all-purpose flour
• 1 teaspoon salt
• ⅔ cup cold shortening
• 5-7 tablespoons cold buttermilk
• 1 ¼ cups whipping cream
• 12 oz (1 ½ cups) bittersweet chocolate chips
• ½ cup salted cashews, chopped + 2 tablespoons cashew halves
• 1 (13.4 oz) can dulce de leche
• ½ teaspoon coarse salt
Instructions
Crust
In a medium bowl, whisk flour and salt. Using a pastry blender or long-tined fork, cut in shortening until the mixture becomes crumbly about the size of small peas. Add buttermilk 1 tablespoon at a time until the mixture leaves the sides of the bowl.
Form pastry dough into a ball and flatten into a disk shape on a floured surface. Cover with cling wrap and cool in fridge for 30 minutes.
Heat oven to 450 degrees F. Roll chilled dough onto a floured surface enough to cover the bottom and rim of the tart pan. Press dough into tart pan using your fingertips. Reroll extra pastry scrapes if necessary to cover any holes. NOTE: do not prick crust.
Bake for 10 to 12 minutes or until crust becomes a light golden brown. If after 5 minutes you begin to see air pockets below the crust, use a wooden spoon or soft spatula to gently press down onto air pockets. Continue to bake. Once done, cool on a wire rack for 20 minutes.
Meanwhile, make filling. In a medium saucepan, heat whipping cream just to a boil. Remove from heat. Add chocolate chips and whisk to combine. Stir in ½ cup chopped cashews.
Pour chocolate mixture into cooled crust and chill in refrigerator for 2 hours or until set.
Once set, spread dulce de leche across top of tart.
Garnish with cashew halves and coarse salt. ENJOY!
 ********
Thank you very much Connie for such a delicious recipe!! I can't wait to give this a try as sweet and salty is one of my favorite combos. I hope you all enjoyed this tart as much as I did. Visit Connie over at URBAN BAKES for more delicious recipes. And be sure to keep in touch with her on Facebook, Twitter and Pinterest.