Vanilla Cupcakes with Strawberry Mascarpone Frosting
These Vanilla Cupcakes with Strawberry Mascarpone Frosting are the perfect cupcakes for Valentine's Day!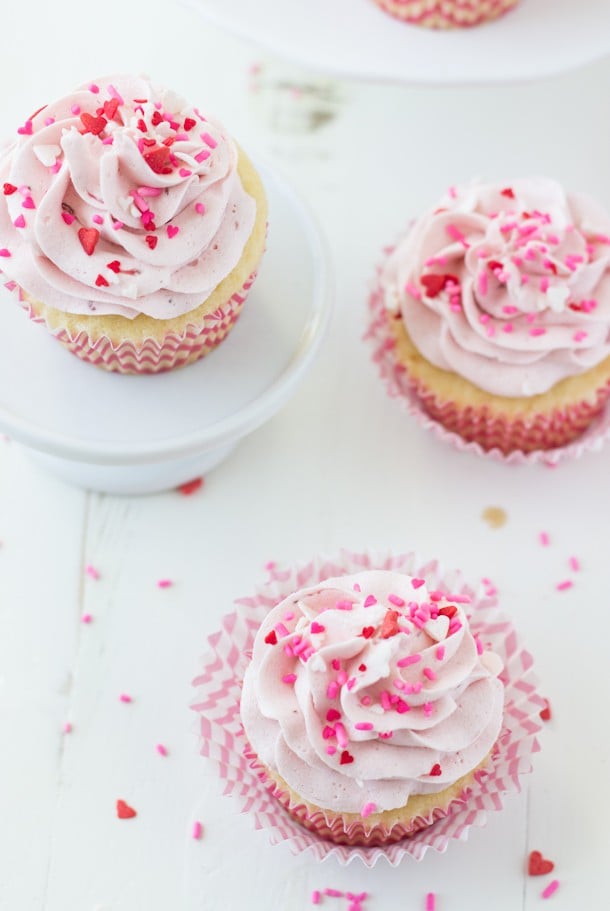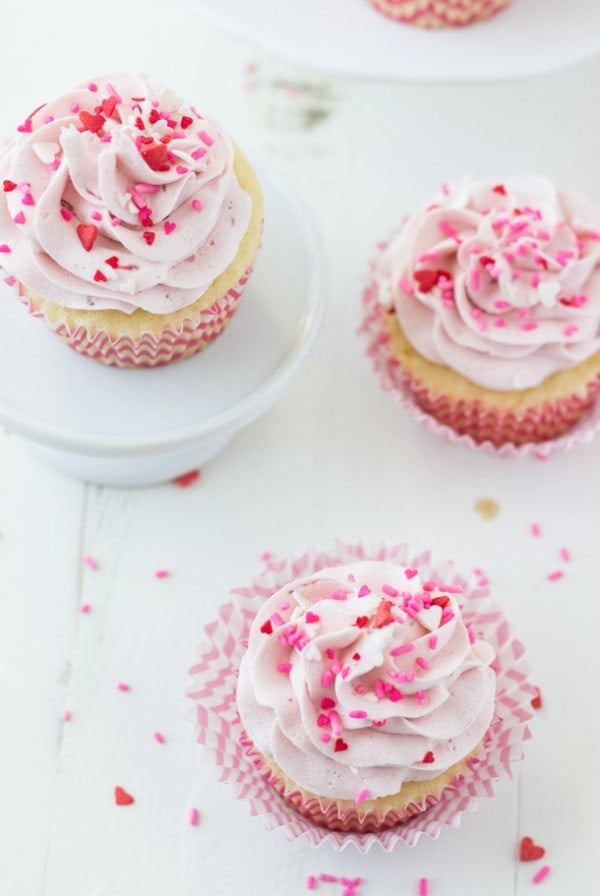 Cupcake wars!! That's how these vanilla cupcakes with strawberry mascarpone frosting came about. How, you ask? Long story … but briefly.
It all started with my foodie labmate. I got a new labmate this summer that is just a foodie at heart like me! I love her! We talk foodie dreams, obsessions and things we are looking forward to trying while in the cell culture room playing with our cells. She's my partner in crime and just gets my love for baking. Just last week, she told me of a cupcake she had a while ago and was planning on remaking. It was a vanilla cupcake with strawberries and mascarpone. I was instantly intrigued by the combination of mascarpone and strawberries and decided to make my version of it while she does the same. We can reconvene on Monday with two cupcakes and have our other labmates judge. (We clearly have too much time on our hands, don't judge!)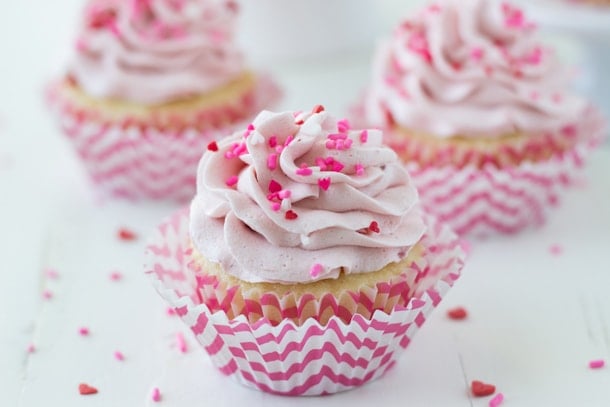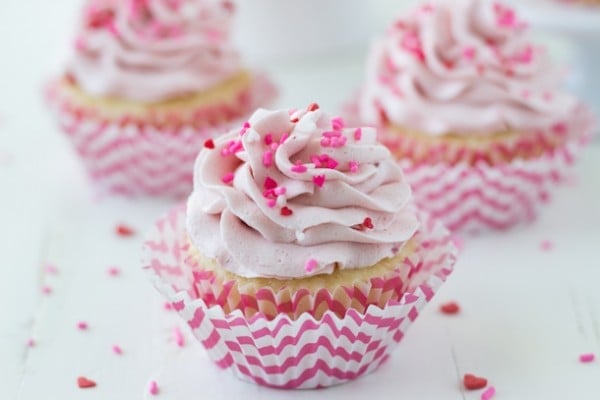 My interpretation is this moist vanilla cupcake (my go-to recipe) topped with a creamy fluffy fresh strawberry mascarpone filling. I have never used mascarpone in a frosting before and I think that's what got me excited to try. The creamy and slightly sweeter nature of mascarpone cheese I must say make it a great addition to frostings. I love it even better than cream cheese as it holds up better in piping.
My friend on the other hand decided to skip the frosting all together. She is making her favorite vanilla cupcakes and filling them with whipped mascarpone and fresh strawberries folded in. I really do love the sound of hers and can't wait to sample it today. We are having a little cupcake war sampling at lunch and I will keep you posted on the results!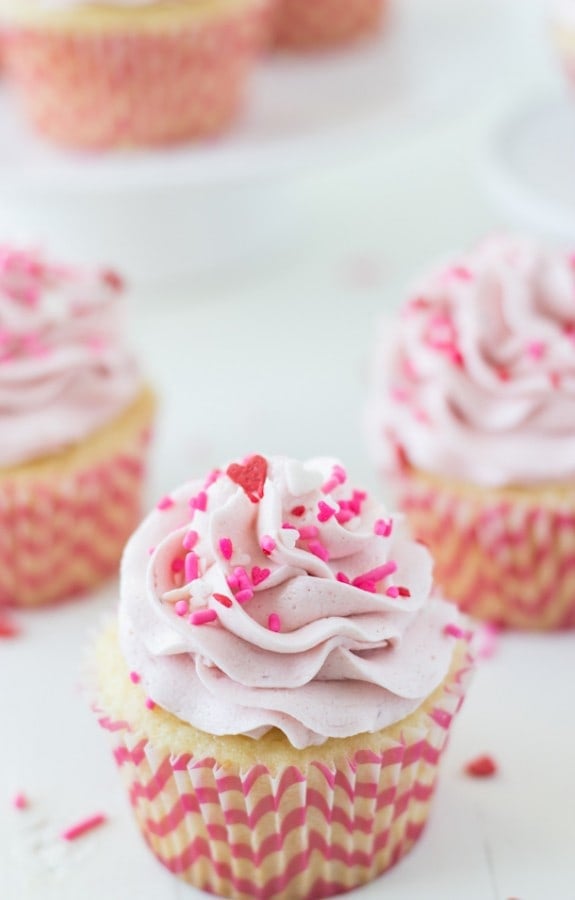 For now, you must make these easy, pretty in pink cupcakes for yourself, a special someone or just because it's Valentine's Day soon!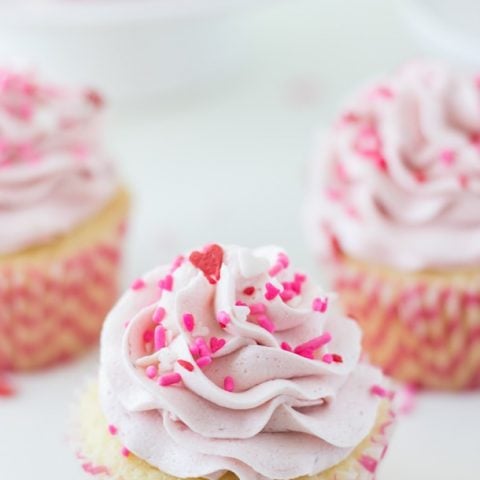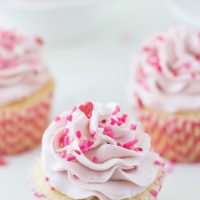 Yield: 12-15 cupcakes
Vanilla Cupcakes with Strawberry Mascarpone Frosting
These Vanilla Cupcakes with Strawberry Mascarpone Frosting are the perfect cupcakes for Valentine's Day!
Ingredients
For Cupcakes:
1 ¼ cups all-purpose flour
½ teaspoon salt
¾ teaspoons baking powder
⅛ teaspoon baking soda
½ cup (1 stick) unsalted butter, room temperature
1 cup granulated sugar
2 large eggs, at room temperature
1 teaspoon pure vanilla extract
¼ teaspoon almond extract
½ cup buttermilk, at room temperature
For Strawberry Puree:
1 cup fresh strawberries, hulled and chopped
¼ cup granulated sugar
2 tablespoon water
1 tablespoon lemon juice
For Strawberry Buttercream:
2 sticks unsalted butter, softened
8 ounces mascarpone cheese, softened at room temperature
3 cups confectioners' sugar
1 teaspoon pure vanilla extract
2-3 tablespoons milk or heavy cream
a pinch of salt
½ cup strawberry puree (from above)
Instructions
For Cupcakes:
Preheat oven to 350 degrees F. Line your muffin tins with cupcake liners.
In a medium bowl, whisk together flour, salt, baking powder and baking soda.
Using a mixer, cream butter and sugar together until pale and fluffy, about 2-3 minutes on medium speed. Add eggs one at a time, beating until just combined after each addition. Beat in vanilla and almond extracts.
Reduce mixer speed to low and slowly add half of the flour mixture to the batter. Add the buttermilk and beat until just combined. Add the rest of the flour and mix. Scrape down the side of the bowl as needed. Do not overmix.
Divide batter into prepared tins. Fill each liner about ⅔ full. Bake cupcakes until lightly golden or a toothpick inserted into the center comes out clean, about 12-14 minutes.
Remove cupcakes from pan and cool completely on a wire rack.
While cupcake cools, make the filling. In a medium saucepan, combine the strawberries, sugar, water and lemon juice. Cook until strawberry is broken down and sauce thickens. Let cool completely before using in frosting. You can pass the strawberry mixture through a sieve if you do not want chunks in your frosting.
For the Strawberry Frosting:
Whip butter for 8 minutes on medium speed using the paddle attachment of an electric mixer. The butter will become pale and creamy.
Add the rest of the ingredients and mix on low speed for 1 minute. Then increase speed to medium and mix for 6 minutes until the frosting is light, creamy and fluffy.
Frost cooled cupcakes using your favorite decorating tip. I used Wilton Tip 2D for these cupcakes.