Chocolate Strawberry Cupcakes
These chocolate strawberry cupcakes are perfect for your Valentine! Decadent dark chocolate cupcakes topped with a whipped fresh strawberry frosting.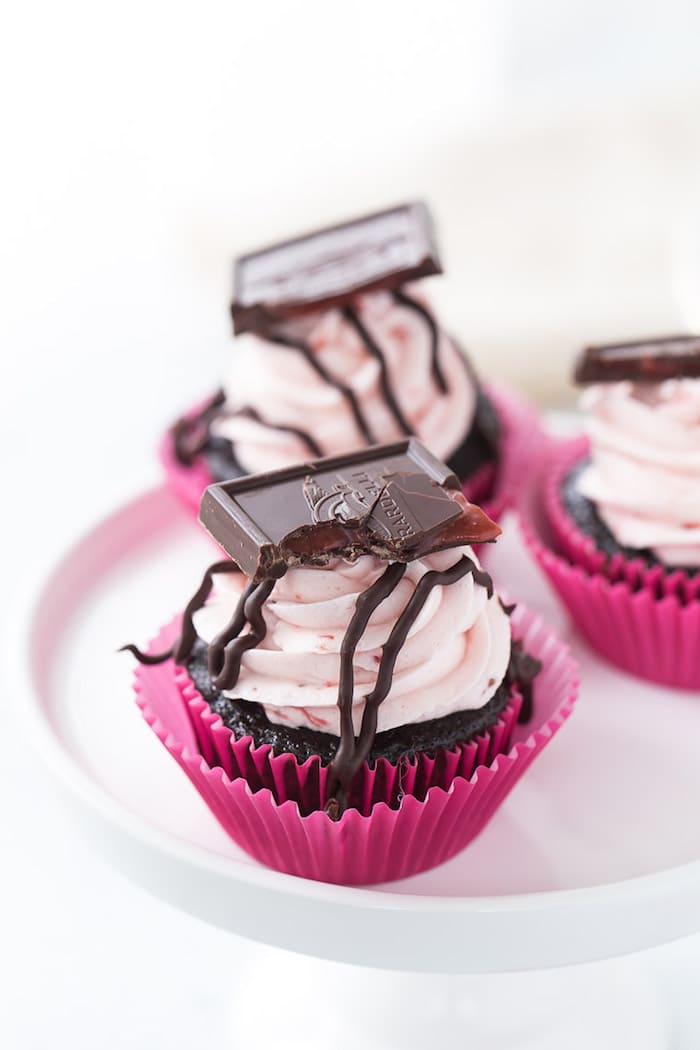 I have another new Valentine's Day recipe for you today! These chocolate strawberry cupcakes are new, decadent and a must for Valentine because who doesn't like chocolate and strawberries? Right?
But have you noticed that these cupcakes are not the only new things around here??
Blahnik Baker has a new look!! We got a new do by the lovely and talented Lindsay from Purr Design.  A complete blog re-design has been on my to-do list for a long time and I finally decided to make it happen this year. I am so happy I did and I am absolutely in love with the new site.

The new site is crisp, clean and very well laid out for easy accessing of ALL the recipes. Starting with a brand new logo that I am in LOVE with, a new header with a focus on the different categories of the blog and a new recipe index for all the recipes.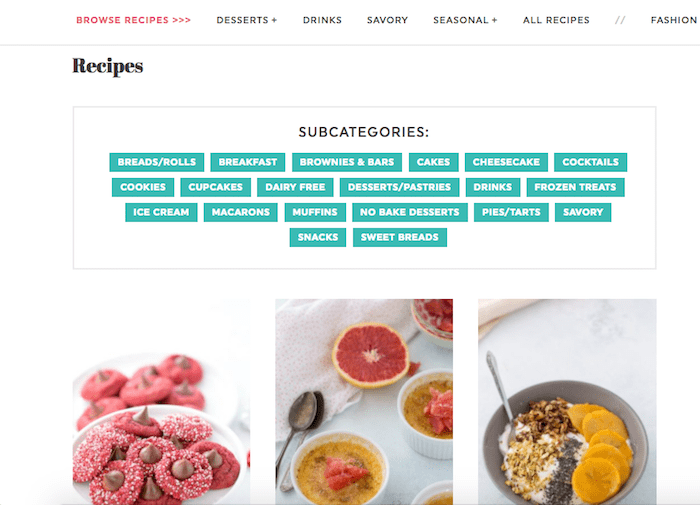 I have also created new landing pages for the Fashion and Lifestyle categories of the website. As you may know by now, I am a shoe-a-holic fashion enthusiast and would love to continue sharing more of that passion here.
I hope you take the time to explore the new website a little bit and please feel free to let me know what you think in the comments. I want make sure you find everything easily, especially the mouth watering recipes.
If you are a blogger and you have been thinking of a site re-design, DO IT!! I cannot recommend Lindsay enough. She is great to work with and puts to life your dream.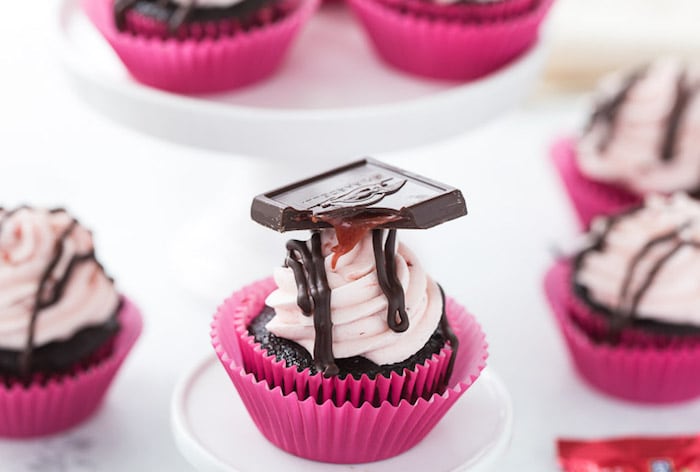 Okay, back to these chocolate strawberry cupcakes. They were actually inspired by these Ghiradelli chocolate squares with strawberry filling. My good friends at Ghirardelli sent me a Valentine's Day package last week and I could not get enough of those squares. They are SO good. After one too many, I decided to make these cupcakes and use the squares as decorations. Because why not??
I hope you get to try these cupcakes soon! They are filled with all the chocolate-y goodness that you need for Valentine's day.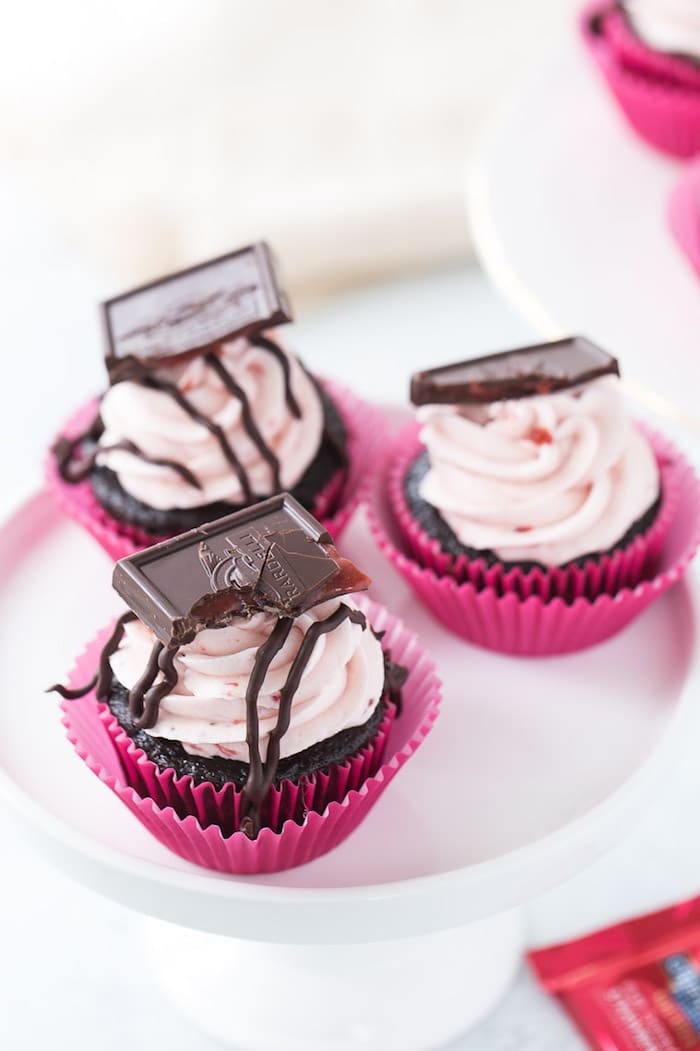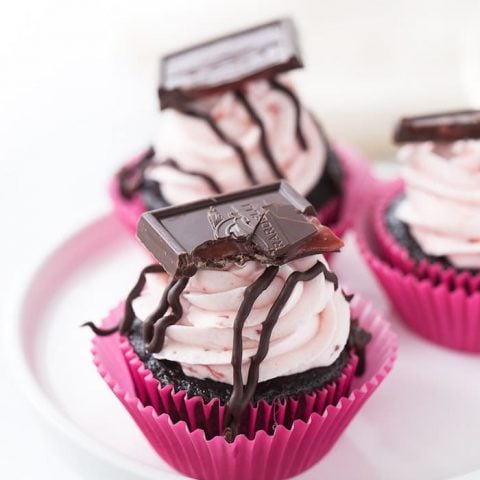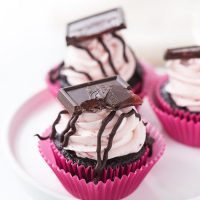 Yield: 15 cupcakes
Chocolate Strawberry Cupcakes
These decadent dark chocolate cupcakes are topped with a whipped fresh strawberry frosting.
Ingredients
For Chocolate Cupcakes:
1 cup all-purpose flour
1 cup sugar
⅓ cup cocoa powder (I used Ghirardelli)
1 teaspoon baking soda
½ teaspoon baking powder
½ teaspoon kosher salt
1 large egg, at room temperature
½ cup buttermilk, at room temperature
½ cup strong black coffee, hot
¼ cup vegetable oil
1½ teaspoons pure vanilla extract
Strawberry Frosting:
1 cup (2 sticks) unsalted butter, at room temperature
3-4 cups powdered sugar
2 teaspoons pure vanilla extract
Pinch of salt
2-3 tablespoon heavy cream
¼ cup strawberry compote (see directions below) or strawberry preserve
Toppings:
chocolate drizzles
chocolate strawberry filling
Instructions
For the Chocolate Cupcakes:
Preheat oven to 350 degrees F. Line muffin tins with cupcake liners.
Sift together all the dry ingredients in the bowl of an electric mixer.
In a medium bowl, combine all the wet ingredients using a whisk.
Mix the dry ingredients on low speed for 1 minute. Stop the mixer and add the wet ingredients. Mix for 2 minutes on medium speed and scrape the sides and bottom of bowl. Mix for additional minute on medium speed.
The batter will be thin. Divide evenly among the cupcake liners.
Bake for 12-15 minutes or until a toothpick inserted in the center comes out almost clean.
Cool cupcakes on wire racks completely. Meanwhile you could start on the frosting.
For the Strawberry Frosting:
To make the strawberry compote: bring 1 cup fresh strawberries (hulled and chopped), 1/4 cup sugar and 1 teaspoon lemon juice to a simmer. Cook on low-medium heat for 3-5 minutes, until strawberries softened and compote starts to thickened. Remove from heat and let cool COMPLETELY before using in frosting.
Whip butter on medium speed for about 2-3 minutes in the bowl of a stand mixer fitted with the paddle attachment until light and creamy. Add the powdered sugar, vanilla extract, salt and heavy cream and mix on low for 1 minute until combined. Increase speed to medium-high and whip for 2-3 minutes. Add in the strawberry compote until mixed in.
Frost cupcakes and decorate with chocolate drizzles.
Notes
NOTES:
The hot coffee in the cupcake recipe brings out the richness of the chocolate. However, if you do not want to use coffee, use 1 cup hot water instead.