Homemade Strawberry Pie Recipe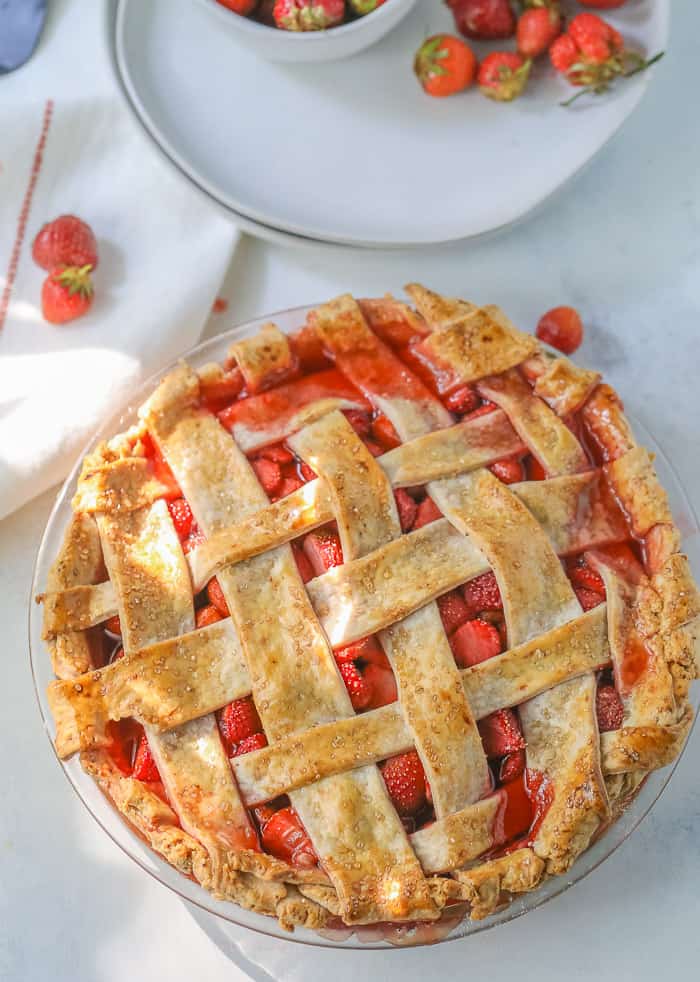 It's been a while since I shared a homemade pie recipe with you guys! I believe the last pie I shared on here was in February for a strawberry galette but if that doesn't count, the last pie was my sweet potato pecan pie last Thanksgiving. Despite having lots of pie recipes in the archives, I tend to shy away from pies because of the labor of love that goes into it. This homemade strawberry pie recipe is no different. It takes some time and some love however, it's always so worth it in the end. Nothing beats a warm fruit filling in a flaky crust and ice cream.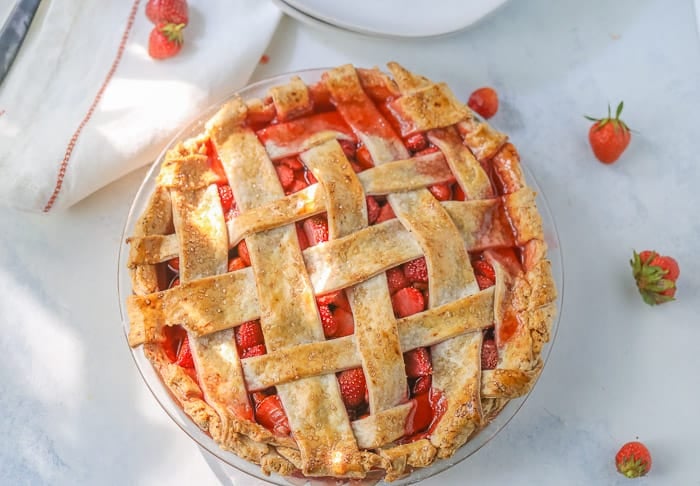 This homemade strawberry pie recipe came to fruition because we went strawberry picking recently. Since the beginning of summer is upon us, we have all been craving some of our classic summer activities. Luckily, strawberry picking is one of those things that is easier to do in a socially distant manner. We got the kids out and hit one of our local farms, Butler's Orchard in Germantown, MD.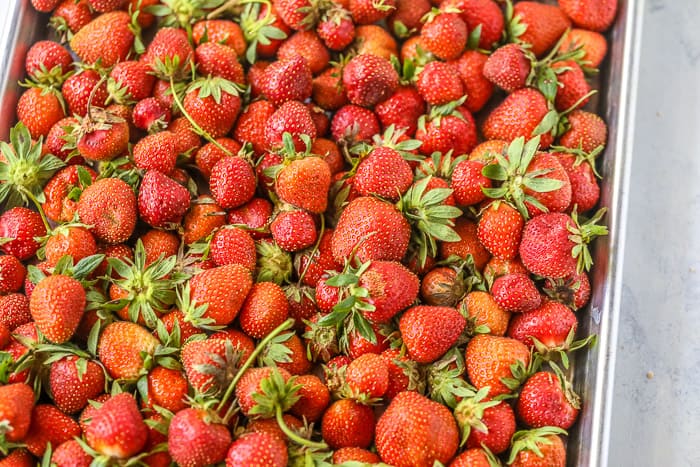 We all had a great time and came home with A LOT of strawberries. After eating as much as humanly possible, I got to work on baking. Each family member was asked what they wanted. My son wanted strawberry ice cream and my husband wanted pie. Naturally, I agreed to both and this strawberry pie was the first thing to happen. My son will have his strawberry ice cream,…stay tuned for that soon.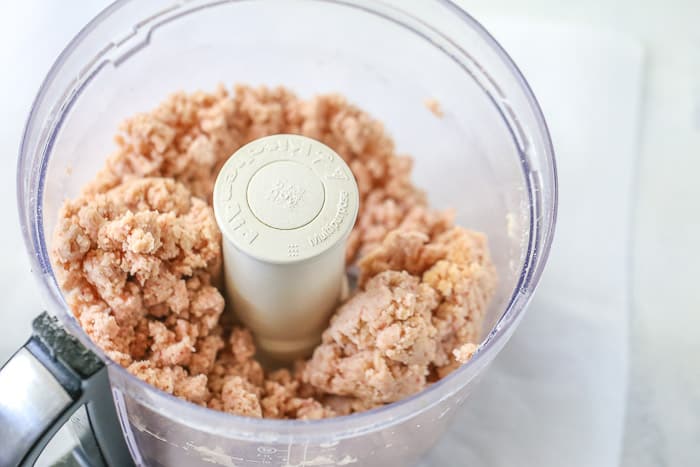 For this homemade strawberry pie recipe, I wanted to make sure it is BURSTING with strawberry flavor as this is a hallmark summer pie.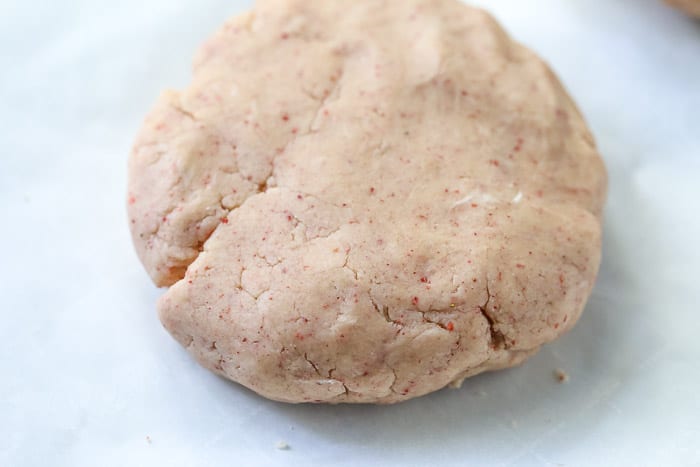 To take this strawberry pie to a whole new level, I added freeze-dried strawberries to the pie crust. So on every level of this pie, you get strawberries. I picked up this trick from Bake from Scratch last summer and it has changed my pie-making life.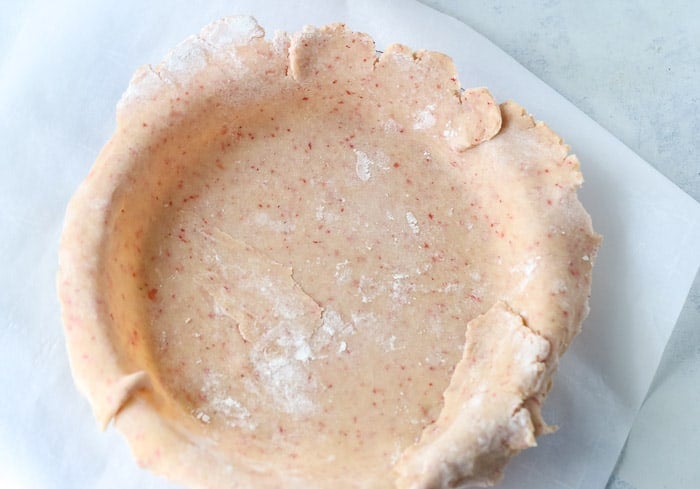 So to recap, this pie starts with a strawberry-infused buttery pie crust…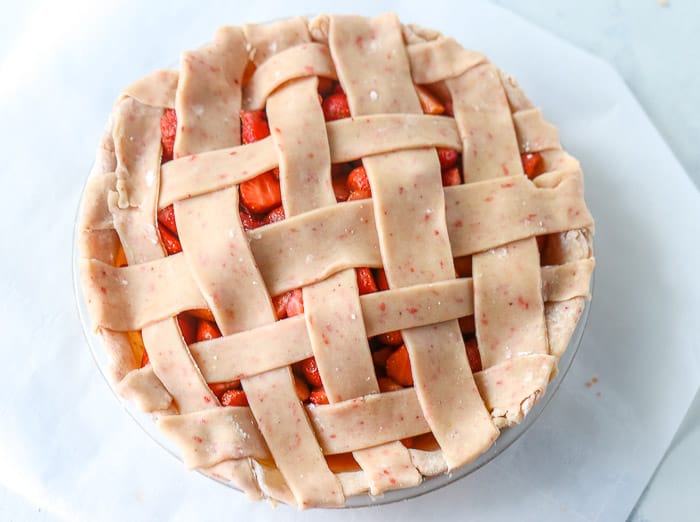 and is filled with sweet, juicy fresh strawberries cooked to perfection and is topped with another layer of that pie crust.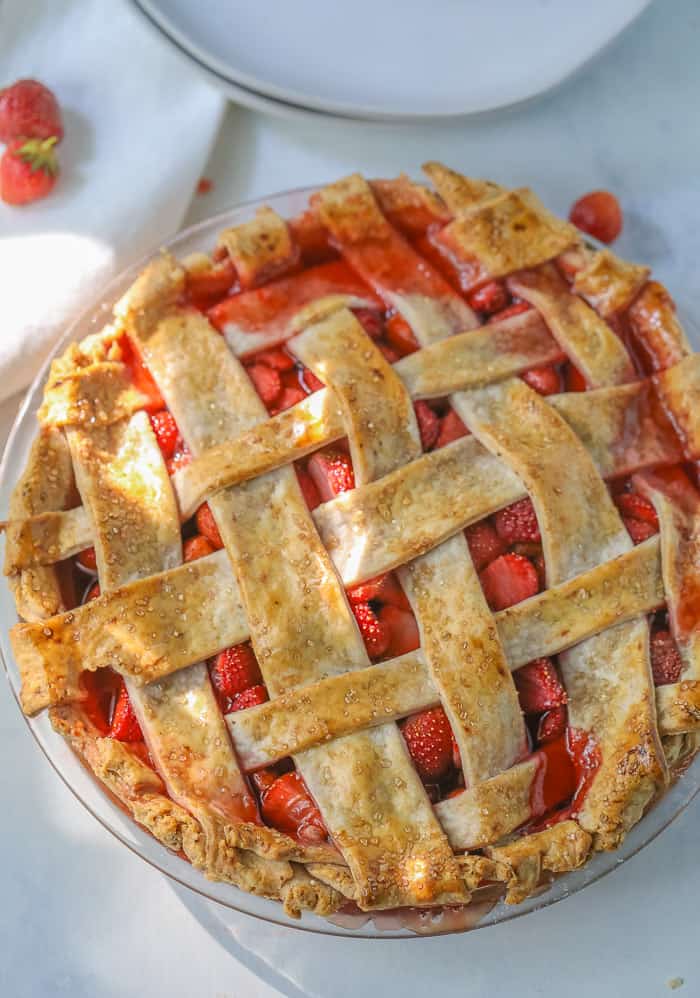 Everything about this pie screams summer and I hope you get to experience it.
To put it simply, this strawberry pie is amazing. If you have time this summer, please add this homemade strawberry pie recipe to your summer bucket list. You will not regret it.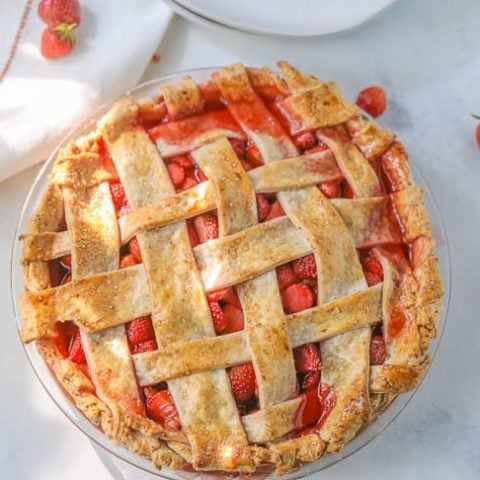 Yield: 1 9-inch Pie
Homemade Strawberry Pie Recipe
A simple homemade strawberry pie with a flaky crust infused with dried strawberries and a juicy filling.
Prep Time 40 minutes
Cook Time 1 hour
Additional Time 3 hours
Total Time 4 hours 40 minutes
Ingredients
PIE CRUST:
2 ½ cups all-purpose flour
½ cup freeze-dried strawberries
1 teaspoon salt
1 tablespoon granulated sugar
14 tablespoons cold unsalted butter, cut into cubes
Ice cold water
1 large egg, beaten with 1 tablespoon milk for egg wash
Turbinado sugar for sprinkling
FILLING:
5-6 cups fresh strawberries
Zest and juice of a 1/2 lemon (or to taste)
1 teaspoon vanilla extract
1/4 teaspoon almond extract
½ cup granulated sugar
1/3 cup brown sugar
¼ cup cornstarch or all-purpose flour
a pinch of salt
¼ teaspoon ground ginger
Instructions
Prepare ½ cup ice-cold water and keep in the fridge. In a food processor, pulse flour, dried strawberries, sugar, and salt. Add in half of the butter and pulse for 30 seconds. Add in the rest of the butter and pulse until the mixture looks like a coarse meal.
Sprinkle about 6 tablespoons cold water over mixture and pulse until the dough comes together in clumps. If dry, add a little bit more water (1 tablespoon at a time) until the dough comes together.
Remove dough from the processor and bring it together. Divide dough into two disks; one slightly bigger than the other and wrap in plastic wrap. Chill for at least an hour or overnight. The dough can be made up to 3 days ahead. Keep chilled.
Let stand at room temperature a few minutes before rolling out.
Roll out larger disk on a lightly floured surface to a large circle. Fit into an ungreased 9-inch pie dish, trim the edges leaving an inch or two overhang. Refrigerate for 30 minutes.
In a medium bowl, toss the strawberries with zest and lemon juice, vanilla extract, and almond extract. Toss in sugars, cornstarch, salt, and ground ginger and make sure berries are well coated and cornstarch disappears. Let sit for at least 10 minutes.
Spoon the strawberries into the pie crust, making sure you pile it high in the center.
Roll out the second dough and cut into strips to create a lattice top. If you have a pastry wheel, it is perfect for this. I wish I had one as it would have made my strips even. Create a lattice top/weave as you wish.
Crimp the edges of the strips with a fork.
Whisk egg and 1 tablespoon milk in a small bowl. Brush the top of the pie with egg wash and then sprinkle with turbinado sugar. Chill for 15-30 minutes.
Preheat oven to 375 degrees F. Place pie dish on a baking sheet and bake for 50-60 minutes or until crust is golden brown and the filling is bubbly.
Let pie cool for at least 2-3 hours before serving.
Recommended Products
As an Amazon Associate and member of other affiliate programs, I earn from qualifying purchases.