Passionfruit Pie with a Coconut Graham Cracker Crust
This brand new passionfruit pie is bursting with tropical flavors and I am sure it will soon become your summer favorite!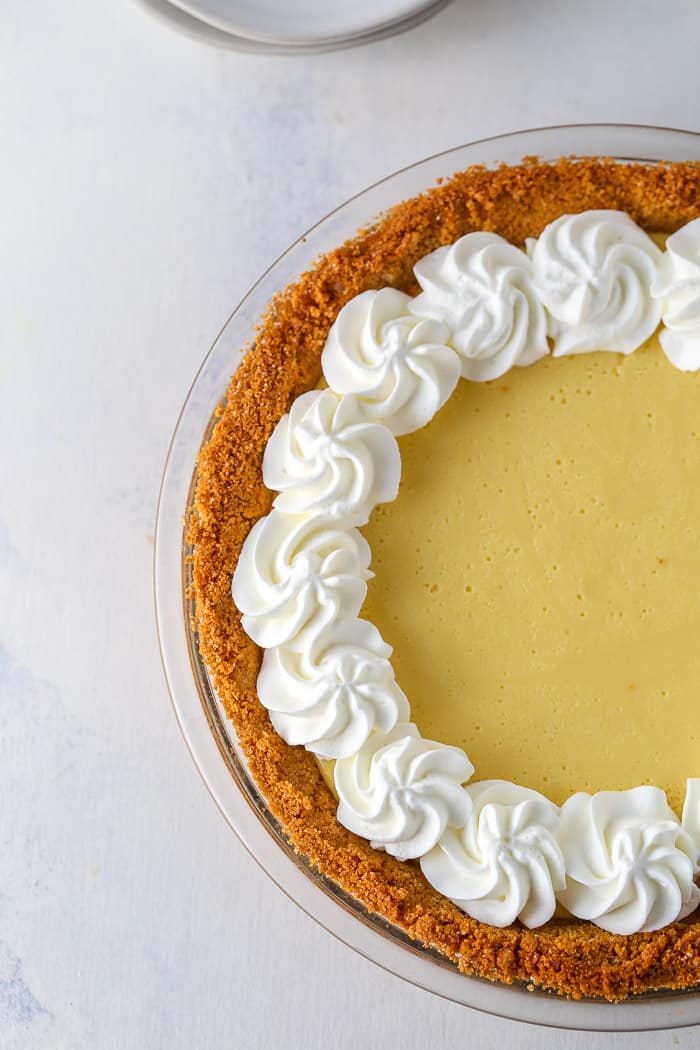 Hi friends! How are you all doing? I hope you are staying safe and staying healthy as much as possible during these difficult times.
It's been an emotional and difficult few weeks in the US with not only COVID19 spreading rampantly but a new spotlight on racial injustice that many of us face. Given the current wave of protest, anger, and attention to the issue, there is hope that substantial change is around the corner.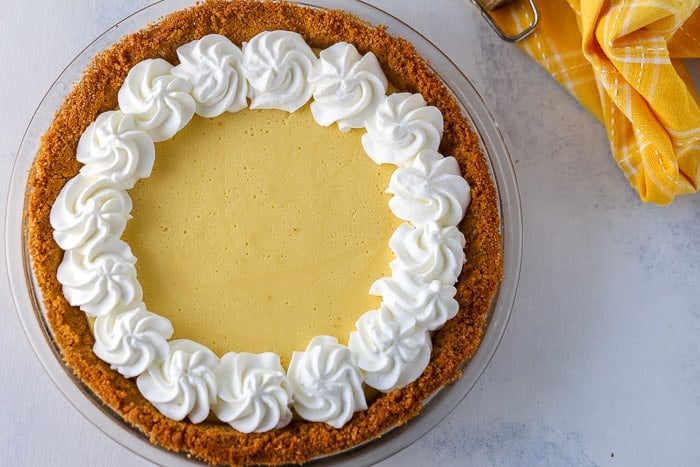 I've had many new followers over on Instagram as a result of the movement to amplify Black voices. I am grateful for the love, follow, and attention to the work that I have been doing for the past eight years. I welcome you all and I hope you like the content you find here! Please check out my About Me page to learn more about me, my love for baking, and what you will find here.
Briefly, you will find recipes from my home to yours. The recipes are inspired by my tropical heritage (I was born and raised in Sierra Leone, West Africa) and thus lots of tropical flavors like coconut, mango, and passionfruit, like today's special recipe.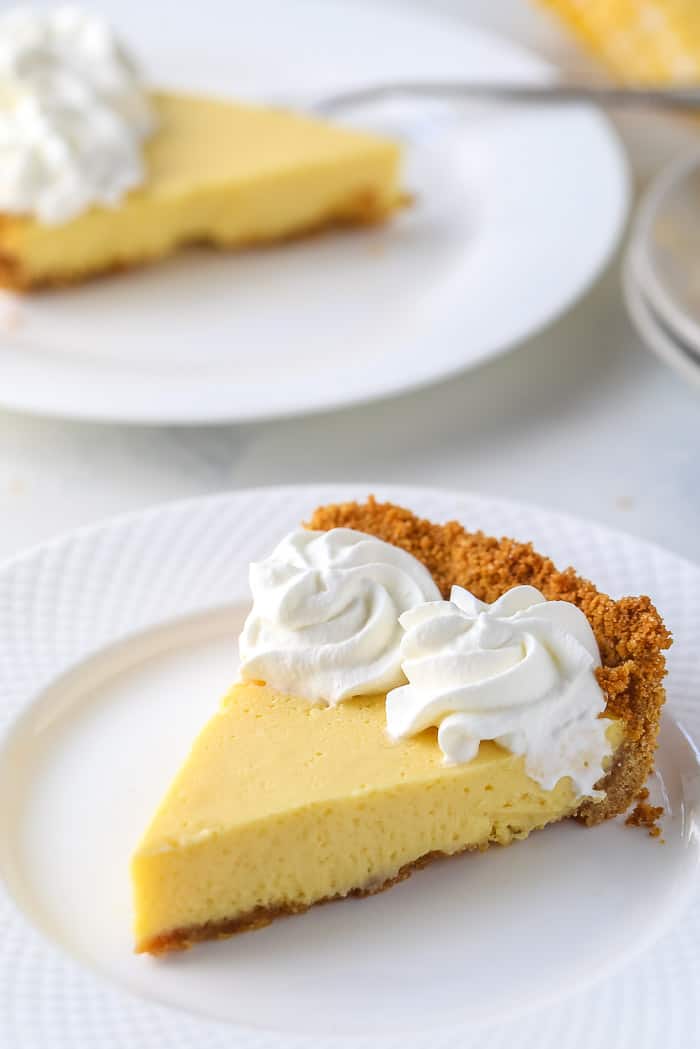 As many of you know, I have a complicated relationship with passionfruit. It was one of my favorite flavors growing up and it was always linked to happy memories with my Dad. However, after he passed, I stayed away from passionfruit for years as it always brought back painful memories.
As with most things, time heals the pain. Slowly, I found my way back to this wonderful fruit and flavor. I love baking with passionfruit as you can see from these passion fruit cupcakes and passionfruit bundt cake. It brings a unique sweet-tart flavor that is wonderful.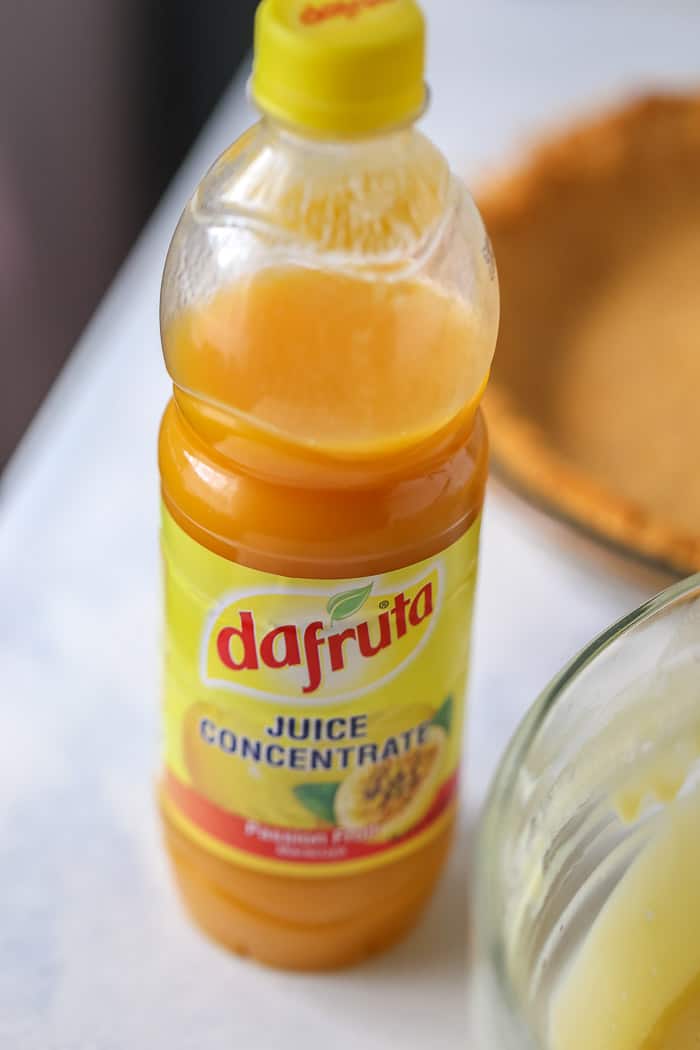 During my pandemic prep shopping, I bought passionfruit juice concentrate in the event the world was ending. You know, totally rational like the paper towel hoarders. I've been itching since to use it and this pie sounded like a good way to start using it.
My husband wanted me to make my amazing Key Lime Pie Recipe that is very popular here on the blog but I didn't have any key lime juice. I figured passionfruit would be a good substitute. We tested it and it turned out GREAT!!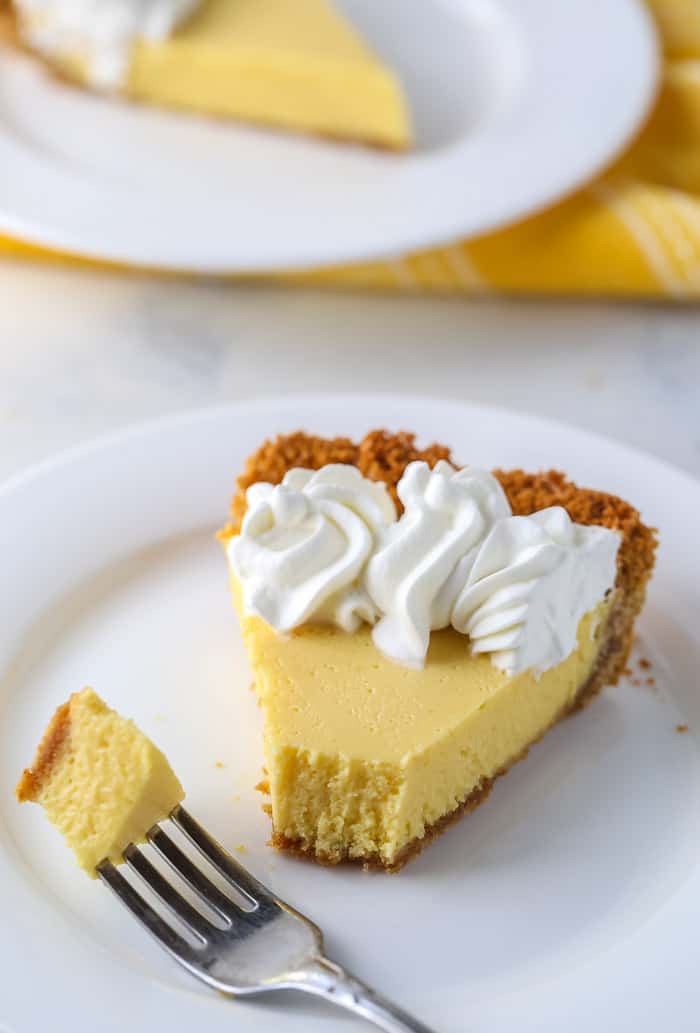 The flavor was spot on – sweet, creamy, and tart. The vibrant color is also a good bonus that just puts you in that tropical feels.
I did on my next try of this recipe add some coconut in the crust for some crunch and bonus flavor. It was a good idea and one I think you should not skip out on.
There my friends is your new summer pie! If you are looking for a new flavorful and vibrant pie to add to your baking list, this is it and I assure you, you won't be disappointed.
More Summer Desserts to try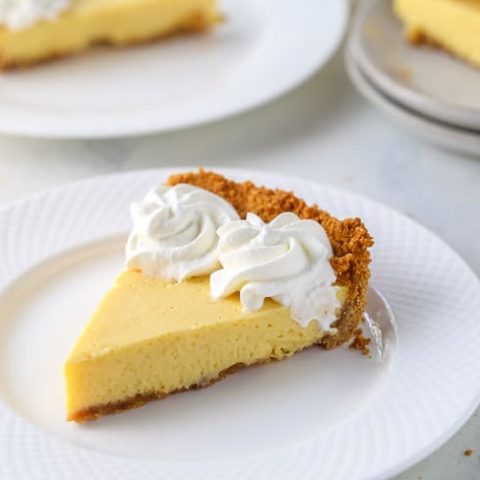 Yield: 1 9-inch pie
Passionfruit Pie Recipe
This passionfruit pie is a sweet and tart dessert! Starting with a coconut graham cracker crust, a smooth and creamy filling that is bursting with passionfruit flavor.
Total Time
3 hours
55 minutes
Ingredients
For the Crust:
1 ¼ cup graham cracker crumbs (or 1 sleeve graham crackers finely processed)
1/4 cup unsweetened coconut flakes
2 tablespoons granulated sugar
5 tablespoon butter, melted
For the Filling:
1 14-oz can sweetened condensed milk
4 large egg yolks
1/3 cup passionfruit puree or concentrate (NOT Juice, see notes)
For the Topping:
1 cup heavy cream, cold
2 tablespoons powdered sugar (optional)
Instructions
To make the Crust:
Preheat oven to 350 degrees F. Prepare a 9-inch pie dish by lightly spraying the inside with cooking spray. Set aside.
In a food processor, pulse the graham cracker crumbs and coconut flakes until finely processed. Add in sugar and melted butter. Pulse until combined and resembles wet sand. Transfer the mixture into the bottom and sides of a 9-inch pie dish.
Bake crust for 8-10 minutes, or until golden. Remove crust from oven and let cool completely. (You can stick it in the fridge while you prepare the filling)
To make the filling:
In another medium bowl, whisk together the condensed milk and egg yolks until smooth and slightly thickened. Add in passionfruit puree. Whisk the mixture for about a minute, until well combined and thickened.
Pour the filling into the prepared cooled crust and bake for 15 minutes in 350 degrees F. Transfer pie to a cooling rack and let cool completely at room temperature before chilling for at least 3 hours or overnight (preferred) until set.
When ready to serve, using an electric mixer, whisk the cold heavy cream and sugar (if using) on medium-high speed until soft peaks form.
Top pie with whipped cream.
Notes
You can find passionfruit concentrate or passionfruit puree in ethnic food aisles of your grocery store or at ethnic food stores.
If you can only find passion fruit juice, cook down 1 cup passionfruit until it is reduced to a 1/3 cup.
Recommended Products
As an Amazon Associate and member of other affiliate programs, I earn from qualifying purchases.