Tropical Passion Fruit Cupcakes + Giveaway
These tropical passion fruit cupcakes start with an airy coconut cupcake infused with passion fruit puree. Topped with coconut whipped cream, these tropical cupcakes are perfection.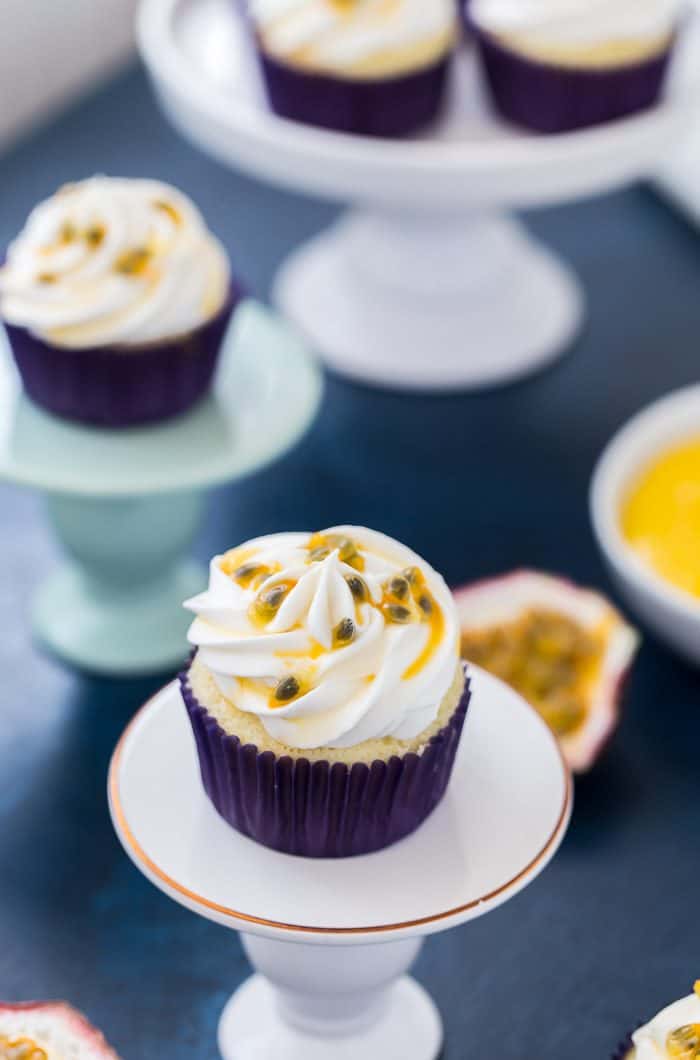 Happy Monday friends! I have tropical cupcakes for you today because nothing says Mondays to me like cupcakes. If you follow our #cupcakemondays you will see that a lot of people agree the best way to face a Monday is with one of these little cakes in hand. To celebrate our love for cupcakes, a few of my fellow cupcake enthusiasts and I are sharing with you our favorite summer cupcake recipes today in a big #CupcakeMondays party. These tropical passion fruit cupcakes are my contribution to the party and are now truly my favorite cupcakes to date. Light, sweet and filled with tropical flavors, these coconut passion fruit cupcakes will blow your mind away.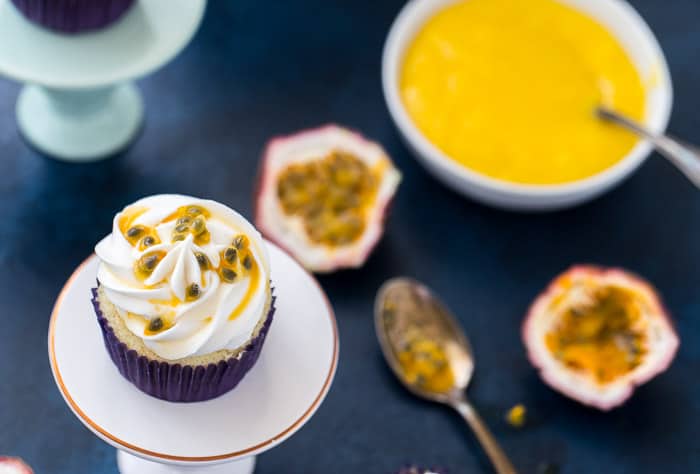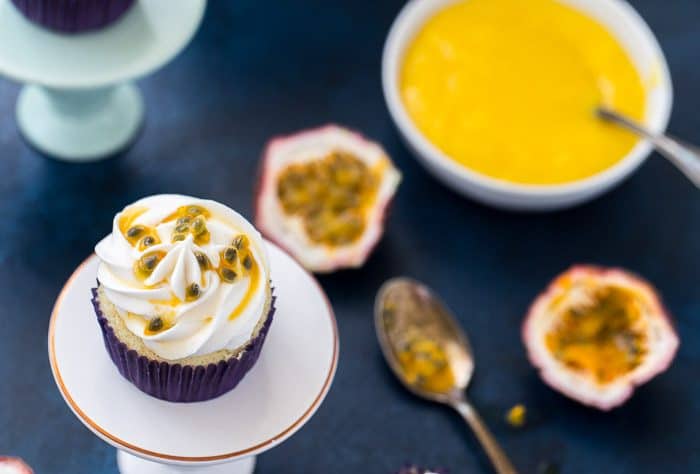 You already know I LOVE passion fruit (we talked about it over here when I shared the recipe for this bunkers awesome passion fruit bundt cake). So it was only a matter of time for me to combine it with coconut, my second love. Coconut + passion fruit = tropical bliss in my opinion and that's exactly what these tropical passion fruit cupcakes are.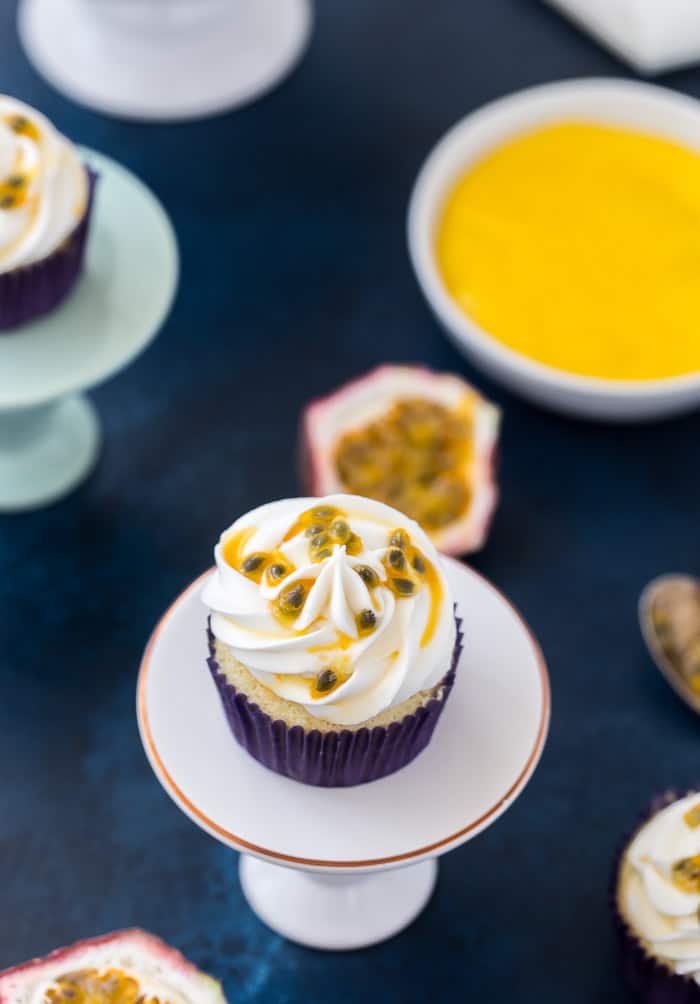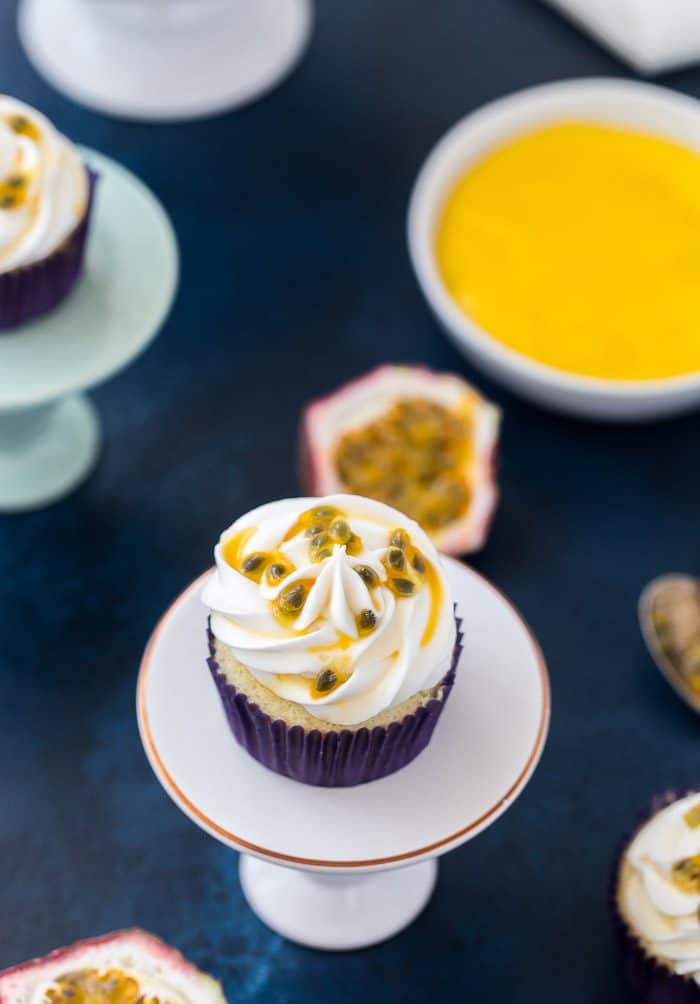 Starting with a fluffy coconut cupcake that is infused with passion fruit puree, you can taste the airy breeze of the tropics right in the cupcake. To keep with the light nature of the flavors, I topped the cupcakes with a sweet coconut whipped cream. Using coconut cream and a dash of heavy cream, the frosting is to DIE for. Just try not to eat it all by the spoonful before frosting the cupcakes.
These tropical passion fruit cupcakes are epic and really perfect in the summer. You need to make them and I know you will love them as much as I do.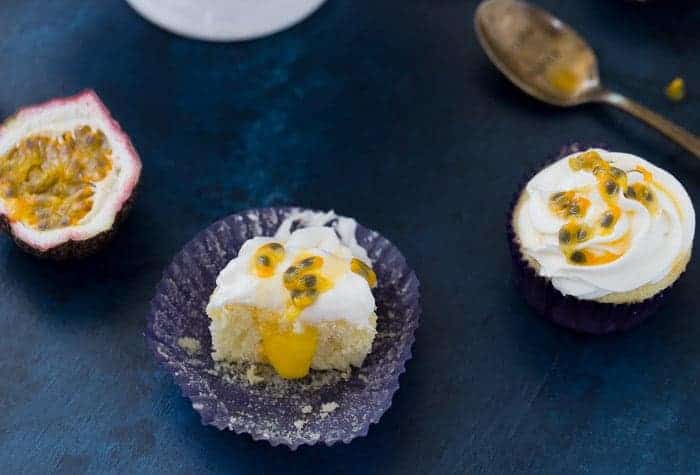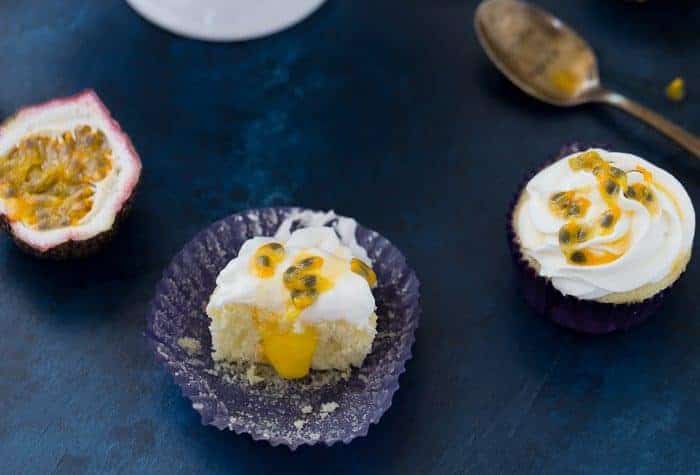 To continue the #CupcakeMondays party, be sure to check out the other cupcake recipes from my friends. You are in for a treat!!
Zucchini Cupcakes with Cream Cheese Frosting from The Itsy-Bitsy Kitchen
Salted Caramel Cupcakes from A Table Full of Joy
Better Than Box Mix Cupcakes from Kelly Lynn's Sweets and Treats
Peach Moscato Cupcakes from Blue Bowl Recipes
Candy Apple Cupcakes from Love in My Oven
White and Dark Chocolate Raspberry Cupcakes from Pies and Tacos
Tropical Passion Fruit Cupcakes from A Classic Twist
And of course, no party is complete without gifts! THANK YOU to our wonderful sponsors Rodelle, Redmond Real Salt and B.Toffee for the fabulous giveaway prize. One lucky winner will win:
16-ounce organic baker's extract from Rodelle
25-ounce gourmet cocoa from Rodelle
8-ounce pure vanilla extract from Rodelle
2 count vanilla beans from Rodelle
A gift box of toffee from B.toffee
An assortment of ancient fine sea salt from Redmond Real Salt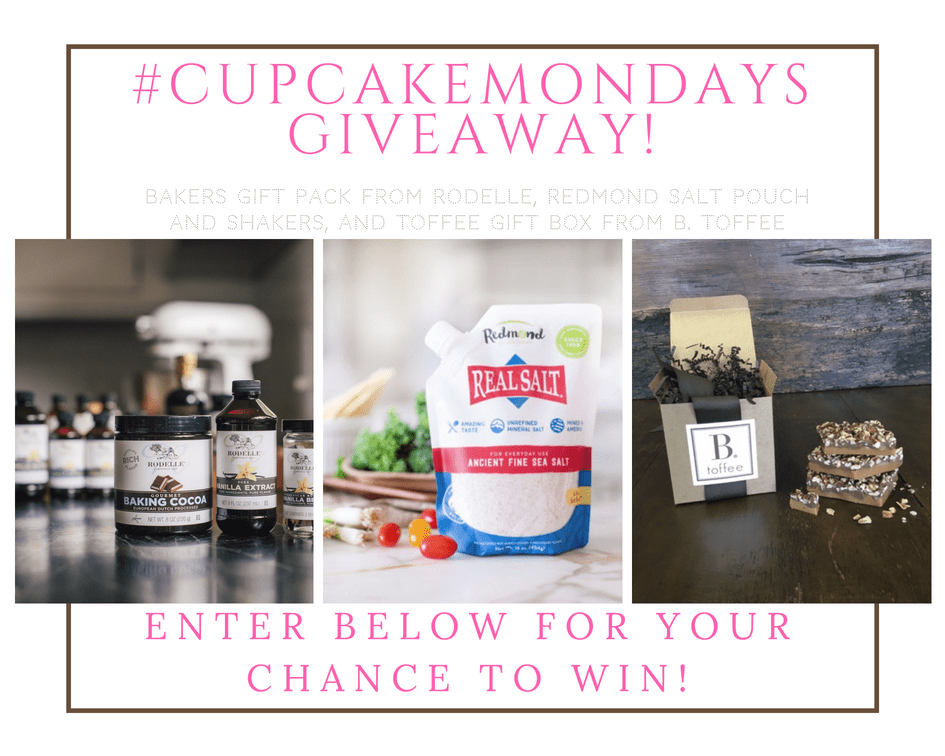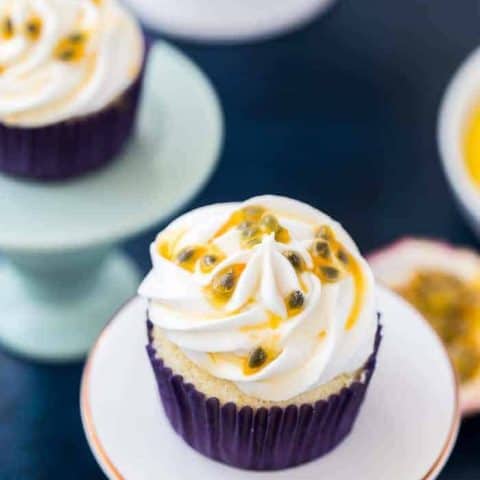 Yield: 12-18 cupcakes
Tropical Passion Fruit Cupcakes
Ingredients
FOR THE CUPCAKES:
1/3 cup whole milk, room temperature
1/4 cup coconut cream (NOT coconut milk)
1 large egg, room temperature
2 large egg whites, room temperature
1 teaspoon pure vanilla extract
2 tablespoons passion fruit puree
1 1/4 cups cake flour, sifted
3/4 cup granulated sugar
1 1/2 teaspoons baking powder
1/2 teaspoon salt
6 tablespoons unsalted butter, room temperature and cut into cubes
Untitled Ingredient
For the Puree:
For the Whipped Cream:
3/4 cup coconut cream, chilled (use the rest of the can above)
1/2 cup heavy cream, chilled
2 teaspoons vanilla extract
Instructions
FOR CUPCAKES:
Preheat oven to 350 degree F. Line cupcake tins with liners.
Whisk together half of the milk, coconut cream, egg whites, egg, passion fruit puree and vanilla extract.
Sift the cake flour in the bowl of an electric mixer fitted with the paddle attachment (Or a medium bowl if using a hand mixer). Combine the rest of the dry ingredients including sugar. Stir together on low speed for 30 seconds.
Add the butter one piece at a time and blend on low speed for 30 seconds. Then add the remaining milk, and mix on low speed until moistened. Increase speed to medium and mix for 1½ minute. Be careful not to overmix. Scrape the sides of the bowl as needed.
Add the egg/milk/extract mixture in 3 separate batches mixing on medium speed after each addition until combined.
Divide batter into prepared cupcake liners and bake for 12-15 minutes or until a cake tester comes out clean when inserted in center of cupcake.
Let cupcakes cool completely before frosting.
For the Whipped Cream:
Chill your stand mixer bowl and whisk for at least 15 minutes. If using a hand mixer, chill a medium bowl and the whisk attachment.
Combine the coconut cream, heavy cream and vanilla extract. Whisk on medium high speed until soft peaks form, about 3-4 minutes.
Whisk for an additional minute to stiff peaks.
Use frosting immediately to frost cupcakes using your favorite decorating tip. I used Wilton tip 1M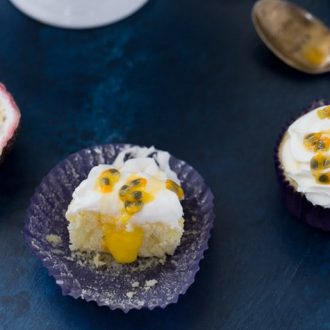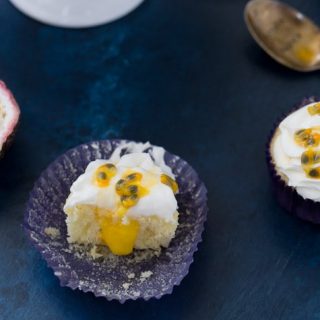 Yield: 2 cups
Passion Fruit Curd
A sweet and slightly tart passion fruit curd. Perfect as a filling, topping or to enjoy by the spoonful.
Total Time
2 hours
25 minutes
Ingredients
7 tablespoons unsalted butter, cubed
1/2 cup passion fruit puree
1 cup granulated sugar
4 egg yolks
1/2 teaspoon vanilla extract
Instructions
Prepare a double boiler by bring a medium sauce pan of water to bowl.
Place the cubed butter into a medium heat proof bowl and set aside.
In another medium or large heat proof bowl, whisk together the passion fruit puree, sugar and egg yolks.
Place the large bowl over the boiling water and whisk continuously until the mixture thickens, about 15 minutes. You should be able to draw a line with the back of a spoon and it holds.
Once ready, pour the passion fruit curd mixture over the butter. Stir in the vanilla extract and mix until the butter melts and incorporates.
Place a plastic wrap directly over the surface of the curd. Refrigerate until thickened, about 2 hours or overnight.