Beef Kebabs with Chimichurri Sauce
These juicy beef kebabs are topped with a flavorful, spicy chimichurri sauce. Perfect for an easy weeknight dinner or to serve at a barbecue.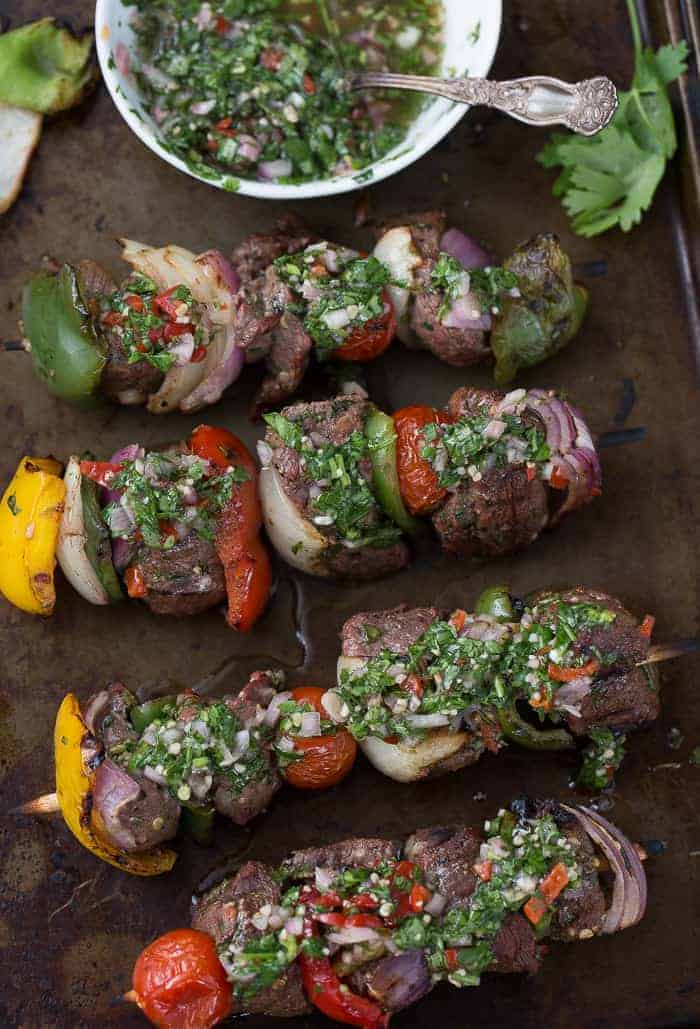 Hi friends! I hope you are having a great summer so far. After the July 4th holiday, I think summer settles in for most of us. We've been traveling the past few weekends and enjoying summer road trips. We've also had the grill on non-stop for every meal we are home. It is the season of grilling, grilling, grilling. Steaks, chicken, peaches, potatoes, pineapples, kebabs and corn. The easiest way to make dinner if you ask me. I recently made these beef kebabs with chimichurri sauce and they were so good I HAD to share them with you. The flavors are incredibly powerful and satisfying for an easy meal.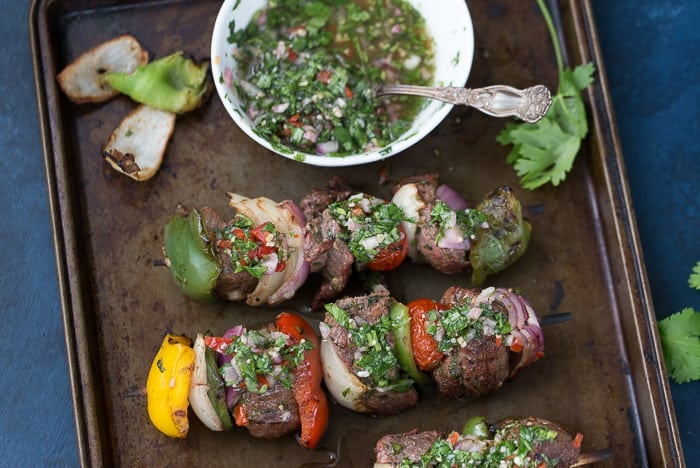 First, we must talk about chimichurri sauce before the beef kebabs. I assume everyone knows of this wonderful sauce. But just in case you don't, it is basically a magic sauce for grilled meat – especially great on steak and lamb. It is made up of simply combining acid (red wine vinegar), oil and freshly minced herbs. The herbs can vary but classically cilantro, parsley and oregano are used. I like adding shallots and habanero pepper (or jalapeno for mild heat) for a punch in flavor to the sauce. So easy right? Once you start making it you will get addicted to it and add it to everything you make. It's SO GOOOD.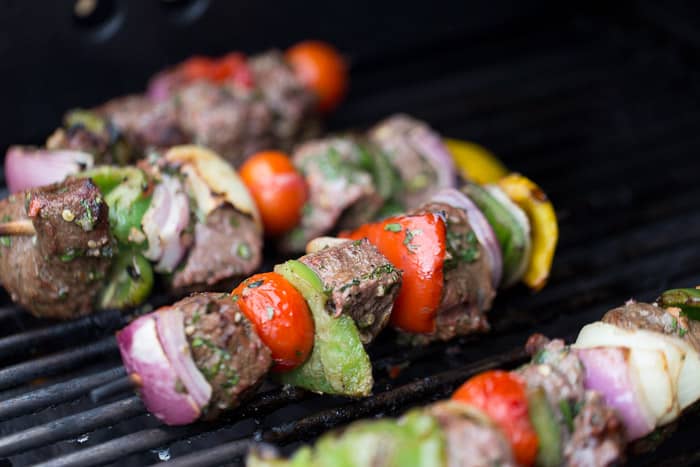 Back to the beef kebabs. Kebabs (or kebobs? who really knows the correct spelling) are a staple of our summer dinners. It's an easy way to get veggies and meat on the plate and most days we skip on a carb. The endless ways of marinating the beef or chicken chunks make it less boring for a meal on repeat. For these beef kebabs, I used simple Montreal steak seasoning to season the beef. The star of the recipe is the chimichurri sauce I knew I'd be topping it with so I kept the beef simple. You can, of course, season your beef in any way you like. It's a no-fail recipe.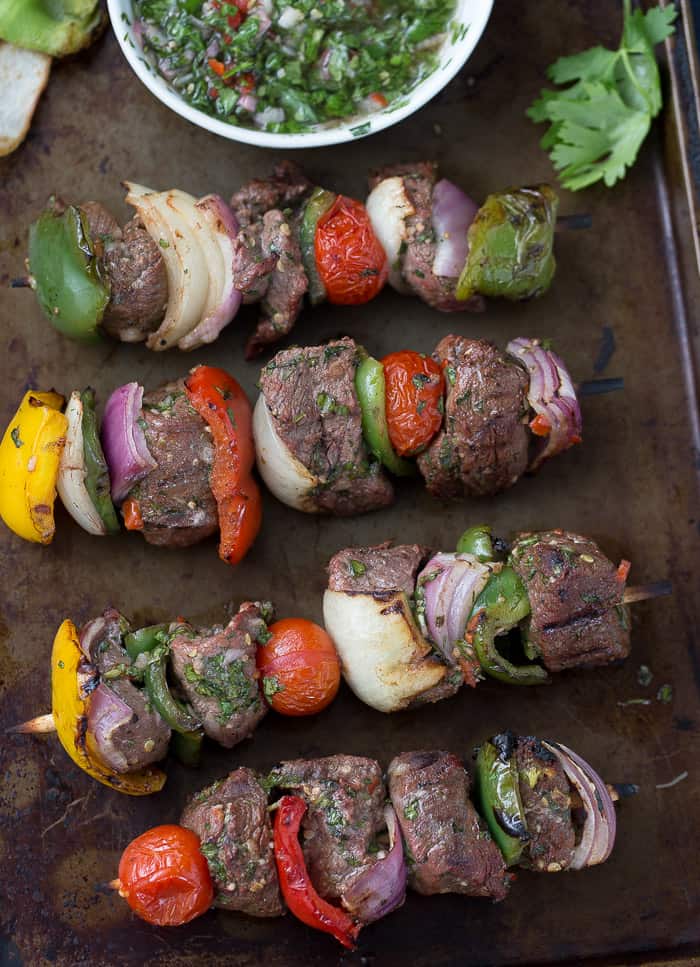 The juicy grilled beef kebabs covered with the spicy chimichurri sauce is incredible. Everything summer grilling should be about and so easy to make. You have to try this recipe for your next summer dinner on the grill or barbecue. You will love it!
Okay, friends, that's it for today. I hope you continue to enjoy the relaxing summer weekends. Don't forget to check out the summer archives for more summer desserts and recipes. My summer travels subside for the next month as we tackle potty training. Oieee, wish me luck!!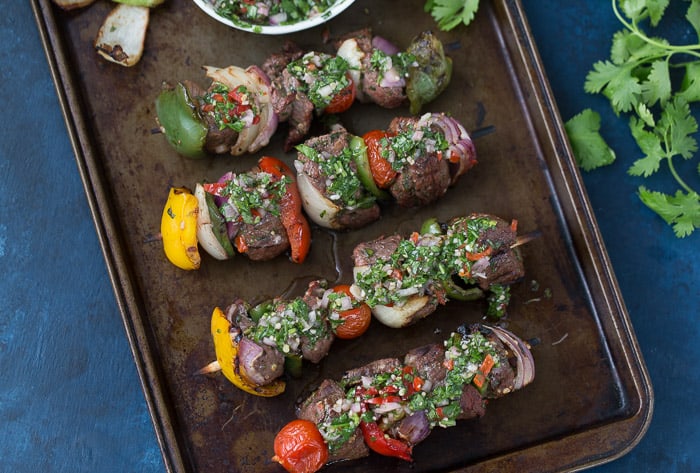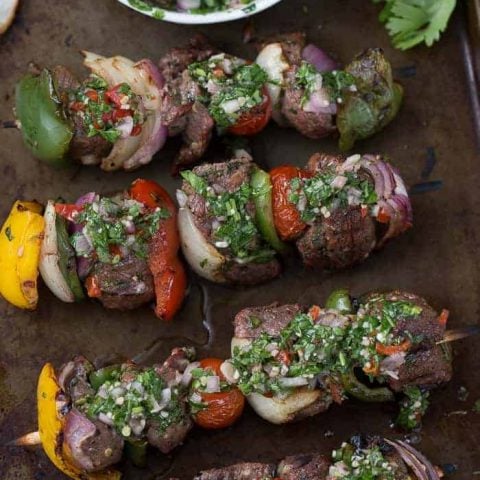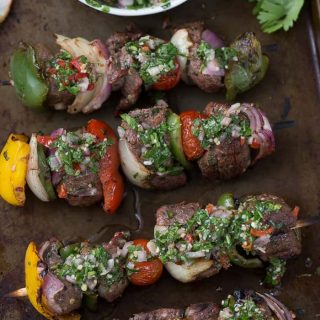 Yield: 4-6 Skewers
Beef Kebabs with Chimichurri Sauce
These juicy beef kebabs are topped with a flavorful, spicy chimichurri sauce. Perfect for an easy weeknight dinner or to serve at a barbecue.
Total Time
3 hours
40 minutes
Ingredients
For Chimichurri Sauce:
• 1/2 cup red wine vinegar
• 1 teaspoon salt, plus more to taste
• 4 garlic cloves, minced
• 1 shallot, finely chopped
• 1 habanero pepper or red jalapeño, finely chopped
• 1/2 cup fresh cilantro, finely minced
• 1/4 cup fresh flat-leaf parsley, finely minced
• 2 tablespoons fresh oregano, finely minced
• 3/4 cup extra-virgin olive oil
For Beef Kebabs:
• 1 ½ pounds beef sirloin tips, cut into 1 ½ -inch cubes
• 1 large onion, cubed
• 1 large green or red pepper, cubed
• ¼ cup cherry tomatoes.
Instructions
In a medium bowl, combine the red wine vinegar, 1 teaspoon salt, garlic, shallots and pepper. Let stand for 10 minutes. Stir in the cilantro, parsley and oregano. Whisk in the olive oil. Remove ½ cup of the chimichurri sauce to a small bowl. Season with salt to taste and reserve.
In a large bowl, place the beef cubes. Toss with the remaining marinade. Cover and chill for at least 3 hours or overnight.
Remove the meat from the marinade, letting excess drip off. Thread the beef onto 4-5 skewers, alternating beef and prepared vegetables.
Prepare a grill for medium-high heat; oil the grates. Grill the skewers, turning once, until browned and just cooked through, about 5 minutes. Serve skewers with reserved chimichurri sauce.
Notes
Chimichurri sauce adapted from Bon Appetit