Strawberry Crumble
This strawberry crumble is a summer delight and you will LOVE it. The juicy fruit filling is topped with a crunchy buttery oat topping that is baked to perfection.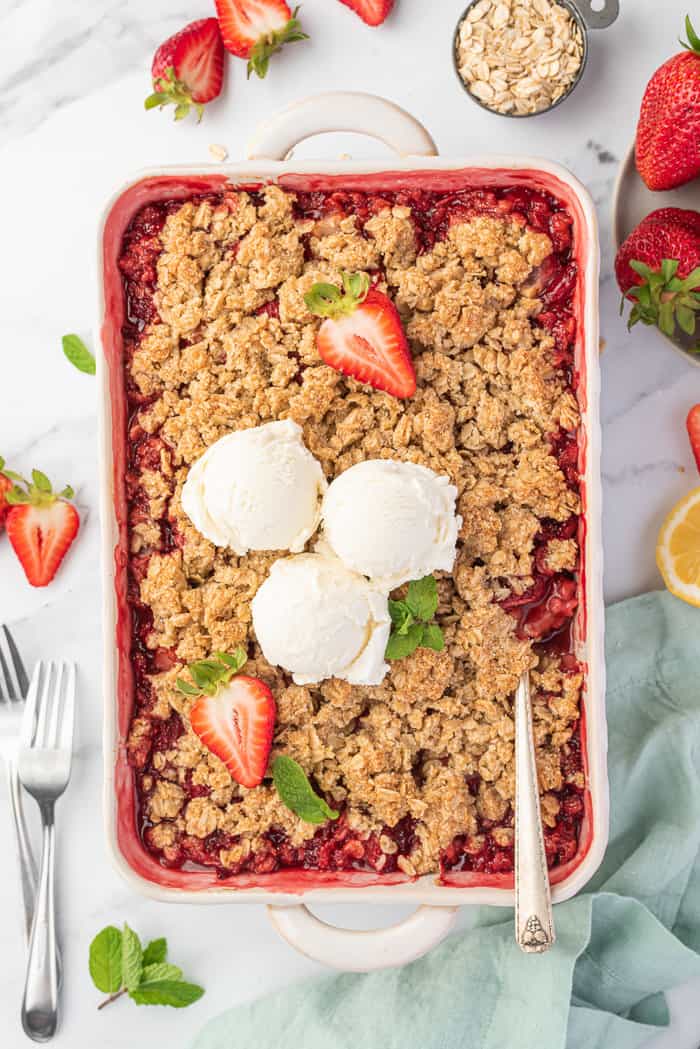 Hey there friends! Summer has so many benefits and one of my favorites is spending time with my family picking fresh veggies and fruits. I know we can all agree that fresh is better when it comes to creating flavorful desserts. My family and I just went to a local strawberry field and picked about 25 lbs of fresh strawberries. If you have ever gone to pick your own food, then you know you always leave with way more than you anticipated once you finally make it to the checkout line.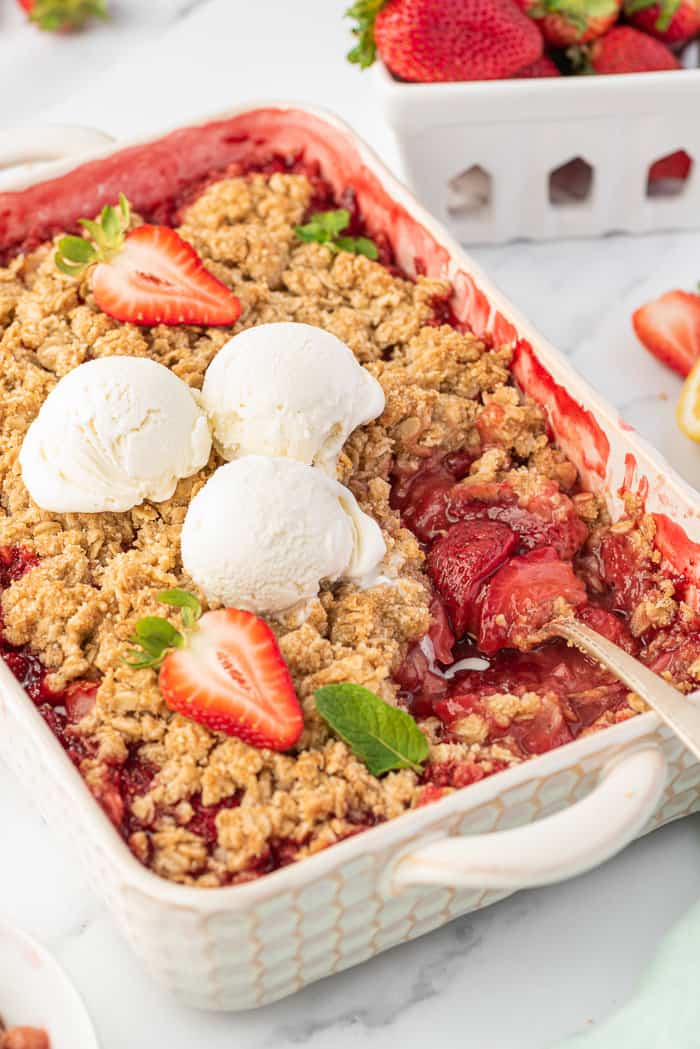 So once we got home, I got right to work on new recipe ideas that I can include these fresh berries in. With it being summer, my mind first went right to a fresh homemade strawberry pie which is a staple for most seasonal cookouts and get-togethers. But if you are planning on hosting a large event, one pie just isn't going to cut it. That's where I got the idea of making a crumble.
A crumble is basically an upside-down pie with the filling underneath your crunchy topping. Allow me to introduce the Strawberry Crumble recipe.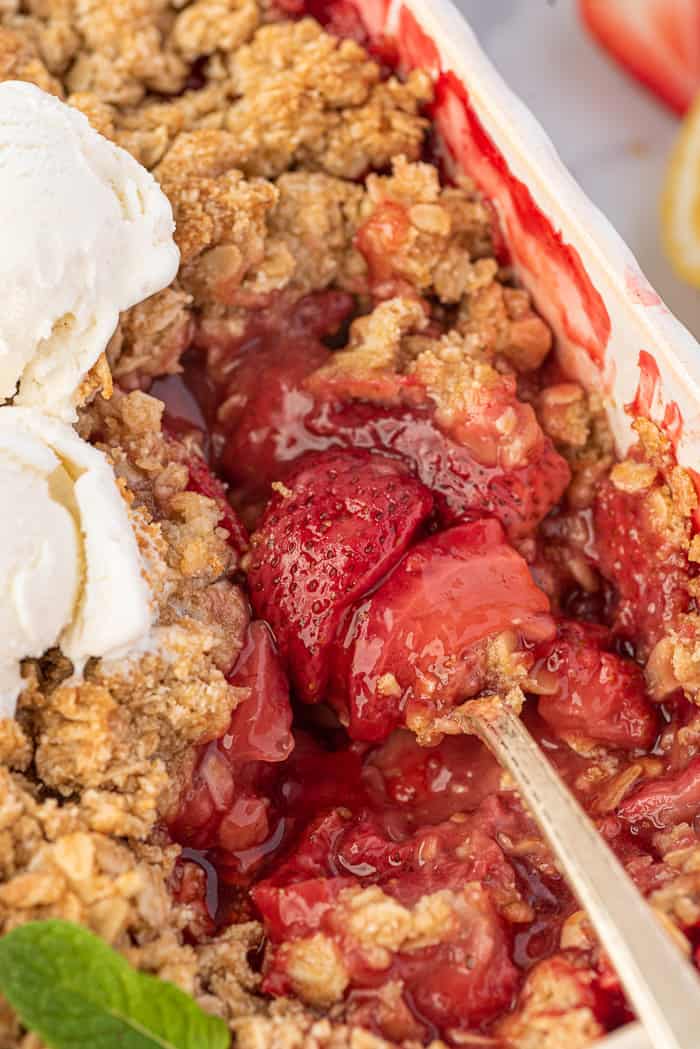 This isn't any old crumble because the topping is flavored with sweet coconut that giving this recipe a tropical flavor that does not overpower the fresh strawberries which we definitely want to keep as the highlighted flavor.
Strawberry Crumble is perfect for sharing because it is easy to serve and you get a larger amount to share than with a traditional pie.
The filling has a citrusy tang added to the berries to enhance their flavor and keep them fresh and bright.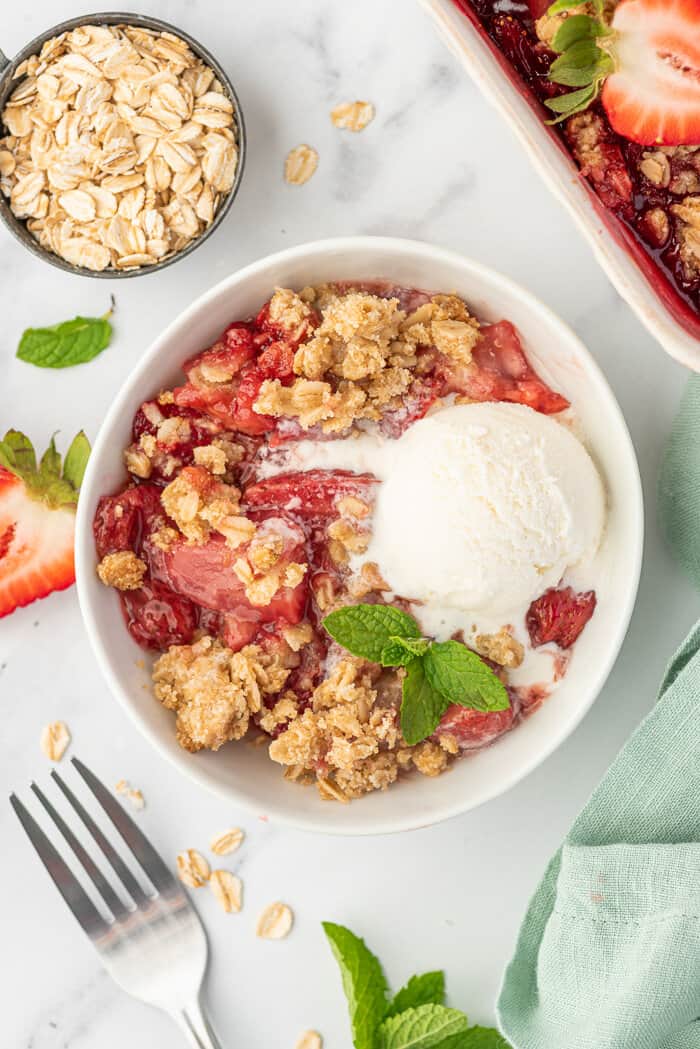 Let's jump into how to bake this Strawberry Crumble. If you don't want to see the step-by-step right now you can simply scroll to the bottom for the full recipe.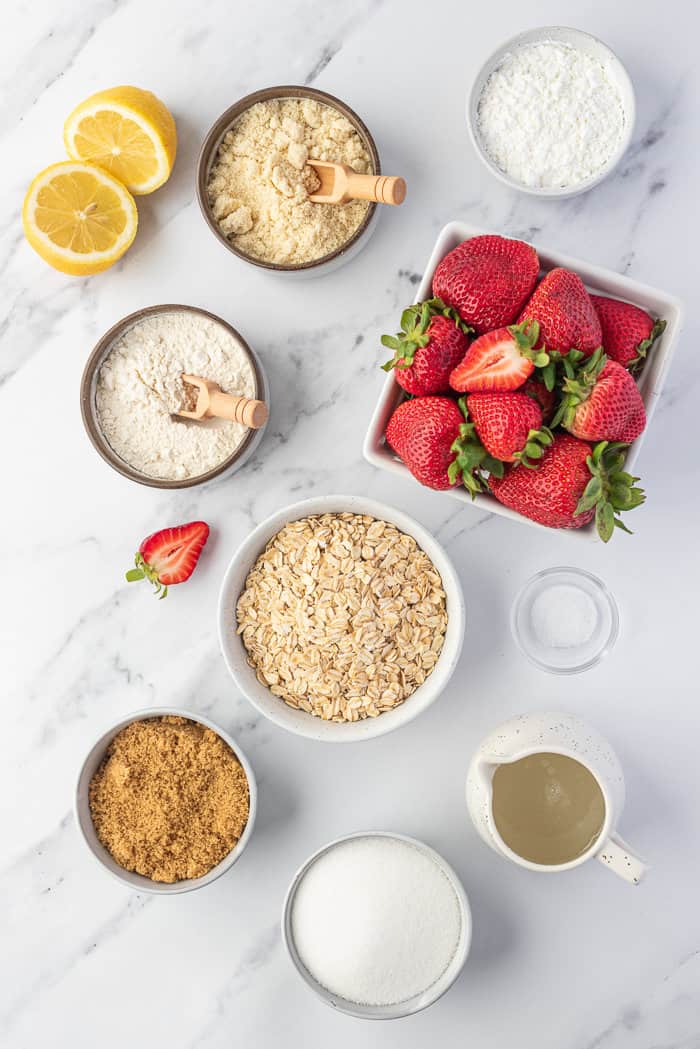 Grab a large bowl and toss all of your filling ingredients together until fully combined. Make sure the cornstarch is dissolved.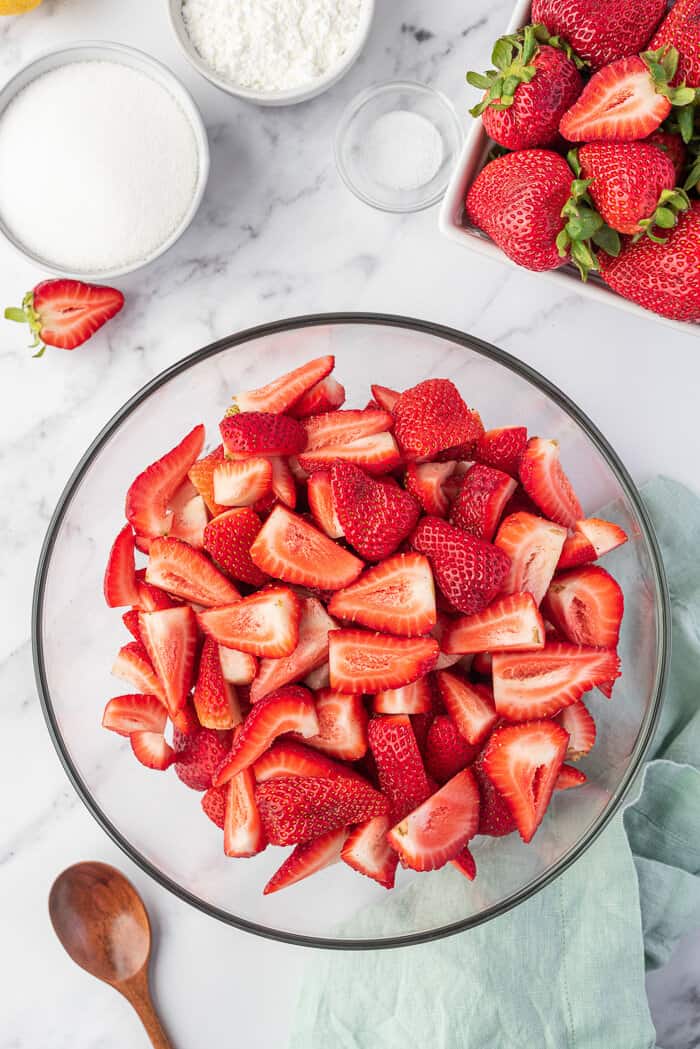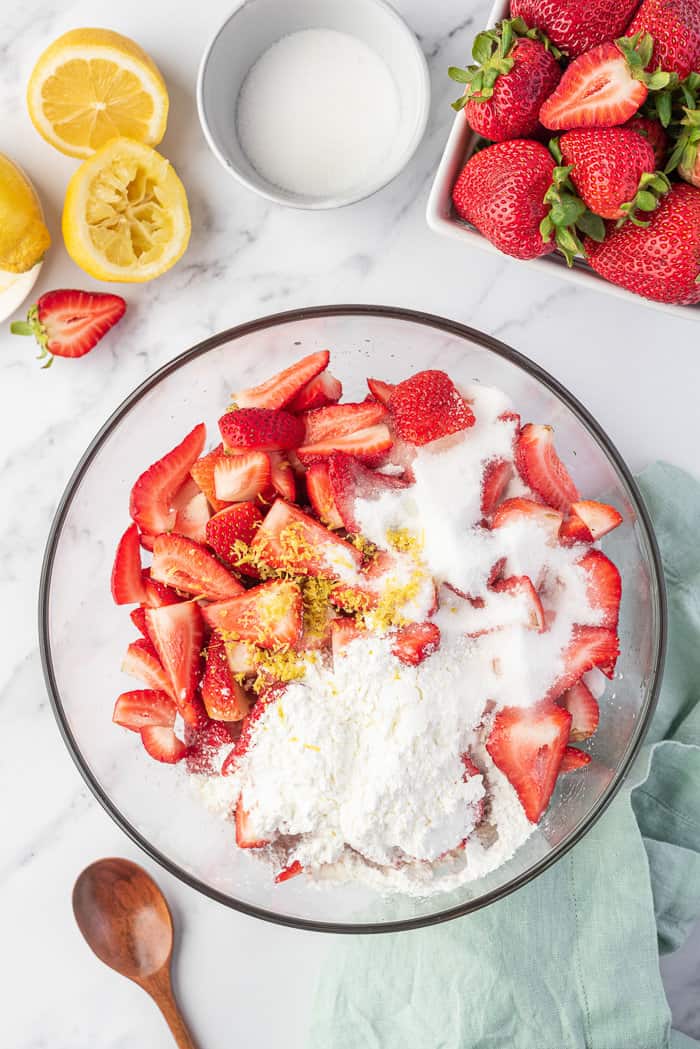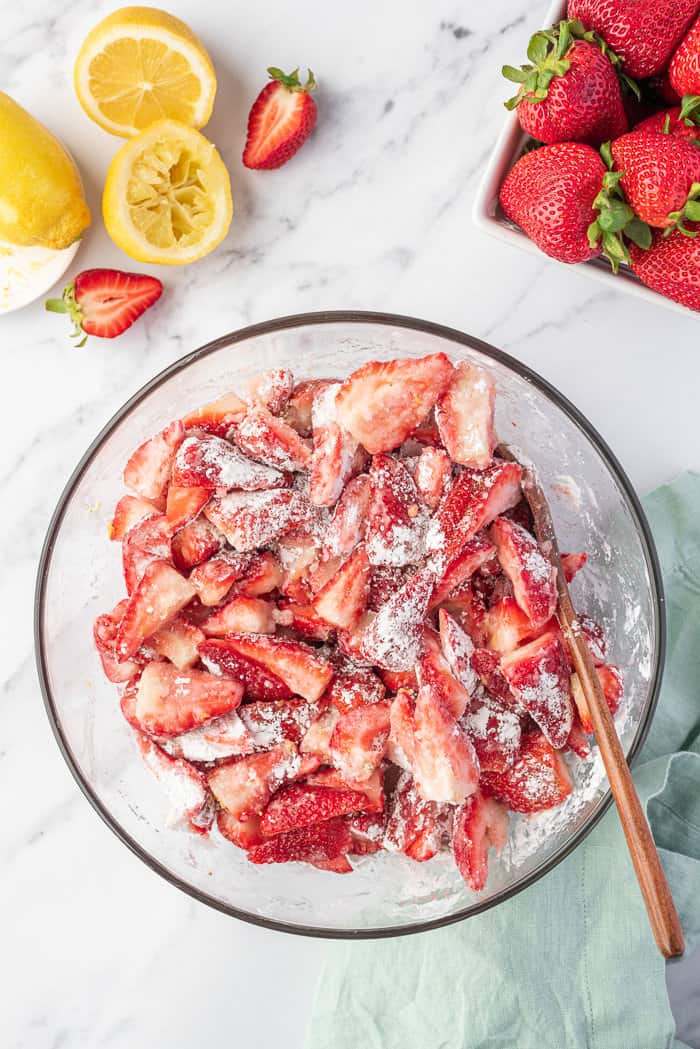 Mix all ingredients for the crumble topping in another large bowl without the coconut oil. Toss to combine.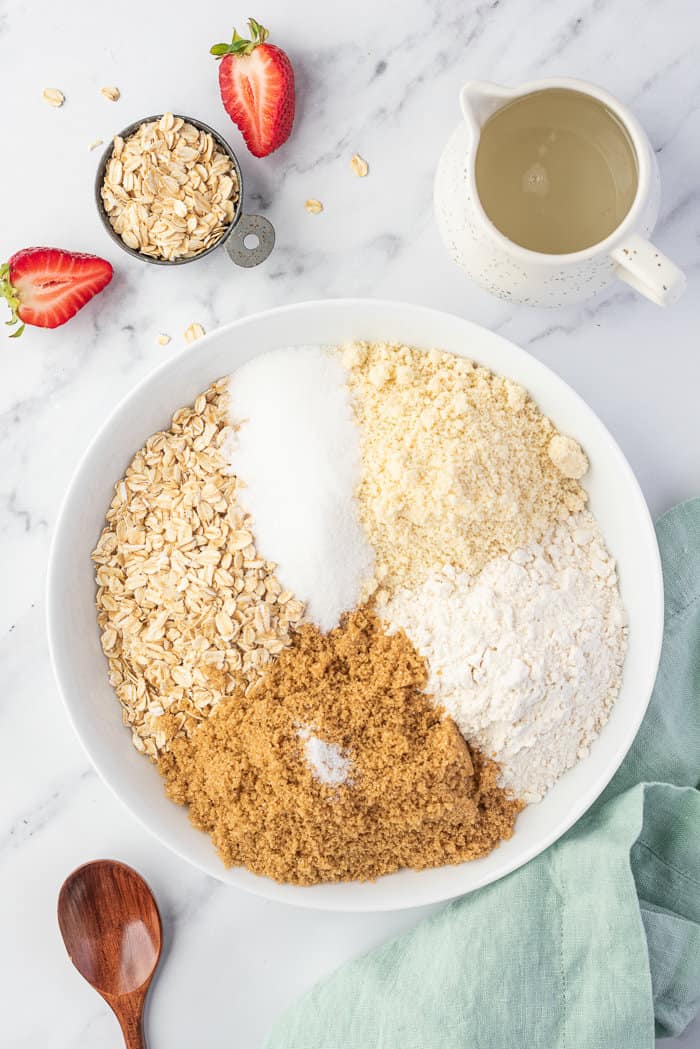 Pour in your coconut oil and combine until the mixture is clumpy.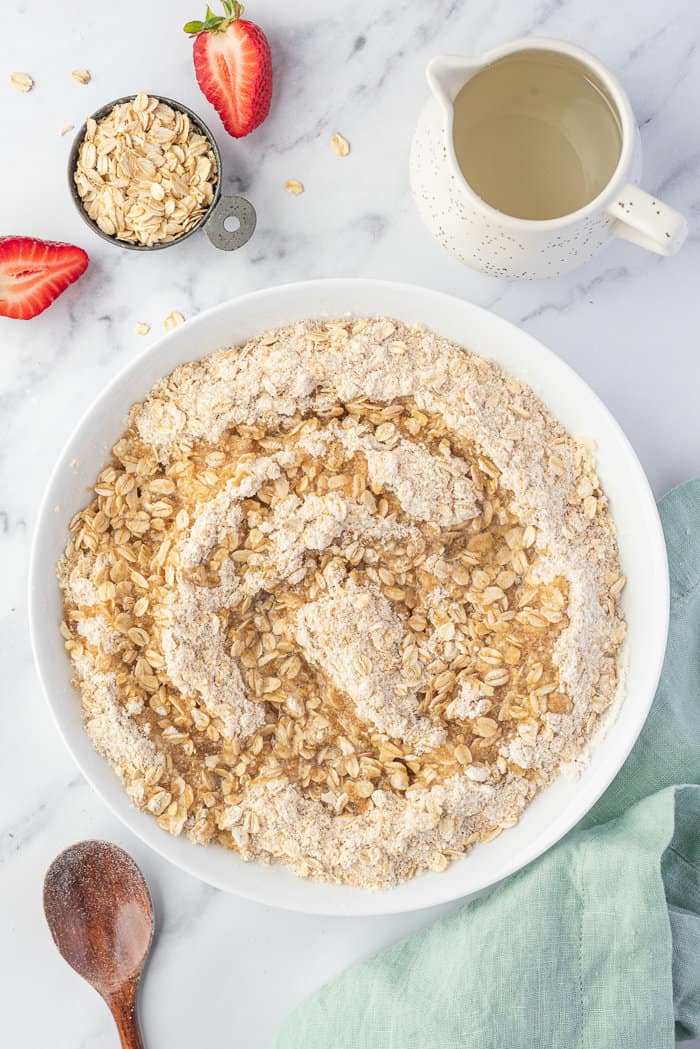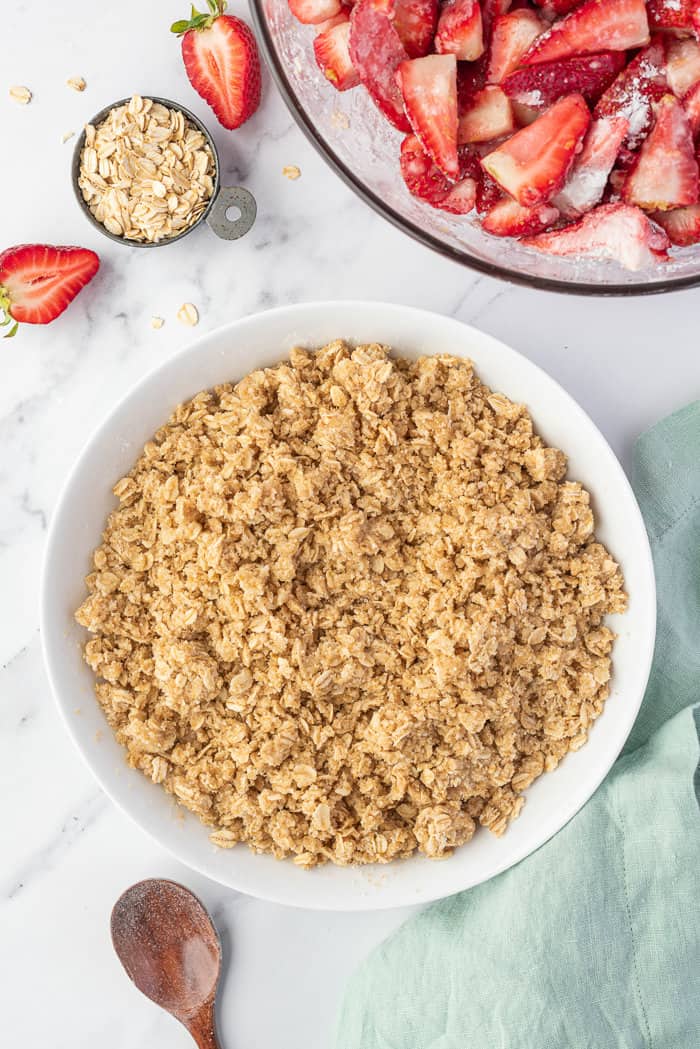 Pour your filling into your prepared baking dish and pour the topping over to completely cover.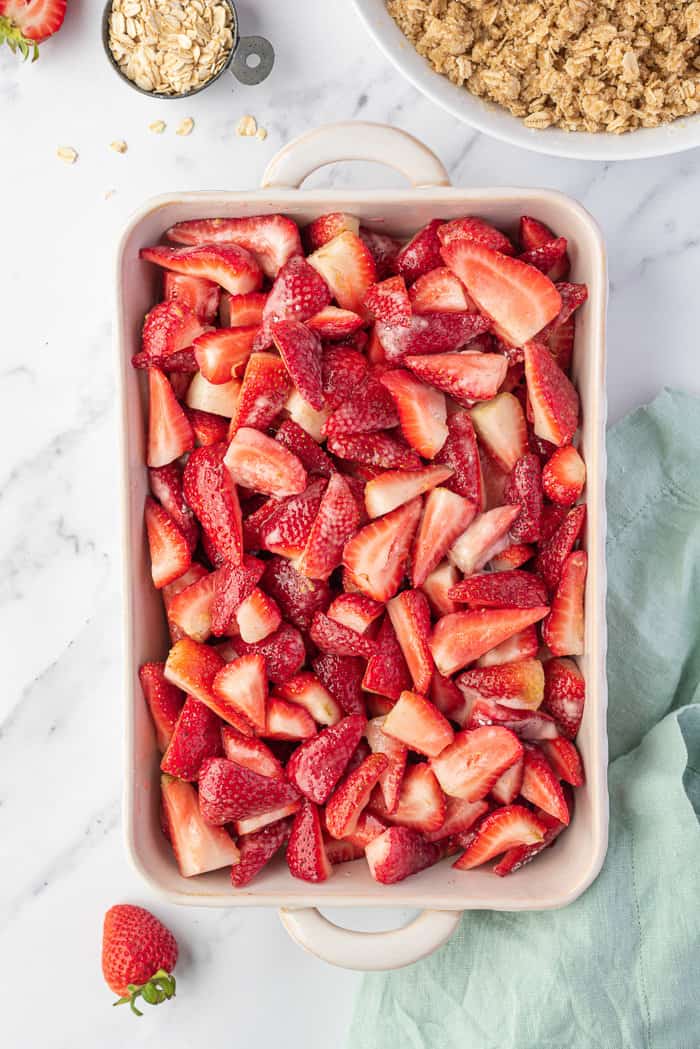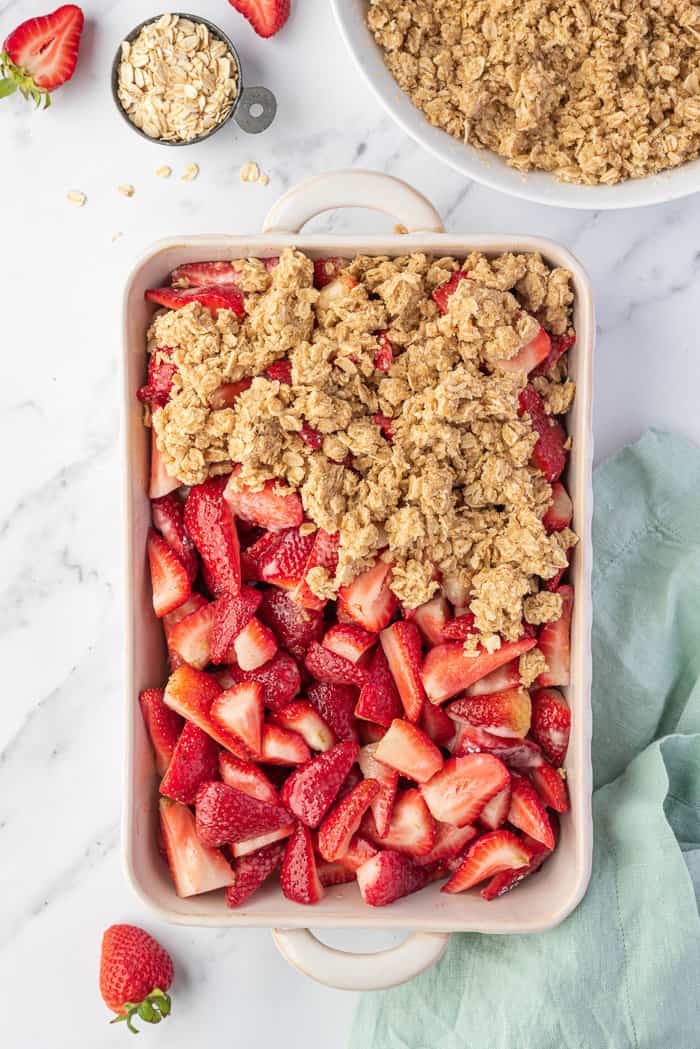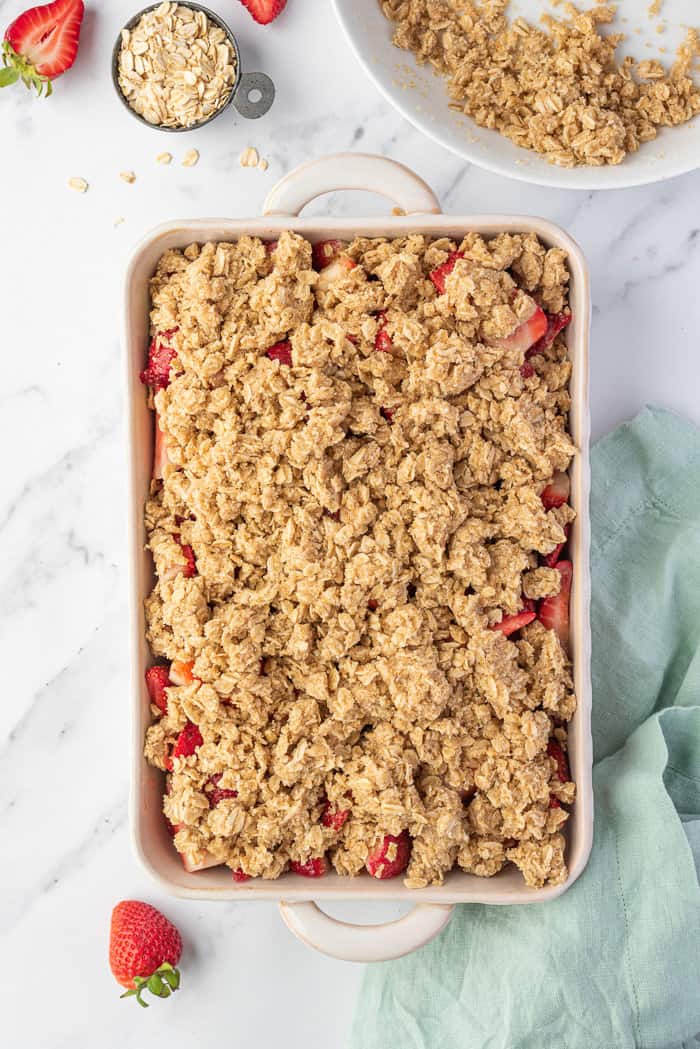 Then bake the crumble until the berries are bubbling and the oat topping is golden brown.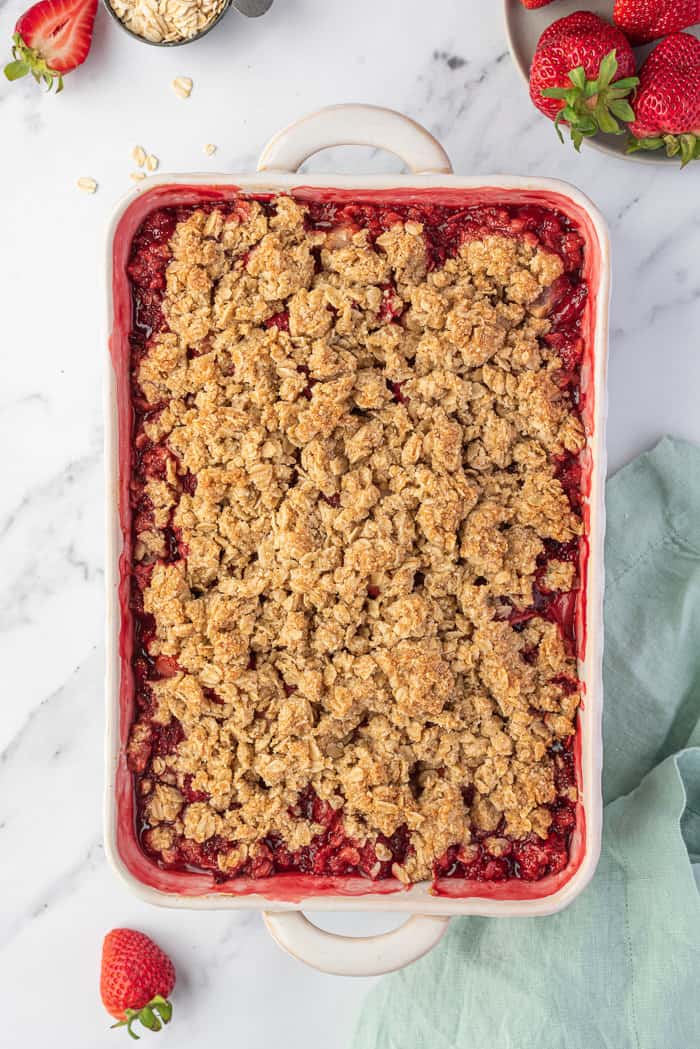 Cool and serve with a scoop of vanilla ice cream or whipped cream. ENJOY!
It is just that simple to create a mouth-watering dish to share with your guests that is tasty and supports your local farmer.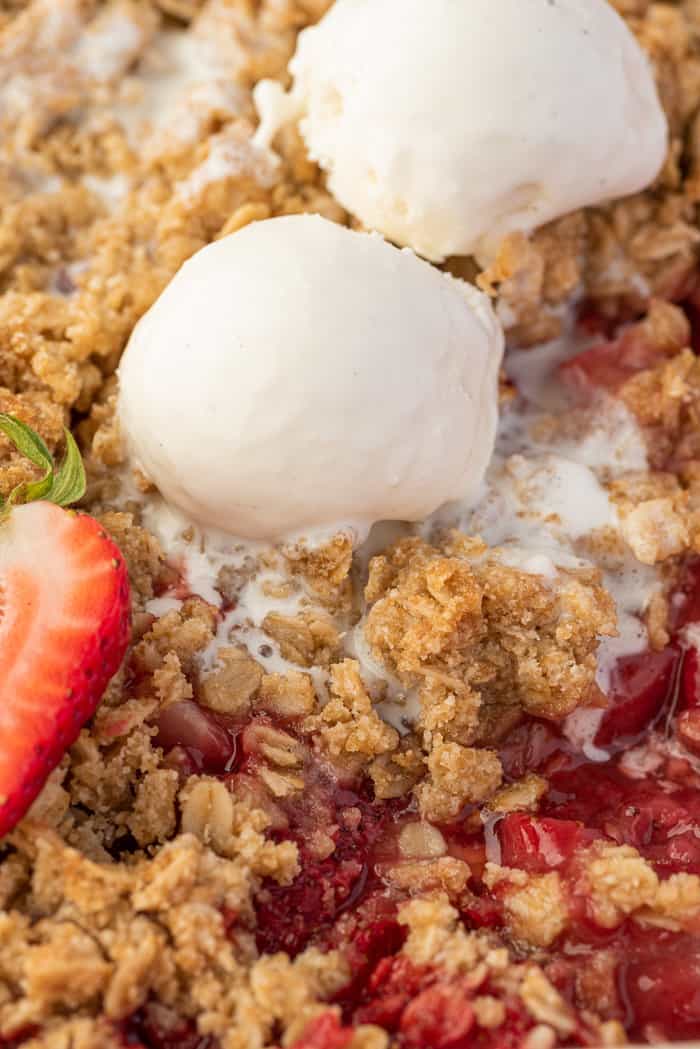 If you love strawberries and want some more inspiration then you should check out the Strawberry Sherbet, Strawberry Bundt Cake, or any recipe strawberry recipes.
More Summer Pies to try
What do you think of this Strawberry Crumble recipe? Let me know in the comment section below! As always, if you share across social media make sure to tag #aclassictwist so I can see your beautiful creation come to life.
Happy baking!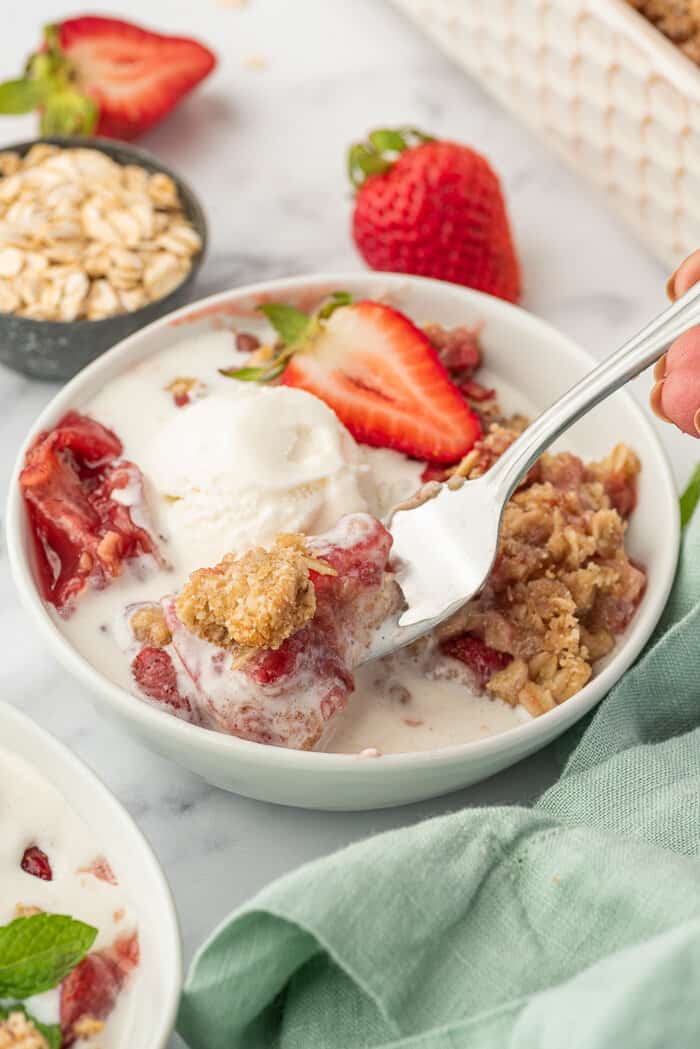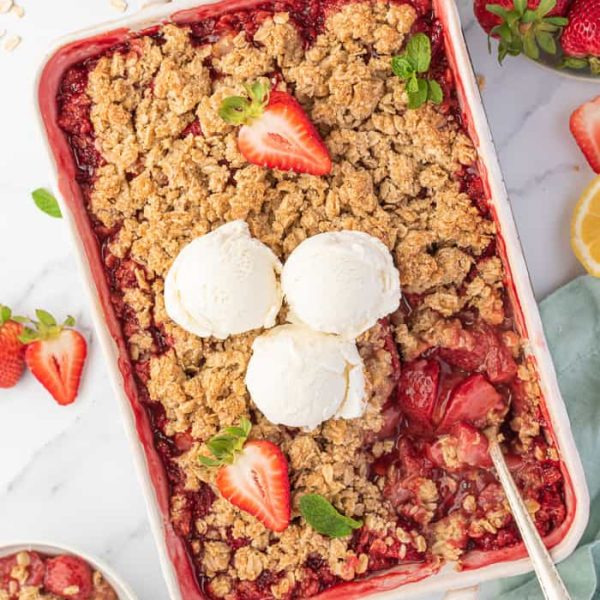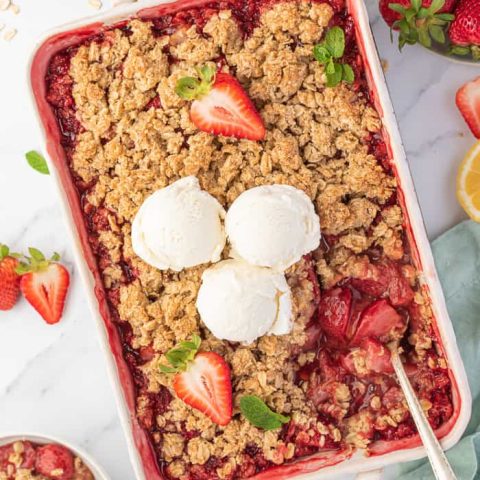 Yield: serves 8-10
Strawberry Crumble
Fresh strawberries baked under an oat coconut crumble that is delicious. This is the perfect summer dessert!
Cook Time
1 hour
10 minutes
Total Time
1 hour
30 minutes
Ingredients
For the Filling:
6 cups fresh strawberries, hulled and quartered
1 cup granulated sugar
1/2 cup cornstarch
1/4 teaspoon salt
zest and juice of one lemon
For the Crumble:
1 1/2 cups old fashioned rolled oats
3/4 cup coconut flour (you can use all-purpose flour if you'd like)
3/4 cup almond meal
1/4 cup granulated sugar
3/4 cup brown sugar, packed
1/4 teaspoon salt
3/4 cup coconut oil, melted
Instructions
Preheat the oven to 375 degrees F. Grease a 3-quart round or rectangular dish.
In a large bowl, toss the ingredients for the filling until just combined. Make sure all the cornstarch is well tossed. Set aside while you make the topping.
Mix the rolled oats, coconut flour, almond meal, sugars, and salt in a medium bowl. Add in the melted coconut oil and mix until clumps form. You can use your hands to mix the mixture and clump some together.
Transfer the filling to the prepared dish. Cover completely with the topping. Place the baking dish onto a baking sheet and bake for about 70 mins, or until the fruit is bubbly in the center and edges and the topping is golden brown. If needed, cover the baking dish with foil for the last 30 minutes of baking.
Let crumble cool on a cooling rack until warm. Serve warm with a scoop of ice cream.
Recommended Products
As an Amazon Associate and member of other affiliate programs, I earn from qualifying purchases.