Lemon Blueberry Cupcakes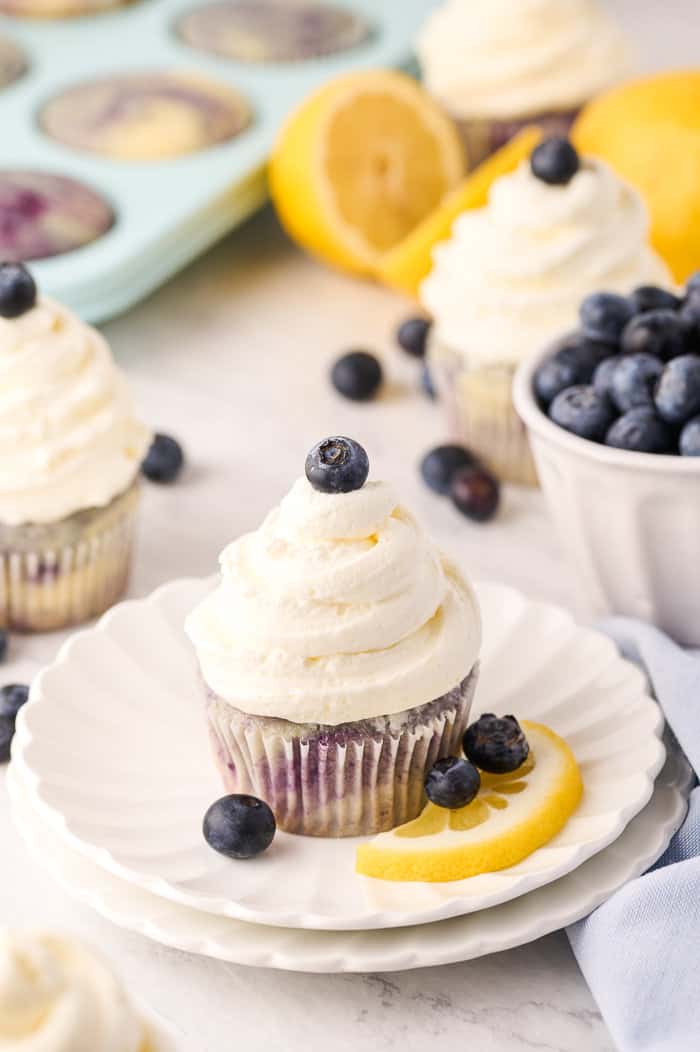 Welcome back, friends! If this is your first time visiting, then welcome :-). This is my favorite time of the year for cooking and baking because this is the season of celebration and sharing. If you have a family member or friend who has a summer birthday don't just go to the store and grab a package of those small cupcakes or sheet cakes. Make something from the heart that will appeal to all ages. These Lemon Blueberry Cupcakes are the highlight for today and it is just waiting for you to recreate.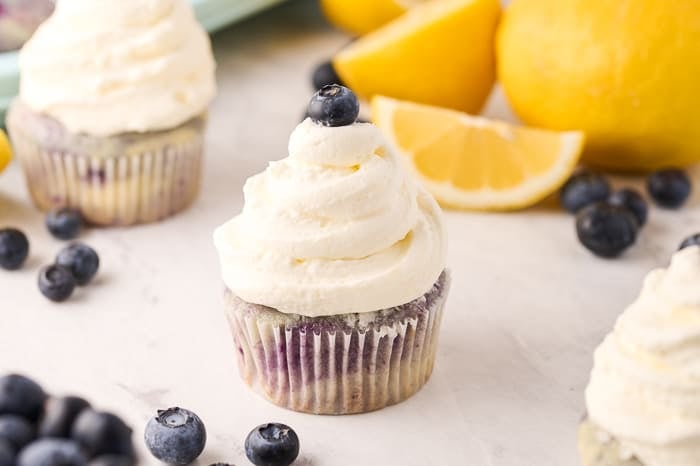 If you are looking for something fun to do with the family this summer, you should find a local farm and go pick your own blueberries! There is nothing better than farm to table and the flavor is elevated to peak freshness with each bite. No soggy blueberries to worry about.
These Lemon Blueberry Cupcakes have a bright lemon flavor in the fluffy cupcake base filled with a tangy blueberry compote for a special delight for anyone who takes a bite. Now add the fluffiest whipped cream cheese frosting on top for the dessert of the season.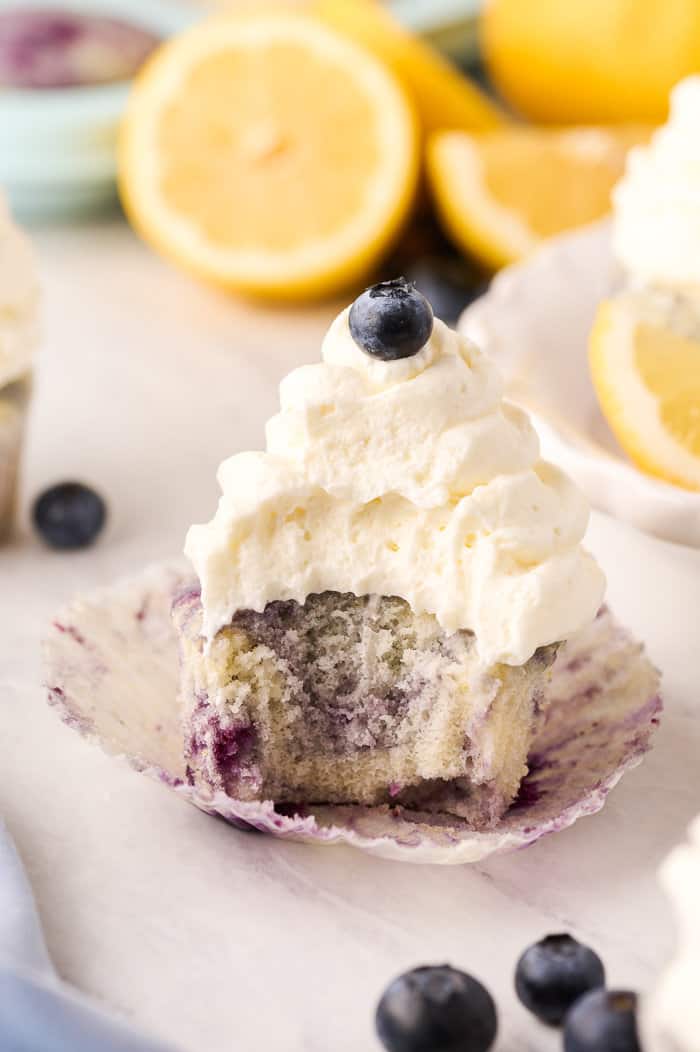 After one bite you truly get all the summer vibes. Fresh, delicious, and light makes for the best summer treats. I love sharing these for summer birthday parties and especially for my son who as mentioned before is one of the only kids I know that doesn't like chocolate.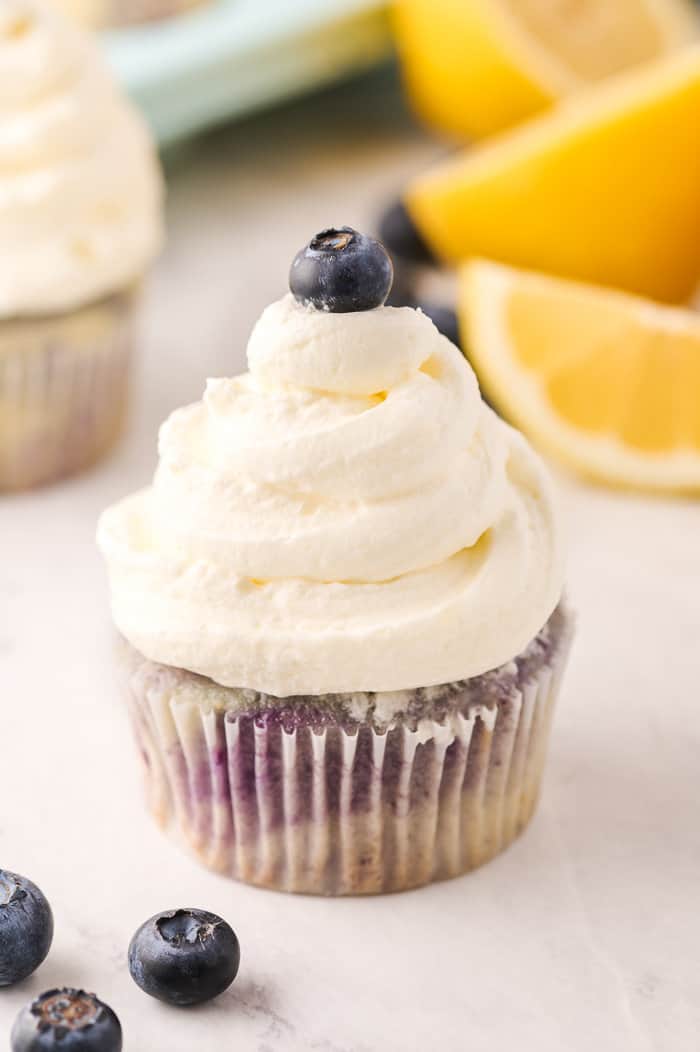 Let's dive into creating these Lemon Blueberry Cupcakes now. If you don't want to see the step-by-step now you can simply scroll to the bottom of the post for the full recipe.
To make this cupcake, you make a lemon cupcake batter. Fresh lemon zest and lemon juice with a reverse creaming cake method.
For the Blueberry Compote
Add all ingredients to a saucepan over medium-high heat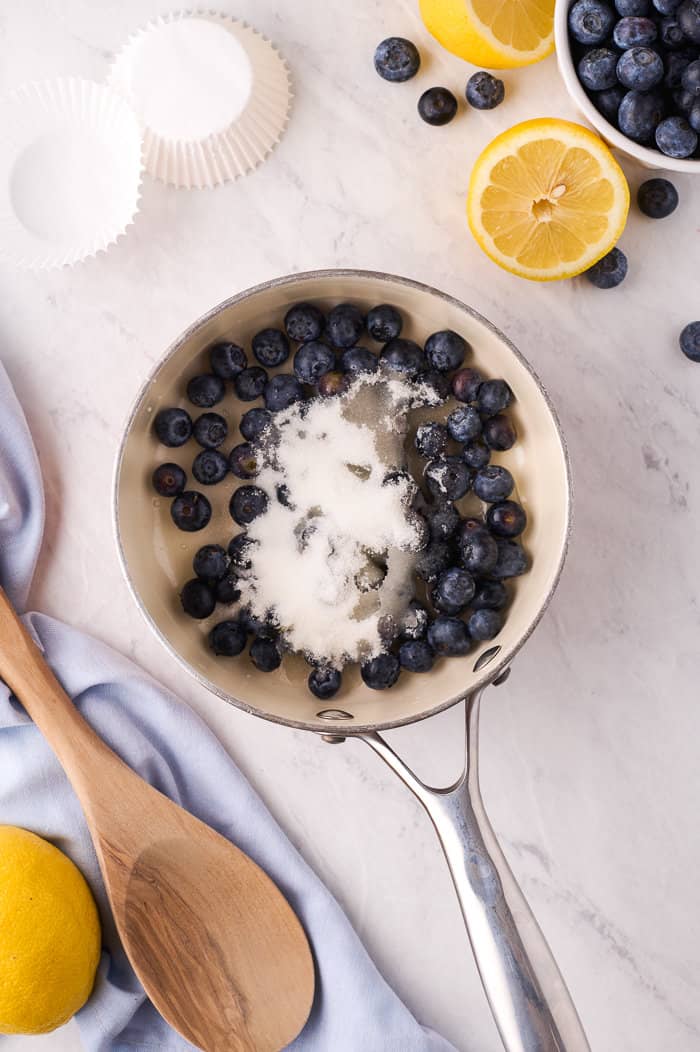 Cook about 10 minutes until the sauce starts to thicken up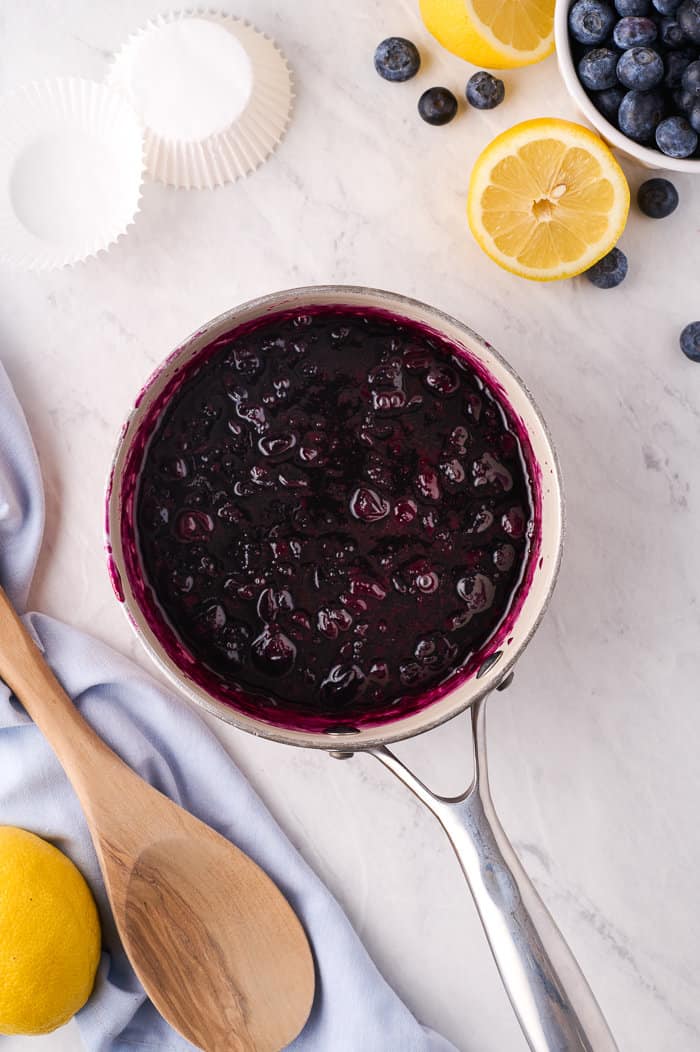 Once it has cooled you can swirl some of it into the cupcake batter.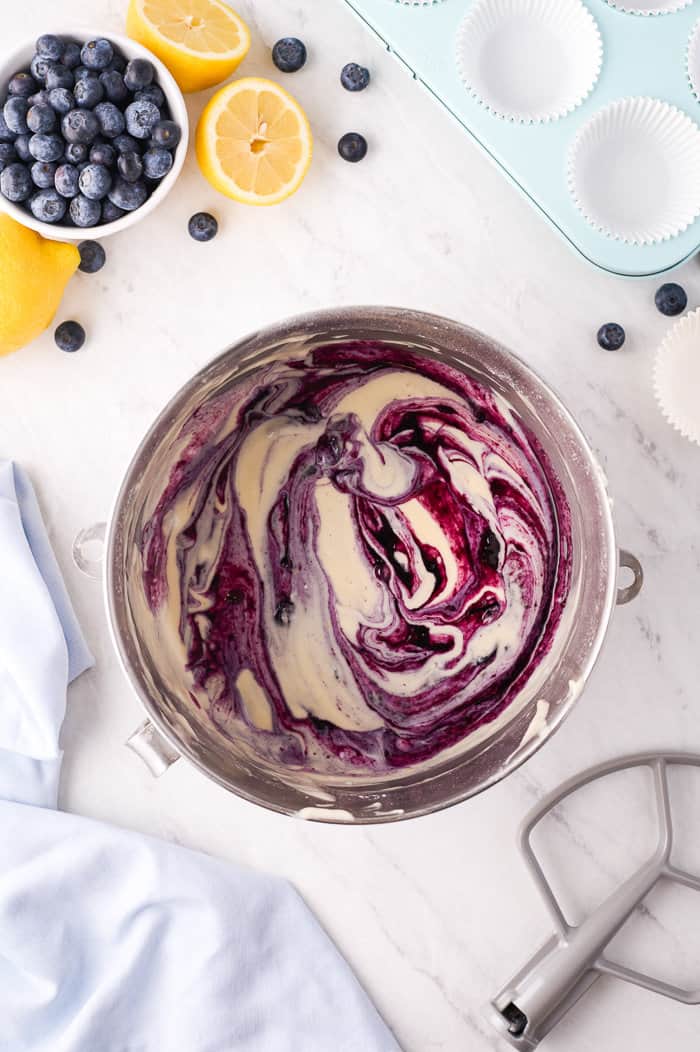 Fill your cupcake tins with ⅔ of the batter and bake for 12-15 minutes.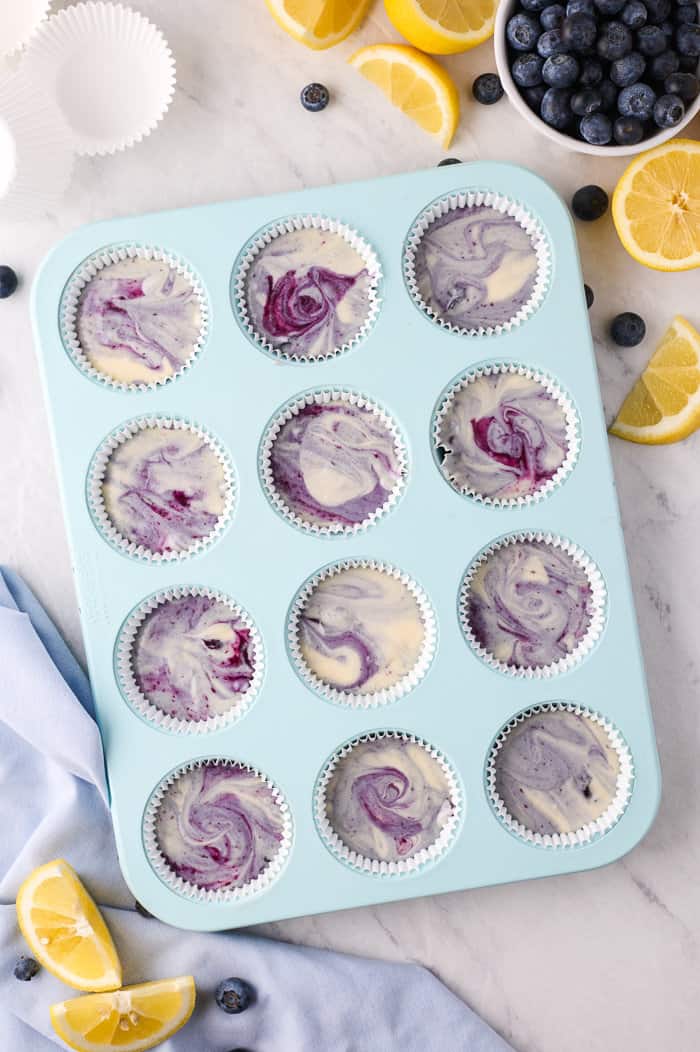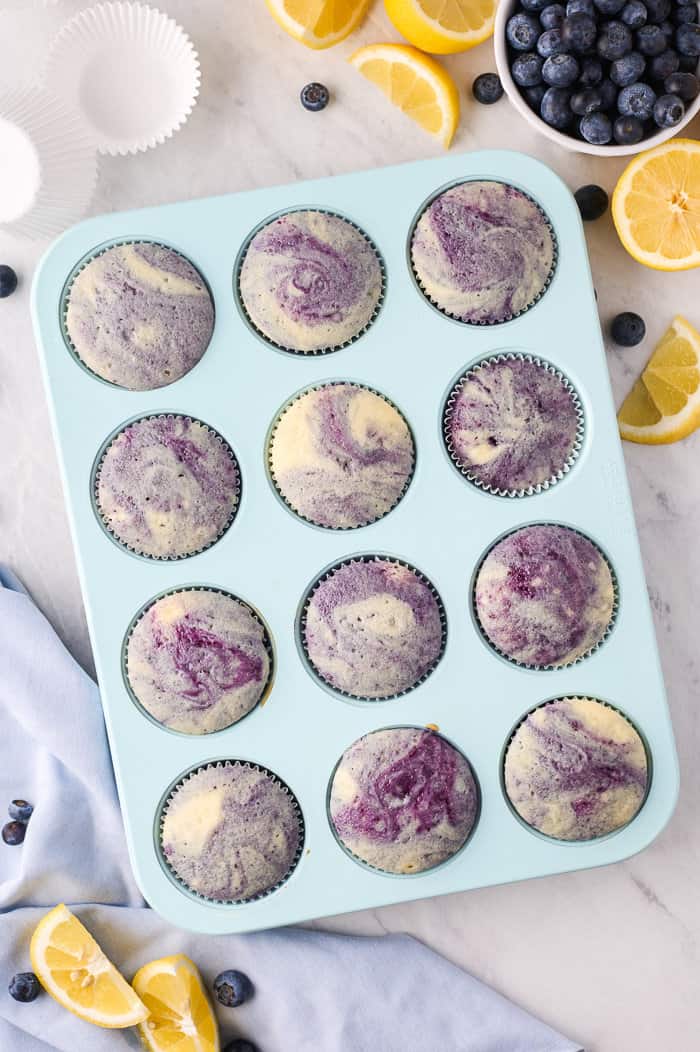 Frosting
Whip your cream cheese in a stand mixer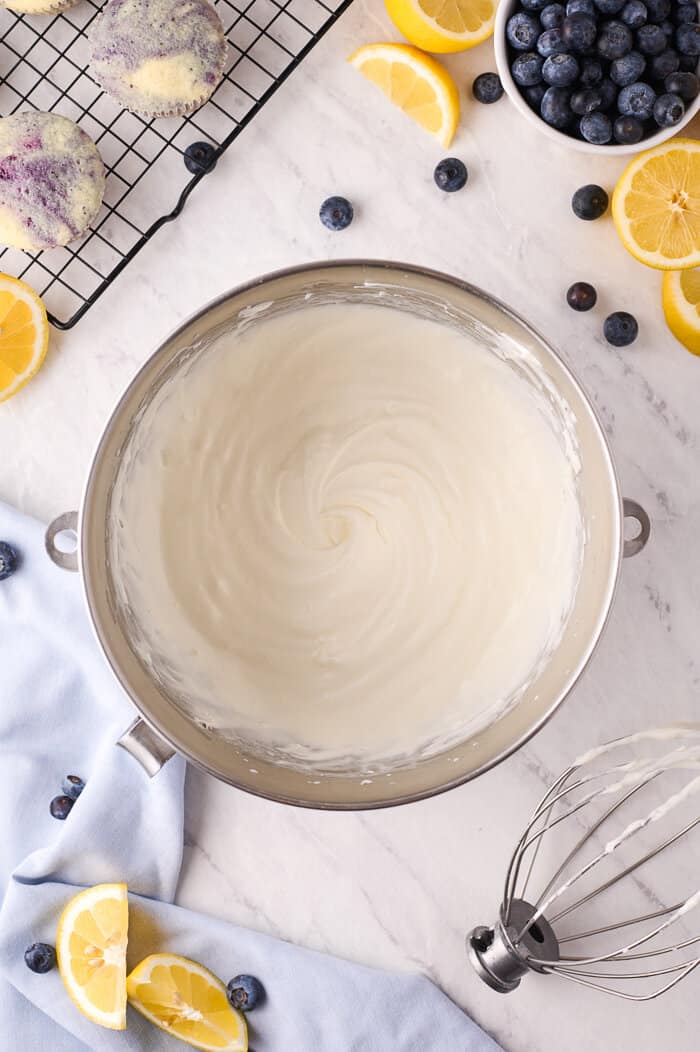 Add the rest of the ingredients and beat on low for one minute. Mix until frosting is light and fluffy but do not overmix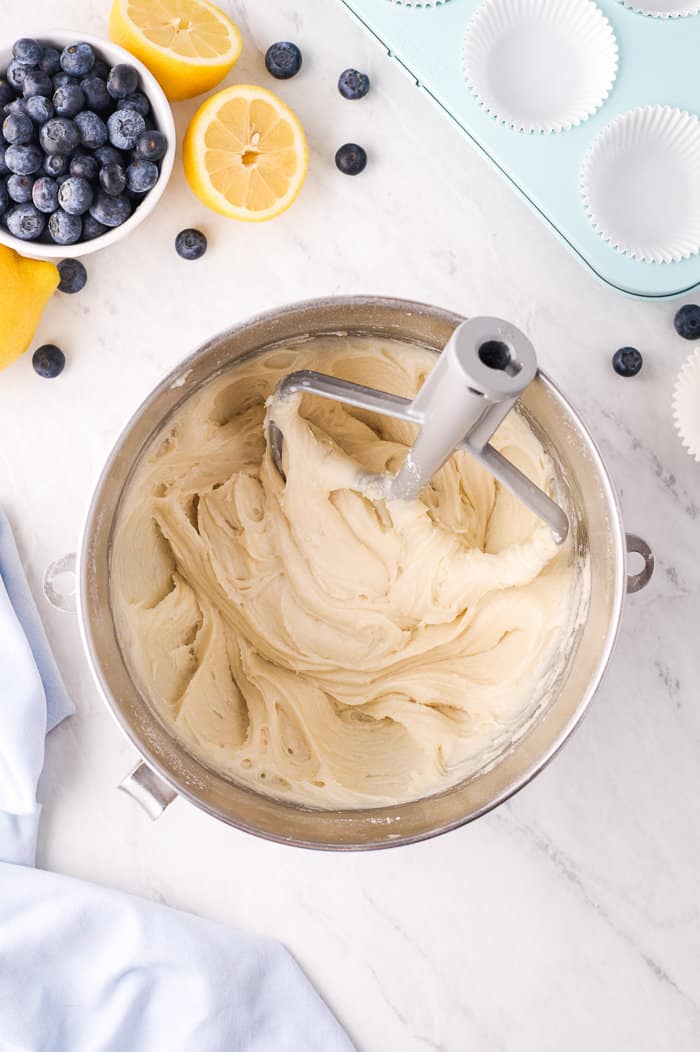 Frost your cupcakes with your preferred frosting tip.
Take a bite and enjoy!
Now that we have walked through how you can enjoy these Lemon Blueberry Cupcakes at home, can you imagine how good that first bite will be?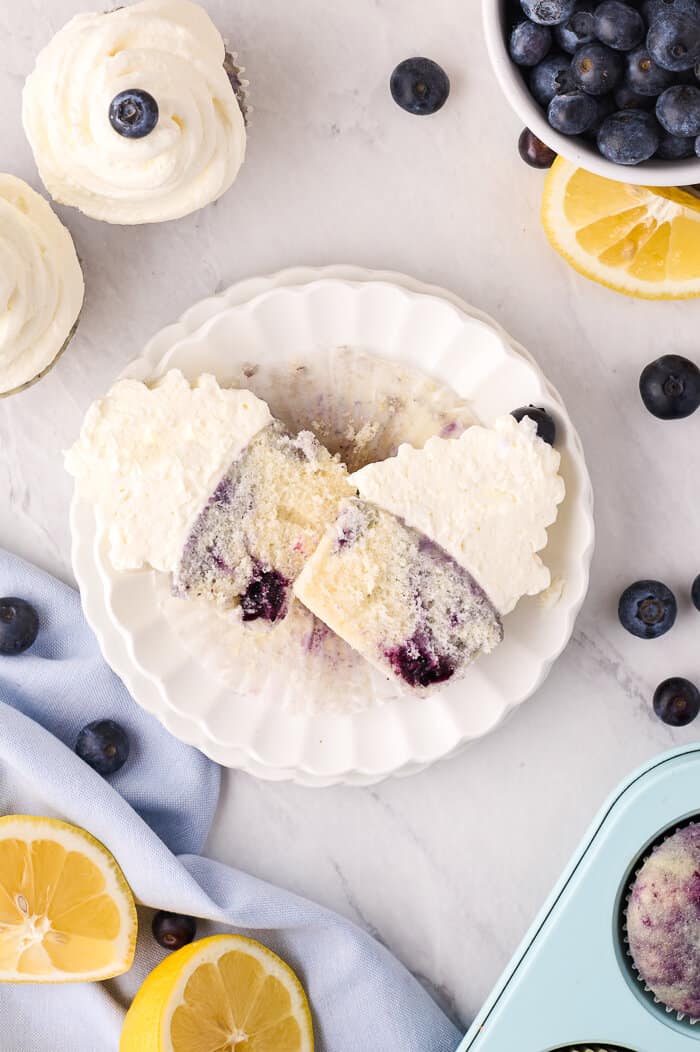 If you love the combination of lemon and blueberry then you need to check out these Blueberry Lemon Sweet Rolls, Brown Butter Blueberry Lemon Cake, or any of these delicious combinations.
Where would you serve these Lemon Blueberry Cupcakes? A simple recipe that appeals to everyone in the family. Let me know in the comment section below.
As always, if you share across social media make sure to tag #aclassictwist so I can see your creation come to life.
Happy summer baking!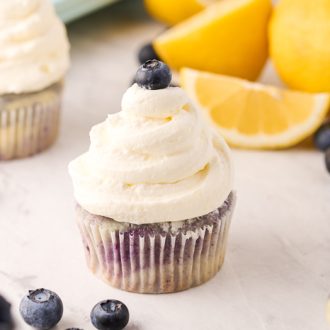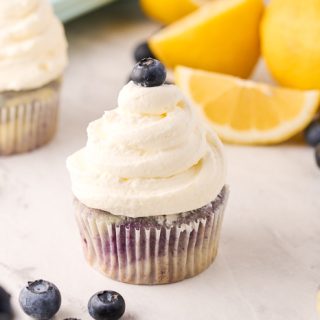 Yield: ~18 cupcakes
Lemon Blueberry Cupcakes
These lemon blueberry cupcakes start with a moist, tender lemon cake filled with lemon zest and fresh lemon juices. The cupcakes are filled with a sweet blueberry compote and topped with a lightly whipped cream cheese frosting, perfect for spring or summer entertaining. 
Total Time
1 hour
15 minutes
Ingredients
For the Cupcakes:
1 cup whole milk, room temperature
1 whole egg, room temperature
4 large egg whites, room temperature
2 teaspoons pure vanilla extract
1 teaspoon lemon extract
2 ½ cups cake flour, sifted
1 ½ cups granulated sugar
1 ¼ tablespoons baking powder
¾ teaspoon kosher salt
zest of 1 lemon
1 ½ sticks unsalted butter, at room temperature and cut into cubes
For Blueberry Compote:
1 cup fresh blueberries
1 tablespoon lemon juice
1/4 cup granulated sugar
For the Frosting:
4 ounces cream cheese, softened at room temperature
2 cups heavy whipping cream, cold
1/2 cup confectioner's sugar
1 teaspoon lemon extract
Zest of one lemon
Instructions
For Cupcakes:
Preheat the oven to 350 degrees F. Line muffin tins with cupcake liners.
Whisk together a third cup of the milk, egg, egg whites, lemon, and vanilla extracts.
Sift the cake flour in the bowl of an electric mixer fitted with the paddle attachment (Or a medium bowl if using a hand mixer). Add the sugar, baking powder, salt, and lemon zest to the sifted flour. Stir together at low speed for 1 minute, until combined.
Add the butter one piece at a time and blend at low speed for 1-2 minutes or until the flour mixture resembles wet sand. Then add the remaining milk, and mix on low speed until moistened. Increase speed to medium and mix for 1½ minute. Be careful not to over mix. Scrape the sides of the bowl as needed.
Add the egg/milk/extract mixture in 3 separate batches mixing on medium speed after each addition until combined.
Divide the batter into the prepared cupcake liners, filling each 2/3 full, and bake for 12-15 minutes or until a cake tester comes out clean when inserted in the center of a cupcake.
Let cakes cool completely before frosting.
Blueberry Compote
Combine all the ingredients for the compote in a medium saucepan set over medium-low heat.
Cook until berries break down and juices start to thicken up. About 10-15 minutes, stirring occasionally.
Remove from heat and transfer berry mixture to a heat-safe bowl and let cool completely.
Lemon Whipped Cream Cheese Frosting
Whip cream cheese for 2-3 minutes on medium speed using the whisk attachment of an electric mixer until creamy.
Add the rest of the ingredients and mix on low speed for 1 minute. Then increase speed to medium and whisk until soft peaks form. The frosting will be light and fluffy. Do not over-mix.
Frost cupcakes using your decorative tip of choice.
Recommended Products
As an Amazon Associate and member of other affiliate programs, I earn from qualifying purchases.