Blueberry Lemon Sweet Rolls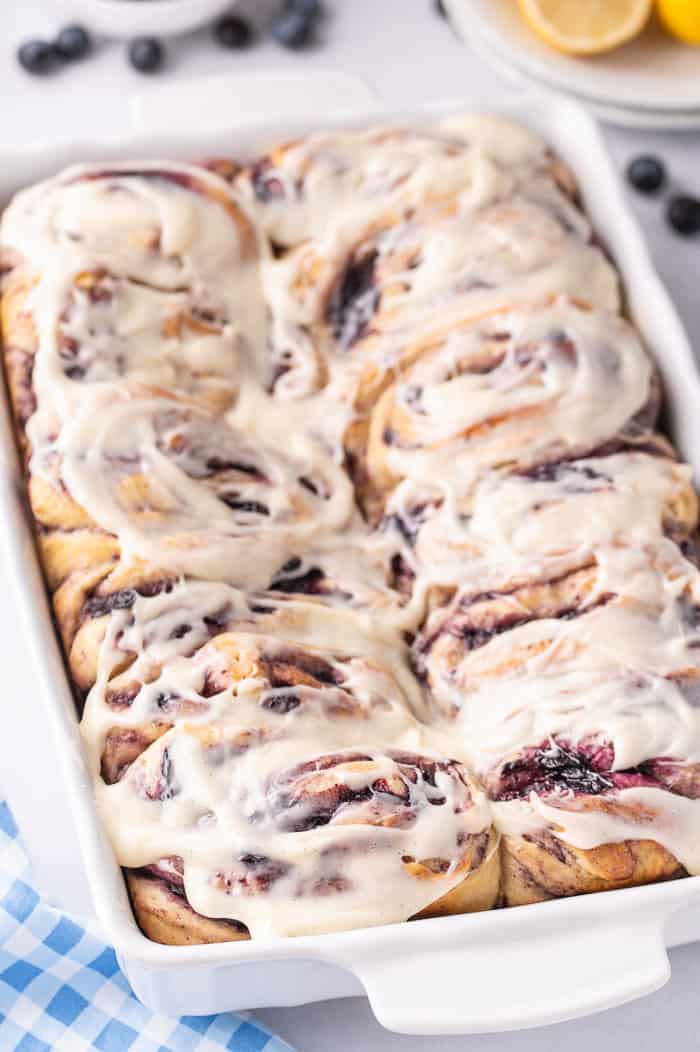 Hey there everyone. I'm back with two of my all-time favorite ingredients to use together in a recipe, Blueberry, and Lemon. Something about the sweet and slightly tart blueberries blended with puckering citrus always has an amazing result. These blueberry lemon sweet rolls are just that; sweet, tart, and lip-puckering! And it's the perfect weekend brunch recipe.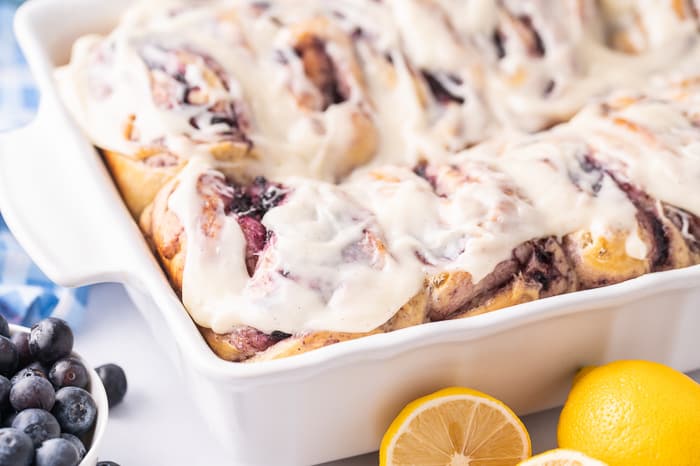 These sweet rolls have a gooey filling made up of blueberries, brown sugar, cinnamon, and lemon. Then topped with a lemon and vanilla bean icing that coats each roll with the perfect amount of sweetness.
When enjoyed right out of the oven, you get a warm roll filled with juicy blueberry filling. It is a great weekend breakfast or brunch recipe.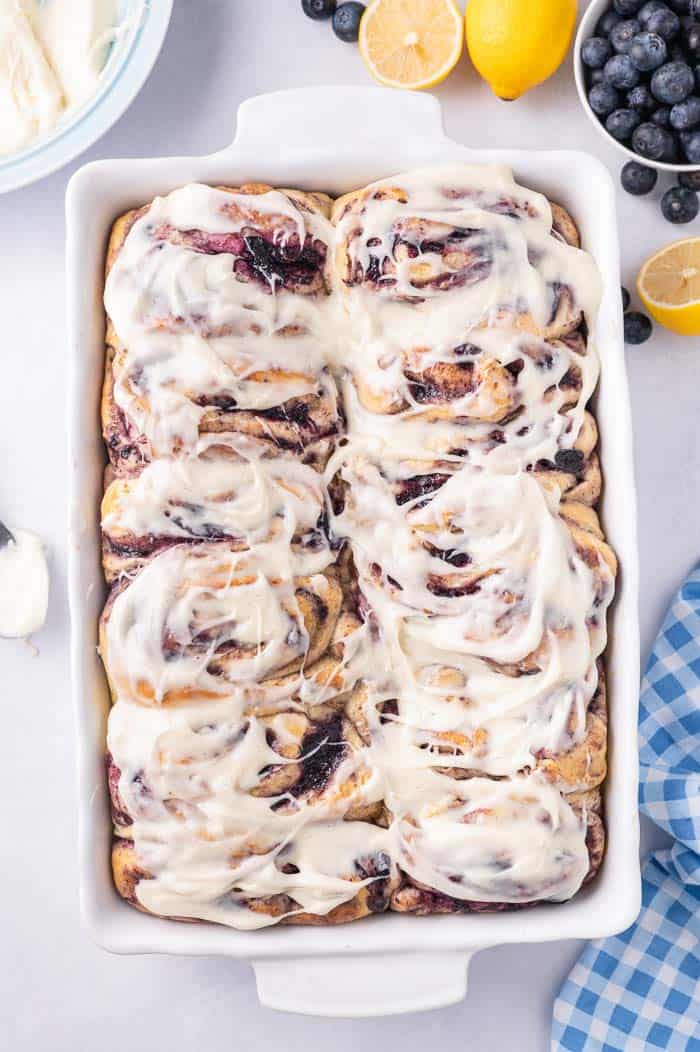 If you like this blueberry lemon combo here, check out these Brown Butter Blueberry Lemon Cake, Blueberry Lemon Dutch Baby Pancake, Lemon Blueberry Cake with Whipped Cream Cheese Frosting; just to name a few.
Let's walk through how to make these blueberry lemon sweet rolls! If you are not a fan of the step-by-step pictures, feel free to scroll to the end.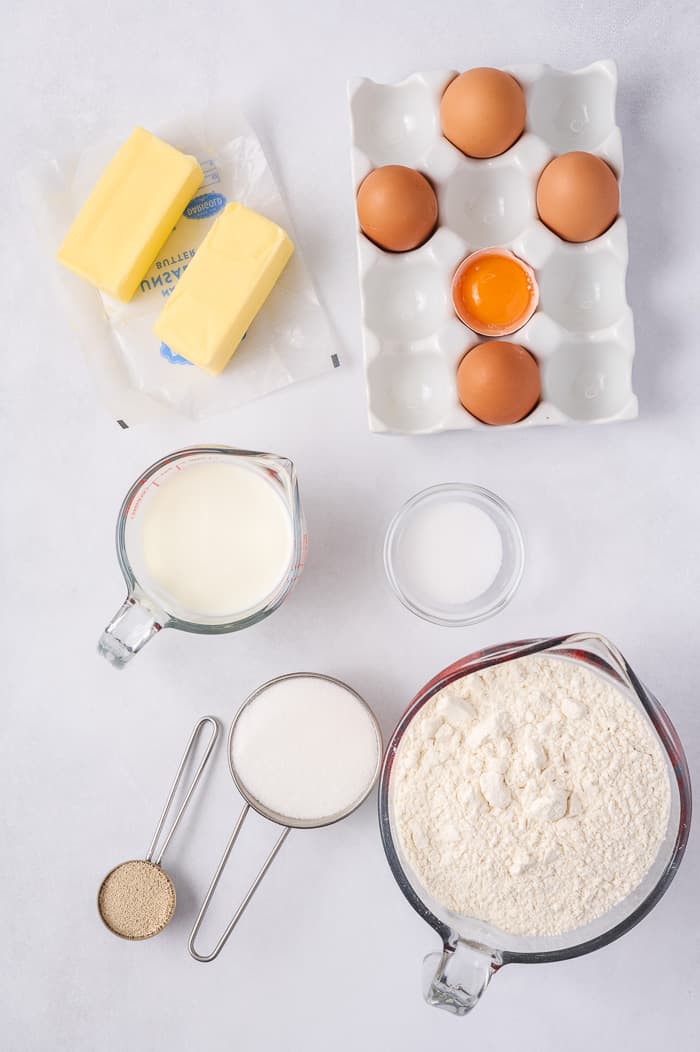 I recommend making the dough the day before you plan on baking your sweet rolls.
Whisk together the dry ingredients – bread flour, sugar, yeast, and salt.
In another bowl, combine the wet ingredients – eggs, yolk, and milk.
Add the wet ingredients into your dry ingredients and mix at a low speed under a dough ball form. You will need to knead until it is smooth.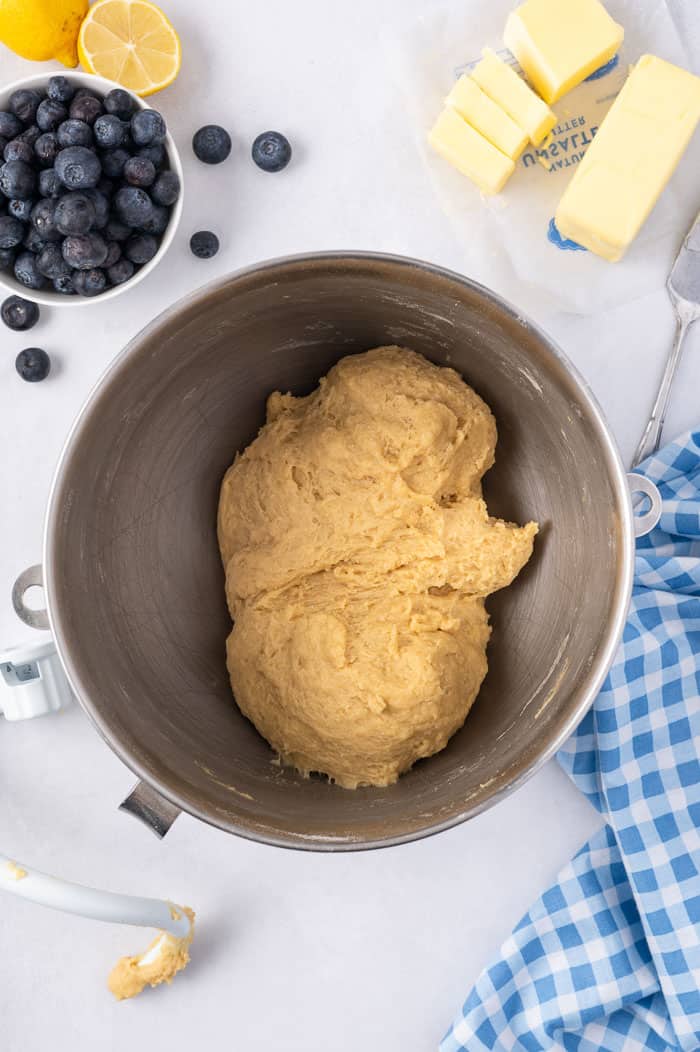 Transfer dough ball to a large bowl to rise. The dough is enriched so it might not rise a bunch and that is what we want.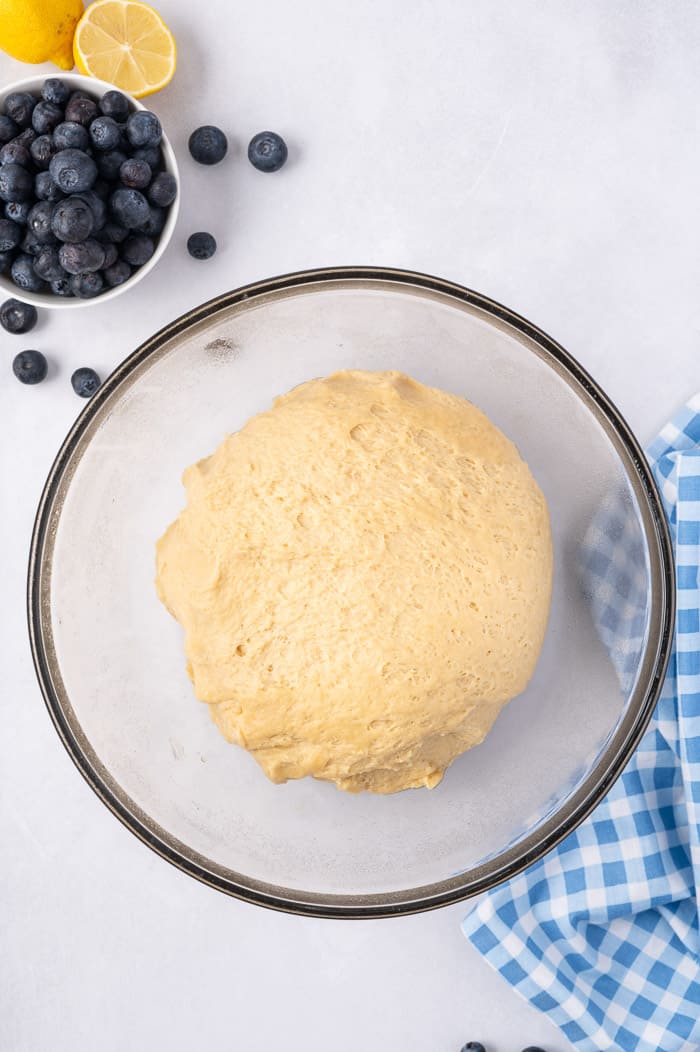 Once your dough has risen, transfer to a baking sheet lined with parchment paper. Make sure dough is formed into a rectangle about 1-inch thick. The dough should be as even as possible.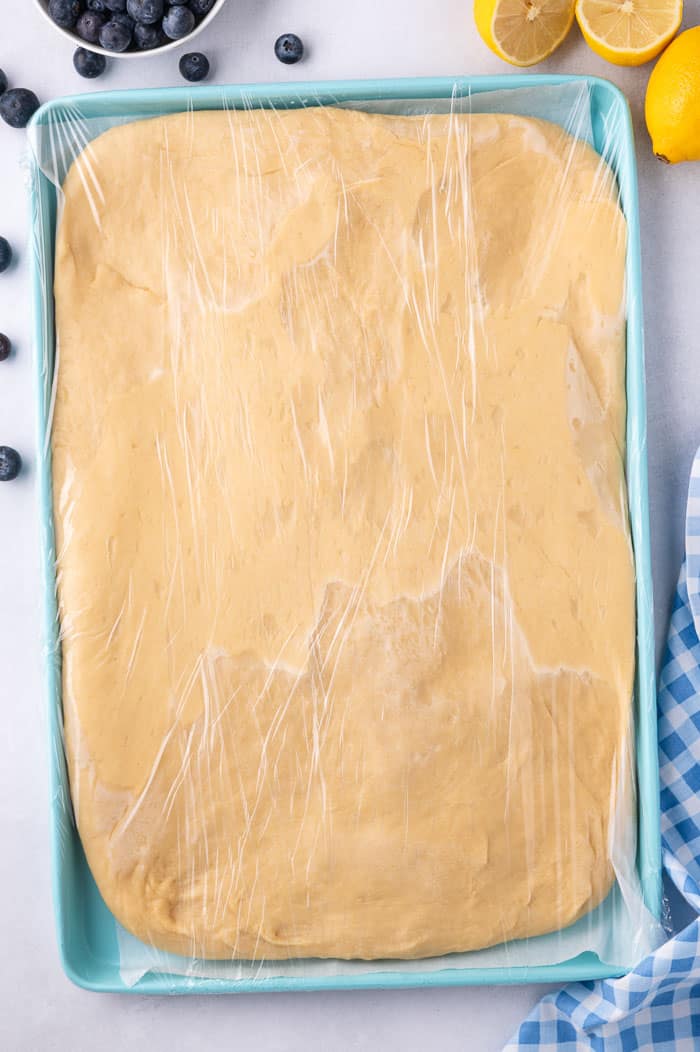 Cover the dough with plastic wrap where it is directly touching and chill in the fridge overnight. That way you can bake fresh rolls first thing in the morning :-).
It's time to make the filling while the dough rests. Combine brown sugar, blueberries, cinnamon, lemon zest, and lemon juice and simmer until the blueberries break down.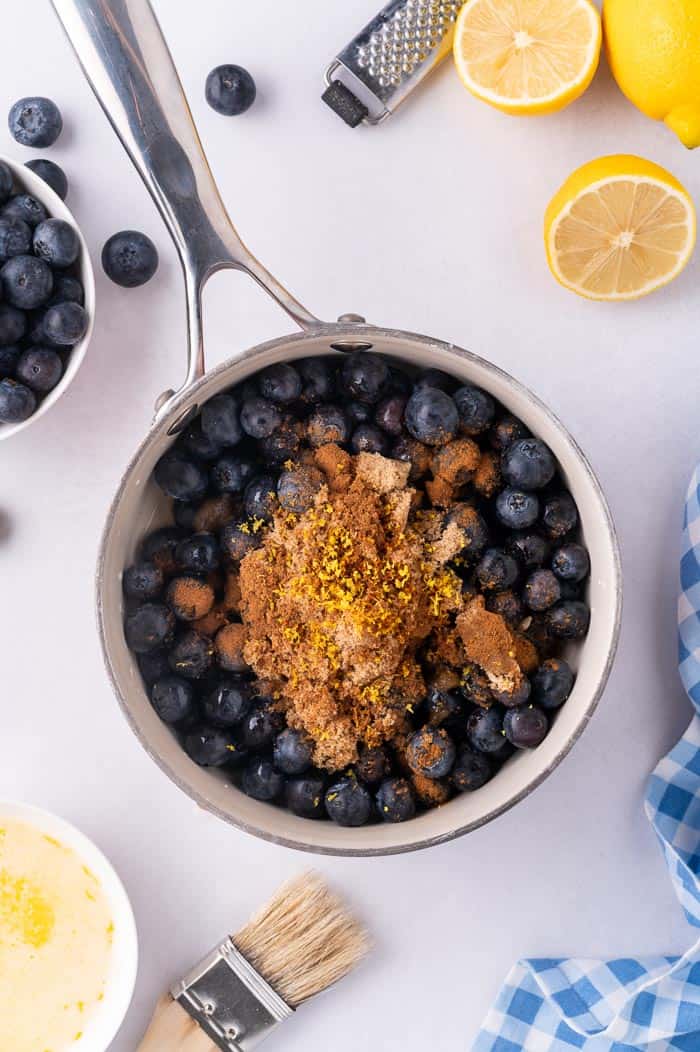 Let cool.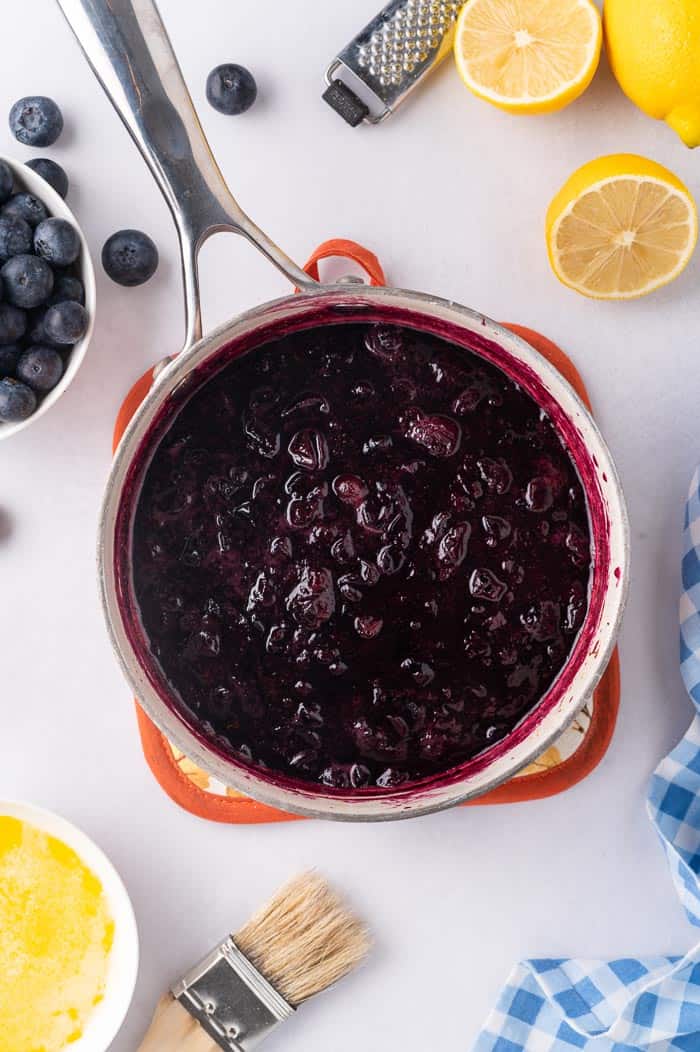 When ready for the dough, Lightly four your work surface and remove the dough from the fridge. Roll the dough into another rectangle about ½ thick.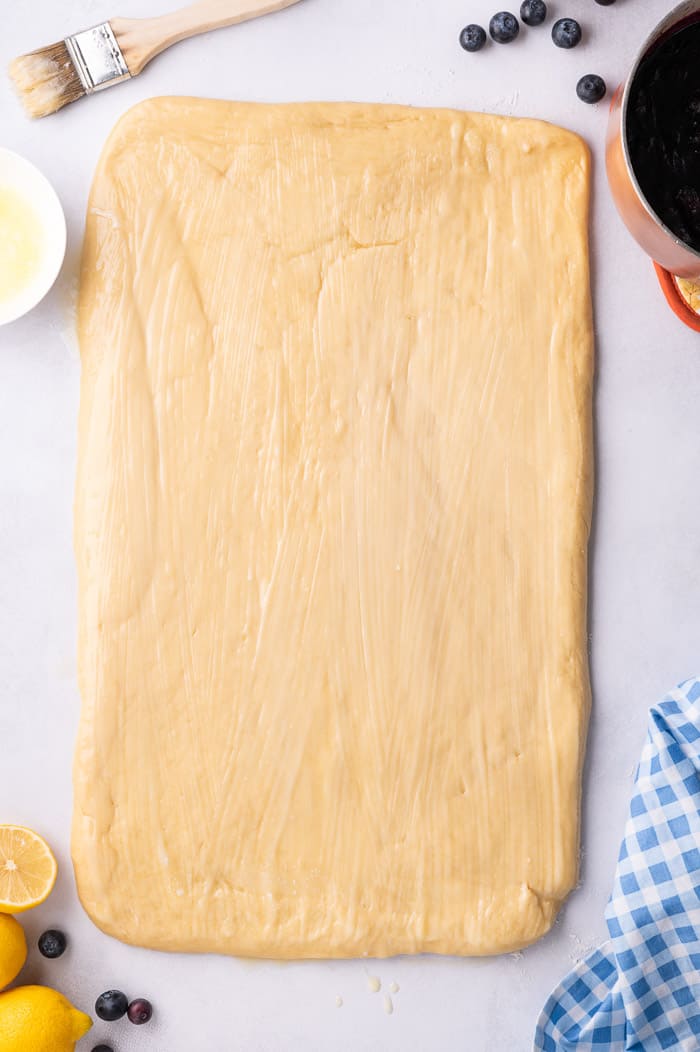 Brush some melted butter over the top of the dough. Spread the blueberry filling over the dough with a spatula in an even layer. Make sure to spread the filling all the way to the edge of the dough.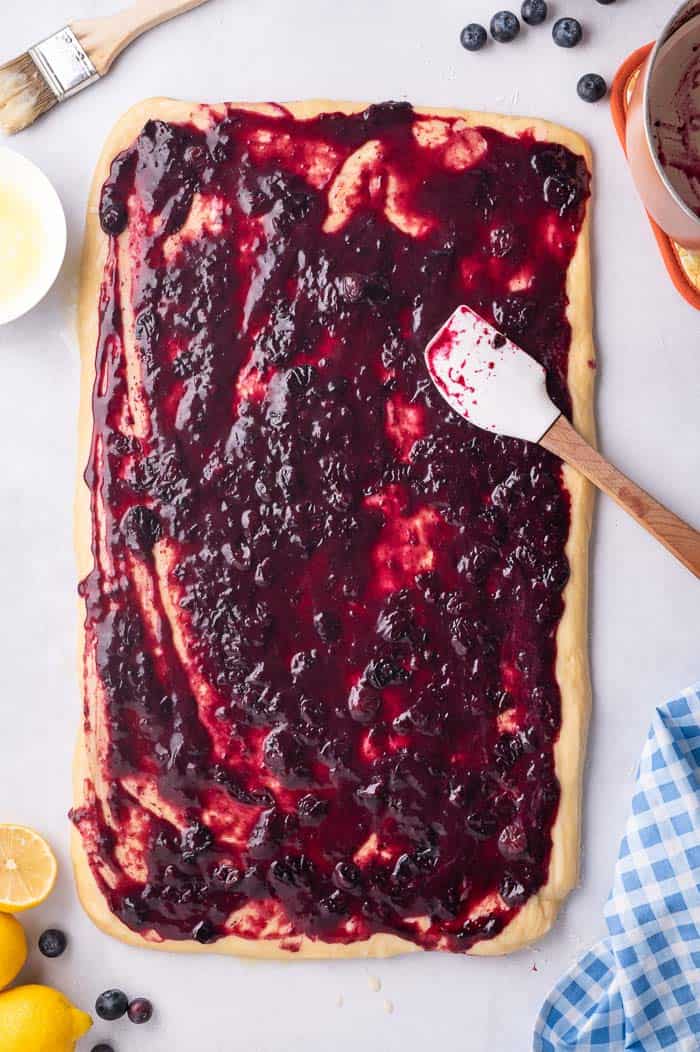 It's time to roll!
Starting with the corner closest to you, roll the dough into a tight spiral. Keep the dough as tight as you can while rolling. Use your thumb to push in any sticky dough or to tuck in the loose dough that may be coming out while rolling.
Once the dough is rolled, use a serrated knife to cut dough into 1 ½ inch wide pieces.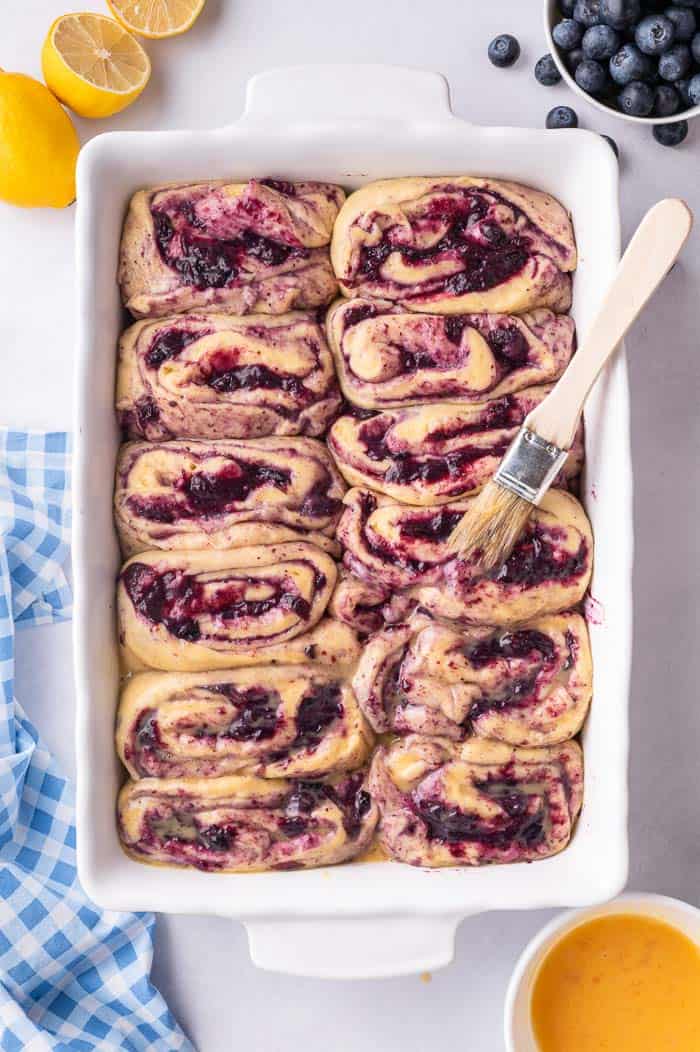 Transfer each piece to your prepared baking sheet leaving space in between for them to expand.
Let dough rise one more time. Cover with plastic wrap or a towel and let the tray sit in a warm area for 30 minutes.
Before baking, brush the top of your sweet rolls with egg wash. This helps them get that beautiful golden color.
Bake for approximately 25-30 minutes until the tops are golden brown and your filling is starting to ooze out.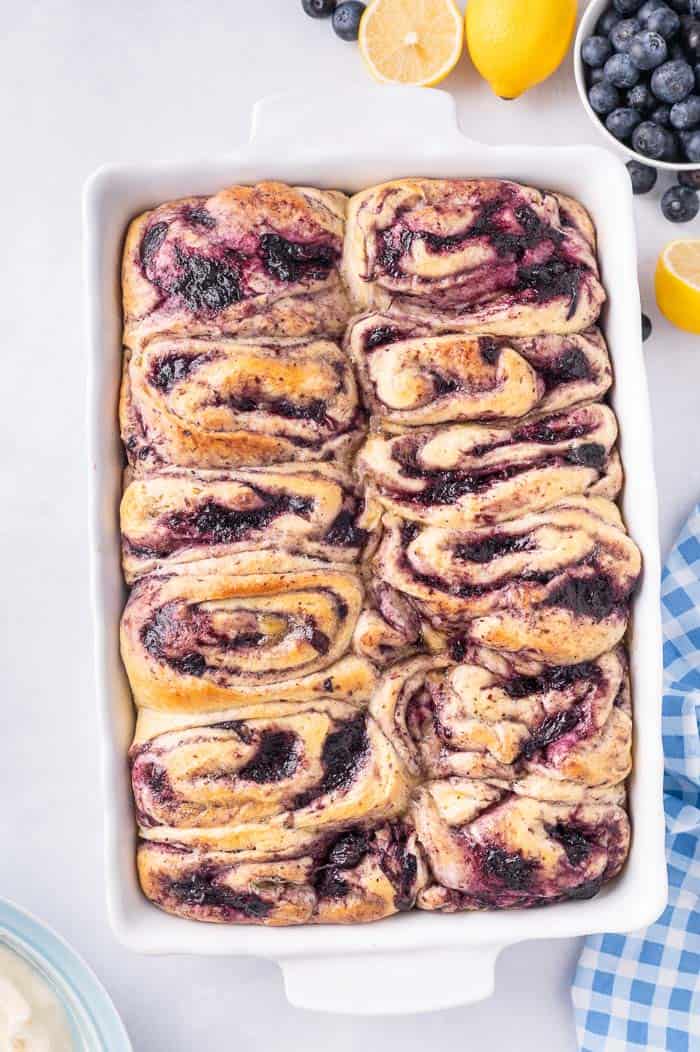 Now we need to create the glaze for the top.
In a small bowl, beat the cream cheese and butter until smooth. Add in the rest of the ingredients and mix until everything is combined. Add more or less heavy cream to get the consistency you prefer.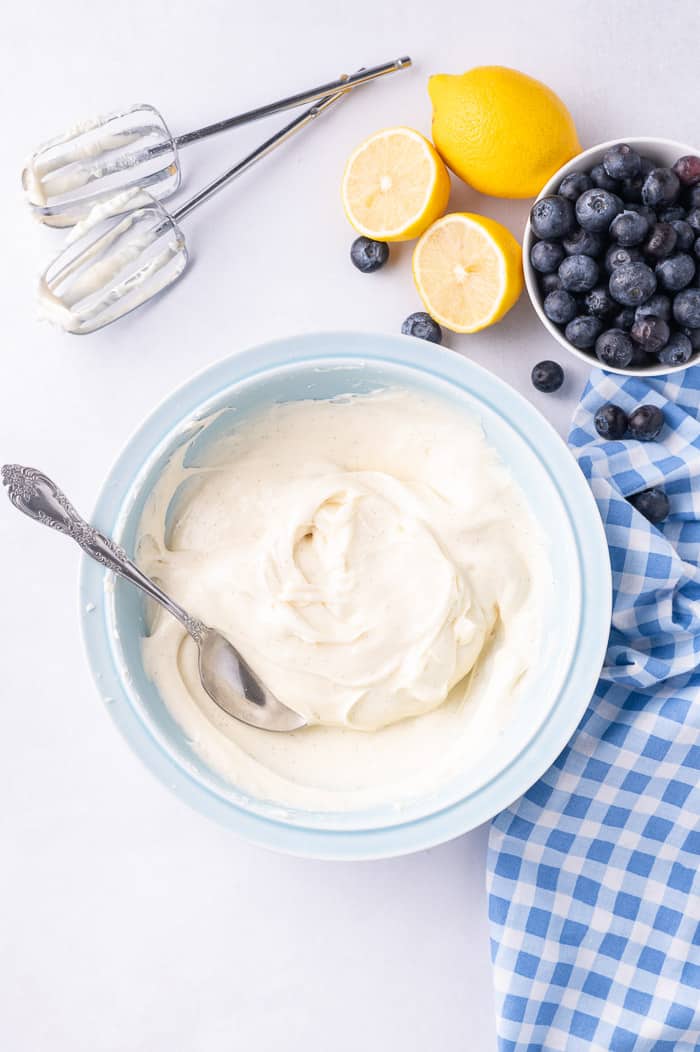 Let the sweet rolls cool for 10-15 minutes prior to glazing. Serve warm and ENJOY!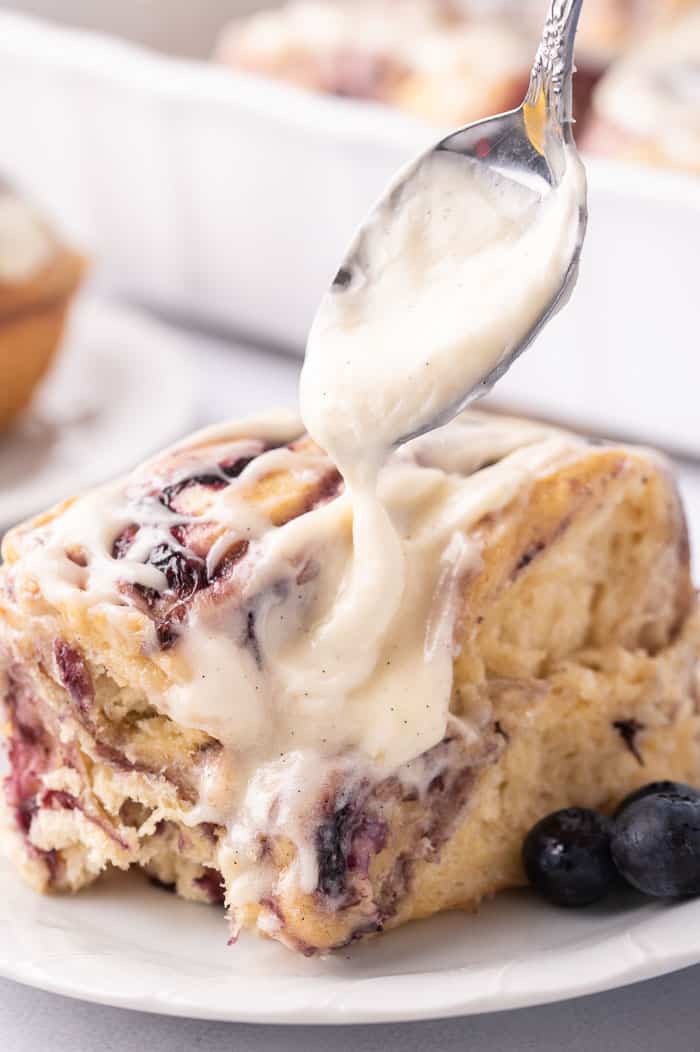 Super easy to make and your family will think you ran out early in the morning to grab fresh pastries.
Store them in an airtight container in the fridge to ensure they stay fresh. Easily reheat each morning or whenever a sweet rolls craving comes. You can even make the glaze little by little so the sweet rolls that will be enjoyed later don't get soggy.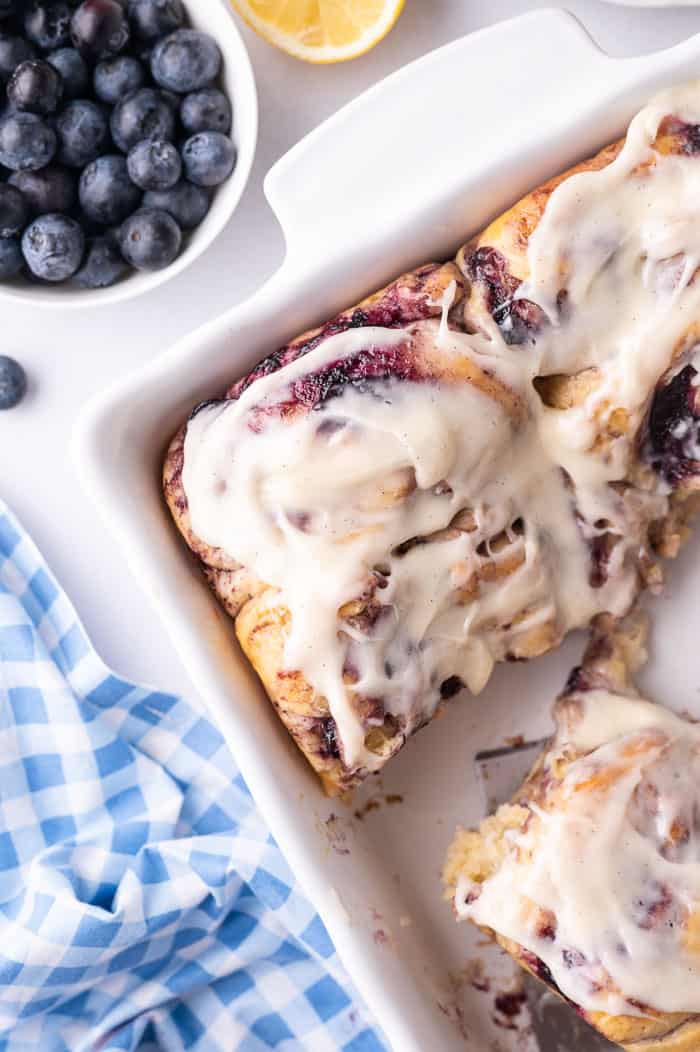 I hope this makes your mornings run a little smoother and snack time be a little more enjoyable. My kids absolutely love these and it shows by all the filling that covers their faces and shirts.
If you try this recipe please make sure to let me know. I love hearing all of your fun ideas on serving and your own twist that you add to each recipe. If you share on social media tag us at #aclassictwist. I hope everyone has a wonderful day and enjoys this summer dessert as much as I do.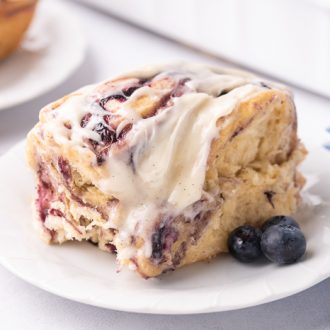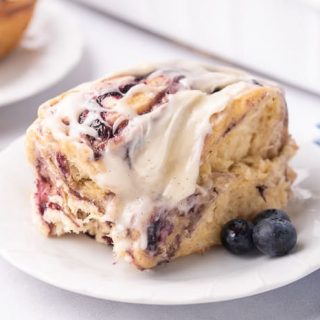 Yield: serves 8 - 10
Blueberry Lemon Sweet Rolls
Sweet and sticky blueberry lemon sweet rolls. Filled with juicy blueberries!
Additional Time
4 hours
2 seconds
Total Time
5 hours
20 minutes
2 seconds
Ingredients
FOR THE DOUGH:
4 1/2 cups bread flour
½ cup granulated sugar
1 tablespoon instant dry yeast
1 tablespoon salt
4 large eggs + 1 large egg yolk (cold)
1 cup minus 2 tablespoons milk (cold)
1 cup (2 sticks) unsalted butter, softened to room temperature
FOR THE FILLING:
1 ½ cups fresh blueberries
¼ cup brown sugar
½ teaspoon ground cinnamon
Zest and juice of 1 lemon
½ cup unsalted butter, melted and cooled
Egg wash (1 large egg beaten with 1 tablespoon water)
FOR Lemon VANILLA BEAN ICING:
4 ounces cream cheese, at room temperature
4 tablespoons unsalted butter, at room temperature
1-2 cups powdered sugar (more or less to taste)
2 teaspoons vanilla bean paste or vanilla extract
1 teaspoon lemon juice
¼ cup heavy cream, plus more as needed
Instructions
Make the dough the day before you plan on making the cinnamon rolls. In the bowl of an electric mixer fitted with the dough hook, combine the bread flour. Sugar, yeast, and salt. In a small bowl, whisk together the eggs + yolk and milk. Add the egg + milk mixture to the dry ingredients and mix at low speed until the mixture forms a ball. Increase the speed to medium and mix until the dough is very smooth about 5 minutes.
With the mixer on medium-low, add in the butter one tablespoon at a time, to the dough and mix until each piece is incorporated before adding the next. Once all the butter is added, continue mixing for additional 3 minutes.
Transfer the dough to a well-greased large bowl and let rise, covered for 1- 1 ½ hours. (Dough is very enriched and might not expand much).
Once risen, transfer the dough to a parchment-lined baking sheet. Pat dough into a rectangle with about 1-inch thickness. Cover with plastic wrap directly on dough and refrigerate overnight.
In a small saucepan set over low-medium heat, combine the blueberries, brown sugar, cinnamon and lemon zest, and juice. Let simmer until the berries start to break down. Let cook until thickens, about 10 minutes. Remove from heat and let cool a bit.
Lightly grease a 9 x 13-inch (or two 9 x 9-inch) baking dish. Remove dough from refrigerator. Transfer to a lightly floured work surface and roll the dough into a rectangle about ½ inch thick.
Spread the melted butter all over the rolled dough using a brush. Spread out the blueberry filling evenly all over the dough using a spatula and spreading all the way to the edges of the dough.
To roll up, start with the long side closest to you and begin to roll the dough into a tight spiral. Make sure you keep the roll tight as you go. Use your thumb to release any sticky dough and also to tuck in the loose dough. Once rolled, use a serrated knife to slice into 1 ½ inch wide pieces. Transfer pieces to prepared pans, leaving a quarter of an inch between each one. Cover the baking dish with plastic wrap or a towel and let rolls rise in a warm place at room temperature for at least 30 minutes.
Preheat oven to 350 degrees F. Brush the top of the rolls with the egg wash and bake for 25- 30 minutes or until they are golden and the filling is bubbly and oozing out.
While the rolls bake, make the icing. In a small bowl, beat the cream cheese and butter until smooth. Add in the rest of the ingredients and mix until combined. Add more or less heavy cream to get your desired drizzle consistency.
Once rolls are baked, let cool in pan for 10-15 minutes. Then top with a drizzle of icing. Serve warm or immediately.
Notes
Dough adapted from Food52
Recommended Products
As an Amazon Associate and member of other affiliate programs, I earn from qualifying purchases.