Blueberry Lemon Dutch Baby Pancake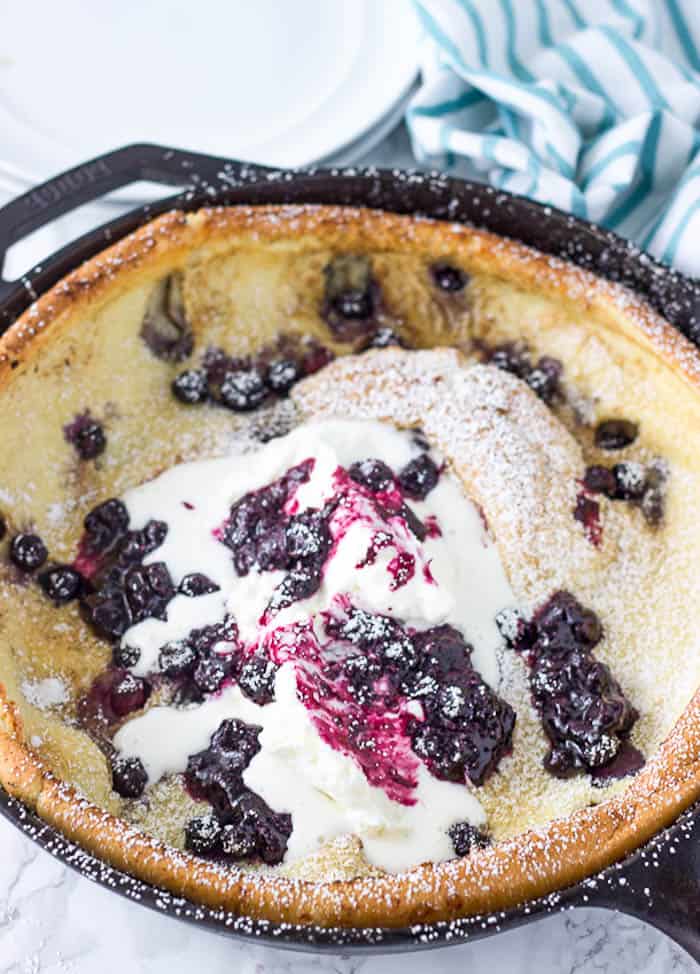 Happy Friday friends! I have a great brunch recipe for you today. This blueberry lemon dutch baby pancake is what dream dreams are made of. At least my ideal breakfast dreams 🙂
I don't know about you, but I am ready for the weekend! Ready for some relaxation, family time, and baking up some treats with the kiddos. During the week we are all so busy, breakfast usually consists of a bowl of cereal, coffee, or smoothie. Something quick and easy that you can eat on the go. But the weekend, that's the time to sit down and enjoy some of our favorites that we may not have time to make during the week.
Have you ever tried Dutch baby Pancakes? If not, then you are in for a great treat!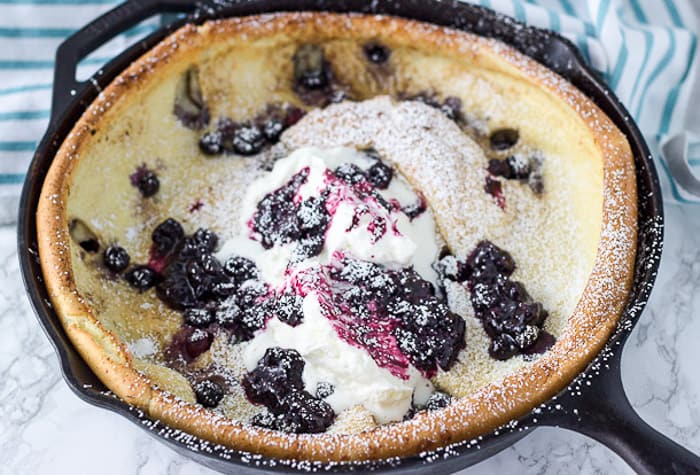 A dutch baby pancake is actually larger than a regular pancake and baked in the oven as opposed to on the stovetop. It is a large oversized pancake that "puffs" up as soon as it comes out of the oven but then deflates right after. They are chewy, a bit dense, and very delicious! My previous experiences are this gingerbread dutch baby pancake and this eggnog dutch baby pancake with cranberry compote.
Both perfect for the cozy winter and holiday season. However, we need a vibrant spring breakfast and that's where this Blueberry Lemon Dutch Baby Pancake comes in. You must give it a try as I promise you will not be disappointed.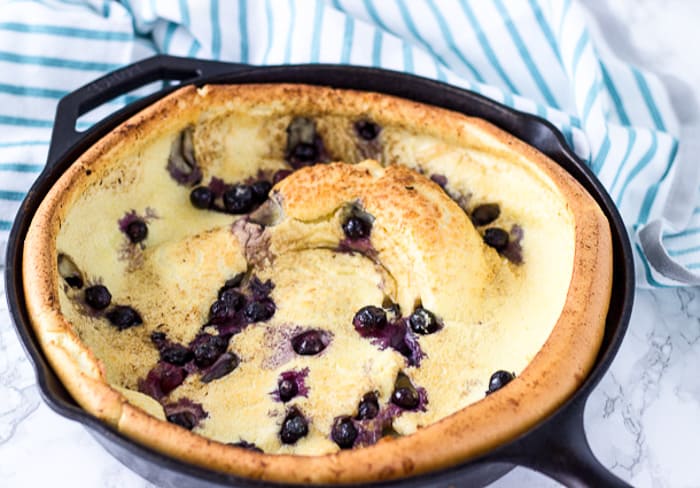 The batter for the pancake is infused with lemon zest and fresh blueberries. Once baked, it is topped with a delicious blueberry compote. The blueberry compote is made by cooking down fresh blueberries with lemon zest and juice. Your kitchen will be filled with the aroma of fresh citrus and sweet and tart blueberries while this cooking. I save compote in the fridge to top on pancakes, ice cream, and other treats.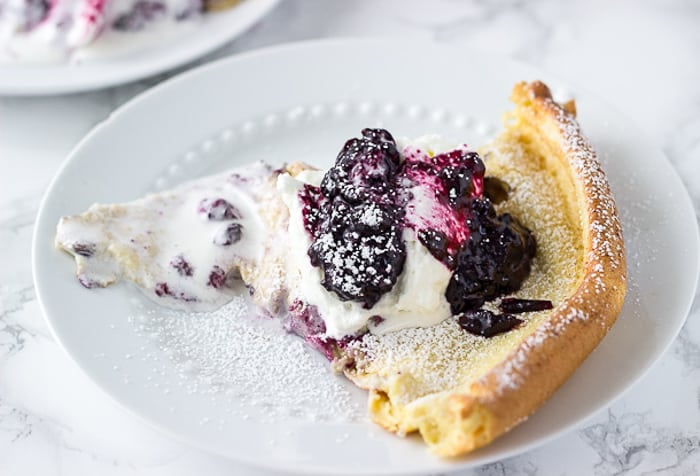 I wish my kids would sleep in over the weekends so I can have time to actually enjoy my morning coffee and plan out my week a bit. But toddlers are not in for that so for now, I will enjoy the season and do quick breakfasts on weekends. This blueberry lemon dutch baby pancake is one they enjoy and it only takes me 20 minutes to whip up. Win-win! Pair with fresh berries for kids, you have an easy brunch recipe. It's also perfect for Mother's Day as well. You can serve this to mom in bed along with a mimosa!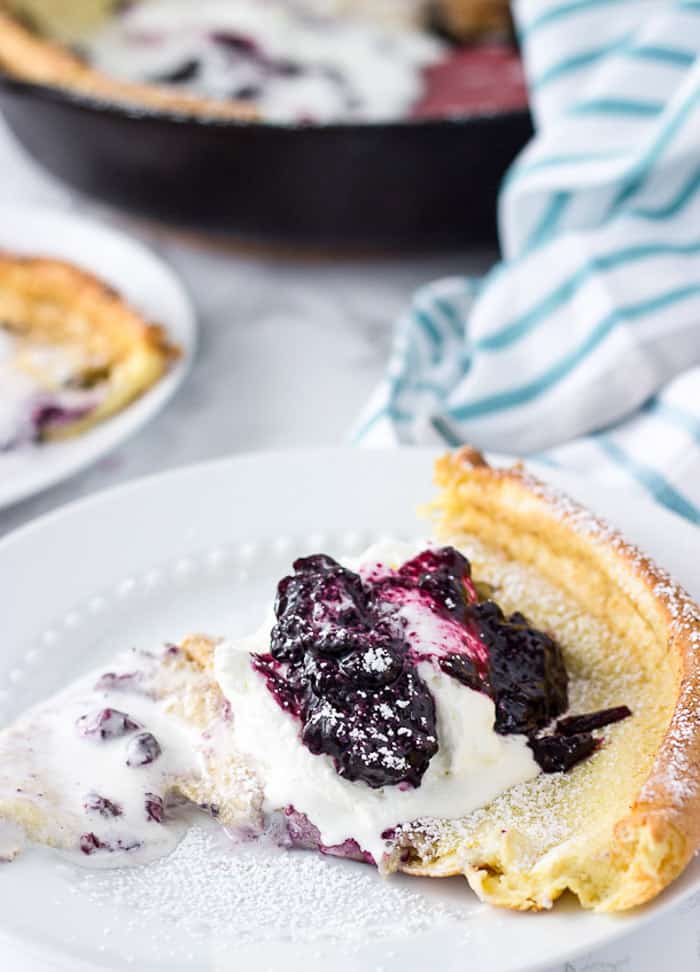 My hope with creating this recipe is that it has given you something new to try. A breakfast that can be enjoyed with family, friends, or just a quiet moment to yourself. This Blueberry Lemon Dutch Baby pancake is also great for dinner. Who else occasionally switches it up and has breakfast for dinner? Filling your belly with some yummy food is what life is all about :-).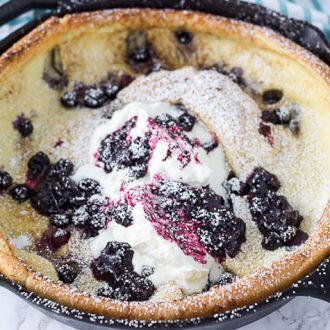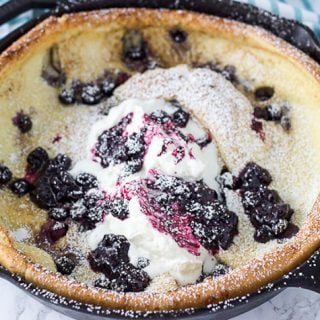 Yield: 1 large pancake
Blueberry Lemon Dutch Baby Pancake
Ingredients
For pancake:
1/2 cup all-purpose flour
1/2 cup whole milk or almond milk
2 large eggs
1 teaspoon pure vanilla extract
2 tablespoons granulated sugar
2 tablespoons unsalted butter, cut into small pieces
1 teaspoon lemon zest
1/4 cup fresh blueberries
For Blueberry Compote:
1 cup fresh blueberries
1/4 cup granulated sugar
1 teaspoon lemon zest
1 tablespoon lemon juice
Toppings (Optional):
½ cup homemade whipped cream
powdered sugar, for serving
Instructions
Preheat oven to 425 degrees F.
In the bowl of a food processor or blender combine all the ingredients for the pancake, except the butter and blueberries. Blend until they are well combined and smooth, about 1-2 minutes.
Let the pancake batter sit in the food processor for at least 20 minutes. You can also refrigerate the batter for 1-2 hours.
During this time, make the blueberry compote. Combine all the ingredients for the compote in a small saucepan and cook over medium heat, stirring occasionally, until blueberries are softened and the sauce starts to thicken about 4-5 minutes. Remove from heat and transfer to a small bowl. Let cool. You can make the blueberry compote the day before and refrigerate until ready to serve.
When you're ready to make the pancakes, place the butter in a large casserole dish or large cast-iron skillet and heat it in the preheated oven. Let it melt completely and as soon as it does melt remove the skillet from the oven and pour the pancake batter into it. Top the batter with fresh blueberries.
Bake the pancake in the heated oven for 15-20 minutes or until puffy. Lower oven temperature to 300 degrees and bake additional 5 minutes as needed.
Remove from the oven and top immediately with blueberry compote, whipped cream, and powdered sugar.
Serve immediately.
Recommended Products
As an Amazon Associate and member of other affiliate programs, I earn from qualifying purchases.