Brunch Charcuterie Board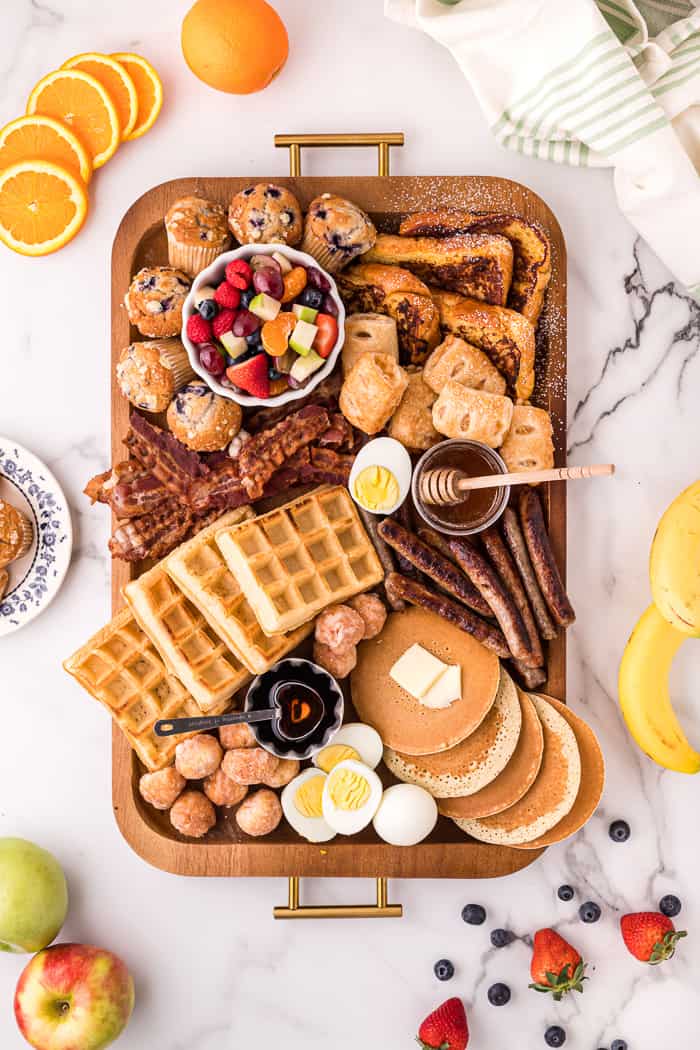 Hey there everyone! I have an easy (non) recipe for you today. This Brunch Charcuterie Board is getting added to every breakfast or brunch I am hosting in the future. Think Easter, Mother's Day, and heck sleepovers with kids! There is something for everyone.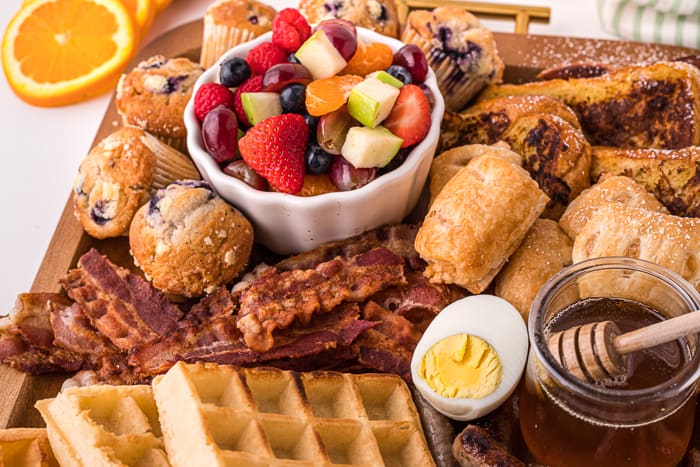 This charcuterie board is screaming for breakfast fans. You will be the real M.V.P when you sit this on the table this weekend. Everyone can grab their favorite breakfast items and enjoy. Talk about the ultimate breakfast platter, you have your buttermilk pancakes, waffles, and French toast. Plus, your top breakfast meats, bacon, and sausage. Let's not forget the fruit though. This charcuterie board is going to be requested every weekend.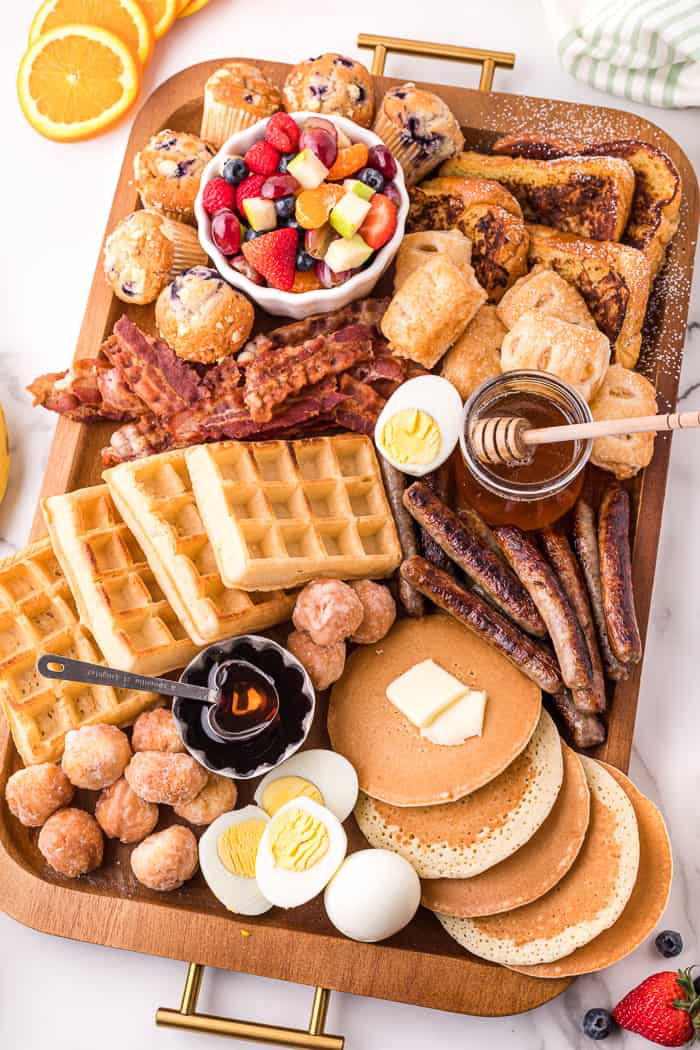 Every year I tell myself, "Whew, this year is flying by," but this year is zooming by at light speed. Easter is about one week away, and I feel like I just put my Christmas Tree away. With all of my daily duties, work, mom duty, blogging, and creating new recipes, I have entirely forgotten to plan Easter meals.
I have an idea about the main dinner course (which should be considered lunch since we eat early on holidays)—a table filled with delicious fresh vegetables like these Roasted Carrots with Browned Butter and Pecans. Cheddar Biscuits with Thyme and Sage Butter are highly requested each time I host because of the insanely flavorful butter. I am still debating between poultry or lamb as the main dish. Desserts include every vibrant pastel recipe I can think of. Some of the recipes I will be baking are the Easter Speckled Egg Cake and Easter Cake Pops. Surrounded by the sugar-filled candies and chocolates, the kids gobble down. But what about breakfast?!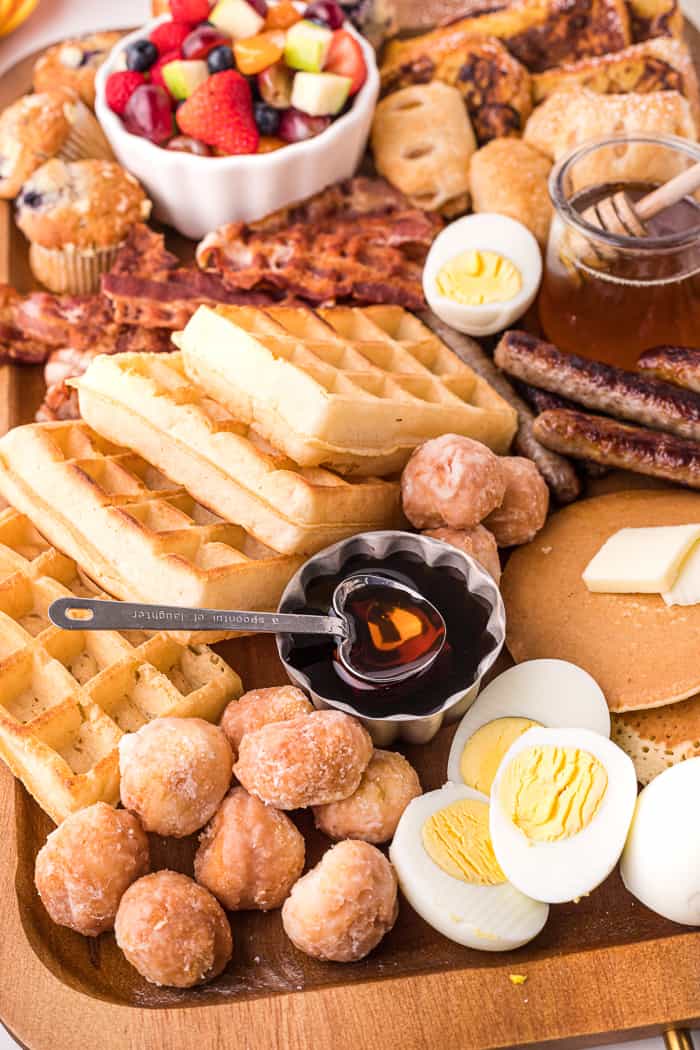 You guessed right, this Brunch Charcuterie Board is going to be it! It has something for everyone. Full of delicious carbs, proteins, and fruits that will make your guests satisfied all morning long.
What you will need to create this board- Blueberry Muffins, French Toast Mini Apple Strudels, Bacon, Sausage Links, Boiled Eggs, Belgium Waffles, Buttermilk Pancakes, Donut Hole, Honey, Syrup, Mixed Fruit, 2 Small Bowls, 1 Medium Bowl, Large Tray.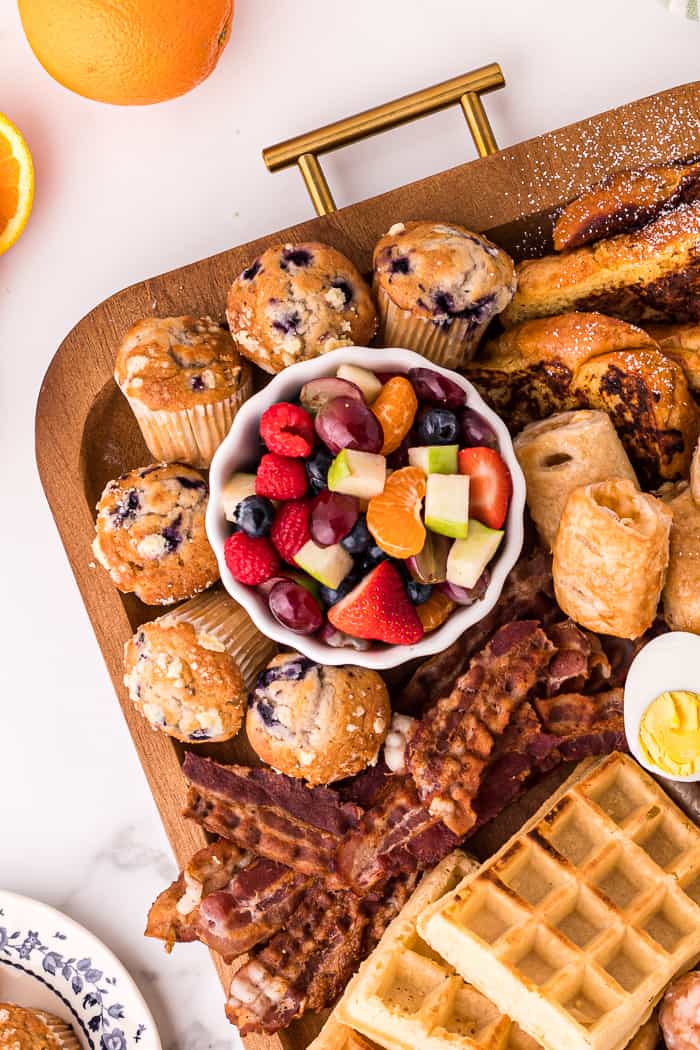 Pssst, you don't have to make them all from scratch. I cook and bake some of these recipes, but most of them I buy store-bought to save time. There is no shame in making your day as easy as possible. You still have a whole other meal to cook, so don't worry about homemade recipes for all of these.
One thing about charcuterie boards is that you get to design on your own. Get creative. I have photos to give you an idea of how to display your board, but you can add your items however you would like. The traditional style is using a wood or slate board, but a fancy tray or glass will work if you don't have these. As long as it's flat and food-safe, you can use what you have.
Here are some tips for assembling your own charcuterie board.
Tips
Let's talk Mixed fruit: This is such a super simple recipe. Add your favorite fruit to a large bowl, I used strawberries, grapes, green apples, mandarin oranges, raspberries, and blueberries. After you add fruit to a large bowl, I squeeze 1-2 limes over the fruit and add 2 tablespoons of honey. Toss fruit, making sure it is fully coated. Store in a sealed container until you are ready to eat. This does stay fresh for up to 3 days.

Are you looking for a simple yet delicious French toast recipe? This is the perfect recipe- https://aclassictwist.com/classic-french-toast-recipe/
Waffles and Pancakes- For these, you can use store-bought to save you some time or you can even make your favorite.

Adding a few favorite breakfast portions of meat on the board always makes the men happy and full through lunch.

I always try to add a mixture of pastries on the board so there is a little something for everyone. Who doesn't love a good breakfast muffin, apple pastry, or those fresh donut holes?

Now if you have a guest that likes something more than the other don't be afraid to omit or add to your own brunch board. That is what's so great about charcuterie boards you can create them for your guest.
What do you think of this board? Would you add or swap any of the delicious recipes? Let me know in the comment section below. Tag #aclassictwist to see your creations come to life if you share them across social media.
As always, Happy Baking, friends.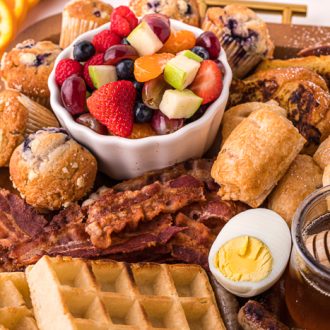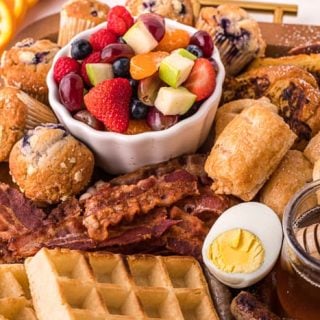 Yield: serves 8-10
Brunch Charcuterie Board
Ingredients
Blueberry Muffins
Mini Apple Strudels
Bacon
Sausage Links
Boiled Eggs
Belgium Waffles
Buttermilk Pancakes
Donut Hole
Mixed Fruit
Honey
Syrup
Instructions
Start by adding mixed fruit, honey, and syrup to the board.
Next add waffles, pancakes, and French toast.
Fill in the remaining spaces with remaining items.